GridCon 3 (2022) Convention Report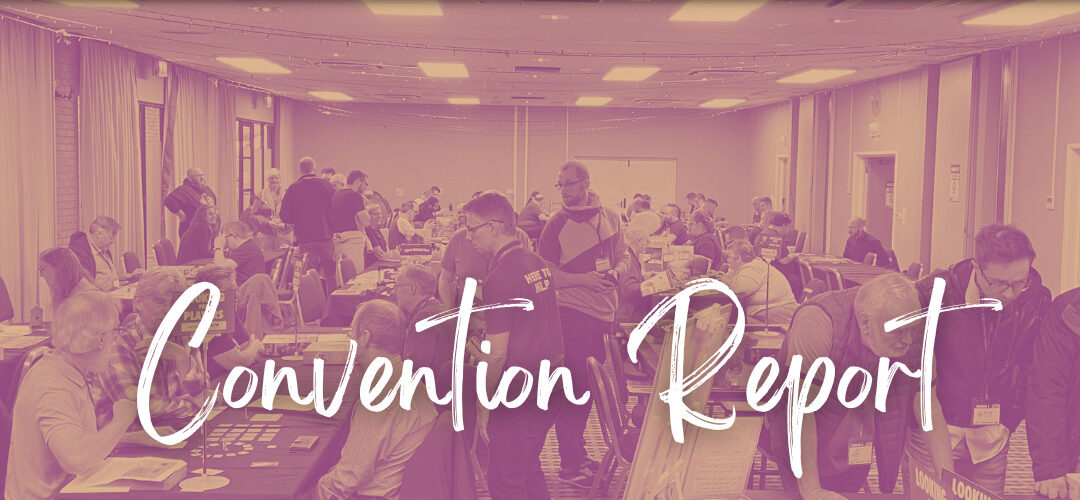 Event: Gridcon 3 –
Date: 11th – 13th Nov 2022
Location: Taunton, Somerset, UK

---
GridCon is an annual board game convention held in the South-West of the UK. It just so happens that I a) live a couple of hours down the road from it, and b) am a Patreon supporter of the organiser, Paul Grogan, so there was no way I wasn't going back this year.
When it comes to conventions there are two main types. Some of them have a very heavy commercial presence. There are sponsors wherever you look, and halls of vendors, designers, and publishers showing and selling their wares. Think of events like UK Games Expo (my report of this year's is here), Essen Spiel, GenCon, PAXU.
On the flip side, you have the 'play' style conventions. These conventions are all about playing the games you already own. Most have a much higher proportion of open gaming spaces – tables where you can just rock-up with your games, and play to your heart's content. These are usually smaller events, such as BayCon, KCon, and AireCon (here's another write-up of this year's event).
GridCon sits firmly in the latter. There's only one retailer in attendance (Games Lore), and even then they only had one table in the corner of one of the rooms. If you want to spend money, your best bet is the bring-and-buy.
My time at GridCon 3
Thursday
I had been eagerly looking forward to GridCon all year. Paul runs Gaming Rules!, a YouTube channel which specialises in how-to-play tutorial videos for board games. As a Patreon supporter of his, I have access to the supporters' Slack server, where I chat daily, and where I've made quite a few good friends. GridCon is a chance for lots of us to get together in person, so the excitement has been building there for months now.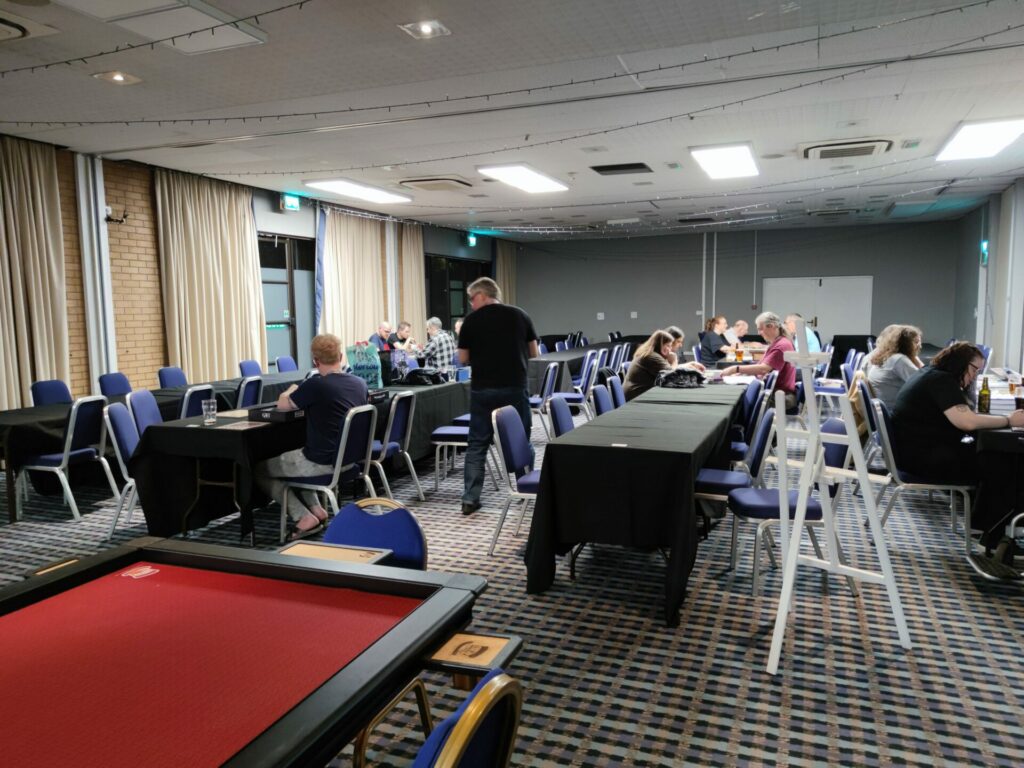 After a detour on the way up to help Paul and Vicky (Paul's partner) cart some boxes over to the venue, and after checking into my Airbnb home for the weekend, I headed to the hotel hosting the convention and caught up with old friends, including Mark and Andrew who'd travelled all the way over from Malta just for the event. It's worth mentioning early, and I'll almost certainly repeat myself, but the most pleasure I get from a convention is the time spent with good people. It's incredibly good for my mental health, and I'm sure it does the same for others.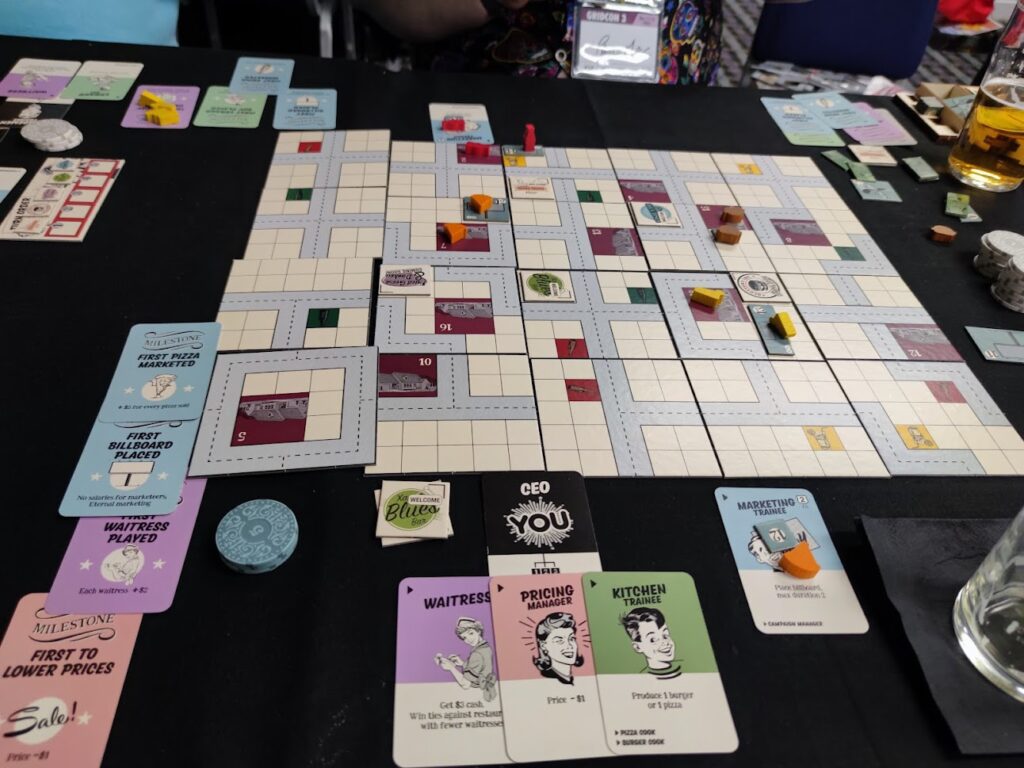 We shared a few beers, hugs and laughs, then settled in for a multiple-hour game of Food Chain Magnate. It was my first time playing one of Splotter's games in person, but it certainly won't be my last. What I remember of it was very good: cutthroat, tactical, and a surprisingly light ruleset for what is a heavy game. Tiredness (and maybe beer and cider) got the better of me, and I headed back to my room, ready for the start of GridCon proper.
Friday
On Friday morning I treated myself to that most extravagant of breakfasts – a Subway from the petrol station – and arrived to see a packed hotel bar, full of eager and excited board game fans. It doesn't matter if it's your first convention, or your fiftieth, the feeling of anticipation combined with excitement doesn't fade. It's a special feeling.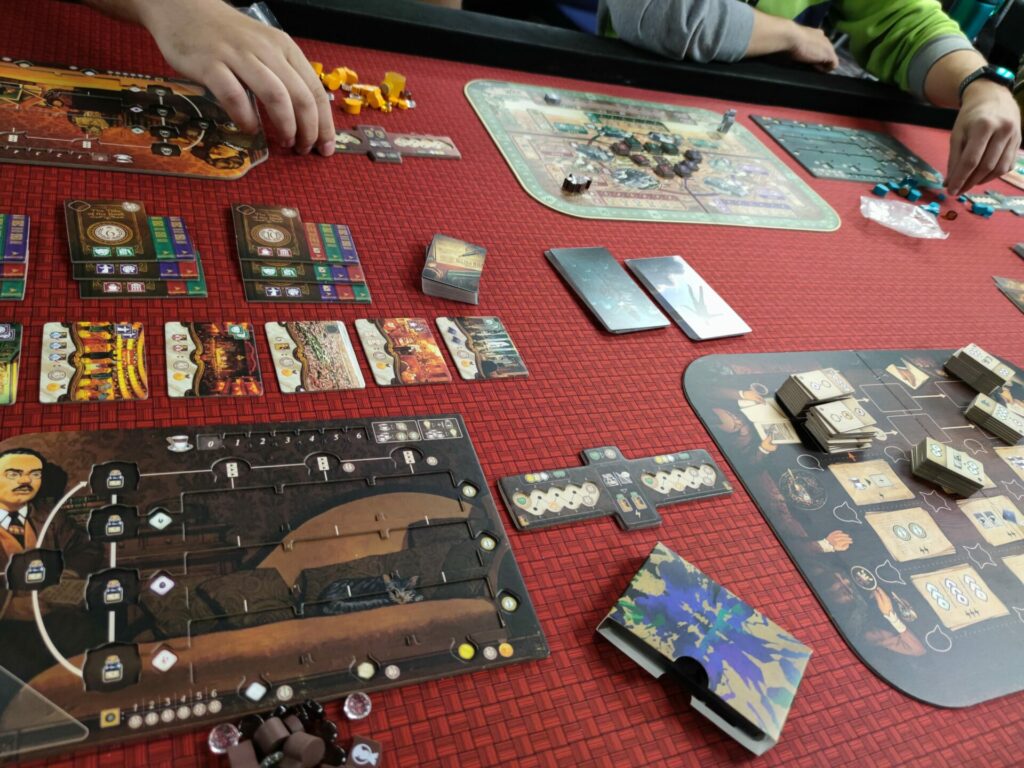 After the doors opened at 9am, the rest of the day was a bit of a blur. I got in a game of Scout before a scheduled teach + play of Unconscious Mind, which was excellent. Keep an eye out for that one, which is on Kickstarter at the time of writing. From there, straight over to a game of Pingyao: First Chinese Banks which I organised. By that point, it was late in the afternoon, and what I should have done is take a break for some food and rest. Instead, I agreed to a four-player game of Beyond The Sun, which was great.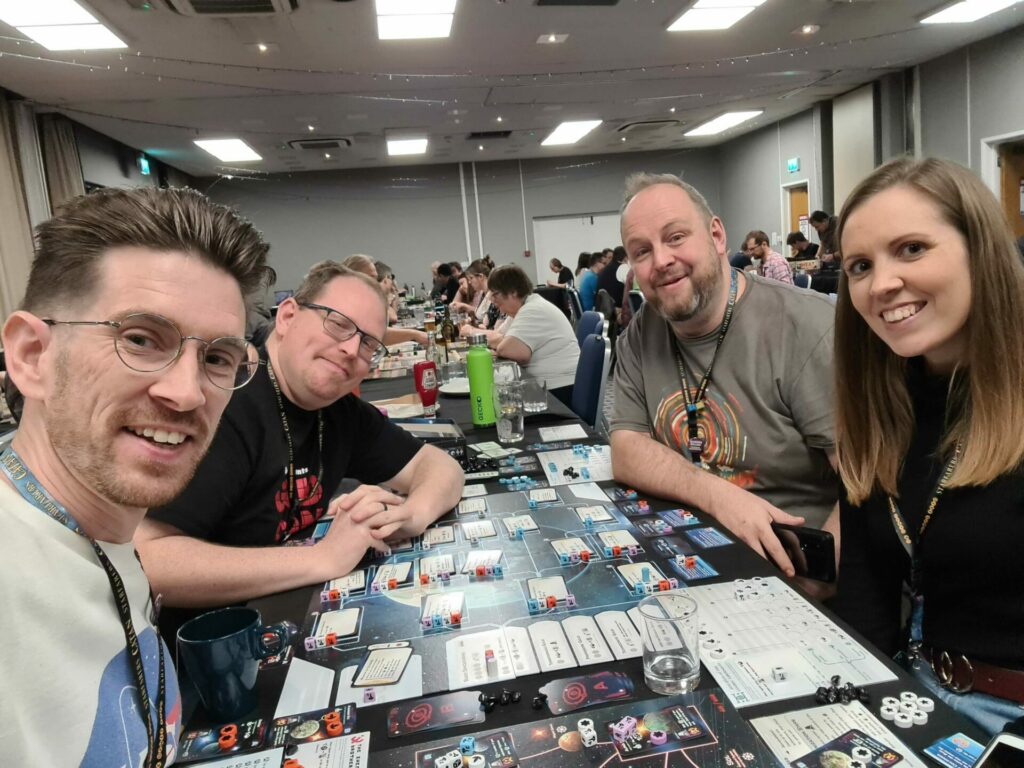 Now, while it's not exactly a hardship to be away from home, playing games for a few days, by the time the sun goes down, you can feel pretty spent. Your brain gets frazzled, and you'll probably want to stretch your legs and move around. I just wanted something to eat, a cold beer, and an hour not thinking – which is exactly got. The food at the Holiday Inn which hosted the con was tasty and hot, even if it did take a long time to order sometimes.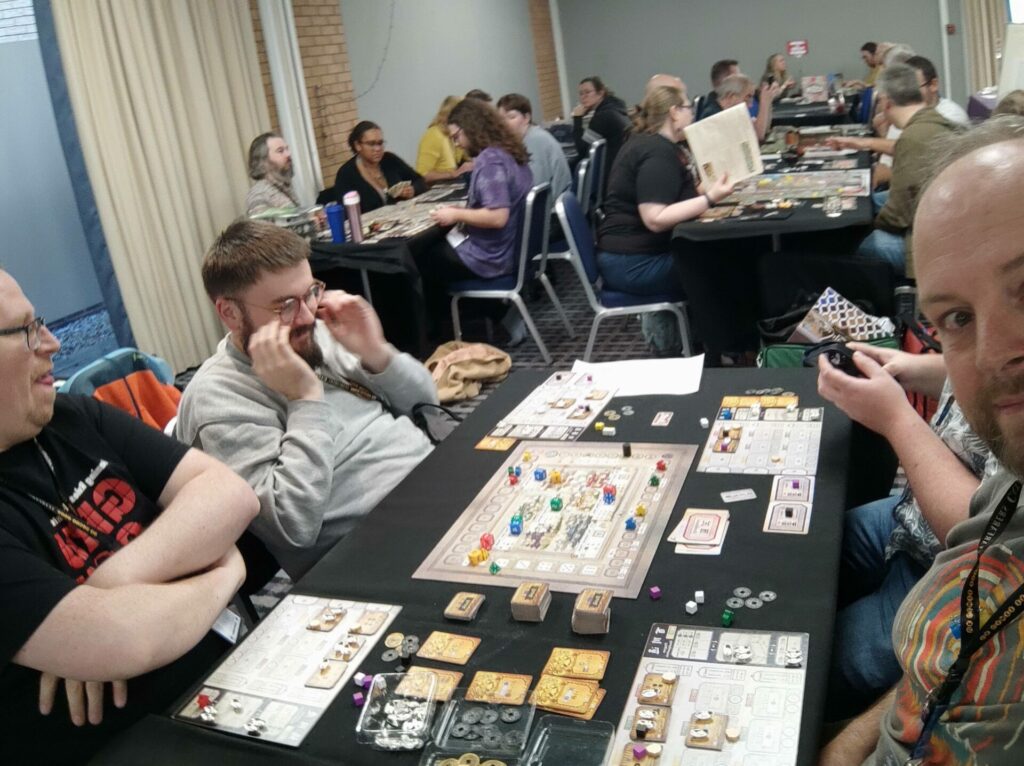 From there I just milled around with friends, chatted, caught-up with people, and then had a game of Hadrian's Wall (review here, the best flip-and-write game available). There's a lovely feeling towards the end of the night at a convention like this, where the buzz of the day quietens and those with the stamina to keep going, retire to the bar and restaurant area to play quietly under lamps. It's times like this where the sense of belonging really hits hard.
Saturday
First thing on Saturday morning, I'd booked out one of the 'Hot games' on offer, fresh from Essen. As soon as I saw Uwe Rosenberg had a new game out, I knew I had to try it, and Atiwa did not disappoint. I won't go into too much detail, because I fully expect to be reviewing it before took long. Let's just say that even after a single play, I think it might be my game of the year.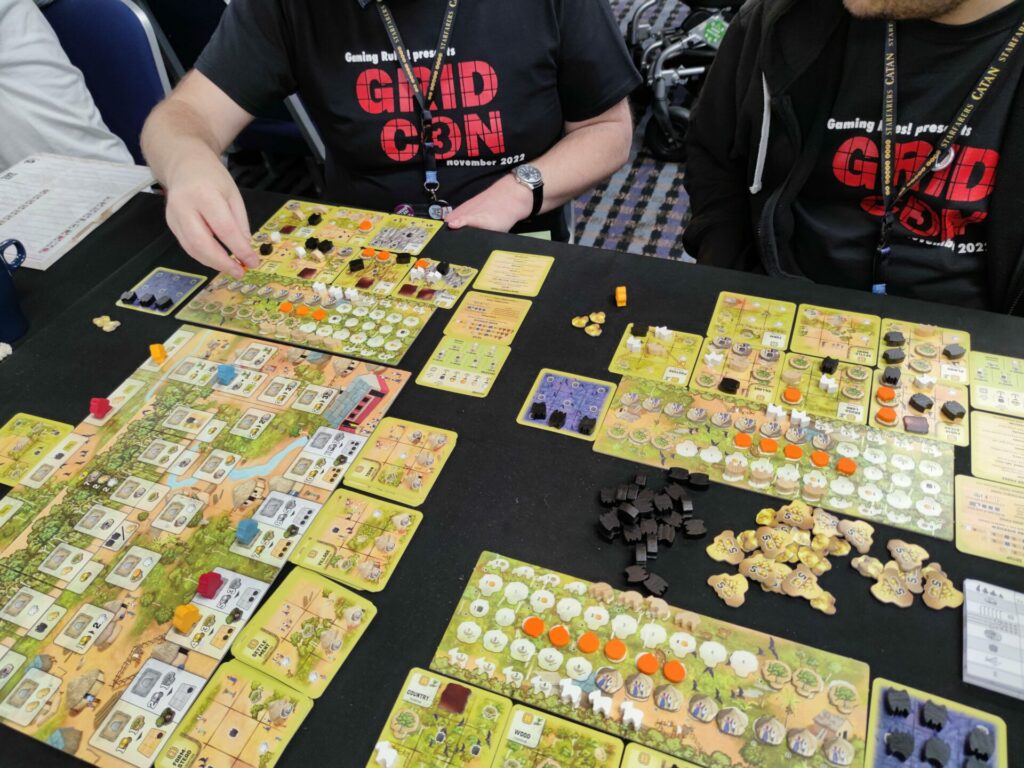 Thanks to a 6:30 am start to the day (I watched the England women's Rugby Union team take on New Zealand in the world cup final – so close, girls!) I was already fading, so I headed off to the restaurant to grab some food and a coffee, and to watch the huge game of Dark Ages going on in there. They'd commandeered three or four tables to set it all up – a truly epic undertaking.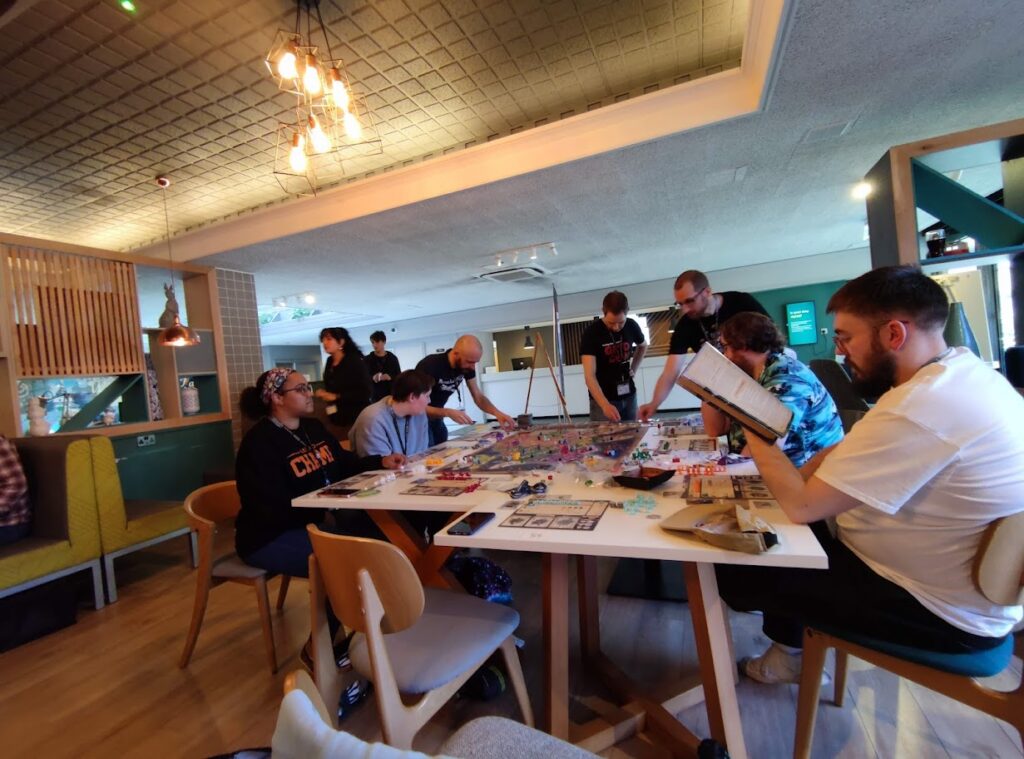 After that came the game I was looking forward to most all weekend, a four-player game of Cuba Libre. I've reviewed other COIN games here before (Gandhi and All Bridges Burning), and Cuba Libre is another example of how good they can be. Part of my excitement was for the game, the other part because I knew I was going to play with friends from Slack, including Peter, and George, who flew in from Greece for the weekend!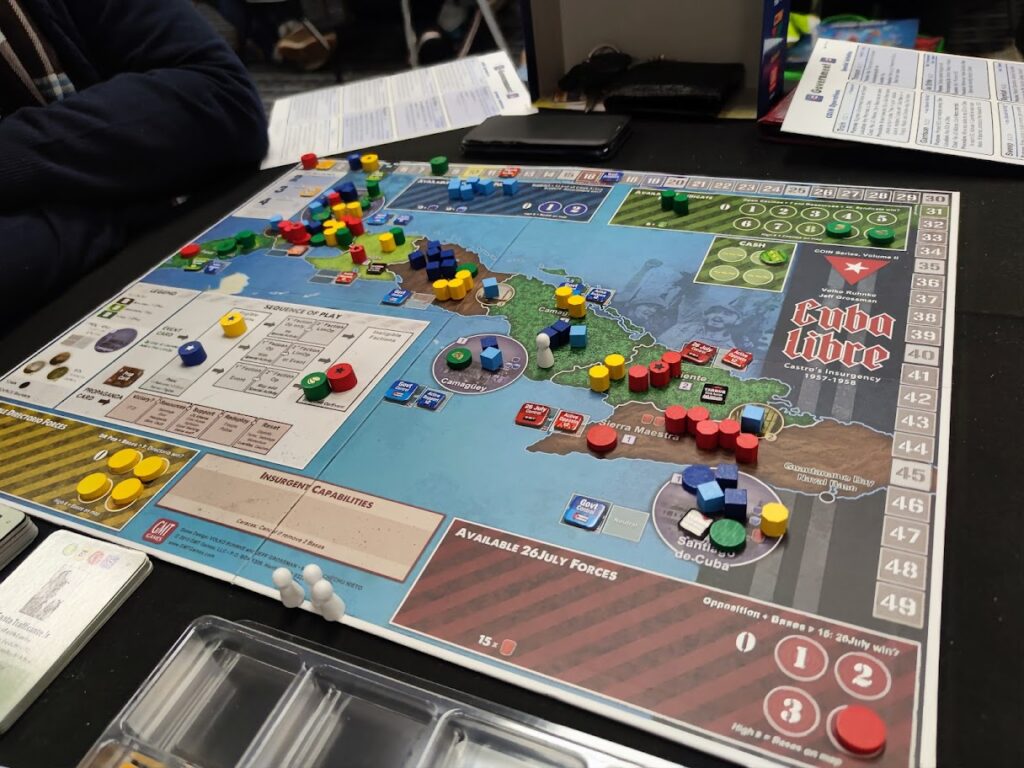 Sadly, my GridCon came to an end after four hours of trying to control Cuba. It was time for me to say my goodbyes, get in my car, and drive home. I get so exhausted at these gatherings that I need a full day to recharge before going back to work, and I had to work on Monday. I can get a bit emotional when good things end and I have to say goodbye to friends, not knowing the next time I'll see them, so apologies to anyone I missed, or if I seemed like I was rushing off.
In review
I sit here writing this on Sunday, the day after my GridCon came to an end. There's a really funny feeling that lingers for a day or two after a good convention – and this was a great convention. Your brain feels fuzzy, your heart feels full, and it's an all-around life-affirming thing. A good convention is incredibly good for your mental health, as long as you can mitigate any triggers for you before going. If you suffer from social anxiety for example, then it's handy to get there ahead of time and watch the place slowly fill up around you, instead of opening the door and walking in on a couple of hundred attendees.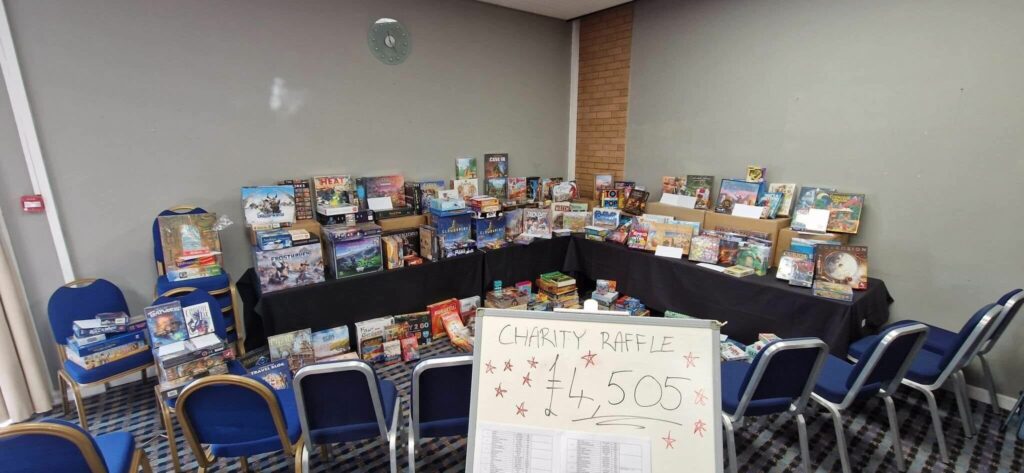 I had a truly wonderful time. Not because of the games I played, the place I played in, or even the people there. It sounds trite, but it truly is an example of something being greater than the sum of its parts. I mean, I've not even touched on things like the ridiculous pile of games donated to the charity raffle, which itself raised thousands of pounds. Nor did I talk about world-famous designer Vital Lacerda coming along to teach his new game to a select group of people, and he was only one of many designers in attendance. I didn't mention the well-stocked games library, all available to play for free, or the chances to play huge new games, months before others will get a chance to.
Even without including all of that, it was still an outstanding time. It was (for me) three days of good people having good times. If you have never been to a games convention before, and you're on the fence about it, please go, and go to one like GridCon. Go to something local, focused on the games. Every single person was made to feel as welcome as if they were family, regardless of their skin colour, age, ability, nationality, beliefs, gender or orientation. It's a big, incredibly diverse group of people, stepping outside of the demands of real life for a few days, for a break they all deserve.
Long may it continue.
Special thanks
I just want to name-check some people who helped make it as special as it was for me. First and foremost I want to thank Paul & Vicky, who organised and ran the event. There's a crazy amount of time and energy that goes into it, and it really showed. Without them, there'd be no GridCon to go to. The staff at the Holiday Inn were amazing too, very patient, friendly, and accommodating. They still managed a smile even when there was a big queue at the bar, and when they ran out of glasses and drinks! What can I say – we know how to have a good time.
I want to thank my friends, new and old, who spent some time with me. These include, but are not limited to: Andrew and Mark, who made the trip from Malta, along with George who flew in from Greece, and had to miss a game to work from his hotel room. Mark P, Jill, Peter, John(s), Mark L, Lee, Alex, Natalie, Leanne, Ian, Emma, Scott, Paul R, Paul M, JP, Ian, Monique, Tom, Matt, Márton, Jonathan, Tim, Luke, Rick, Bob, Becky, Vic, Carl, Joe, Maddie, and anyone else whose name I've forgotten. Also to Lyndsey and Piran the Beagle, my hosts for my stay.
It was nourishment for the heart, mind, and soul. For now, I feel sated, but already I can't wait to see my chosen extended family again.