Welcome To Sysifus Corp Review

Board games often come with similar settings; farming, zombies, fantasy, sci-fi, historical cities. You name it, there are a ton of games based on it. Except, that is, corporate office ladder-climbing. If you yearn to recreate the thrill of the cubicle life of a brown-nosing office minion, then I have the game for you! Welcome To Sysifus Corp, from designer Wonmin Lee, is a highly interactive game, which sees the players take the roles of employees at the eponymous Sysifus Corp, in a cut-throat race to be the first to their performance review.
Office politics
It's safe to say this is a game with its tongue firmly in its cheek. You could say the whole thing is a caricature of office life, but honestly, in some ways it's not a million miles from the truth. The aim of the game is to suck up to the three bosses, each of whom has a corner office on the grid board. Once you've done that, and collected your certificates of achievement, it's a race back to the start to be the first one to their performance review, and a juicy promotion.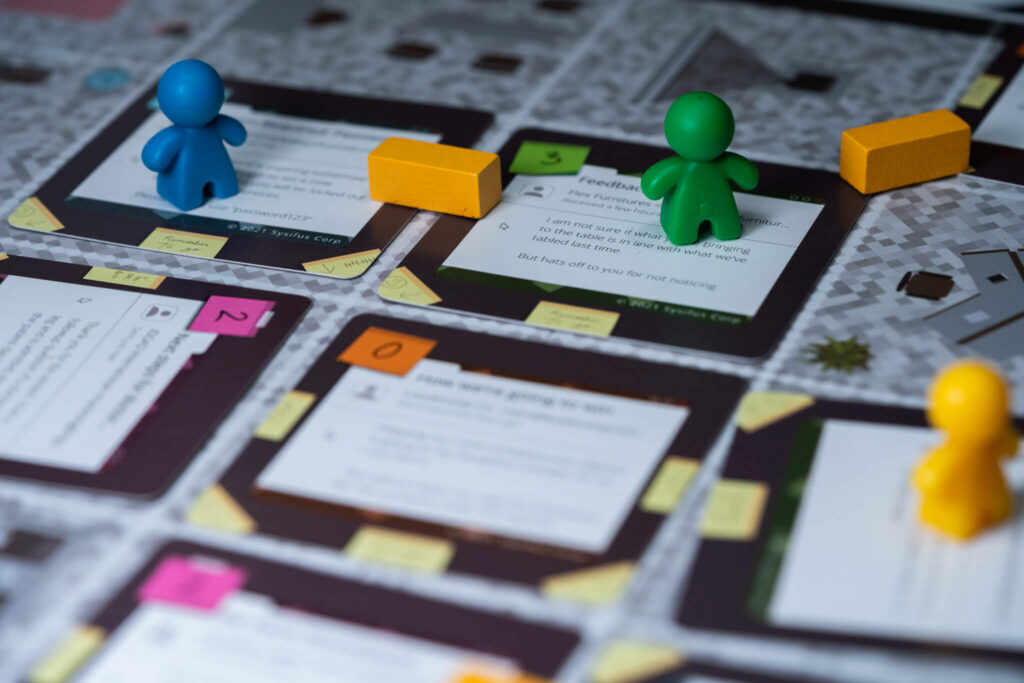 The problem is, you're not the only one who wants the promotion, and you can be darn sure the other players will stop at nothing to get there ahead of you. All's fair in love and office politics, right? In fact, there's a deck of cards used in the game called 'Office politics'. You can spend your company influence to play them, doing things like spreading rumours about the others, stealing the credit for someone else's work, working overtime, or even sucking up to your superiors. Each of these either boost you, or hinder someone else in some way.
Stepping stones
As I mentioned right at the start, Sysifus Corp is, at its heart, a racing game. The difference between this and other racing games, is the lack of a track. You all start in one corner of the board, visit the other three corners, and then head back to the starting space. The problem is, there's no route between each square. That's where the project cards come in. These square cards have some light-hearted, corporate-esque flavour text on them, but importantly, they also have sticky notes around some of the sides.
A sticky note is like a Post-It note, but with less copyright infringement.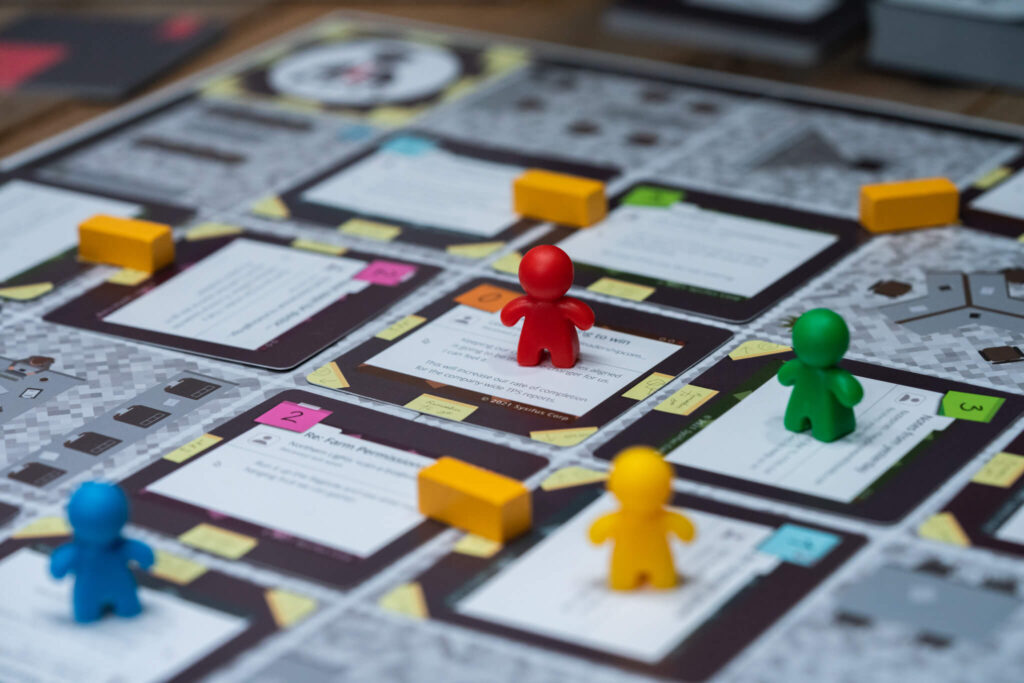 If two sticky notes are adjacent, you can move from one card to the next. There's this feeling of trying to lay your project cards ahead of you, like stepping stones, while trying not to open up routes for the other players. There's no set route, you can go wherever you like, and visit the bosses in any order. But it's this idea of not helping the other players where the fun really begins in Sysifus Corp.
Have you got a rival who's got a clear route to the next boss? Let's just play a card, and turn the next square, so his route is broken. Maybe another player is perilously close to getting to the performance review and winning the game. It'd be a real shame if you played a card and swapped your place with hers, wouldn't it? If you've ever hooted with devilish glee when your blue shell hit your friend in Mario Kart and cost them the race, you're going to love this game.
Playing with the right group
I've had a lot of fun with Sysifus Corp. I've played it with my immediate family, my in-laws, and a couple of friends. We all know each other really well, and we all enjoy the banter and competition that comes from a game like this, or the aforementioned Mario Kart. However, I probably wouldn't take this along to a games club night where there might be people I don't know well. Plenty of people don't like confrontation, or screwing other players over, so this game could leave a sour taste in their mouth.
The same goes with playing with family, or younger players. My son loves games, but hates losing. We tried playing a house rules game where we couldn't play any cards that directly attacked another player, and while it works, it feels like ripping the soul out of the game. Sysifus Corp is a game that's at its best when players are shouting and laughing, groaning and sniggering. Just bear that in mind before you pull the trigger and buy it.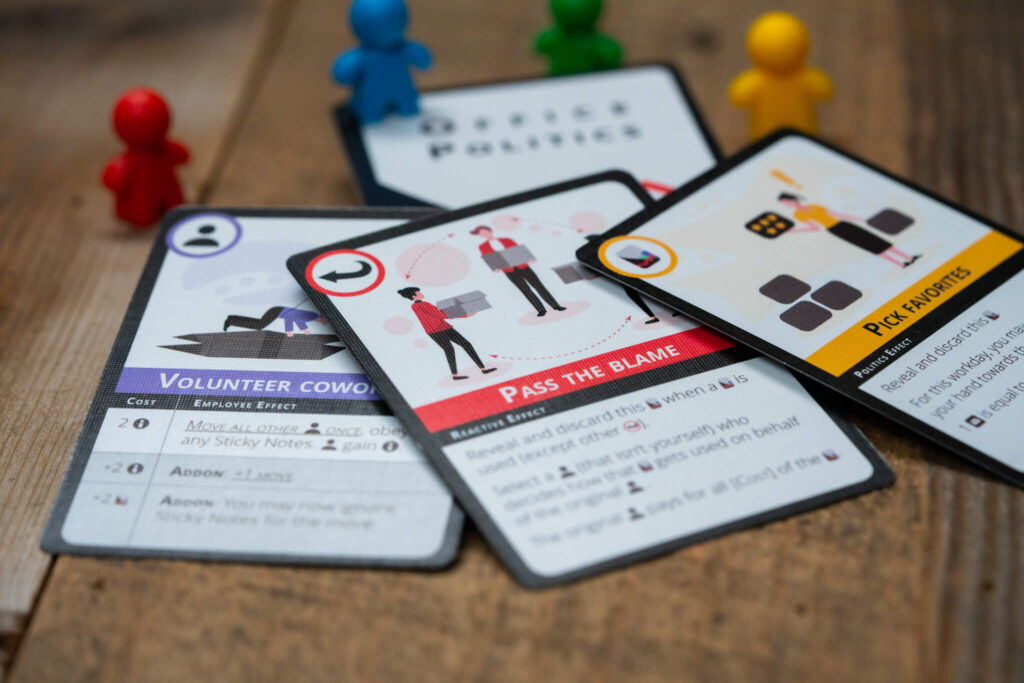 When it comes to player count, it's pretty good against one other person, especially if you know them well. The game really comes to life with three or four players, and you need eyes in the back of your head to keep track of what's going on. There's a great feeling of trying to hinder the leader without putting yourself in the spotlight. Using the Mario Kart metaphor again, it's like staying in second place and just waiting for that blue shell to go flying past, leaving you free to claim victory.
Final thoughts
Sysifus Corp doesn't look all that exciting when you set it up. The player boards are really nicely done, but the main board feels a bit soulless and grey. But when you start playing, you realise that's just a part of the over-the-top corporate feel, and it actually helps the game. It's a racing game, and it's a really good racing game, and it's a real boon that any decoration just gets out of the way, and lets you concentrate on who is where, and what they're doing next. In the same way that Chess doesn't need an illustrated board.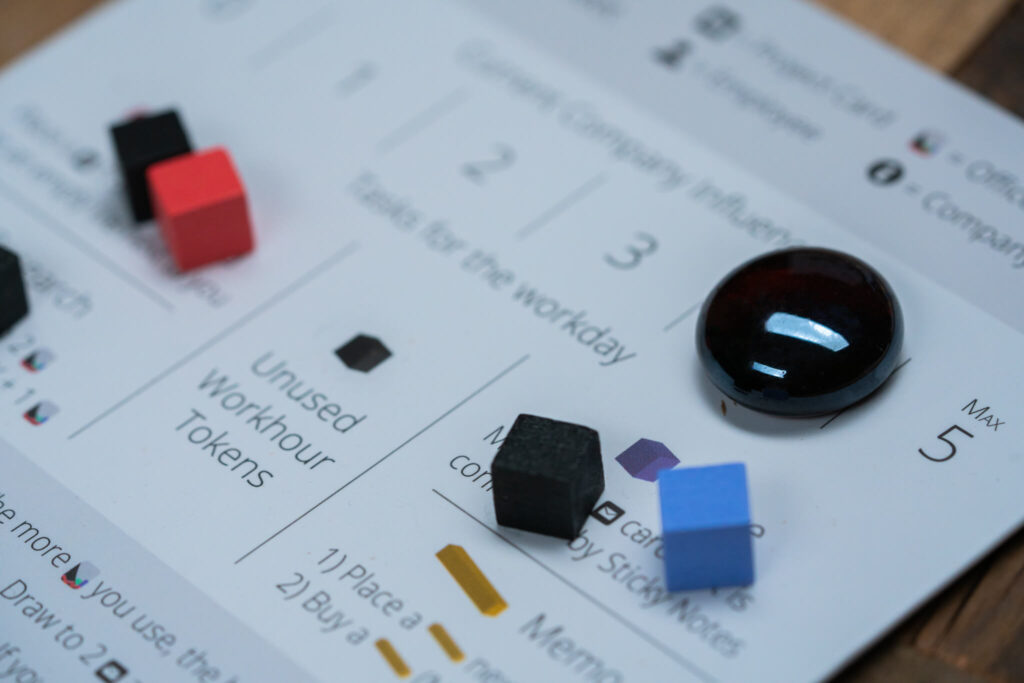 I can't comment too well on longevity, although I know that some racing games can become routine when the players know all the tricks. What Sysifus Corp has going for it though, is a big selection of office politics cards, only some of which gets used in any one game. Cards can combo-up when played, so using different sets to start with can result in really different feeling games.
I know the theme will leave some people cold, but I'd urge anyone to try it if they can, or at least give it the benefit of the doubt. I really enjoy a race with plenty of needle, plotting and ruining someone else's day. Sysifus is a well-made, balanced, riot of a race game, and I've had loads of fun with it. Wonmin has made a great game, and I love seeing another brilliant design from an independent studio.
Review copy kindly provided by Pegasus Games. Thoughts and opinions are my own.
SPECIAL OFFER!
Pegasus Games have provided me with FIVE discount codes for Sysifus Corp. If you head to https://www.sysifuscorp.com/ and buy the game direct, you can save 20% of the cost. Not too shabby. It brings the cost down from $39.99 USD to a shade under $32 USD. In order to claim a code, comment below and I'll give the first five people a discount code.
Please don't ask for a code if you don't intend to use it.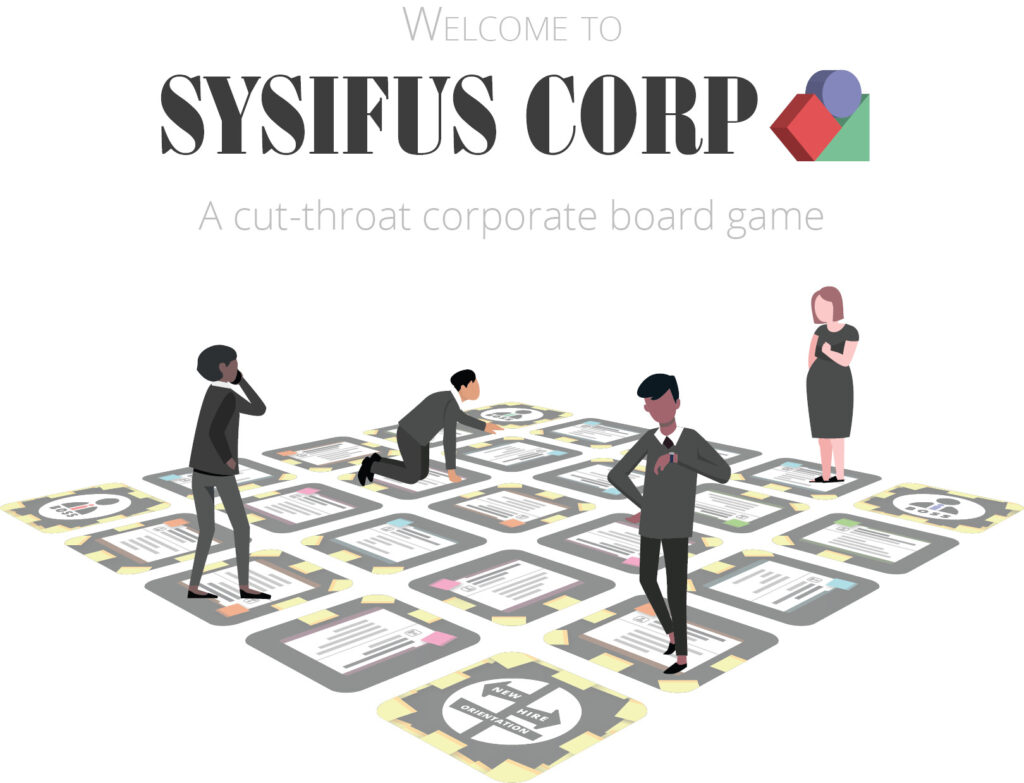 Sysifus Corp (2021)
Designer: Wonmin Lee
Publisher: Pegasus Games
Art: Wonmin Lee
Players: 2-4
Playing time: 45-60 mins