Midhalla Preview

Co-op fantasy dungeon crawls – they're not exactly rare. Unless you've been living under a board game box for the last few years, you're likely to have heard of Gloomhaven, for example. Midhalla looms on the horizon, adding a Viking twist to the tried and tested formula and adding in some new things for us to experiment with. Ever wanted to eliminate randomness in the combat in a crawler? How about adding tower defence elements? Ahh, got your attention now haven't I? Buckle-up, Midhalla is a ride.
I'm not the biggest fan of most campaign games. They have a few things going on that don't gel well with me, personally. Firstly, I find it hard to have the same group of people meeting regularly. I find the overhead of character customisation and tracking annoying. I don't like the repetition of doing the same combat steps again, and again, and again. Mostly I don't like how they are prohibitive to drop-in, drop-out play. I still enjoy campaign games, but those things are like grit in my shoe. Nothing that's going to hurt, just an annoyance.
Midhalla makes some welcome changes to those things which go a long way towards alleviating my annoyances.
Keep your trap shut
My favourite thing that Midhalla adds is the element of tower defence. If you're unfamiliar with it, it's a game style where enemies keep rolling in towards you, and you build defences to keep them at bay. One of my favourite games ever – Cloudspire (review here) – uses it. In one of the three phases of the game in Midhalla (more on those phases shortly) you get some preparation time between waves of bad guys. During this time you can buy and upgrade traps, positioning them in the dungeon to try to slow their encroachment towards your gate, which you've got to protect above all else.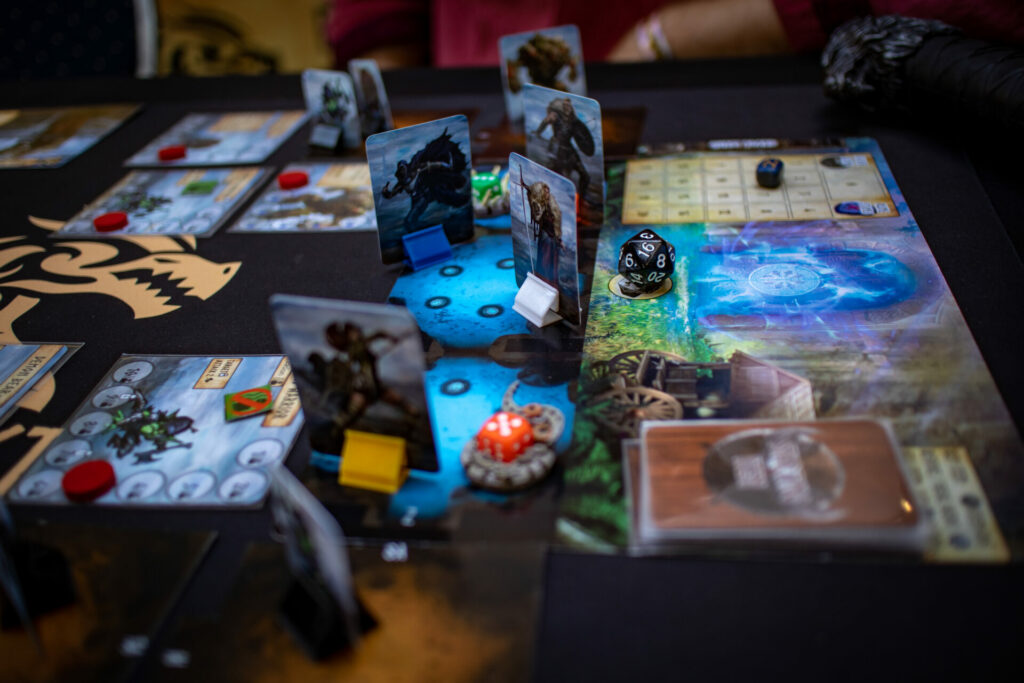 Traps aren't just single-use either, they'll continue to work against the enemies until they destroy them, which is great, and really leans into the tower defence theme. As a group, you can decide during these preparation phases how you want to set up for the next assault, and it acts as a little breather. Breather is an apt term here too because Midhalla moves fast. Combat rounds are often over in 10 minutes and are really easy to run. I will give a quick overview of how the enemy turns play out because cumbersome enemy control drives me crazy in games.
First, you activate all of the enemies in the dungeon. There's a specific order that is really easy to follow, but it's a case of "Can the enemy attack the thing it targets (typically heroes or traps)? Yes? Okay, attack it. No? Okay, how about the gate, can it attack that? If it can, great, if not, just move onwards". I can't tell you how happy it makes me to have the basic enemy turns work like this. No complex way-finding. No charts of priorities. No list of exceptions. Just look at their card and do the thing.
Power up
My favourite thing in campaign games, whether they're tabletop or digital, is when you unlock new powers and become more skilled in the art of ass-kickery. Midhalla doesn't just tickle that little dopamine hit for me, it pulls the ripcord on a 2-stroke receptor stimulator. Each time you start a new part of the campaign, your characters are pretty basic. It's not like Aeon's End Legacy (review here) or Gloomhaven where you whip out your heavily modified character to take on the next chapter of the story. Your character sheets only have some pretty basic actions on them, which might sound rubbish, but they don't stay that way for long.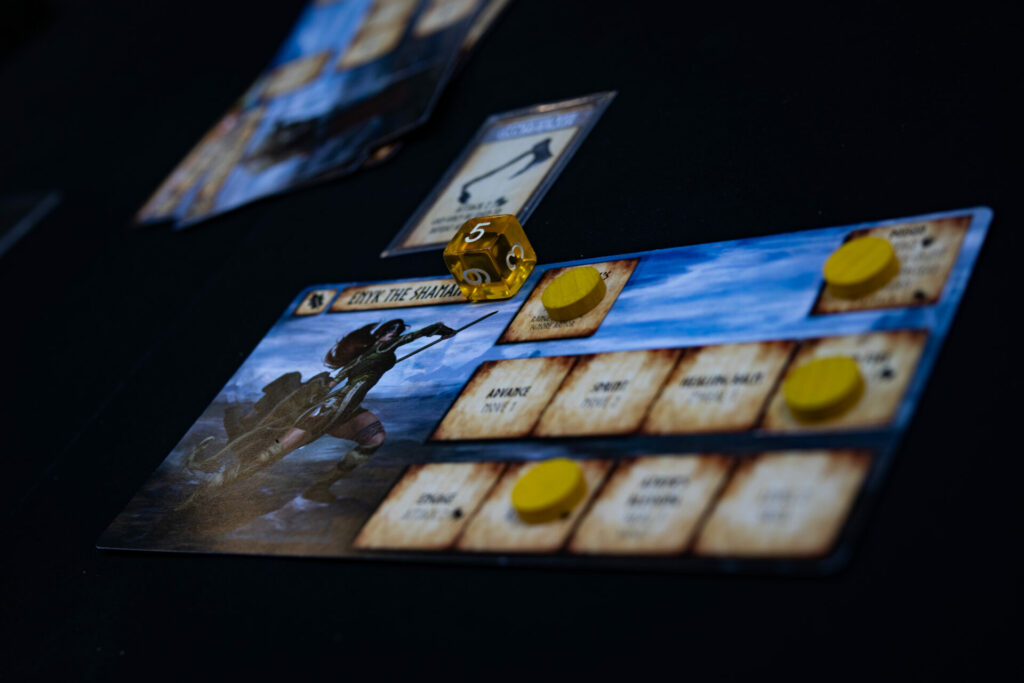 The basic gameplay loop has three main phases: Exploration, Preparation, and Combat. During exploration, you'll draw new tiles to add to the dungeon, each time reading the appropriate section of the campaign book to explain what you found. It's a pretty cool system that gives you ideas about how you might want to explore and fortify. You might read a section that talks about noises from the west, so maybe you choose to keep exploring in that direction to find out what kind of a something makes those noises.
I touched on the preparation and combat phases earlier and won't go into it more for now, because the fun stuff happens after those three phases when you come to the rewards step. The reward phase is when you get to prepare one of the ultimate abilities you might have used, do the same with items, remove status effects, and most importantly – for the control freaks like me – level your character up. Levelling up is as simple as drawing a couple of cards from the next skill tier up, choosing one, and putting it in a space on your character board. Instant power!
I love this way of doing things. It means you get more powerful as each chapter progresses, not like Gloomhaven where you're thinning your deck out constantly, barely surviving an encounter with a sole ability left. Midhalla makes me feel powerful, and that's a great feeling to get from a game like this. You're going to need that power, too, because once you've levelled up you do it all again, and then again a third time. Exploring, placing traps and monsters, fortifying, fighting. The dungeon starts to sprawl, waves and waves of monsters begin to bear down on you, and the event cards you draw add a little bit of spice to the proceedings.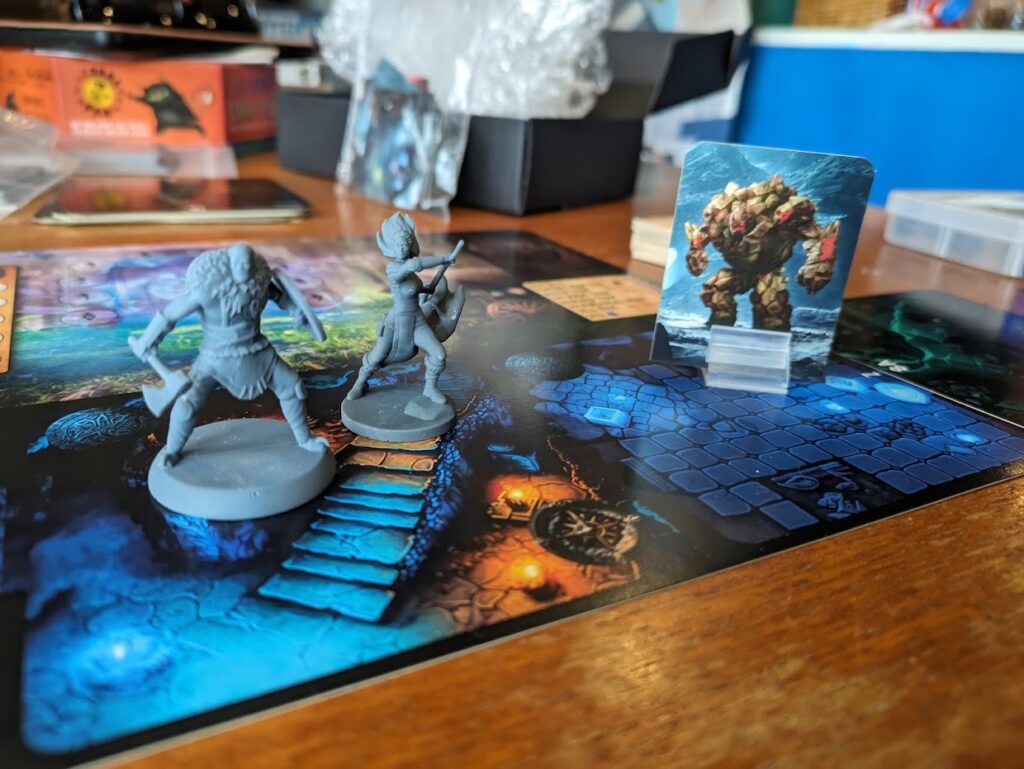 Interestingly, and brilliantly, the events are just about the only random things that happen during the game.
Determination
If you read and watch a lot of Midhalla previews I'm willing to bet five whole Pounds that you'll hear a two-word phrase used a lot: 'deterministic combat'. Sounds like a smartypants, big-brain thing to say, right? "I really like Midhalla because of the deterministic combat" – dinner party conversation gold right there.
What does it actually mean though?
When a game is deterministic it means that there are no random factors to the play. No dice rolling. No blind drawing of cards. No spinning a wheel of fortune and hoping for the best. In Midhalla this means that you know everything that's going to happen in each cycle of play before it even happens. You know which enemies are in which locations. You know what they'll attack, from how far, if they'll move or not, and how much damage they'll do. You know which traps will survive, where you can move, what you can do, and how much damage you can do.
Now, when it's written like that, it doesn't sound like much fun. It sounds like a giant spreadsheet that you can sit down and puzzle out with a pen and a piece of paper. And in fairness, you actually could. If you're just that much fun that your idea of a good time is to run through every permutation possible to see what works, then you go for it. For the rest of us though, the reality is that you're only really planning a few turns ahead at most. You know some baddies are miles away, so you don't think about them until they're getting close enough to cause you a headache.
It's a really fresh take for a dungeon crawler. I realise there might be other examples out there, but to me, it's something new and interesting. It makes me wonder why more of them aren't done this way.
Final thoughts
Midhalla wasn't a game I knew anything about when I first spoke to Eike, one of the designers. Coming into a game fresh like that is the way I always choose to do things when I can because I go into it having no expectations. If I had had any expectations, however, it's fair to say that Midhalla would have blown them out of the water. Even playing with a prototype with thin card standees was an atmospheric, exciting experience.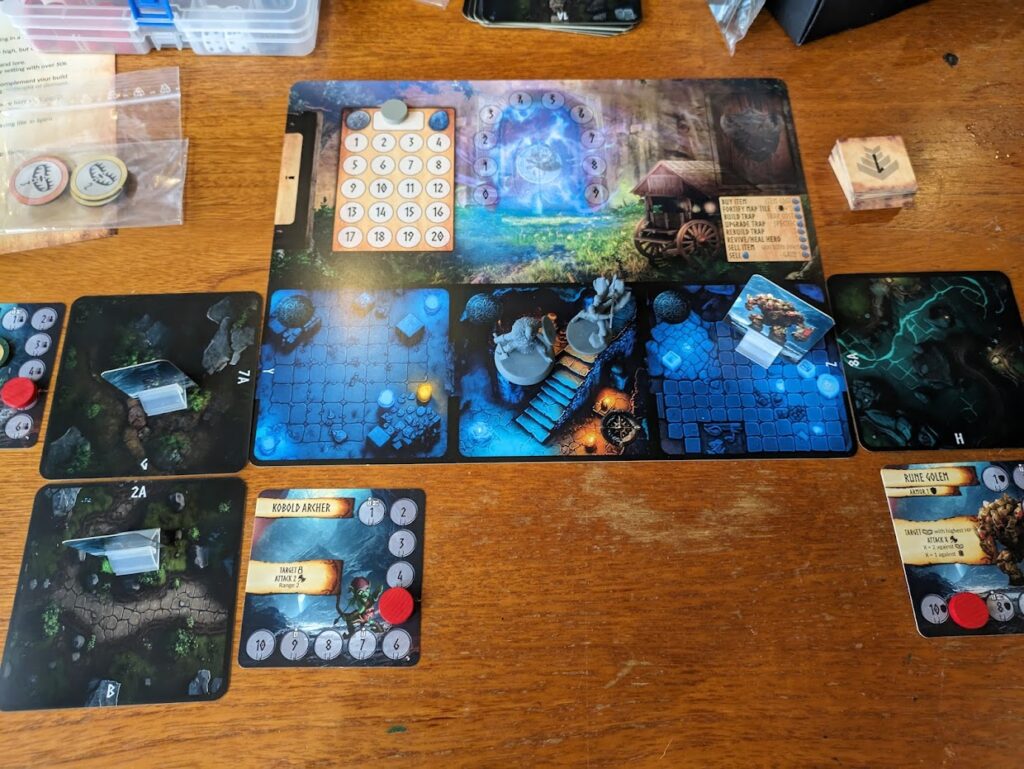 I love that it has answers for so many of the things I don't enjoy about campaigns. The rinse-and-repeat combat is broken up with preparation phases and setting up traps, and acquiring new skills mid-game. The feeling of getting more and more powerful in a short period of time is great, and the speed it plays out is so snappy, it keeps me invested more easily. Exploration is quick and adds flavour and atmosphere through the campaign book. Preparation is a proper team event, deciding on how best to defend your gate. Combat rattles through quickly and painlessly, and it's all tied together with a player aid which honestly tells you everything you need to play the game, including all the status effects. Chip Theory Games would do well to see how to handle status effects without making it all but incomprehensible at times.
The combination of enthusiastic, colourful world-building and a story that looks like it's going to deliver on the narrative front, and a smart, clean, efficient game design is an absolute winner. Maybe the Viking theme does nothing for you, but that's personal taste. As far as whether you should take a punt on Midhalla – yes. The game is fun, it's easy to learn. Your friends can drop in and out and take a character from a weakling to a hulking man-bear made of fists and axes without tainting someone else's precious hero. The tower defence aspect is nicely done, and I love, love, love playing one of these games where luck doesn't play a factor. Fyrnwest games have created something special, and for the money they're asking for it, it seems like a bargain.
The Kickstarter campaign for Midhalla is running now and runs until September 13th 2023. Click here to jump across and take a look at it.
Prototype copy kindly provided by Fyrnwest Games. Thoughts and opinions are my own.
If you enjoyed this review and would like to read more like this, consider supporting the site by joining my supporters' membership at either Patreon or Ko-fi. It starts from £1 per month, offers member benefits, and lets me know you're enjoying what I'm doing.
---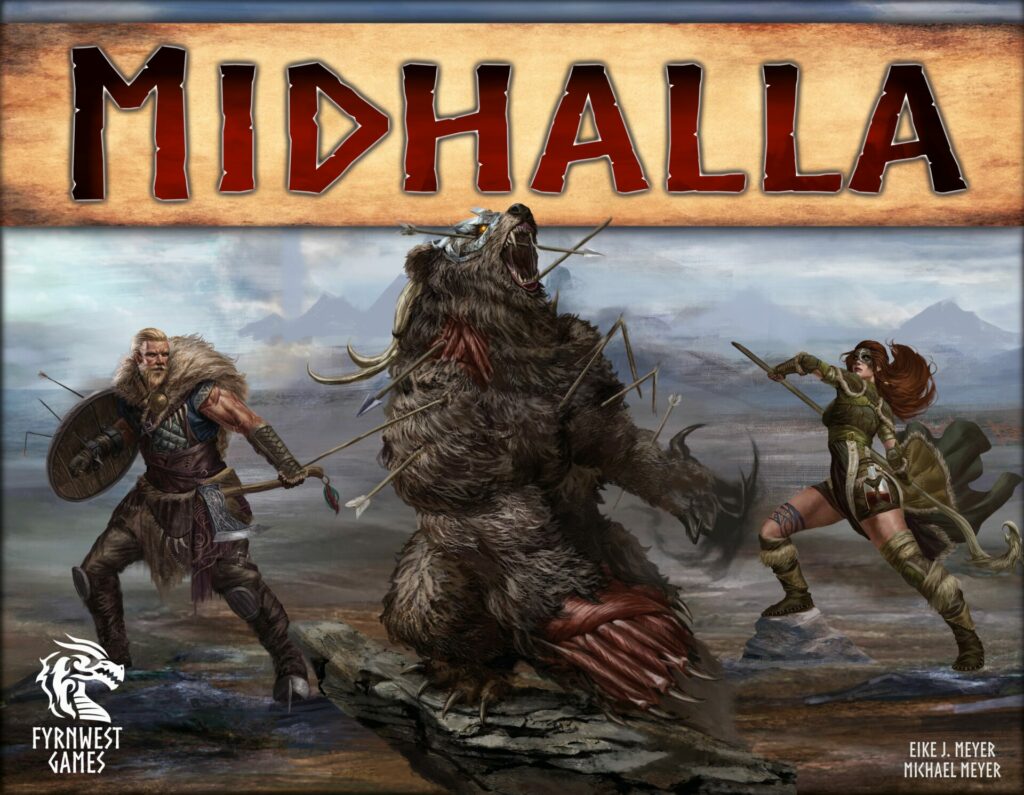 Midhalla (2023)
Design: Eike J. Meyer, Michael Meyer
Publisher: Fyrnwest Games
Art: Phan Tuan Dat, Nicholas Koo, Nikoloz Baloo Kuparadze
Players: 1-4
Playing time: 90-180 mins