Manifest Review

I've been playing Manifest, which, according to the box art, is a second edition. New Zealand publisher SchilMil Games has put together a game on the lighter end of the scale, which is a '20s-themed pick-up-and-deliver affair. Rival shipping companies aim to be the best, making money by shipping goods and passengers around the globe.
Interestingly, the two people who lent their names to SchilMil Games – Julia Schiller and Amanda Milne – are also the game's designers. I think it's fair to say that Manifest is a game which is aimed at the same kind of space as Ticket To Ride. It's pretty, has tactile pieces, a nice insert, and a thin rulebook. The board isn't plastered with icons and reminders, like the lid of a teenager's laptop. Instead, it's clean and clear and lets the Art Deco typeface and artwork take centre stage.
Boarding pass at the ready
I like how streamlined the gameplay is in Manifest. You've each got a hand of cards, and on your turn, you play them for either their movement value, their money, or the effects written on them. I always find myself reminded of Ticket To Ride when I play Manifest, even though they're two mechanically different games. I think it's because of the contract cards, which ask you to take something from one place to another, and the further apart the start and end are, the more points you score by completing them.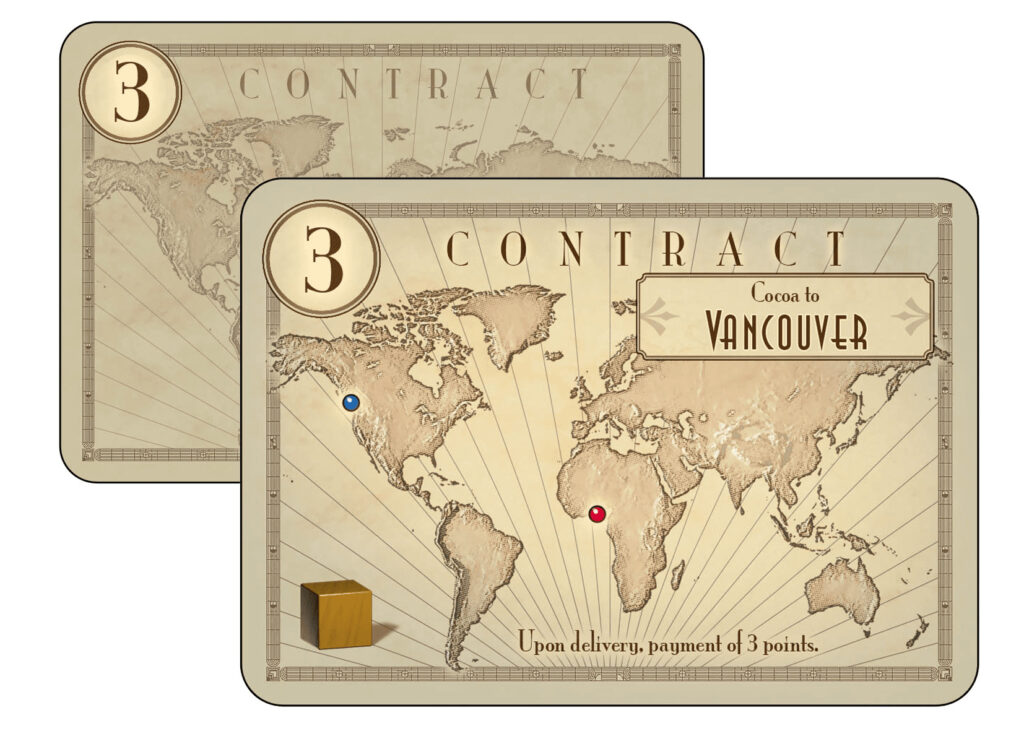 There's a great touch to the way contracts are handled too. As well as your own privately-held, secret contracts, there are also public contracts on offer on the board. They're up for grabs, and it's first-come-first-served. It just adds a little something to that feeling that TTR gives you, where it feels like you're racing to complete contracts, but only ever guessing what the other players are going for.
Manifest could have been a much simpler game, but instead gives each player two ships to control, and thus, two ships to worry about. Your movement and money are split between them and force you to make some tricky decisions at times. For example, movement on one card cannot be split between ships. Not being able to use the change left over from one card on a different ship means you might have to decide whether to risk waiting a turn, leaving that juicy four-point public contract just out of reach for now. How confident are you someone else won't take it this turn?
Rough waters ahead
It's not all smooth sailing – pun absolutely intended. There are plenty of spicy little touches to keep you on your toes. Pirates are a good example. Not a good example of life choices, just of bad things that can happen in Manifest. Some of the most convenient routes around the Caribbean, South China Sea, and Suez Canal are patrolled by pirates. If you choose to negotiate those stretches, you roll dice which can lead to pirates stealing cargo and passengers.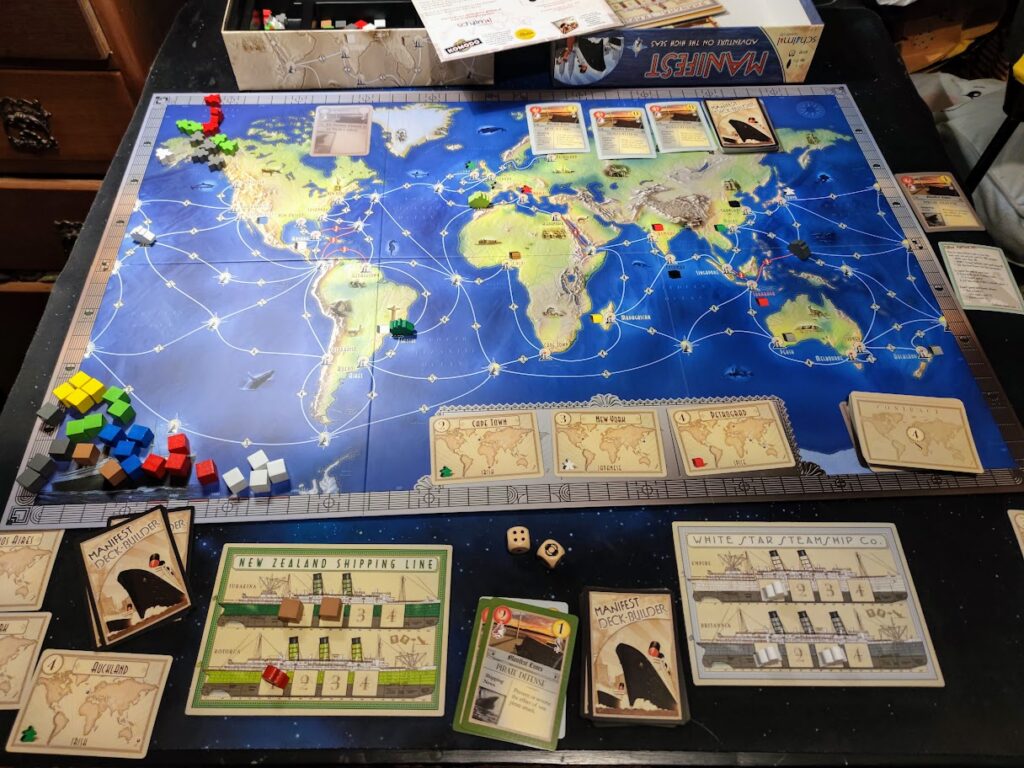 Much like anything else in the game, there are cards which negate hazardous pieces of game design, but it's a case of having the correct card in your hand when you need it. Perfect planning, people. Perfect planning. Combat's not just limited to pirates either, and player vs player naval fisticuffs are on the table too. It's a nice layer of interactivity to prevent Manifest from being just a straightforward race to the finish line.
Some of the included optional modules keep things interesting too. Interesting in the same way that cutting the brake cable on your bike and going for a fast ride is interesting. Fun, but anything but a smooth ride home. Company advantage cards give players unique per-turn powers, and there's a pirate ship variant which sees anyone losing cargo to piracy being able to act as the pirate the next time someone else risks it. It's the Expert version of the game that I like best though.
Deck building deck-building. Like, deck on a boat. Geddit?
Once you've played the basic version once or twice, the deck-building 'Expert' version of the game is where it's at. Like all good deck-builders, you start with a basic set of cards you'll cycle through, and there's a card market too. Some of the powers on offer on the market cards are really interesting, and anything which helps prevent a game from going stale quickly is a good thing in my book.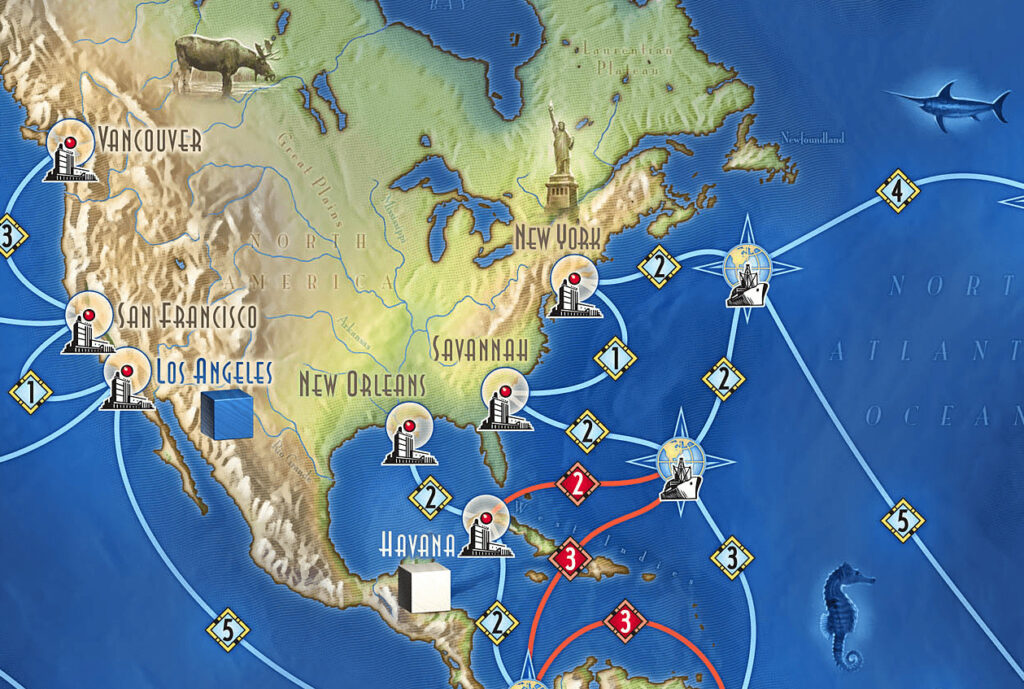 Cheaper basic card upgrades, being able to use the values of a card face-up in the market, and even whirlpools to move anybody's ship around the map. The new cards give you more to think about, for sure, and there's the added problem that money spent on cards isn't being spent on cargo. There are only a couple of cards that let you draw extra cards into your hand, so don't expect Dominion-esque combos that go on forever. The deck-building in Manifest has a much more subtle effect on the flow of the game.
I mean, the basic game is fine with newbies, or with family who don't play games often, but if you know your Carcassonne from your Carrom, you really ought to be using the Expert rules when you play.
Final thoughts
Manifest is a really decent game. I hadn't heard of it when I was given the chance to review it, but one look at the '20s stylings had me hooked – shallow man that I am! Luckily, the game is good too. I've mentioned Ticket To Ride too many times already in this review, and I really don't want anyone to directly compare the games, because they're so different. It really does give me that same feeling of accessibility, ease of play, and family-friendly play that TTR does. It sits on my 'Games I could play with the family at Christmas' shelf.
If you can, I recommend playing it with at least three players. It's fine with two, but you can spend most of the game on opposite sides of the planet, doing your own thing. More fun comes from the risk of bumping into others mid-ocean, and the race for the public contracts. The game states that it's aimed at 13+ years of age, but honestly, my nearly-ten-year-old had no trouble picking up the idea of the basic game.
It's not going to scratch your heavy euro itch, nor sate your appetite for the pirate stylings of something like Merchants & Marauders. What it is, is a solid pick-up-and-deliver game which often results in a madcap race to get the last few points needed to win, and it's beautifully produced. It even caters to those of you who don't like the Greenwich Meridian running through the centre of the map. Flip the board over and you've got the Pacific there instead, with the Americas on the right, and the rest of the world on the left. Small touches like that just add that Mr Sheen shine to the whole package.
Review copy kindly provided by SchilMil Games. Thoughts and opinions are my own.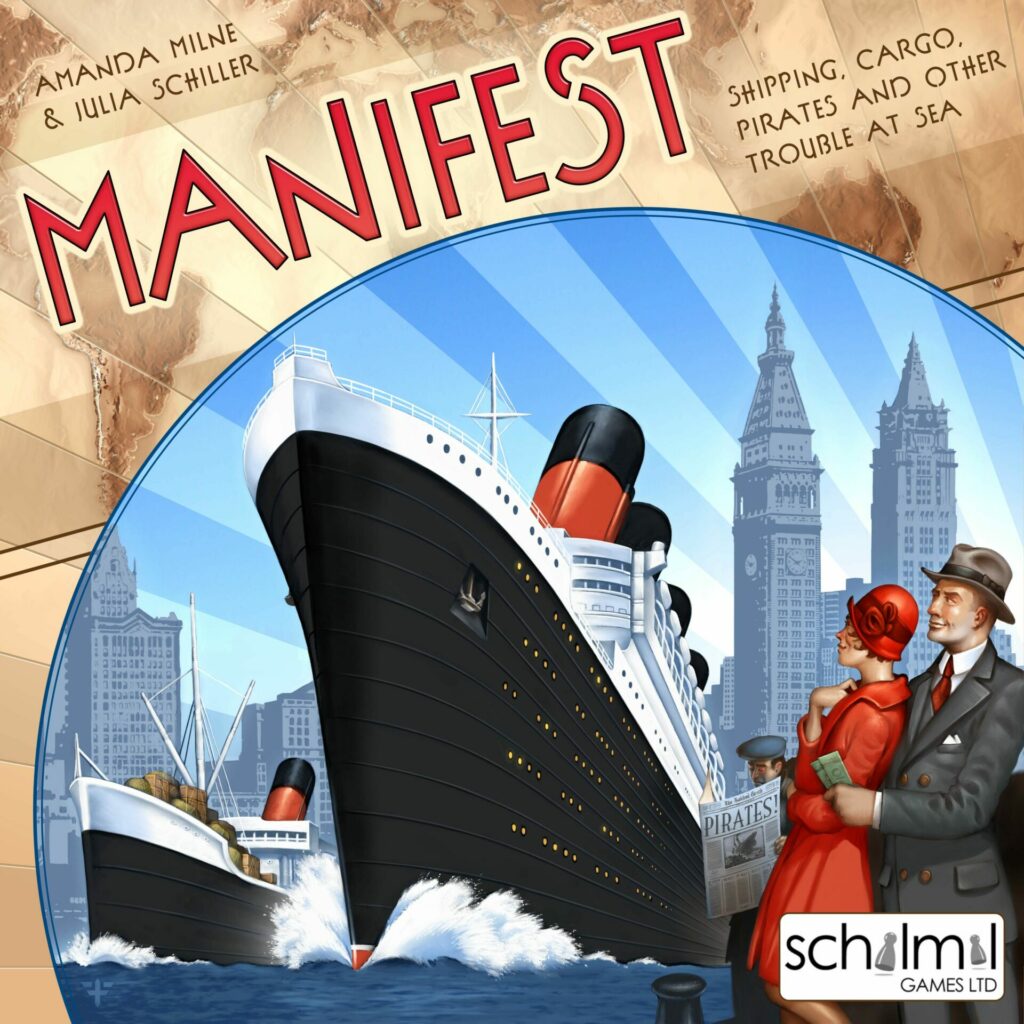 Manifest (2014)
Designers: Julia Schiller, Amanda Milne
Publisher: SchilMil Games
Art: Amanda Milne, Franz Vohwinkel
Players: 2-5
Playing time: 45-90 mins