Anno 1800 (Board Game) Review

Anyone who has played PC games in the last twenty years will probably have heard of the Anno series of games. They're delightful city-building games in the style of others like The Settlers, and Age of Empires. Each game is set in a different historical period, and sometimes even the future! Anno 1800 has made the transition across the ethereal planes between digital and physical, and thanks to Martin Wallace and Kosmos Games, we can now play it on a table.
Once bitten…
When I first heard that there was going to be a cardboard version of Anno 1800, I was equal parts excited and skeptical. I've see far too many terrible adaptations from one form of media to another to not assume the worst. Having Martin Wallace's name on the box helped ease that worry though, as he's responsible for some of the greatest games ever made (Brass: Birmingham, London, A Few Acres of Snow among others). Some of the things you do in the Anno games seem like a natural fit for a board game, like generating resources, and building. The exploration and expansion, not so much.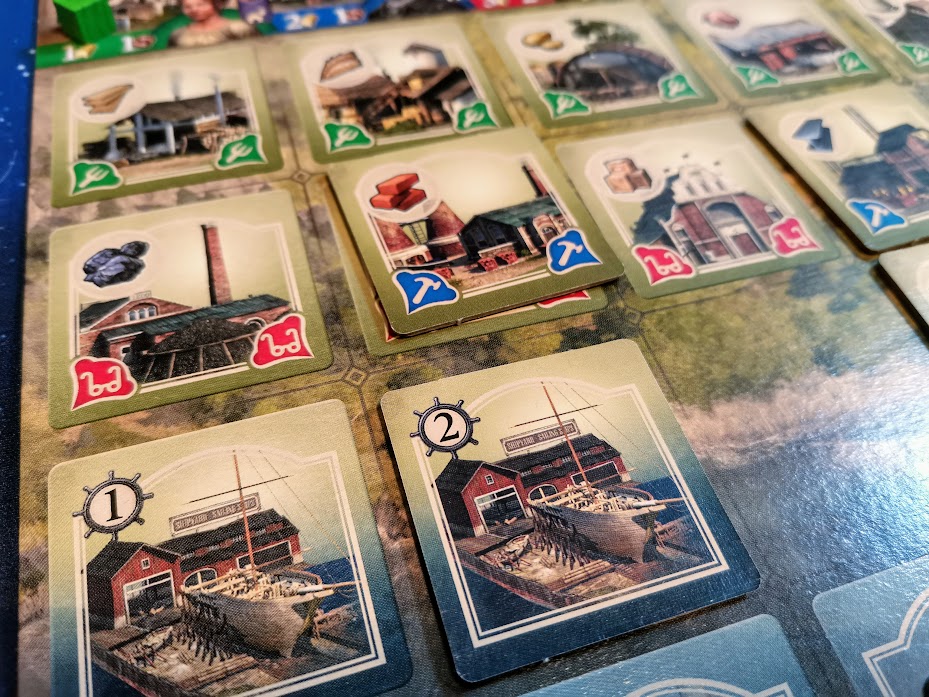 Despite my misgivings, I went out and bought it as soon as it was released. Don't judge me, I'm weak. The first thing I should tell you is that it really does feel like an Anno game. Not only that, but it feels like Anno 1800, which is a game I've played a lot of on the PC. The game could easily have been called 'Here's a massive box of tiles', because that's what it is. There are a lot of tiles in the game, but more on that in a bit. The core of the game revolves around a concept of creating resources on your player board, and using them to upgrade and build new buildings (tiles) on that same board.
By the time you've played a few games, you could probably get a job in logistics somewhere. Supply chain management is what we're dealing with here, it's what all the cool kids are into. What starts off as a game of generating a few basic goods, slowly snowballs into an intricate machine, fine-tuned to produce those all-important victory points. These VPs come from a few different sources, including exploring the Old and New world, and enticing new citizens to your blossoming township.
Sandboxes
Plenty of games claim to offer a 'sandbox' experience, but very few truly deliver it. Having set victory conditions and round structure in a game will always mean it's on-rails to some extent. This creates a problem when trying to recreate a sandbox-style game – a game just like the Anno series. Martin Wallace has done a great job in being able to capture the open-ended feel of Anno 1800, and creating a board game which feels familiar.
There are no rounds or phases during the game. The only game-ending condition is when a player plays the last card from their hand. That might sound like a definite line in the sand, but it isn't, as you're constantly drawing and playing cards. Far from being an easily observable event on the horizon, triggering the end of the game takes some deliberate planning. The fact that the end of the game is player-driven led to some concerns from the community, me included. If playing cards is how to score points, and playing your final card ends the game, why wouldn't you just keep drawing and playing to amass a crazy number of points?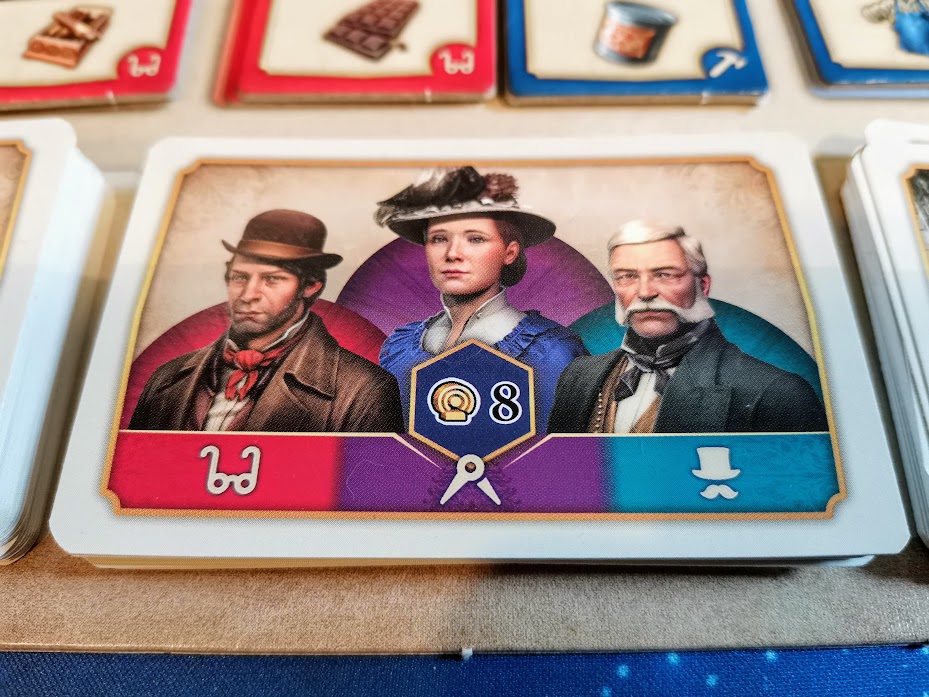 In some ways, it's a valid concern. You can play that way if you want to, but the reality of it is that this doesn't really happen. Sure, I've seen some games dragged-out longer than necessary, but the worry about it turning into a never-ending slog doesn't materialise. There comes a point where you are happy with what you've created, and if that doesn't happen for you, it will for someone else, and the game ends anyway.
Discovery
Anno 1800 is a game of discovery, and I'm not just talking about the way you can explore the Old and New World to add new lands to your player area. I'm talking about the way the systems click into place, and questions you're asking yourself get answered as you play and experiment. For example, printed on your player board is a tile which produces bricks if you use red worker cubes. There's another brick tile you can buy and add to your board which uses a different colour worker cube, and I remember thinking "Why would I ever want that one?". Later in the game, due to the industries I'd built, I found myself really wanting that new tile.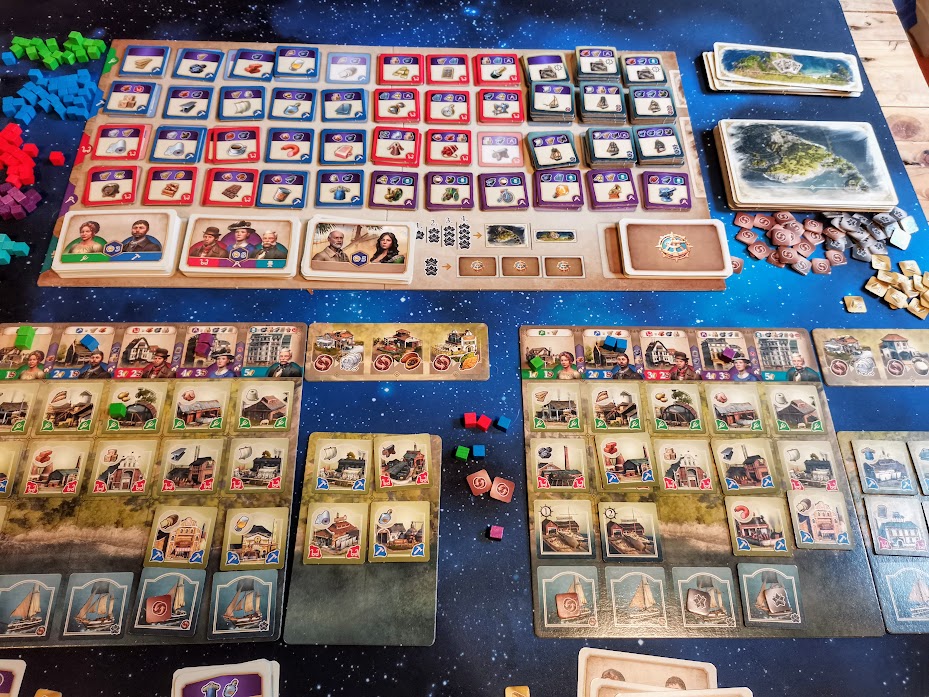 That moment, when something clicks in your brain, is delightful. You can see the things you want on the table in front of you, like a tempting cardboard buffet, but you're not sure how to get them. When you finally get the infrastructure right on your board, it's like the pins in a tumbler lock lining up. Everything falls into place, and it's so satisfying. There is so much to build and make that you can play it over and over, and approach it differently each time. The basic necessities underpinning everything are the same each time, but the different options open to you feel like a proper tech tree from a computer game.
How many…?
I want to talk about the components for a moment. I love the jigsaw-style main board, and the tiles that represent all of the buildings, boats, etc. are really well-made. But there are so many of them. The main board is a market to buy tiles from, and there are spots for 48 different kinds. That's 48 individual piles of tiles on the board. FORTY-EIGHT. That's in addition to the four decks of cards, the exploration tiles, the worker cubes, and the money tokens.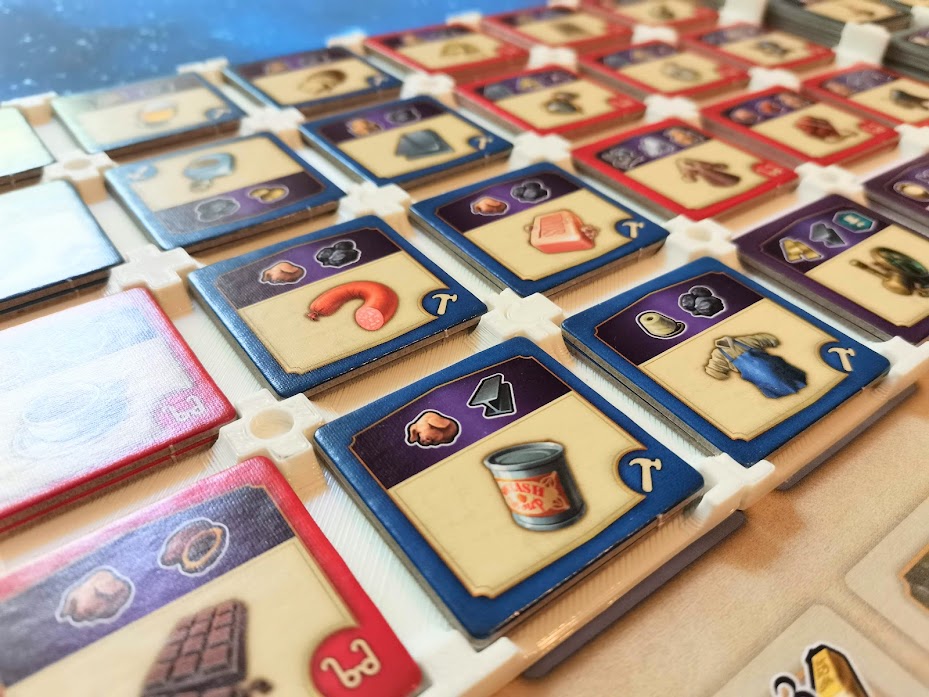 This shouldn't be a problem, I'm reviewing the game after all, not the setup. It's a genuine consideration though. Every time you set the game up, or pack it away afterwards, the tiles need sorting. Then you're left with the choice of throwing them all in a big bag, like the world's most bland pick-n-mix, or finding a ton of little baggies to sort them into. It became so annoying and time-consuming that I 3D-printed a box insert that doubles as a tile-holder.
Final thoughts
I'm very happy to be able to tell you that Anno 1800 is an excellent game. I love the Anno PC games, and really admire Martin Wallace's games, so I worried I'd be disappointed. These franchise tie-ins seldom deliver something great, but Anno 1800 does that rarest of things, and delivers on its implied promises. Not only is it a great game, it also manages to feel like Anno 1800. It's a heck of an achievement.
The number of tiles in the box bothers me, as you might have noticed. When you consider that the game on its own is going to take you a good couple of hours to play, the fiddliness of trying to place nearly 50 stacks of tiles on a board without much space between them is a pain. Definitely set this one up before people arrive for game night.
Anno 1800 is a pretty heavy game, and without the friendly easing-in that the video game gives by way of tutorials, it's one which might be just too much for some people. Understanding how the various tiles and cards work together takes a little time, but it's worth the investment. I've got other engine/tableau building games, but none feel quite like this. If you've got the three hours you'll likely need to setup, play, and put the game away, Anno 1800 is very, very good. Another potential Martin Wallace classic, and a must for fans of the franchise.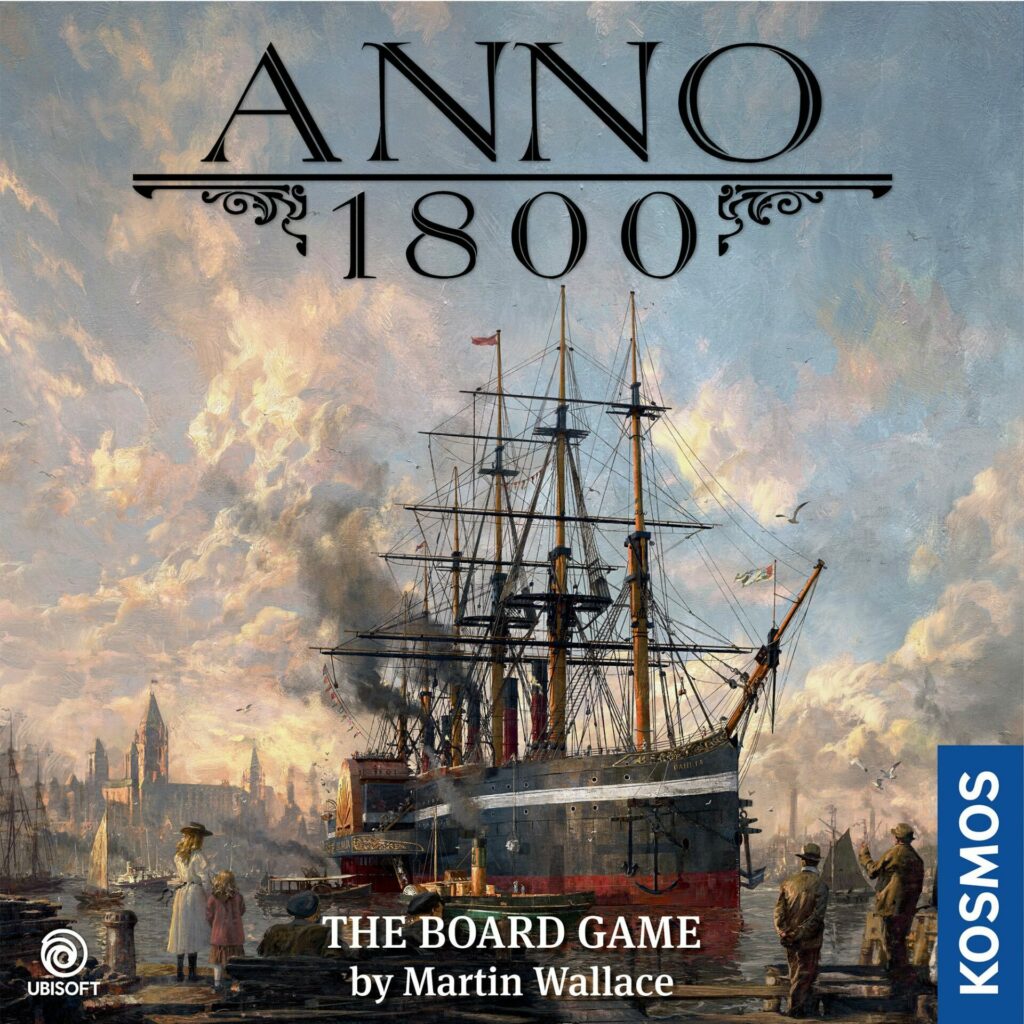 Anno 1800 (2021)
Designer: Martin Wallace
Publisher: Kosmos Games
Art: Fiore GmbH
Players: 2-4
Playing time: 120 mins