Fatal Knockout Preview
I grew up in the Golden Age of arcade beat-em-ups. The likes of Street Fighter 2 consumed me and my spare change for years. For a long time, there was no way to get that same feeling at home, and the rip-off games that appeared didn't really scratch that itch (we won't talk about how much I spent on a Japanese import copy Street Fighter 2 SNES cartridge). Times have changed, and now there's a new way to get that 1v1 2D battle at home. Tabletop games! You might think it won't work, it can't work – but it does. Crab Studios' (you might remember them from Langskip, which I previewed here). Fatal Knockout delivers a one-two combo of capturing the essence of a 2D fighter and making the changes necessary to have it work on the tabletop.
Here comes a new challenger!
Playing Fatal Knockout is pretty easy. Each character in the game has their own deck of cards with unique actions, and their own standee that goes on the… well, I guess you'd call it a stage. I've played using a prototype copy of the game which uses a totally unique box. The box is actually three boxes: two thin boxes for all the cards and tokens, and a larger covering box to keep it all together. When you play the game, the bigger box flips on its side to double as a background, and one of the thin boxes acts as a stage for the fight. It's a novel, thematic touch, which I like.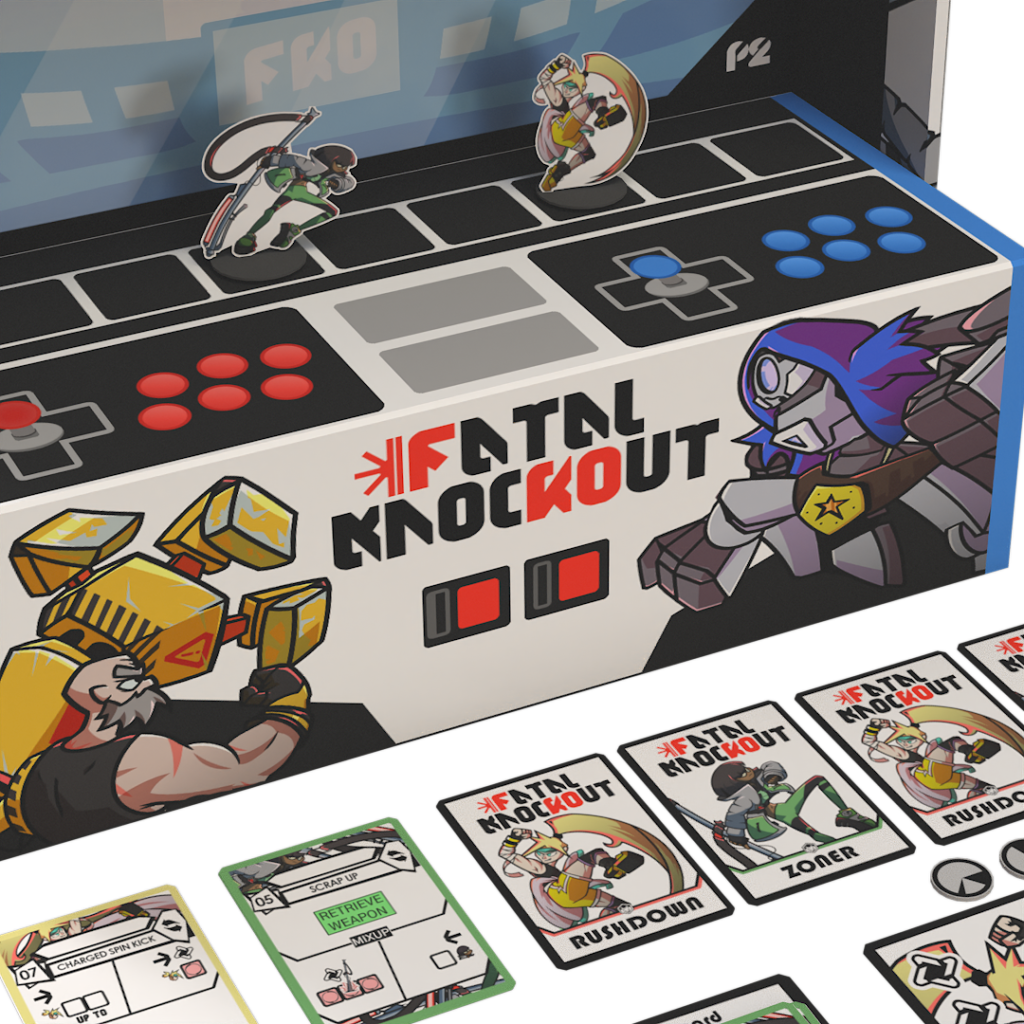 Turns consist of playing a card face-up, and maybe others face-down, before flipping them over and resolving them in numeric order of initiative. Yes, just like Gloomhaven. The cards also have a top and bottom action on them, again like Gloomhaven. Not that there's anything wrong with using a system like that. On the contrary, in fact, giving players a familiar mechanism to play with can only help when it comes to people learning to play something new. The fact that you can see the first step in someone's plan (the face-up card) is neat. Are they giving you a sign of what's to come? Or a bluff? Or a double-bluff??
The actions on the cards do things like move you back and forth across the stage, attack, or add a shield (think of it like blocking in a video game). You use these actions to manipulate both your and your opponent's positions on the stage, trying to set things up in a way which works best for your character. The Gunslinger likes to use his gun at range, while the grappler likes to get up close and personal, before tossing you around like a bin bag on bin day. All of the actions are super-easy to understand, thanks in no small part to the limited and distinct iconography in the game. It's a real asset to Fatal Knockout to keep things simple in this way, because there's nothing worse in a game that's meant to trot along at pace, than having to stop and consult a rulebook every five minutes.
Duel 1: Let's rock!
In the days since the Fatal Fury and Street Fighter franchises took off, beat-em-ups have evolved. Most modern fighters have a few characters that play quite 'vanilla' and basic, and others who have unique mechanisms. Fatal Knockout mirrors this evolution with characters with varying levels of complexity, and some which have their own something special to set them apart. I already mentioned the Gunslinger. He needs to use his unique bullet tokens to carry out certain actions. The same is true of the Guitarist who uses various different coloured note tokens to do similar things. I like this, it's a nice touch and a nod to games like Guilty Gear and Smash Bros.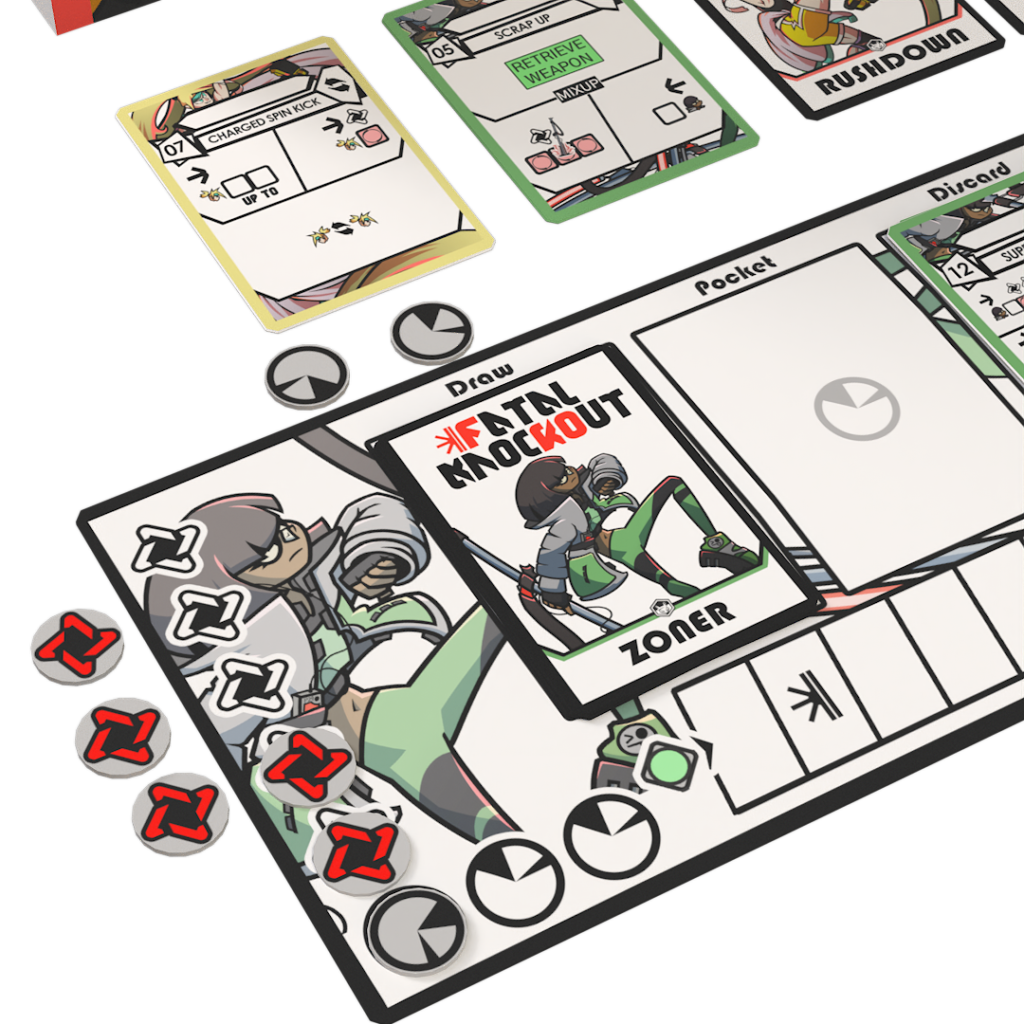 If you're used to having various meters to build up during a fight, you'll be happy to see that mechanism employed too. The cards you play on your turns have varying amounts of meter that they fill, and building meter grants you things like shields, and the ability to perform certain moves. Ultimately though, if you take too much damage, you die. I say 'die' just because the game is called Fatal Knockout, which sounds pretty final to me!
You must defeat Sheng Long to stand a chance
Fighting game tabletop fans might be champing at the bit right now, desperate to tell me that this isn't the first time fighting games have been made analogue. Calm down folks, I know. There are loads of lesser-known fighting games, but a couple of bigger titles spring to mind. Street Masters came out a few years back, but it feels more like a brawler game, like Final Fight or Streets of Rage. The Exceed fighting system is the big one though, and it's always going to be Fatal Knockout's biggest competition. I learned Exceed back in 2019, and while it's great and has some fantastic licences (Shovel Knight, Street Figher, BlazBlue to name a few), it's trickier to do well at. A good Exceed player is always going to destroy a newbie.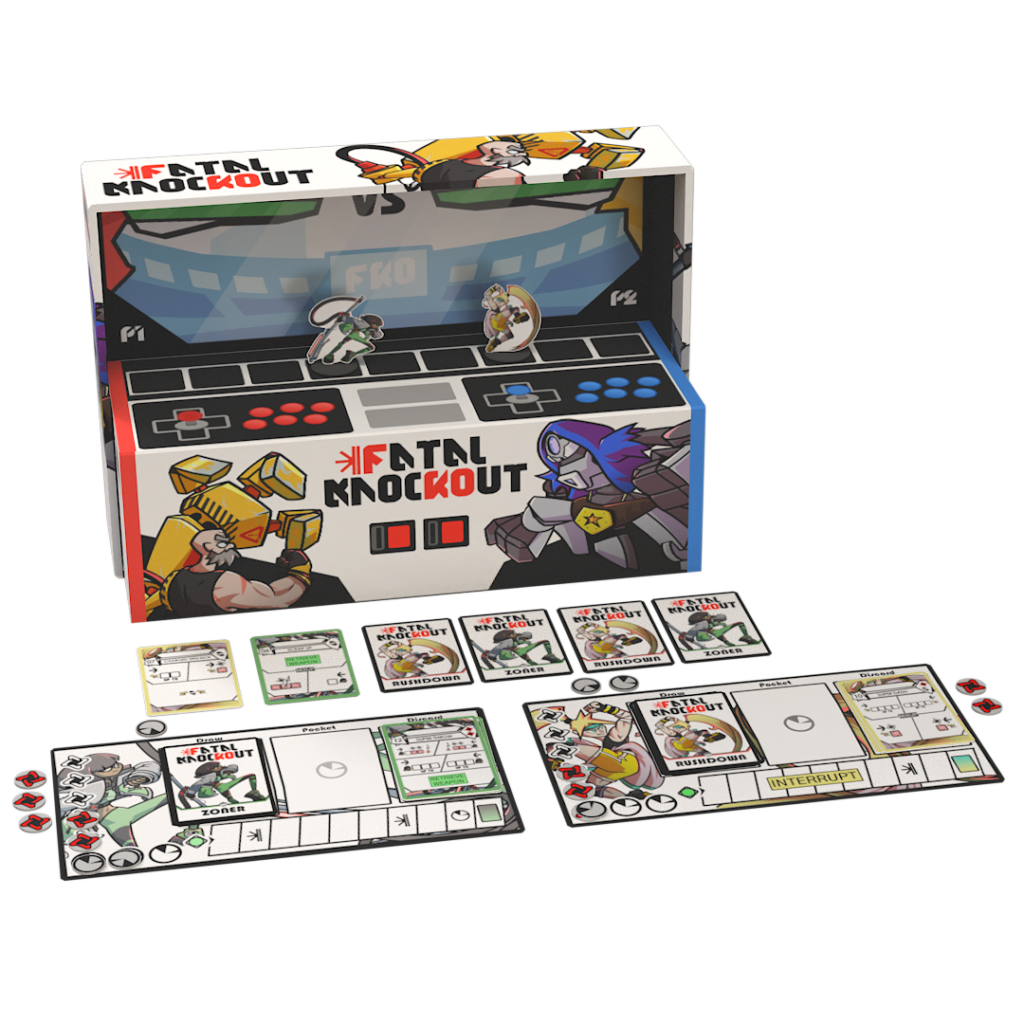 Fatal Knockout feels easier to get to grips with, and even a new player can hope to leave a few bruises on an experienced player. This matters. Fatal Knockout isn't a system in the same way that Exceed is, which means you can buy a box and have fun with it without worrying about picking up more and more expansion packs. More fighters might well come, I'd expect it if the game does well, but it's not the same expectation as Exceed. The two games play fairly differently too, which is surprising given that they both employ cards for actions, and the idea of jockeying for position on a track. Fatal Knockout doesn't lean on the same rock-paper-scissors central mechanism that Exceed does. It's neither better nor worse, just different.
Final thoughts
I like Fatal Knockout. I was always going to like it, it's a 2D fighting game, but I ended up liking it more on its own merits than for being a nostalgia-fest. I really like the Gloomhaven-style cardplay and the twists and turns it adds. The look on the other player's face when you move before them, taking you out of range of some hideous throw they were about to, is glorious. I really like the fact that it's so easy to teach and pick up, because this is a game which will visually and thematically appeal to video game fans. If you've got friends like some of the friends I have, you're all-too-familiar with the eye-rolling that ensues when you start explaining the rules of a game. Fatal Knockout's simple ruleset doesn't do this, which is great.
The artwork is very stylistic, and possibly a little too simple? I'm not sure. I know it's trying to replicate that 16-bit era, but I'd like to see some more detail in the fighters. There's a lot of white everywhere. I think maybe I'm expecting either pixel art or the illustrations from game artwork, and this is somewhere in between. Remember though, I'm playing a prototype, so all artwork, components, and rules are subject to change.
All in all, Fatal Knockout is a great package, with a low barrier to entry. The quick and easy teach is great, and I love that the booklets give you an idea of how each character plays. Newbies can choose a fighter that's easier to learn, and once you get the hang of it you can learn those with a bit more nuance to their move-set. The biggest difficulty it's going to face is going up against Exceed and its licences with the big names in fighting games. But at the right price point, Fatal Knockout delivers an all-in-one, mano-a-mano slugfest, rich with fighting game theme.
Preview copy provided by Crab Studios. Thoughts and opinions are my own.
If you enjoyed this review and would like to read more like this, consider supporting the site by joining my supporters' membership at either Patreon or Ko-fi. It starts from £1 per month, offers member benefits, and lets me know you're enjoying what I'm doing.
---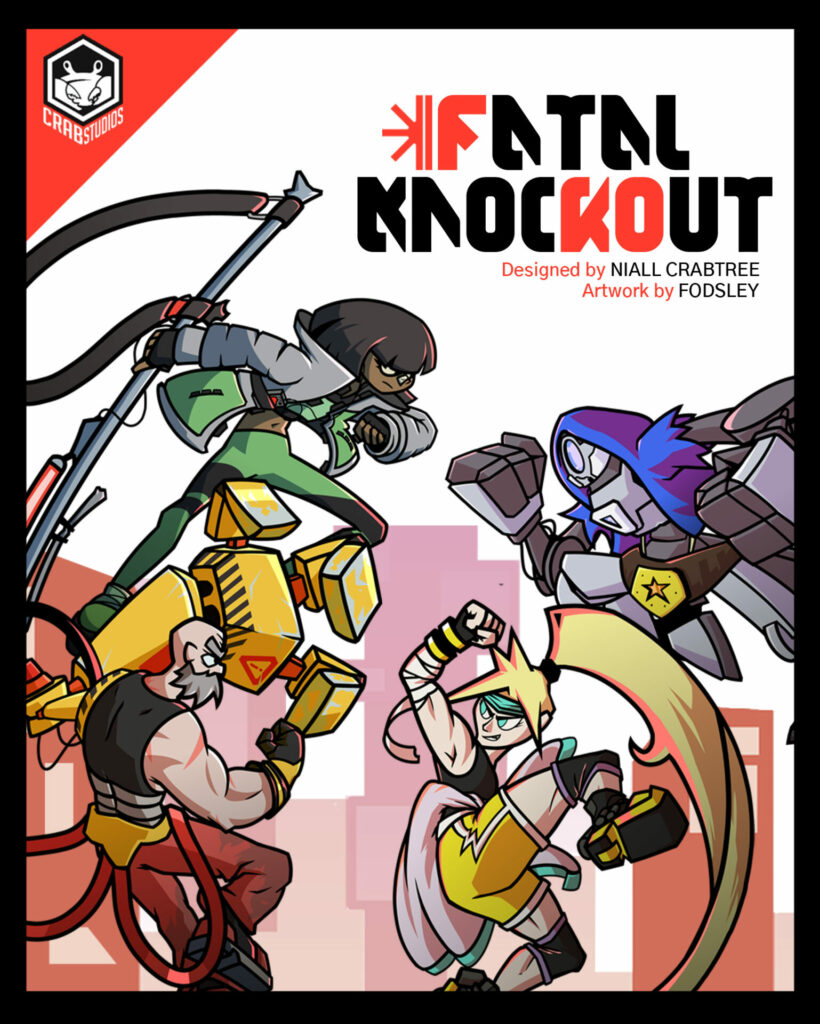 Fatal Knockout (2023)
Designer: Niall Crabtree
Publisher: Crab Studios
Art: Fodsley
Players: 2
Playing time: 5-20 mins