Almadi Review

If you've read The Arabian Nights (One Thousand and One Nights) collection of stories, you might be familiar with the fate of the sultan's bride, Scheherazade. In Almadi, rather than kill her as he intended to, the sultan is won over by her tales, and decides to build her her own realm – Almadi. As one of his advisors (and presumably architect, trade envoy, and landscape gardener), it's your job to create this magnificent realm, and do a better job of it than your competitors.
Rub my magic lamp
If you're a fan of games that let you place tiles, you're spoilt for choice. Many of us who have been in the hobby for more than a few years, cut our teeth on games like Carcassonne and The Castles of Burgundy. More recently, titles like The Isle of Cats and Bärenpark have taken the top spot for players looking for an approachable tile-layer. Almadi has arrived without much fanfare, and it's one of the best I've played.
Playing Almadi is simple. Pick a tile from one of four rows of the market, then put it in the same row in front of you. Around the edge of each tile there are either action icons or arrows. When you place your tile, any arrows that now point at an icon, activate those actions. You take gems, goods, mosaics and other things that all go towards completing objectives and final scoring. This all sounds very nice, very normal, very beige, I know. Lean closer, traveller, and let me tell you about the magic of the the genie.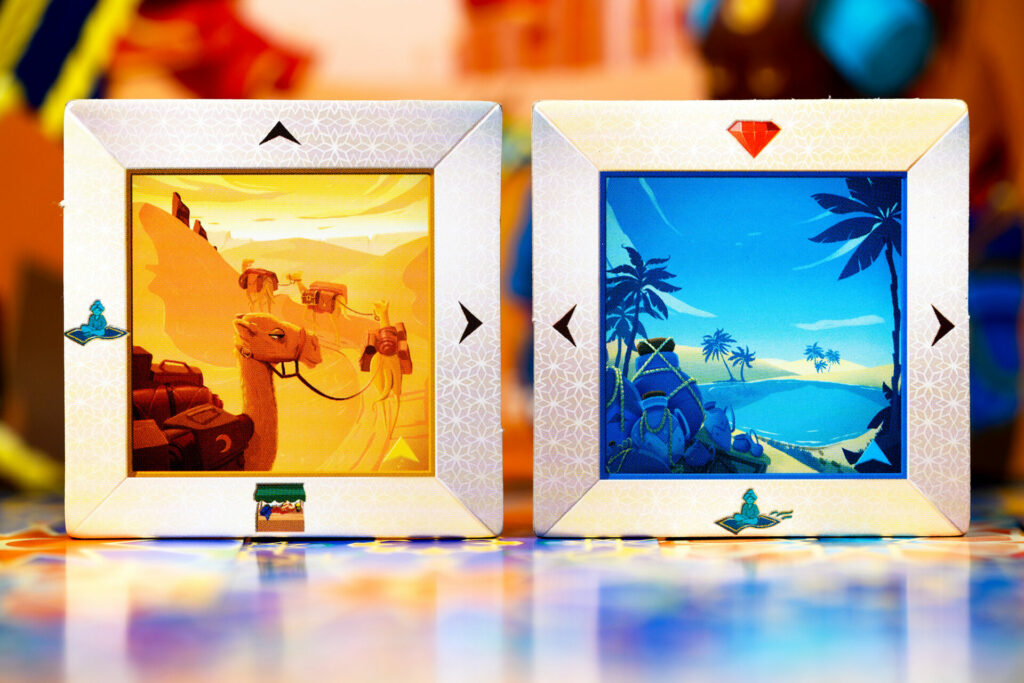 When the genie gets an arrow pointed at him, all kinds of fun happens. The genie action lets you pick up any tile in your tableau, and plonk it down anywhere else. When you do, any arrows around the moved tile activate actions again. Cue more gems in the coffers, more goods waiting to go off with your caravan, and even another genie move! And then another! Genie actions are capped at three per turn, thankfully, or turns could go on forever.
Genie actions are immensely satisfying, and form the backbone of all strategy and scoring in Almadi. It's a wonderful feeling when you place a tile, move a tile, grab a load of stuff, move another tile, and do it all again. You feel like a tactical mastermind, and people love to narrate their turn. "I put this tile here, take these, then look – I move this one and grab this!".
The horse built by committee
The ease of playing Almadi, belies the level of strategic depth in the game. While some end-of-game scoring is very simple – every active jar is worth 1 VP – some of it requires more planning. Oases are worth nothing on their own, but 3 per tile for groups of two or more. Goods on your Market tiles and cards are worth VPs, but only if you have enough connected Caravan cards. Palaces score a VP if they have an adjacent Oasis or Market, and each Oasis and Market card is worth another VP if it's adjacent to a Palace. Those Mosaics you've been collecting? Cover a Palace with one, and that Palace gets scored a second time. Gems award points according to how many you have compared to the other players. On top of all of that, there are objective cards worth more points again.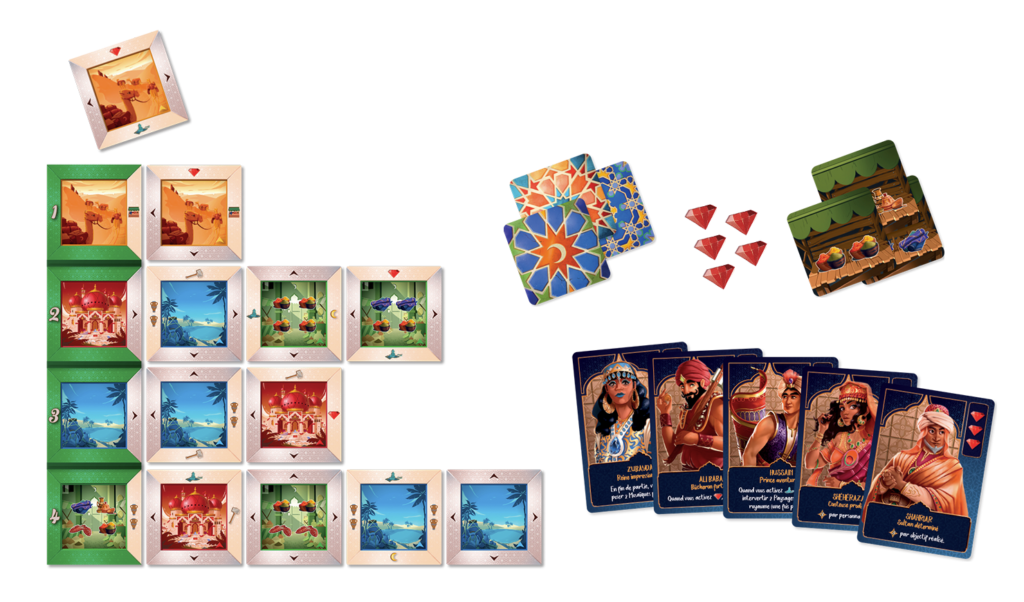 Why am I telling you all of this? I hate regurgitating a rulebook in a review, it's pointless, but in the case of Almadi I want to underline the disparity between the ease of play and depth of game. It's a proper point salad, and there are so many ways you can win. It's worth reminding new players how the scoring works quite often, because it's easy to get wrapped-up in genie-ing your tiles all over the place.
If, and when, you get used to the game, you can introduce the included character cards. Characters can be bought for gems, and give you ongoing benefits during the game. I prefer playing with the characters, as it adds in some nice asymmetry which spices things up, and just adds another layer of things to think about, which is great if you're used to heavier games.
Final thoughts
If it wasn't obvious already, let me be clear. Almadi is fantastic. It's much more than the sum of its parts, and it's enormous fun to play. The joy that comes from the combos in the game is fantastic. You can see players nodding their heads as they mentally plan out which tiles are going to bounce around their own personal desert paradise. Player interaction is low, and for he most part very passive. Taking a tile you think a rival might want, that sort of thing. The objective cards work in direct opposition to this though. If someone claims a card and puts it in front of them, any other player can use the 'Take objective' action and steal it from them. It's the kind of detail that's worth bearing in mind if you're playing with someone who hates that sort of thing.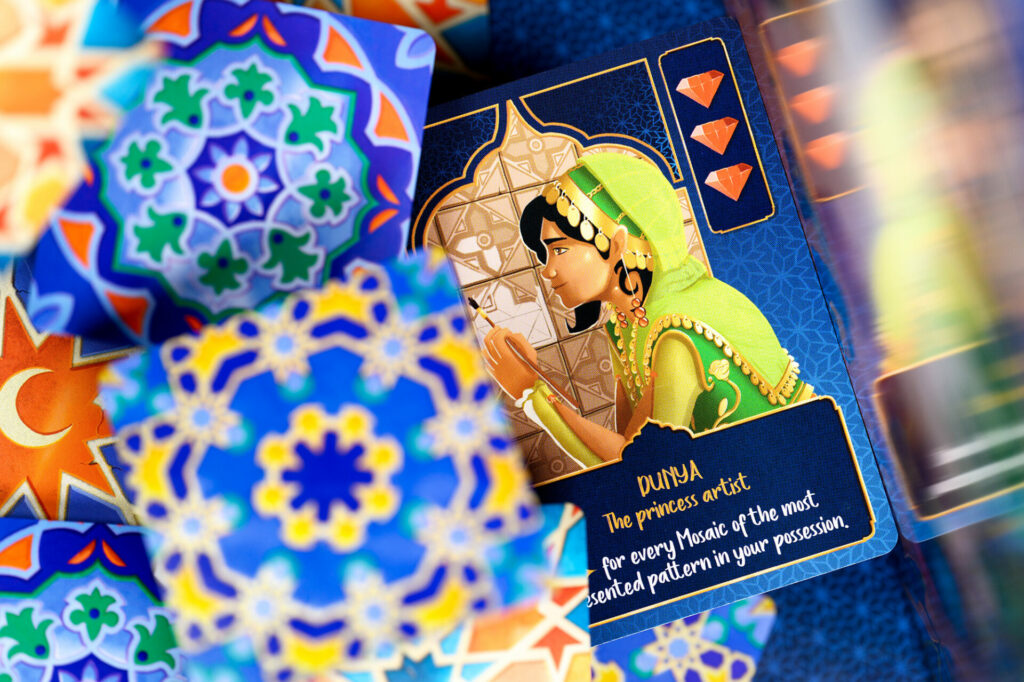 The character cards add enough nuance to the game to make things feel fresh if you tire of the main game, or feel it's a bit lighter than your usual taste in games. Almadi is a fantastic two-player game, because there's very little downtime. As you can imagine, with the many combinations possible, the game lends itself to some analysis-paralysis, so with just the two of you playing, this is minimised. If you want to play with with four or five people, it's something you need to bear in mind. Personally, it doesn't bother me, as this feels very much like a 'play while we chat and have a few beers' kind of game for me and my friends. If you've got a competitive group, just be aware.
If all my waxing lyrical isn't enough to convince you, try it for yourself. You can play Almadi, right now, for free, over on Board Game Arena. It's a simple, brilliant, satisfying game, and I hope it gets the recognition it deserves. When you consider it'll cost you less than £30, for a game that you'll most likely get far more play out of than the latest, hottest, mini-laden, big box game, I highly recommend Almadi. It's a keeper, and you'll have to pry it from my cold, dead hands.
Review copy kindly provided by Hachette Games UK. Thoughts and opinions are my own.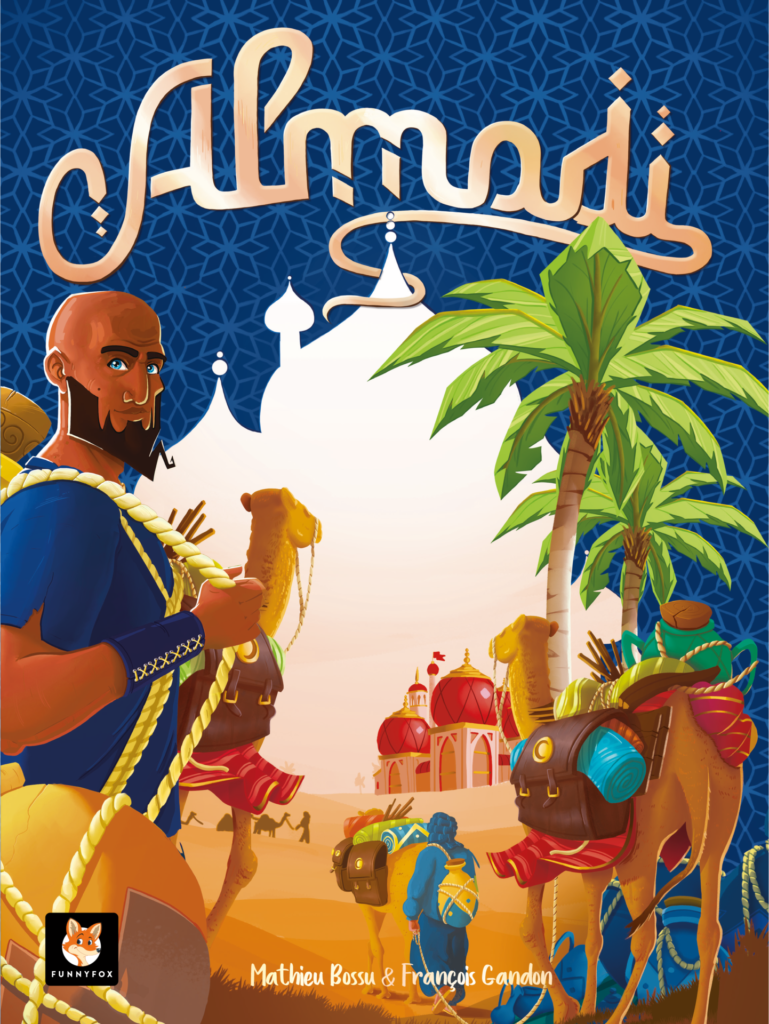 Almadi (2021)
Designers: Mathieu Bossu, François Gandon
Publisher: Funnyfox
Art: Victor Dulon
Players: 2-5
Playing time: 30-45 mins