An interview with Fred Serval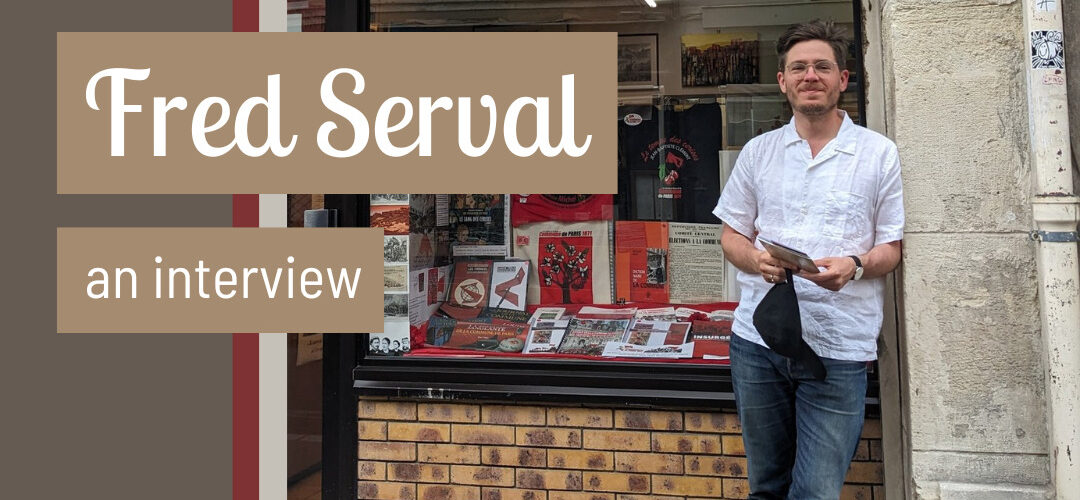 I don't do many interviews here on Punchboard, but when I do they're usually with designers. So I'm pulling a switcheroo on you here today, and interviewing a fellow reviewer (and streamer) of board games. You might know Fred best as the face of Homo Ludens, his historical- and wargame-focused Youtube channel. What you didn't know, however, is that I'm pulling a double switcheroo on you today!
Fred is also a game designer with several games already to his name, and this interview sees him with his designer hat on.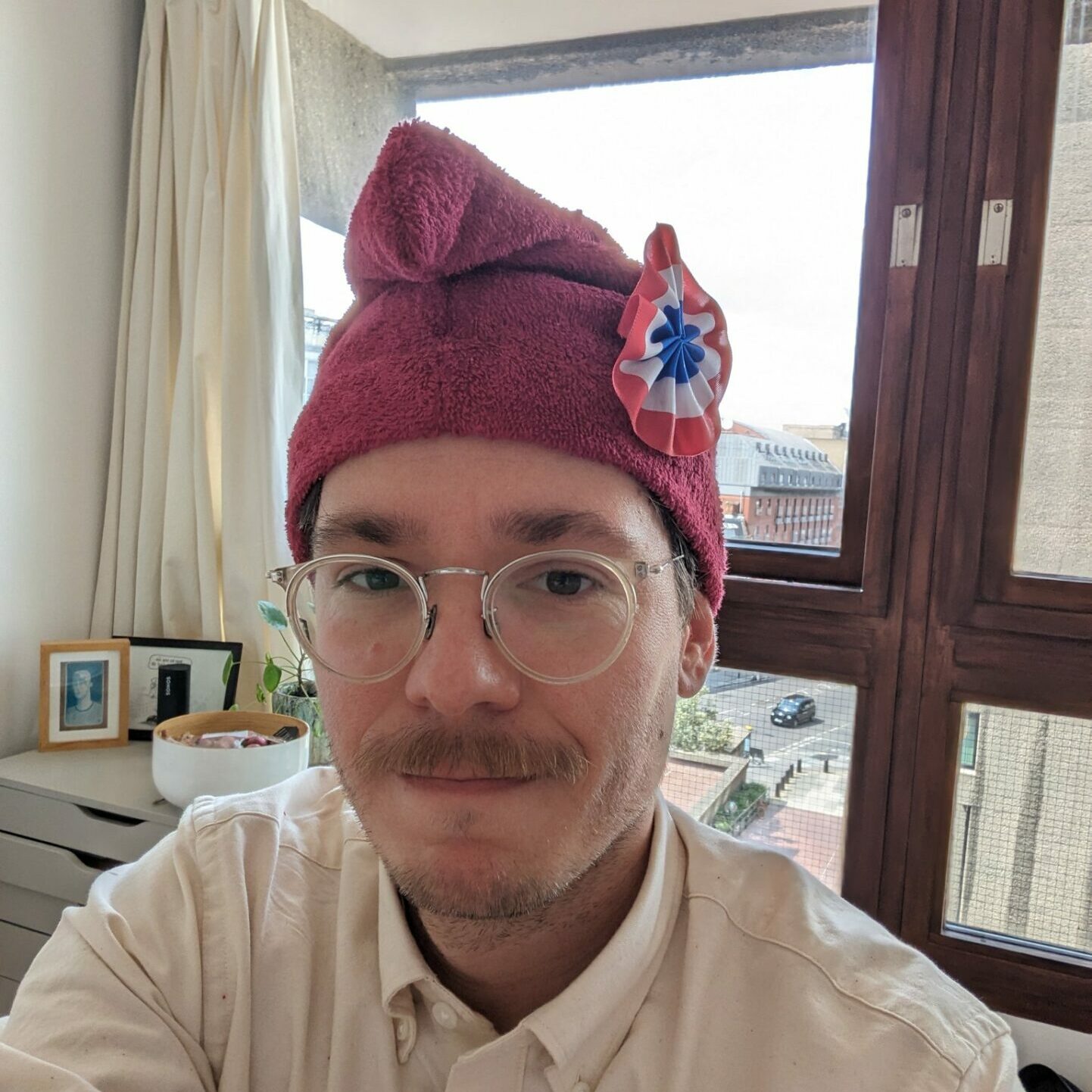 Didn't see that coming, did you?
A little background
At around the same time as I was at the UK Games Expo last year (you can read all about that here), I saw Fred posting about his time at a smaller convention called PunchedCon, and about the game he designed for the convention, and the small number of copies that made it out to people to play.
That game was A Very Civil Whist, and I wasn't the only person who took notice. Phalanx Games were also in attendance at PunchedCon and liked the game so much that it's currently available to pre-order on their website!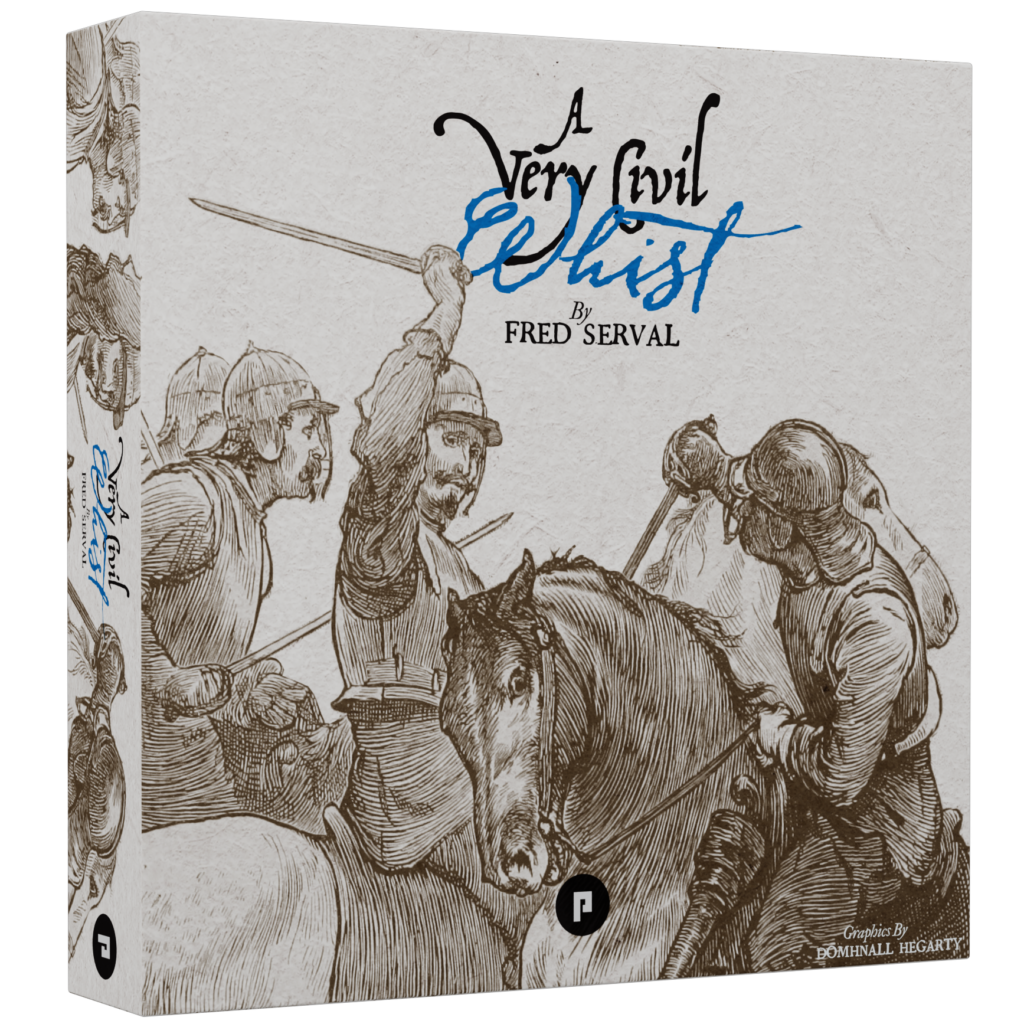 After learning about this, and speaking to the folks at Phalanx, grabbing a few words with Fred seemed like the natural way to go, and here we are.
Enjoy.
The interview
Hi Fred. Thanks for taking the time to talk to me. Let's start with the basics. Tell the readers a little bit about yourself.
I'm originally from the south-west of France, though a significant part of my childhood was spent in Southeast Asia. Life has now brought me to London. While I've been academically trained at the Institut d'Etudes Politiques in Toulouse, my professional trajectory led me to work in the field of data. Funnily enough, I'm now at a major toy company (corporate guidelines limit me from being more specific).
As a kid I played games like Tarot and Risk, and the always exciting choose-your-own-adventure books that we played with my older brother. Later years I dived into the worlds of Magic the Gathering and Warhammer. Gaming took a backseat during my boarding school years, save for the occasional game of Go.
I know you from your Youtube channel, Homo Ludens, which is about war and historical board games. How did you get into these games, and what inspired you to start your channel?
My reintroduction to board games in my late 20s was (a bit) like a revelation thanks to Twilight Struggle. The gaming landscape had changed and matured in ways I hadn't imagined. The complexity and depth that war and historical board games offered were both captivating and intellectually stimulating. I felt they allowed players to immerse themselves in moments of history, to re-live, re-think, and even re-shape events.
I noticed the potential of these games not just as ways to have fun, but as mediums to convey historical narratives and complexities. The channel became my way of delving deeper into this critical intersection of history and gameplay. I also envisioned it as a way to welcome newcomers, by providing them a nuanced understanding of wargames and other historical board games.
I have to admit that before I heard of A Very Civil Whist, I didn't realise that you're a game designer as well as a player. Your published credits on BGG go back to 2021, but how and when did you start designing games?
Yes, I wear different hats in the hobby: player, reviewer and designer. In 2018, I was driven to design because I was frustrated by the lack of games on the Paris Commune, an uprising in late 19th century France. To fill that gap, I started working on my own design, drawing inspiration from games like 13 Days and Fort Sumter, but steering the mechanics in a novel direction. My aim was to design a game that remained accessible while not compromising on historical depth. My initial intent was to make a single game, but you can say it ignited a passion I hadn't anticipated. Today, I can't imagine not designing games.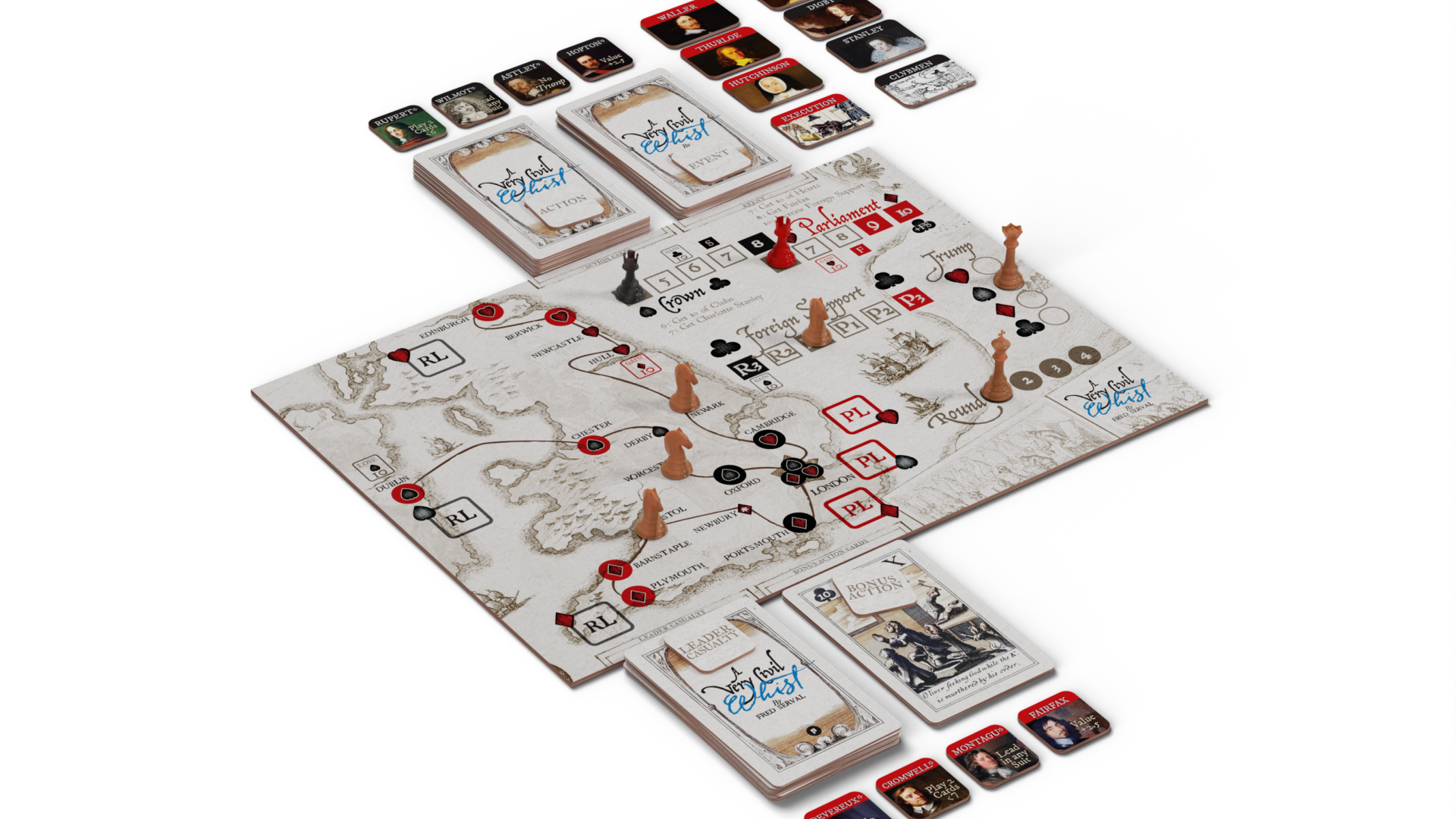 Looking at A Very Civil Whist in particular, what was your inspiration for creating that game?
The idea for a Very Civil Whist's was almost serendipitous. While I was thinking about integrating trick-taking mechanics into historical games, inspired by Brian Boru, I stumbled on German Whist—a very fun two player variant of whist from the 19th century. At around that time, the Punched Con organisers approached me to contribute a freebie for their convention, themed on the English Civil War. This synchronicity drove me to read about the subject, and start adapting the trick-taking mechanics to encapsulate the historical theme into the system I had in mind.
For those not in the know, what sort of game is A Very Civil Whist, and who is it for?
A Very Civil Whist, is a game that uses the framework of German Whist, and adds to it layers of historical context and strategy. The two players represent the Royalists or Parliamentarians—two factions wrestling for dominion over England in the mid-17th century. The game incorporates leaders and assets emblematic of the English Civil War's key figures. The game is short, around 30 minutes, and quite simple with just a few pages of rules.
Were you surprised by how much love the game got online when copies went out earlier in the year?
While I wouldn't say the game became an overnight sensation, within certain circles, its novelty garnered some interest. Historical gamers appreciated the unique approach to the English Civil War, while trick-taking nerds were intrigued by this fresh twist on a classic whist variant. When I declared I had 20 copies up for grabs post-convention, they disappeared within a couple of hours, which was surprising and made me quite happy. I assumed the game's journey would conclude there, as a convention freebie. It was a pleasant surprise when PHALANX reached out.
Phalanx Games now have A Very Civil Whist available on their Make Games Happen page, which is a pre-order programme not unlike GMT's P500 scheme. How did the relationship between you and Phalanx begin?
My familiarity with PHALANX was from several years ago as a player. Over the years I've developed some contacts and friendships with individuals within the company and also showcased some of their games on my channel. As it happened, PHALANX people at the Punched Con saw potential in A Very Civil Whist. The timing was great, as they were about to launch a revamped edition of Unhappy King Charles.
Have the folks at Phalanx had any hand in the development of your game, or is the game we'll see soon the same as the original game you designed?
Like all decent game publishers, PHALANX's involvement in development is critical. Their expertise helps me increase the game's rules clarity, balance, and overall playability. Though the game was near its final iteration when they took it on board, their inputs streamlined it, preparing it for a commercial audience while retaining its original design.
Schemes like Make Games Happen seem like a great way for independent designers to get their games made real. For you, with your game designer hat on, how much difference is there in taking this direction as opposed to a crowdfunding campaign?
While I believe that platforms like Kickstarter have radically changed the board game industry, allowing unique concepts that might not otherwise see the light of day to be realised, they can sometimes prioritise visual appeal over depth or substance. I mean… SO MANY MINIS! Right? That's not to say it's always the case; many projects are rich in both, but there are a lot of half baked projects.
Make Games Happen and P500s on the other hand, give us a distinct avenue to bring our games to a dedicated audience that puts their trust in established publishers. That said, I'm not ruling out crowdfunding entirely. In fact, the idea of creating small, niche games with unique mechanics for a direct audience, similar to what Dan Bullock did with "The God Will Have Blood", is quite appealing to me.
What's next for Fred Serval games? Do you have any more games rattling around in your brain? If so, do you have any hints to tease us with?
Currently, I'm pouring my energy into finalising projects already in the pipeline:
A Gest of Robin Hood, published by GMT, depicting the folk hero Robin Hood as a guerrilla leader. It's inspired by Colonial Twilight, a game by a designer I admire, Brian Train. I've been very excited to design this insurgency (family) game and can't wait for the board gaming community to finally play it.
Napoleon 1870: A collaboration with my Friend Brian Asklev for the French publisher Shakos. This is an entry-level block wargame that focuses on the initial two weeks of the Franco-Prussian War.
And of course, there's "A Very Civil Whist" that's keeping me busy!
Beyond that, my mind is always playing with new ideas. Some concepts I'm thinking about : a trick-taking game focused on the First International, a tableau building game about the collapse of the USSR, and an asymmetric wargame on the Battle of Algiers. Only time will tell if and when I will make an actual game out of those ideas.
Last, but by no means least, what's your favourite biscuit?
I wasn't much into biscuits until I relocated to the UK and discovered chocolate hobnobs. They quickly became a favourite of mine.
Closing comments
I'd like to thank Fred for taking the time to answer my questions, and doing so so thoroughly. His latest game – A Very Civil Whist – is available for pre-order at the time of writing right here, courtesy of Phalanx Games. I'll be reviewing it as soon as I get my mitts on it.
Remember to head over to Fred's channel, Homo Ludens, if you haven't before. He has some big names on there and covers a lot of games that my regular readers might not be familiar with.
If you'd like to see me ask more people about their preference in biscuits, get in touch and let me know.
If you enjoyed this interview and would like to read more like this, consider supporting the site by joining my supporters' membership at either Patreon or Ko-fi. It starts from £1 per month, offers member benefits, and lets me know you're enjoying what I'm doing.
---