Cryptid: Urban Legends Review
When I first came across Cryptid a couple of years ago, I fell in love. Regular readers know I'm a huge fan of mystery, so anything involving logical deduction is very much "my bag". When pictures of the box art for the follow-up, Cryptid: Urban Legends, began surfacing, it's fair to say I was a teeny bit excited. More Cryptid? Be still my beating heart! What we find in Urban Legends, however, wasn't exactly what I expected.
Where's the rest of it?
That was my first thought when the box landing through my letterbox. And yes, I mean letterbox. Cryptid: Urban Legends is a much, much smaller game than the original. One which happily fits in your pocket. If you've been interested in the game, and wanted to keep it all a surprise, there's a couple of things you should know.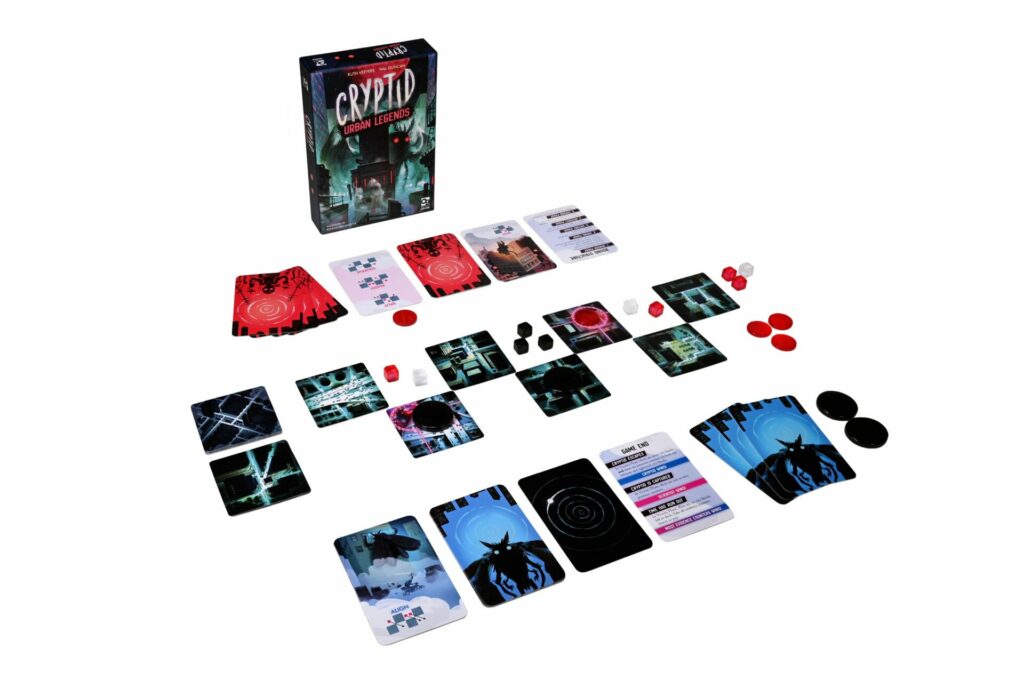 Firstly, yes, it's a much smaller game. There's no board at all, just cards and some marker tokens. Secondly, this puppy is two-player only. The original game was for three to five players (although there's a decent official two-player variant too, Cryptid fans), so you can tell right from the get-go that this is a very different beast cryptid. The thing I want to touch on first, is that Urban Legends isn't a deduction game.
*gasps of astonishment*
Cryptid: Urban Legends is an abstract, asymmetric puzzle game, and it's a tricky one.
Finding Mothman
The cryptid (it's definitely Mothman) is trying to escape the city. I'm not sure why, maybe it overstayed its welcome at the local Premier Inn or something. The scientist is trying to capture the cryptid by placing sensors around city blocks, and narrowing options down to only one space they could be hiding in. That might sound like deduction, but in reality, it's more like forcing Checkmate in Chess. The sensors are just coloured cubes, and the game consists of trying to build patterns of cubes if you're the cryptid, and destroying patterns if you're the scientist.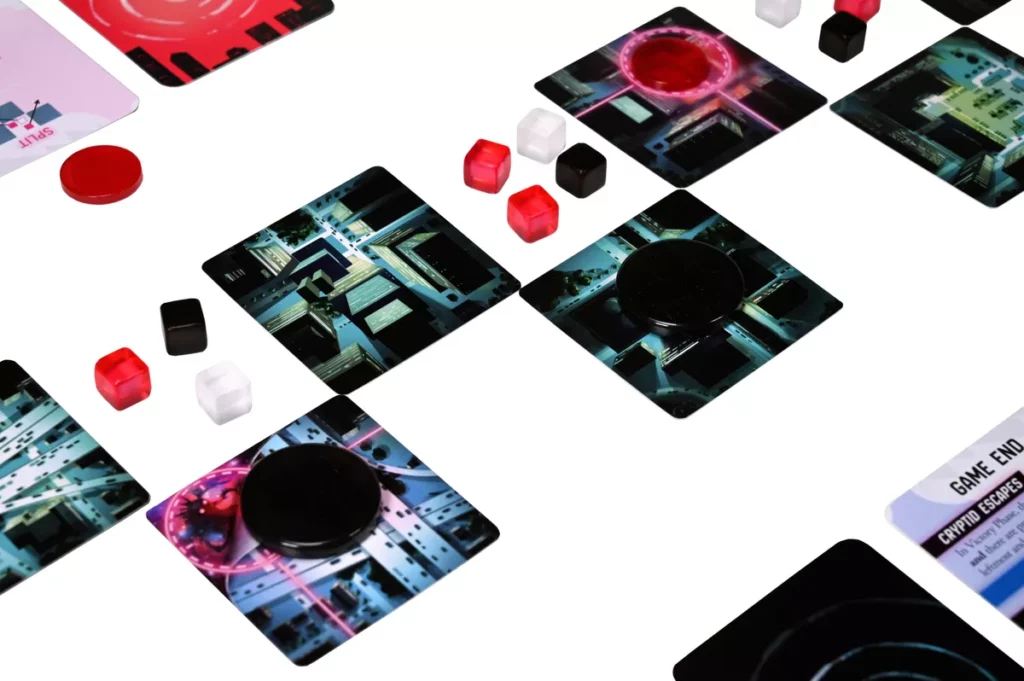 In each turn you play a card from your hand which lets you move the cubes from one side of the city block, to the opposite side. There are three different ways to move them, which can result in a lot of different ways to shift the balance one way or the other. The city blocks are square cards laid-out in a two-row checkerboard pattern, and in each round the cubes shift from one side to the other, some cards get removed, others added, but it's essentially just shifting them back and forth.
The one major plus point this gives the game is that it has a tiny footprint. You could play this on a train, in a pub, or maybe on the head of someone much shorter than you. It's also a much shorter game than its forebear, which is good, because if you enjoy the game, you're going to need to play it lots of times.
Box of illusions
Cryptid: Urban Legends is a bit of a mystery in its own right. When you open the little box and take out a few pieces and a small number of cards, it looks simple. The rulebook is tiny and friendly-looking too. But there's something about learning the game that is almost indescribably difficult. Not that it's so difficult you'll never understand it, more that it's very hard to pin down exactly what is so difficult. I mean, there are three actions you can take in the entire game – what's so difficult about that?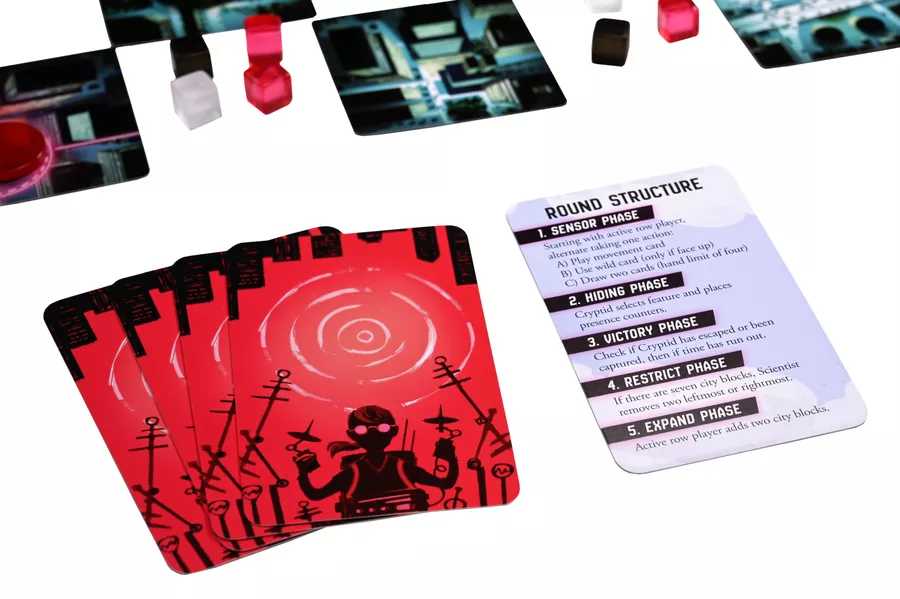 The difficulty is something which can only be overcome through repeated play. Its trickiness is the result of needing to understand your own win condition, your opponent's, and how best to manipulate the space in front of you to win. I read parts of the rulebook three or four times while playing my first game, just to try to hammer home what I needed to do.
If you come into Urban Legends expecting a two-player, abstract, tug-of-war, I think you're going to love it. If you're expecting clues, a process of elimination, and some real gosh-darned deduction, you're going to be disappointed. One thing's for sure though, and that this game is an attractive little creature. The cubes and discs are irresistibly tactile, and Kwanchai Moriya's artwork is – as always – fantastic.
Final thoughts
Cryptid: Urban Legends' biggest problem is its name. A lot of people are going to see the name in online stores, think "Oh boy, more Cryptid!", and feel a sense of disappointment. That's a result of the original game being so good, and this new upstart being so fundamentally different to its parent. While Urban Legends isn't a deduction game, what it is, is a fantastic two-player duel, which really rewards time invested in it.
It's one of those games that feels like playing a classic, you know? They're not great comparisons, but it's like playing Chess, or Hive. It's mano a mano abstract strategy, with a pretty coat of paint. The more you play, the more you learn, and the more you play against the same person, the bigger the meta game becomes. When you start being able to second-guess your opponent, it transforms from "How the hell do I play this?", to "What's that sneaky bugger up to this time??".
The asymmetry, and the changing, randomised city cards add a nice feeling of freshness into Urban Legends, which is something I think will be more appealing to modern games fans. If you enjoyed something like Mr Jack Pocket, I think you'll really enjoy this. I wasn't remotely confident in what I was doing until at least five games in, and by way of levelling any skill imbalances, the Cryptid definitely feels more difficult to win as.
In summary, Cryptid: Urban Legends is a very clever, very tricky, two-player abstract puzzle. It's very cheap, it looks great, it has a tiny footprint, and there's an astonishing amount of strategy available for a game with three possible actions. It's an easy recommendation if you have a regular player-two living with you, just don't expect it to feel like Cryptid.
Review copy kindly provided by Osprey Games. Thoughts and opinions are my own.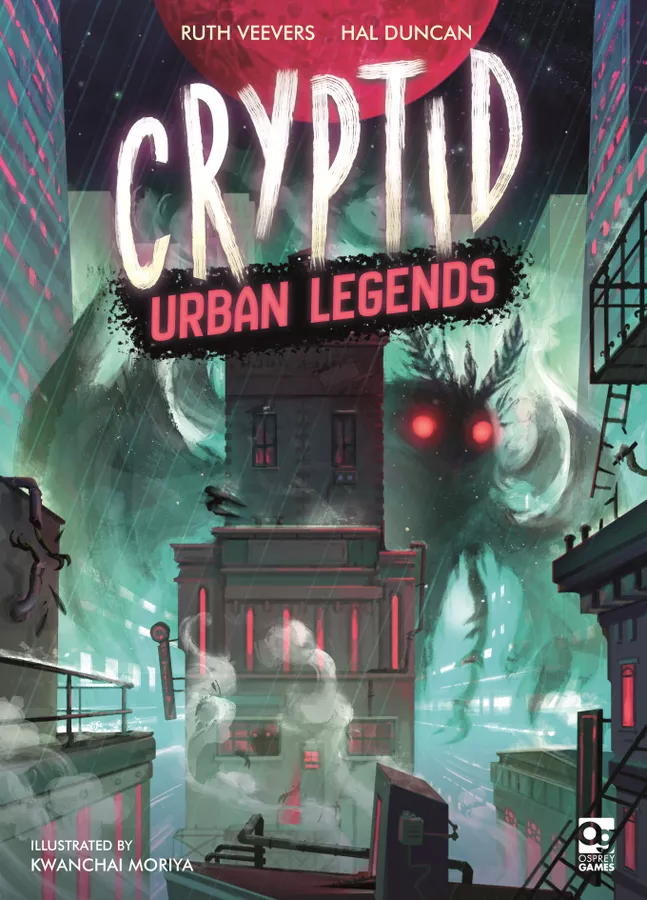 Cryptid: Urban Legends (2022)
Designers: Ruth Veevers, Hal Duncan
Publisher: Osprey Games
Art: Kwanchai Moriya
Players: 2
Playing time: 20-30 mins