Eleven Review

Eleven surprised me. The idea of a sport in board game form has never really appealed to me, especially something as prone to chaos, and not stat-driven as football (or soccer, if you're across the Atlantic). Eleven has shown me that it is possible to make a good game based around a sport, as long as it doesn't try to directly mimic the sport itself, which Eleven doesn't. The matches, for example, only make up a small part of the game.
Which begs the question – what do you do for the rest of the time?
Football manager
I'm part of a huge group of people who enjoy sport manager games on the computer. I've bought countless versions of Football Manager, and I shudder to think how many hours of my life were spent searching for wunderkinder from unknown leagues around the world. Eleven takes a similar approach to the Football Manager games, but with the key difference that there's no choice to let the computer do all the boring stuff for you, like hire staff, find sponsors, and upgrade the stadium.
Before we go much further, I should probably let you know that Eleven is a Euro game, through and through. There's no harking back to the granddaddy of football games – Subbuteo – even though I was a huge fan of the flicking football fun when I was around 14 years old. Seriously, I had a roll-up astroturf pitch, box mondial goals, and Adidas Tango balls. Yeah, that's right, look impressed.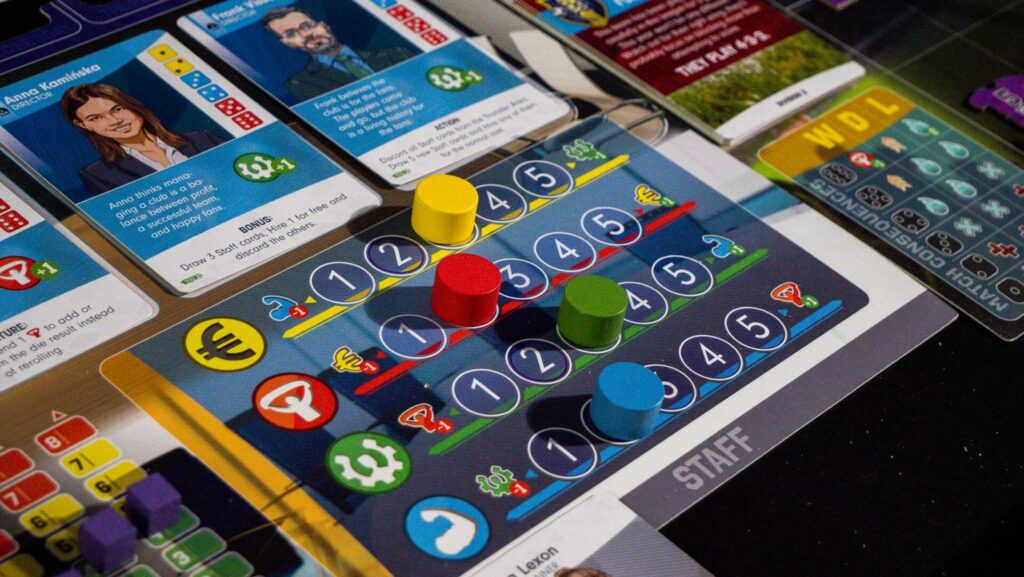 Eleven is an engine-builder at heart. Most of the time you're trying to mould your staff into producing each of the four main currencies in the game: budget, fan base, operations, and fitness. As per the Euro standard, each of these has a level of income per round, and each can be boosted with the correct staff. What makes Eleven an outsider in comparison to most recent Euro games is the fact that you can't really min-max your stats.
Stadium infrastructure grants you bonuses, but costs money. Players picked for game day need fitness. Fans fill the stadium and grant you more income. This all makes sense thematically, but it forges pretty rigid chains of dependence, in a similar way to the way On Mars (review here) does it. Each resource underpins another, and you need all of them. The differences between players come in how you fine-tune your engines and make the most of the staff you have.
Hardly Kane and Cristianot Ronaldo
As a devotee of the Winning Eleven / Pro Evo games from Konami, back when Fifa ruled the roost, I know first-hand that official team and player licences don't always make the game. If you wanted Liverpool and Man City instead of Merseyside Red and Man Blue, you had to put in the time to edit the rosters. Eleven doesn't even have a hint of a licence, but it doesn't matter. For a start, the teams would be out of date immediately, and a board game isn't easily patched over the internet.
You aren't dealing with named players and famous teams in Eleven, but you don't need to. In all honesty, it could very easily be re-skinned into almost any other team sport, and the only tweaks would come in the match section. During the matches, it's a case of setting up your team and choosing a formation and tactics, which players going on the wings, up-front, in defence etc., and then flipping the opponent card to see how they've set up. There are clues on the back of the opponent's card, letting you know where they are strong and weak, so it's not like going into a fight with a blindfold on. If you have the higher stats in one place, you score, if they do, they score. It's not difficult to work out.
Despite the very thin implementation of the matches, handling your squad is actually pretty cool. There are nameless youth stars you can recruit, waiting for the surprise of the player they can become with your investment. There are veteran players, who add to the team's strength while they're not quite ready to be put out to pasture. You have a full set of jersey numbers to assign to your players, but each player comes with their own chosen number too (the divas), so there's often no point in hiring two number 10s for example, as only one can play. Combine all of this with the various tactic and formation cards on offer, and matchday feels more like an event, not an anti-climax at the end of the week.
The Hand of God
There's one facet of Eleven which might drive a wedge between the football and Euro game fans.
Luck.
Eleven's clean engine-building is tempered by several things that are completely out of your control. Right at the start of each round (Monday, in the game's parlance), you draw a board meeting card and then roll a die. When you compare the result to your directors' cards, it'll tell you which of the three outcomes on the board meeting card came to pass. The board meeting card isn't shared, however. Each player draws their own, and the outcomes can vary quite a lot. Some are positive, some not-so-positive.
A similar fate awaits you after each match when you make a Match Consequence roll. Win, lose or draw, you check the result of your roll on the results table, and see what lingering effects carry over into the next week. There's no guarantee that a win will get you good consequences. You could win the match and roll a 1 and end up with a double serious injury to apply to your players, while someone else loses, rolls a 6, and takes two temporary strength boosts into the next week.
If you feel your blood boiling at the very idea of such ludological injustice, Eleven isn't for you. Personally, I'm a big fan of these two mechanisms in particular. Sport is affected by all kinds of things outside of people's control, and it feels great on a thematic level to have the same chaos sewn into the game's finery. There's no denying, it can feel desperately unfair at times, but "that's football."
Final thoughts
I'm so pleased that Eleven doesn't try to recreate a game of football on my table. Other games have done it in the past, and continue to. UND1C1 and Counter Attack do a great job. Instead, it's a Euro game where the football theme has been applied with a sopping-wet brush. The biggest criticism I have for Eleven is that out-of-the-box, you can't do the one thing you might expect in a football game. You can't have a match against the other players. It feels like a big 'oof' moment from Portal Games here. Instead, you each play against different teams in the same league to try to come out on top. There's nothing to stop you lining your team up against your opponent, but it's just too random to have any tactical merit.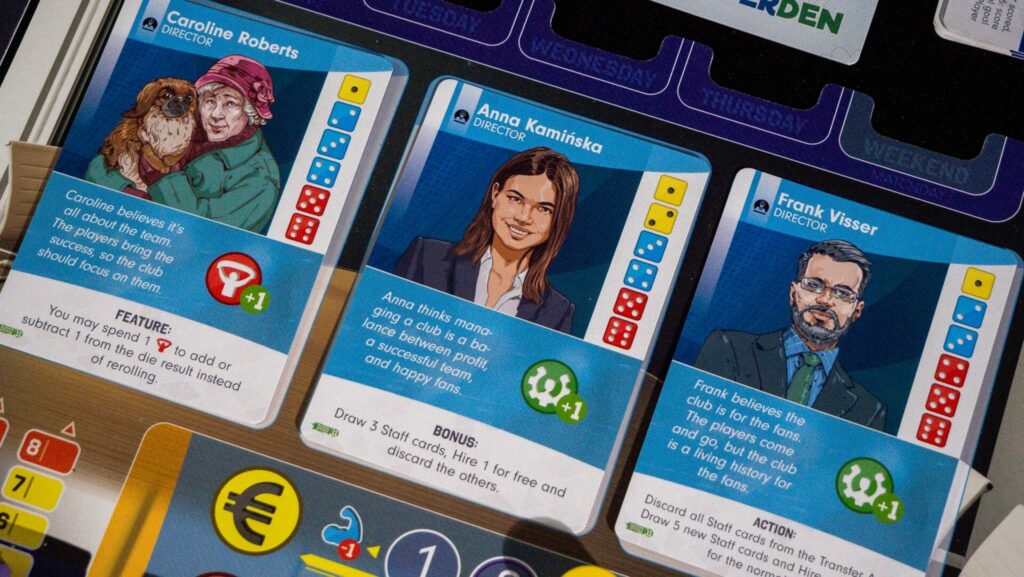 There are a few mini-expansions which add to the game, and the International Cup in particular adds those player vs player rules. Some of the others are decent, too: the International Players and Solo Campaign expansions in particular add some nice things. I think Solo is where you'll have the most fun with Eleven, to be honest. Two-player is good fun, but I think four would drag it out, and the disparity in luck could see one player wipe the floor with the others.
Despite these criticisms, Eleven is a great game, and certainly the best football (soccer) game I've played. The theme is so well applied to the game, and the engine-building is very clear and simple in practice. There's plenty of depth and nuance as to how you apply the various effects, but the iconography throughout is excellent, so accomplishing what you want to is down to whether your tactics work, not because you didn't understand what a certain card or effect did. The way that injuries and card suspensions work fits perfectly, and the game is a fantastic choice for someone who craves that Football Manager experience on a table, instead of a screen.
---
Review copy kindly provided by Portal Games. Thoughts and opinions are my own.
You can buy Eleven now, at Punchboard's partner store, Kienda. Remember to sign-up for an account using this link – kienda.co.uk/punchboard – to snag 5% off your first £60+ order.
---
If you enjoyed this review and would like to read more like this, consider supporting the site by joining my monthly membership at Kofi. It starts from £1 per month, offers member benefits, and lets me know you're enjoying what I'm doing.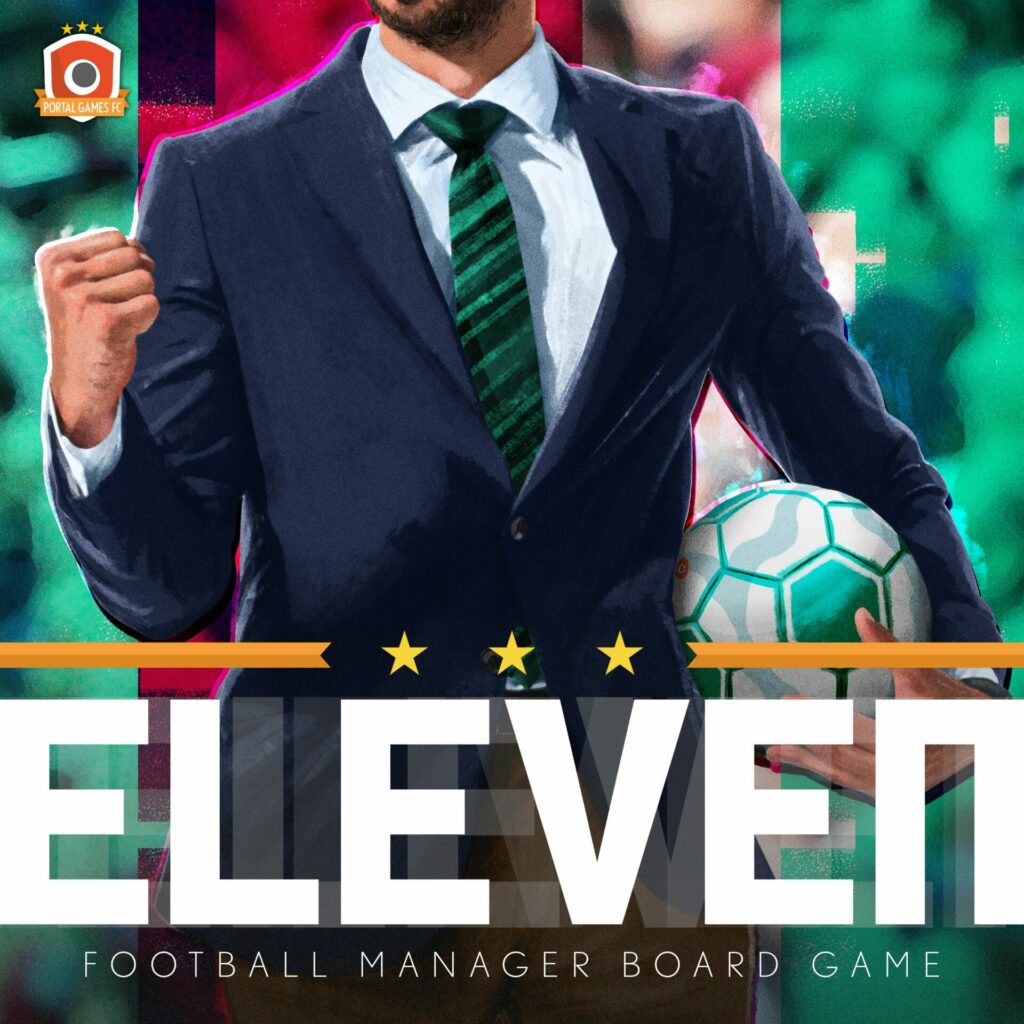 Eleven: Football Manager Board Game (2022)
Designer: Thomas Jansen
Publisher: Portal Games
Art: Mateusz Kopacz, Hanna Kuik
Players: 1-4
Playing time: 60-120 mins