Hiroba Review

In the first of a series of reviews of new French games which I'm calling French Week, this is Hiroba. Hiroba is a quick and light game from publisher Funnyfox which leans heavily on the gameplay concepts of Sudoku. The principles of Sudoku are simple: fill in the grid with the numbers one to nine, ensuring that each number is unique in each row, column, and 3×3 square. If you've never played a Sudoku puzzle before, afraid that it might turn you into a puzzle-book-toting old lady, you're missing out. They're very satisfying.
Heart of stone
The core of Hiroba is based on placing your pebbles on the board. I say, board, it's actually a 3×3 grid of card tiles, which works in the game's favour. Hiroba is a small, light game, aimed at being played just about anywhere. If you're only playing with two players – on a train or bar for example – you only need five of the tiles anyway. In a small game, portability and flexibility are king and queen.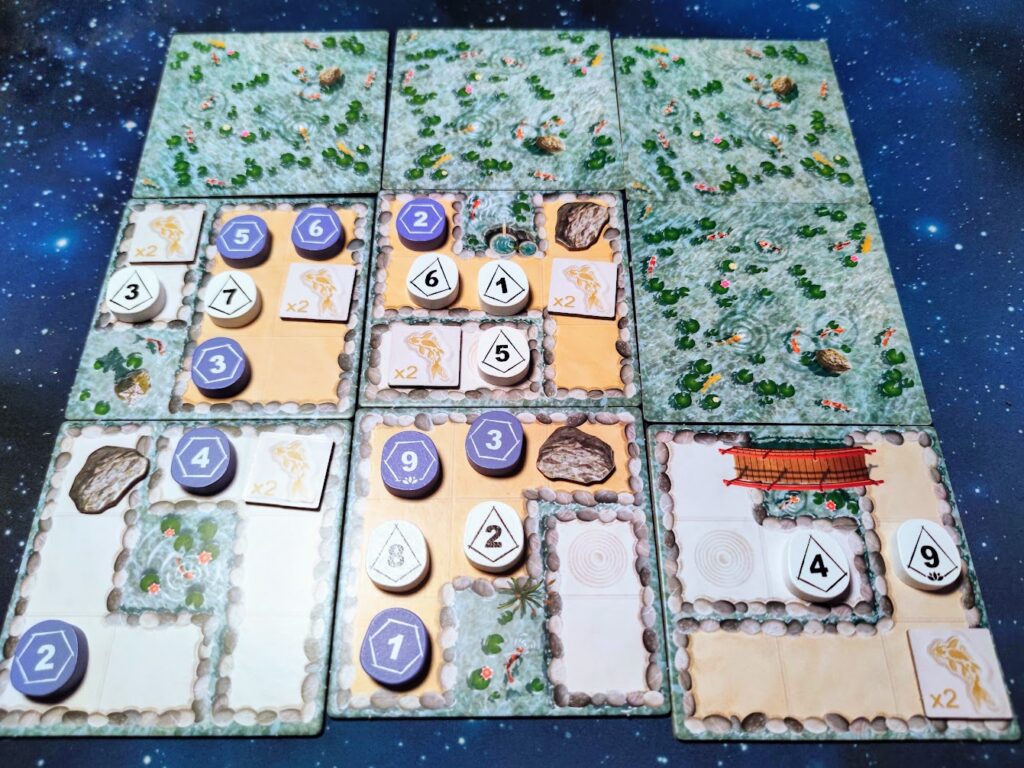 The pebbles are actually little wooden shapes, each with a number from one to nine. Because Sudoku, right? The cards each have a pond in one square, and two zen gardens which share the remaining eight squares. Taking your turn is as simple as choosing one of your pebbles and putting it on a square. The rules of Sudoku are mostly in play – no two equal numbers in the same row or column – but you have to place each pebble after your first, on the same row or column as one of your previous ones.
Is that… is that a little bit of strategy poking its head out there? You're darn right it is.
And the strategy isn't restricted to just trying to make legal placements. The highest total value of pebbles in each garden will win points at the end of the game, so you gotta pump those numbers up. Oh, and you've also got to keep those numbers down. If you end up with the lowest total around a koi pond, you take the 2x multiplier token from it, which can be put on a free square in a garden at the end of the game, to – you've guessed it – double its value.
Yin and yang
All things in moderation then. The duality of trying to score low and high at the same time is very thematic in a game which borrows heavily from Japanese imagery and ideas. What I especially love about Hiroba is how deceptive it is. It seems so simple, and in principle, it really is. The fun in the game increases with each play as the game proper emerges. There is so much more to think about than just obeying the placement rules and trying to outscore with your pebbles. Let me elaborate with a few examples.
Each pebble is double-sided. Both sides add up 10, so if you really can't find somewhere to place that 2, flip it over and turn it into an 8. It means looking at your opponents' remaining pebbles isn't as simple a read as it initially seems. You also have stone tokens, in very short supply. after your turn, you can place a stone anywhere on the board. Stones serve no purpose other than to block spaces, but my goodness, they can be so powerful when used well.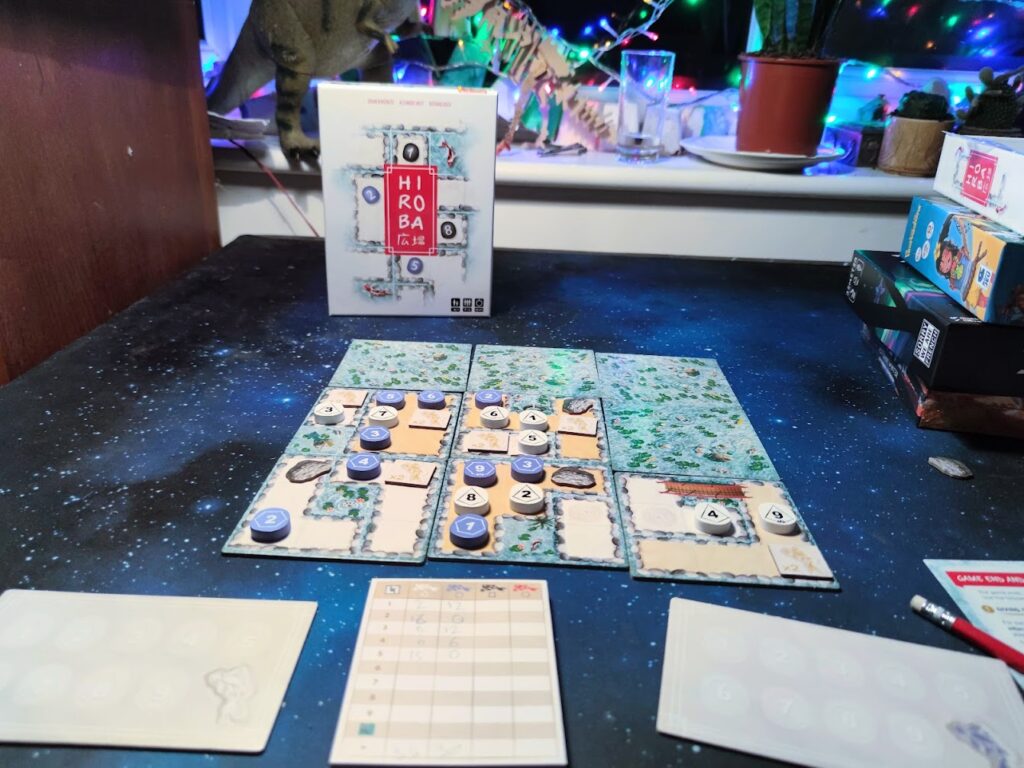 One of the things Hiroba does so well is something a lot of great games do. It constantly makes you choose between improving your position and hampering your opponent. The 2x koi tokens I mentioned before can be so powerful if placed into a big garden you're going to win. You might notice that someone else is dominating a garden and has a pile of koi tokens, ready to let the hammer drop, but if you drop a pebble into the remaining space in that garden, they have nowhere to place that token. "The greater good" is a concept that'll be rattling around your skull the whole time you play.
Final thoughts
Hiroba is a fantastic game. I initially wrote 'fantastic little game' there, but I don't like the between-the-lines implications. People use 'little' to describe games which they think won't be in your rotation for long, or don't have enough meat on their bones to warrant being considered a game without a size adjective. Hiroba is great fun. It's extremely easy to learn, and has an obscene amount of replay value for a game that only takes 15 minutes to play.
It does a strange thing where it feels like a two-player game, but it's a game that's as enjoyable at any player count from two to four. I can't even explain what I mean by that, it just has that duel feel about it. Hiroba is a game which accentuates an imbalance in skill levels, and there aren't any setup or gameplay mitigations that you can make really. It means that someone who's played it a lot is likely to wipe the floor with a newbie. I know that's true of a lot of games, but Hiroba is a game where you can't really place pebbles and hope to get lucky. If you've got a family or a significant other you're going to spend the winter with though, it's a game which will evolve with your own unique meta, as you start to read one another.
Hiroba will only set you back about £20, and honestly, it's a bit of a no-brainer. It takes up hardly any space on your shelves, it's quick and easy to teach and to play, and it's a really pretty thing on the table. If you enjoy these quick, light, filler-style games, I highly recommend Hiroba. You can pick it up right now through our site partner, Kienda. You can sign up for an account and get 5% off your first £60 purchase by heading to kienda.co.uk/punchboard, and you can jump straight to the game here.
Review copy kindly provided by Hachette Boardgames UK. Thoughts and opinions are my own.
---
If you enjoyed this review and would like to read more like this, consider supporting the site by joining my monthly membership at Kofi. It starts from £1 per month, offers member benefits, and lets me know you're enjoying what I'm doing.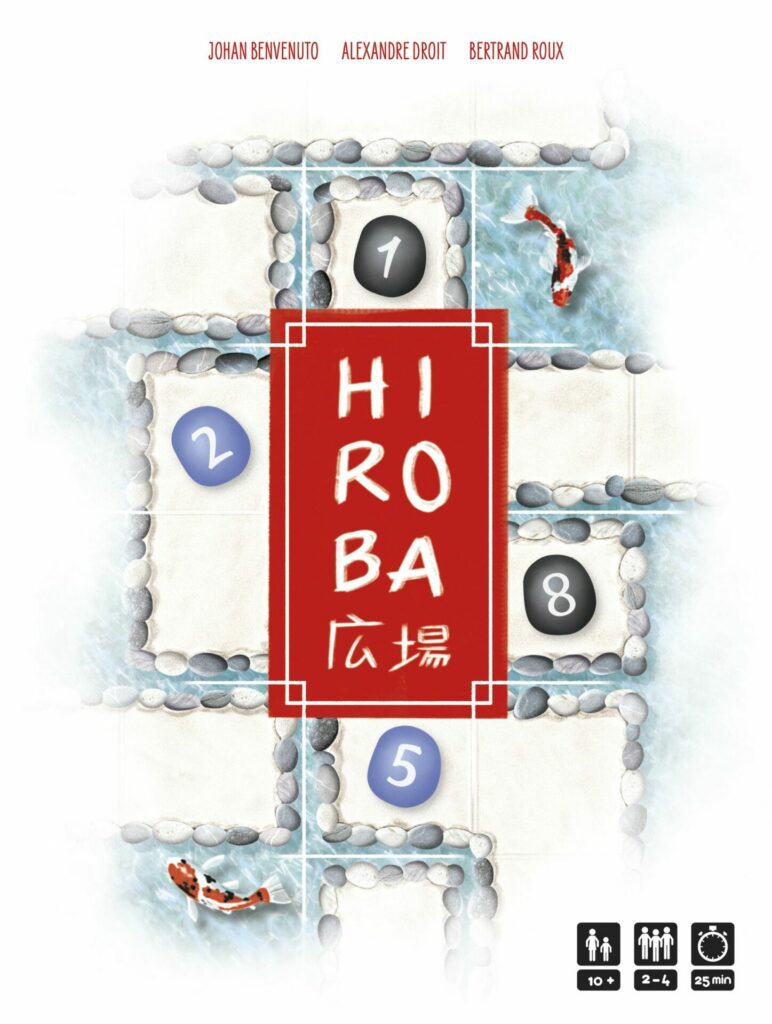 Hiroba (2022)
Designers: Johan Benvenuto, Alexandre Droit, Bertrand Roux
Publisher: Funnyfox Games
Art: Alain Boyer
Players 2-4
Playing time: 15-20 mins