Iki Review
Japan has been the setting for countless board games, and most of them fall into one of two categories. They're either set around war, like Rising Sun, Sekigahara, or Battle for Rokugan, or they're much lighter and cuter, such as Takenoko, Tokaido, and Hanamikoji. It makes a lot of sense to a Western audience, as our exposure to Japanese culture is usually cutesy anime, or samurai films. Cartoons and ninjas are cool, right?! So to me, as a self-confessed Nihonophile, it's refreshing to see a game like Iki come along.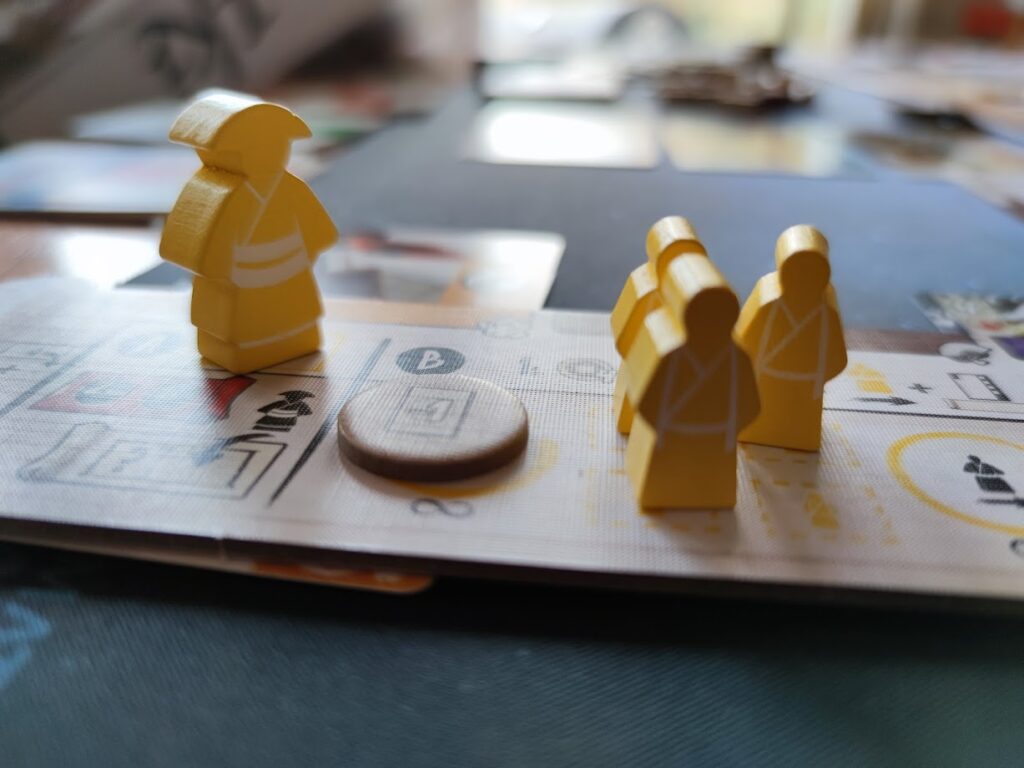 Iki rejects the usual tropes of samurai, ninjas, and bug-eyed anthropomorphic cartoon animals. Instead, it transports us back to feudal Japan, but instead of armoured warriors swinging swords, we take the role of artisans, hoping to make it big in Nihonbashi, the busy shopping centre of Edo (now known as Tokyo). I'm so pleased to see a game taking this approach, as town and city Euro games are usually set somewhere in Europe, and it's great to see other cultures used as inspiration.
Praise the rondel!
Here's the part where the review gets skewed by my bias. I freaking love a rondel in a game. It comes from my first introduction to them with Hamburgum, a game I still love. For the uninitiated among you, a rondel is usually a wheel of actions, where each player chooses how many steps around they move each turn. It creates loads of interesting decisions. The main mechanism in Iki is a giant rondel, which is tied into the design of the town. Each step around visits a different set of shops, and presents different actions.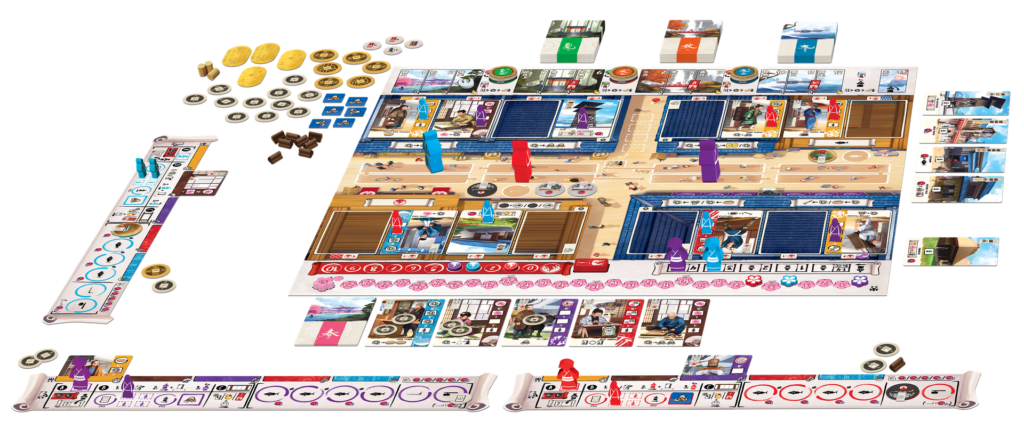 Those shops don't just come out of thin air though. The good folk of Edo didn't wake up one morning and find a hipster-barista filled Starbucks in the street. The spirit of entrepreneurship is thriving in Edo, so you spend money to hire artisans, to open shops. On your turn, if you move your pawn (or Oyakata) in front of a shop, you can use the actions there. The actions do things like letting you trade money, rice, wood, and… sandals. The "ahh, that's clever!" moment comes when you activate someone else's shop.
When you build a shop, you add one of your little Kobun meeples to the card. If you use your own shop, not too much happens, other than getting the action on the card. If someone else uses your card, however, then your artisan – for some reason – moves up a space on the card, and a space closer to retirement. Retired cards get added to your player board, and there are bonuses on offer if you manage to collect retired folks of different card colours.
I'm the firestarter!
There's a very unusual mechanism in Iki, which involves fire. The game takes place over the course of a year in Japan, and at three points in the year, fires break out. I guess it's an occupational hazard when your buildings are made of paper and wood. As a result, firefighting is a thing in the game. There's no way of knowing which of the four areas of the town the fire's going to start, but you know it's going to spread from the outside, inwards.
From a gameplay point of view, it's a really clever addition. You can assure yourself of relative safety by choosing spaces closer to the middle of the board, but they'll cost you more moolah to open. There's nothing to stop you taking a "Damn the torpedoes!" attitude to fire, and just hoping the 1 in 4 chance doesn't burn down your shops. It's a risky game to play though.

So we've got a rondel, we've got cards and meeples, and we've got fire. This still doesn't explain what you're doing, and how to win Iki. I'll ease the suspense, and tell you Iki is a game of set collection. Sets of fish from different seasons, sets of pipes and tobacco, and sets of retired artisans. Fish and smoking paraphernalia are in short supply, so there are a lot of tricky decisions to make. Trying to build your commercial empire may come at the expense of becoming known as "Fiona No Fish, the fishless failure". Or something.
One of a kind
I played a game of Iki with some friends at the UK Games Expo, and we were talking about the game when something dawned on me. I can't think of another game that's anything like Iki. Lots of worker-placement games share the same DNA, and I've played any number of polyomino tile-laying games. While it's true that neither set-collection nor rondels are new, the way they're combined in Iki feels like something new.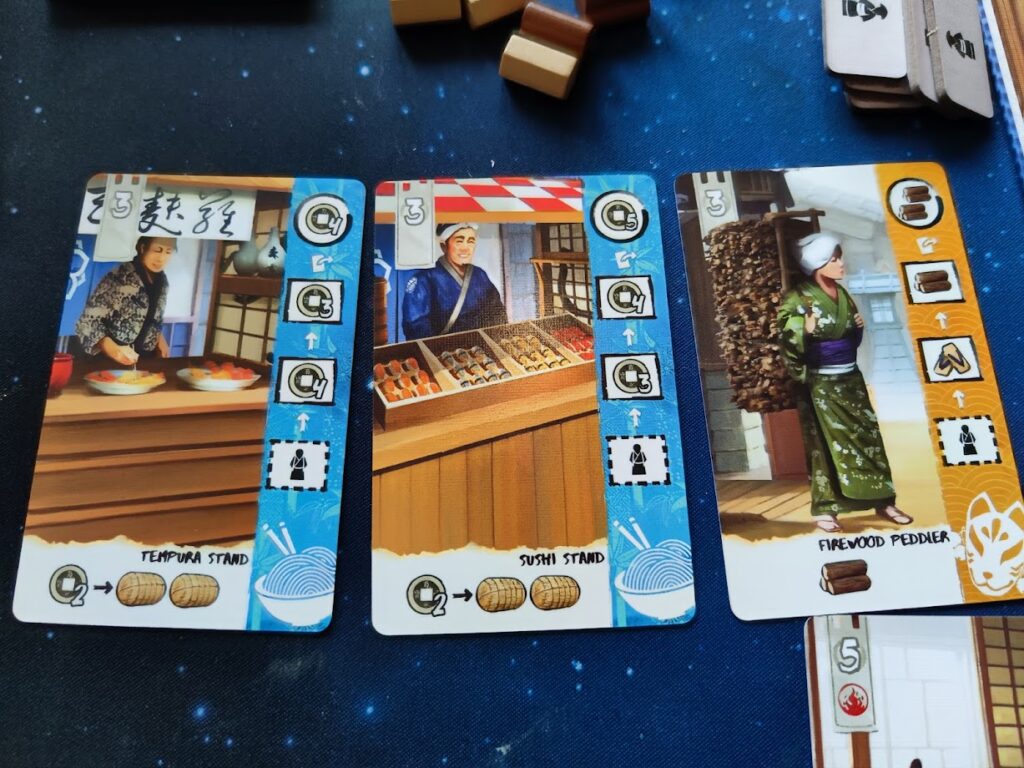 The rondel, for example, isn't the usual kind. Instead of choosing how many spaces you'll move around, you claim one of the places at the top of the board which allow you to move 1, 2, 3, or 4 spaces. If someone else claims the one you want, tough. You can spend the aforementioned sandals to add to your steps, but never go fewer. Towards the end of the game when players are looking to claim the valuable buildings, there's a real race on to get the necessary resources, and those distance choices become hotly contested.
The same is true is many of the other mechanisms in the game. They're the same ones you know and love, but they've all got a little twist to them, and are combined in really clever ways. I love the way your workers get more experienced when others use them, it reminds me of games like Caylus and Lords of Waterdeep – tempting your opponents into using your places. There's a great 'pass Go to collect £200' thing too, whereby finishing a loop of the town promotes all of your workers. It leaves you torn between collecting everything you can, and getting those workers back off the board so you can use them again.
Final thoughts
Iki is a wonderful game. The artwork and presentation throughout is beautiful, and the graphic design is clear and understandable. For each season, when the cards and collectables refresh, there are more cards than you need, so you'll always get a fresh combination of artisans to hire. There are so many neat little touches which add to the experience. Take, for example, the Harmony bonuses at the end of each season. Players who group like-coloured buildings together in a quadrant all benefit, so there's this really juicy communal co-operation to exploit.
The board is double-sided, to pare the game down for two players. While two player is good, it's at its best with three or four players. The extra competition for the shop spaces, and the extra choices with each turn, really bring the game to the boil. It's so nice to see so many different, lost skills and jobs represented too. Hiring a puppeteer, Buddhist sculptor – or my favourite – the trumpet candy peddler, isn't something you get to do in many games.
Sadly there'll be people who'll find Iki on BGG and think "A 2015 game? Why would I buy that now?", and those people will miss out. The original looks very dated now, but the artwork on this new edition eclipses the first one. This is the game Iki always could, and should have been. It's not complicated to learn, but there's a ton of depth and replayability. This is one of those games which I was given for review, but there's no way I'm letting it leave my collection. Fantastic stuff.
Review copy kindly provided by Hachette Games UK. Thoughts and opinions are my own.
Iki is available from our sponsor – Kienda. Sign-up using this link to get 5% off your first order over £60.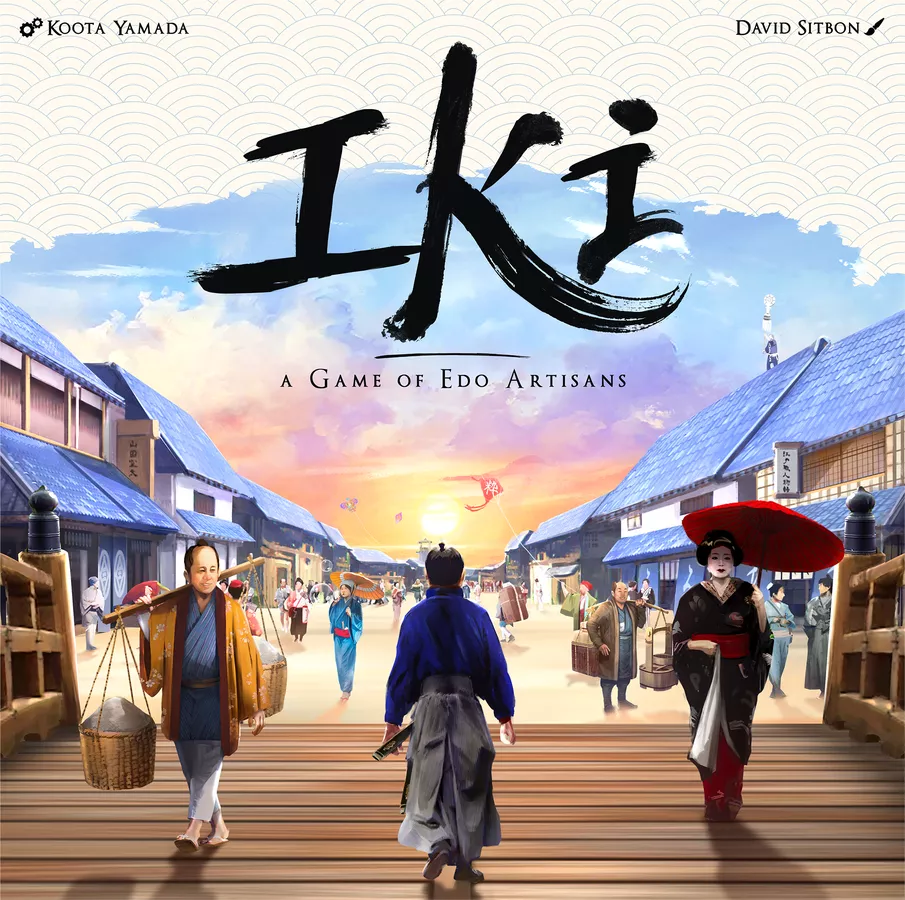 Iki (2021)
Designer: Koota Yamada
Publisher: Sorry We Are French
Art: David Sitron
Players: 2-4
Playing time: 60-90 mins