KAPOW! Volume 1 Review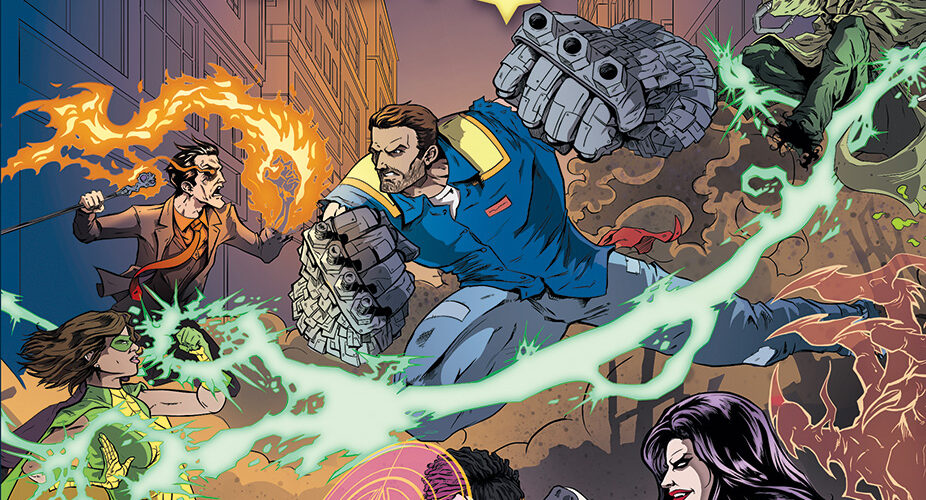 I wonder how you're meant to say the name of this game. Do I turn up to my local game group and say "Hey guys, who wants to play KAPOW!?". I'd scare the crap out of them. There it is though, in black and white – KAPOW!. If that word brings to mind those comic book bubbles of old, then you're on the right track. Kapow! Volume 1 (I'm not going to capitalise it any more) is a superhero duelling game from the equally fantastical Wise Wizard Games, which uses pools of dice to activate your abilities. All your nefarious planning happens in secret, and combined with the (very cool) customisable dice, it's a fun, lightweight game which will be a hit and kids and bigger kids (i.e. grown adults) alike.
Loaded dice
I'm not too proud to admit that as soon as I opened the box I wanted to play with the action dice. They're black cubes with no faces on. Just open holes, promises of dice that could have been. It's so sad. Luckily we've also got a bag full of dice faces! During the game, you get the chance to grab some of those faces and clip them to the blank sides, and it's ridiculously satisfying. The publisher has also thrown in a couple of little tools to lever the faces off when you swap them out, which is another unnecessarily enjoyable process.
Why open a review with something as glib as this? Because the toy factor is one of the things guaranteed to get kids on board, and that's important because Kapow! is absolutely aimed at kids as much as it is at adults. The removable faces are colour- and symbol-coordinated with the other (trait) dice in the game, and to play the game you need plenty of dice, and you need dice which are going to land on the correct faces for what you want to do.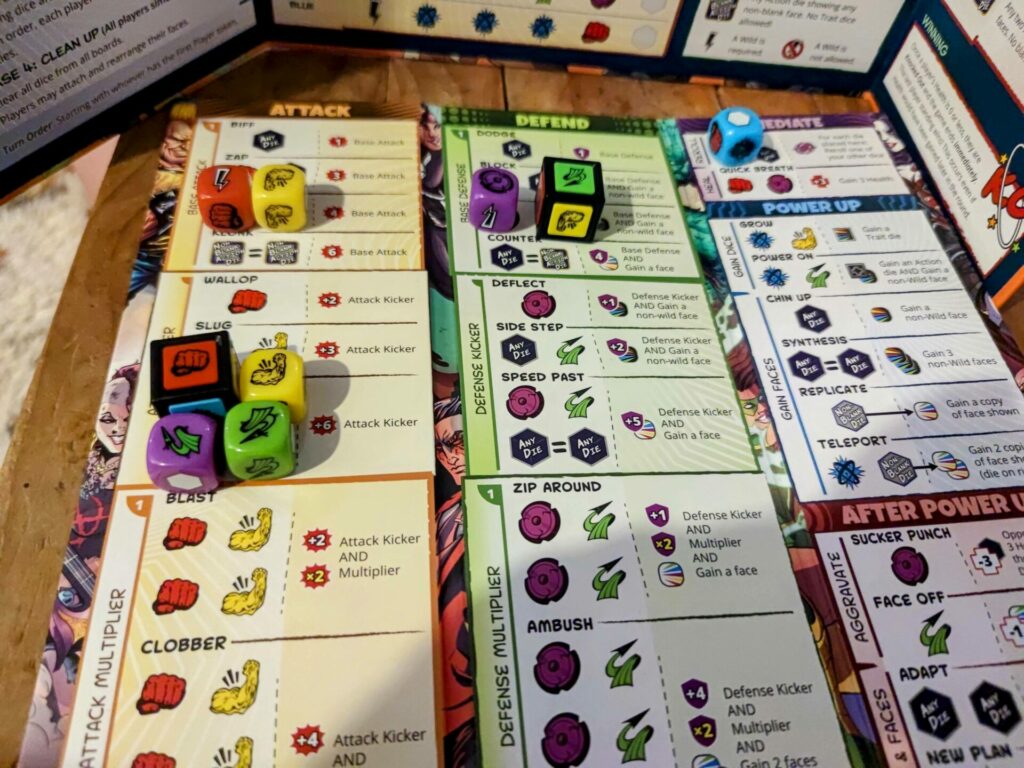 Gameplay is pretty easy. Put your player screen up for secrecy and then roll all of your dice. Your player boards list a load of different actions, and each action shows which dice faces they need in order to be activated. You take the rolled dice and place them on the various action spots on your boards, before removing the screens and resolving the dice. This is the crux of the game and it's reassuringly simple. Add up the values of your attacks and compare them to your opponent's defence. If you clobber them with more than they defend with, they take the difference in lost hit points on their health dials.
As well as giving you attack and defence, as well as some other actions, some of the action spaces give you rewards, and these rewards usually come in the form of extra trait dice, action dice, or faces for action dice. Let's say you've decided to go full Hulk on the person sitting opposite you. You know you want lots of the first and bicep symbols, so you stock up on those faces to adorn your action dice. BLAMMO! You've suddenly got a die with six red fists on it. It's clobberin' time! Yeah, I know, I'm mixing up The Thing and The Incredible Hulk, but you're just going to have to deal with it.
Jean Grey
Kapow! is relatively simple, as you might have guessed by now. It doesn't take long before you realise that the real game comes from trying to read the mind of your opponent. Are they going to attack hard this round? Should I stack up my defence to mitigate it, or just take my lumps and use my dice on the Power Up section of my board to gain more dice and faces? Seems like a good option, except that they might instead decide to assign dice to the After Power Up section, causing me damage for every die and face I gain this round… So maybe I should just attack instead?
You'll find yourself caught in these decision loops constantly, and it really fuels the table talk. You start to get sneaky and devious, trying to bluff or double-bluff the other person. I even caught my son gesturing toward and looking at the area of the board where you can place dice to defend, only to find out he'd stacked everything on his attacks. The kid's a supervillain in the making.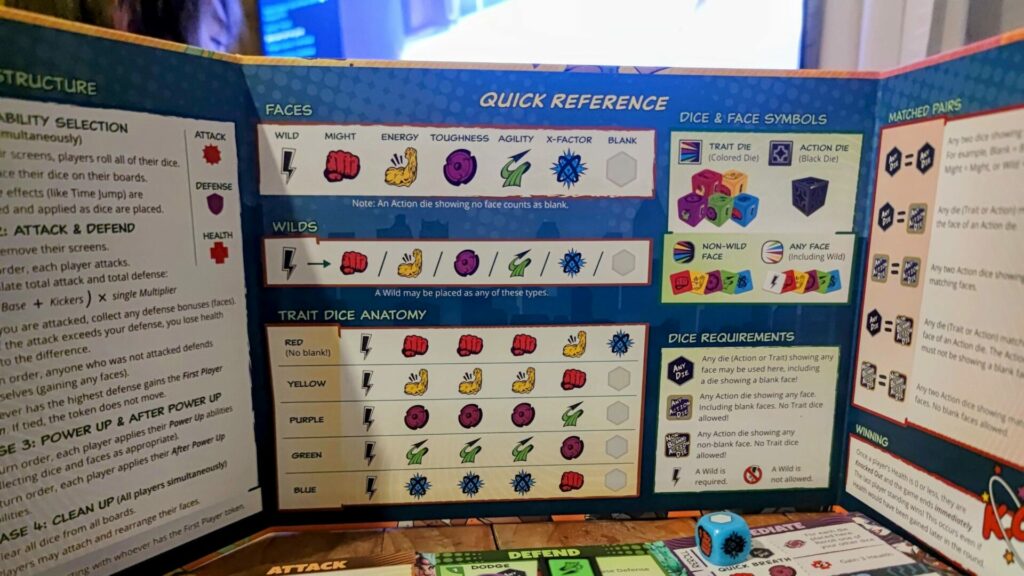 What I've talked about so far is the way you'll play the game the first time, but once you've got the hang of it (in fact, from your first game onwards if you've experience with games) you can add asymmetric super hero and villain boards to your area. Each comes with their own abilities, starting health, and starting dice. and it breathes a welcome bit of life into a game which would otherwise get stale quite quickly. It's not to say that Kapow! isn't a fun game, because it is, but it's lightweight and can get samey pretty quickly.
Superman from Wish.com
If you're like me, and like your games with plenty of meat on their bones, you might find Kapow! a little lacking. Despite the player boards appearing to have tons of spaces to place dice, the reality is that the attack and defend columns are a little dull. It's a cool concept, for sure. You assign dice to an attack, then you can add more dice to a Kicker (adds more damage), and finally assign some to a multiplier to really boost it. Defending works in the same way. The attacks all have suitably comic-bookish names like Biff, Zap, and Pow, but it doesn't feel much like you're using any superpowers, and surely the point of having superheroes is to be using cool powers?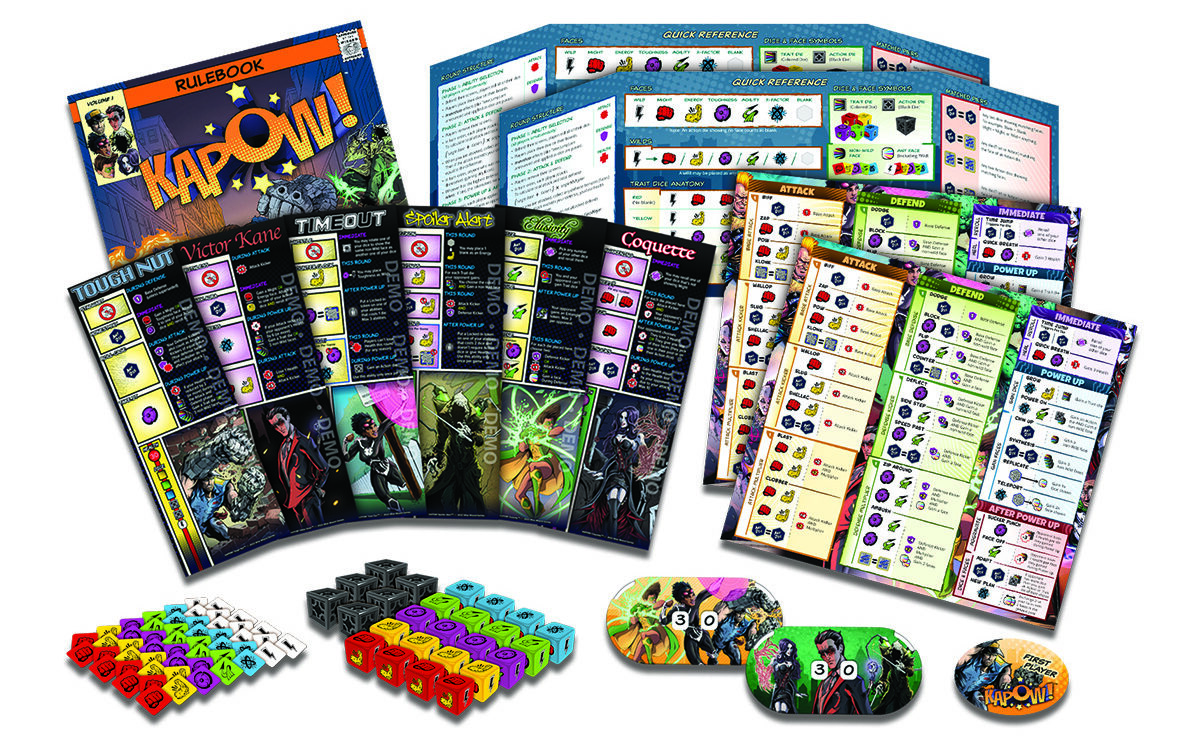 The various character boards introduce some new powers as such, they're just not very dramatic. Locking in abilities to use them in every round is pretty cool, for example, but it's still maybe just having a 'Pow' every round for free, not like using laser eyes, invisibility, or something equally extravagant. I feel no small amount of hypocrisy writing this. I love beige, mechanical Euros where the theme can be nothing more than a gossamer-thin veneer, so why grumble about a lack of it here? In my opinion, a game about superhuman boys and girls knocking lumps out of each other should feel dramatic and explosive, and you should feel like you have some truly awesome powers. I just don't get that from it.
I should caveat this review by mentioning that my experience of it has been with 1v1 battles only. There's a 2v2 mode which allows for cooperation and teamwork, and you can add in the characters from the Volume 2 version of the game too. Just something to bear in mind if you're looking to regularly play with four people.
Final thoughts
Kapow! is a mixed bag. On one hand, you've got this duelling game which is a load of fun. Gaining and customising your dice is super cool, and I love the plotting behind your screens before the big reveal. Planning and plotting to try for a monumental attack is extra satisfying when it comes off. It's just tempered somewhat by the lack of 'super' stuff you can do. The characters aren't licensed from any comic universe, and in a way that's a good thing. Imagine a game where you were Spider-man but couldn't do any web-slinging, or The Flash but had no way to move super fast.
I've got to give a special mention to the artwork and graphic design in Kapow! The illustrations are superb, and everything looks like it's been lifted straight from a classic comic. The art combined with the bright, bold dice makes for a game which looks great on the table and is instantly appealing to everyone, non-gamers included. This level of appeal is a very important point and isn't to be sniffed at. This is a fantastic game to bring families together around a table and introduce non-gamers to modern games. If you're part of a game group and have games to introduce new members with, Kapow! would be a fantastic addition to the collection.
Ultimately Kapow! is a glorified Rock, Paper, Scissors with an element of bag- and engine-building. Stack your dice in one particular area and see whether your opponent countered it, met it head-on, or tried to reap some benefit as a result of your choices. Trying to do a little bit of everything each turn isn't really viable if you want to win. As I mentioned before if you're looking for something complex it's not going to knock your socks off, but if your tastes lie with something lighter end of the board game buffet, Kapow! is a great option. If you're looking for a game that does something similar with dice but with a bit more going on, check out Dice Throne. If you're looking for generic superhero action with more emphasis on what the heroes are doing, you'd be hard-pressed to beat 2011's Sentinels of the Multiverse. Kapow! fills a gap somewhere between the two, and is a great option to get kids and newbies into chucking dice.
Review copy kindly provided by Wise Wizard Games. Thoughts and opinions are my own.
If you enjoyed this review and would like to read more like this, consider supporting the site by joining my supporters' membership at either Patreon or Ko-fi. It starts from £1 per month, offers member benefits, and lets me know you're enjoying what I'm doing.
---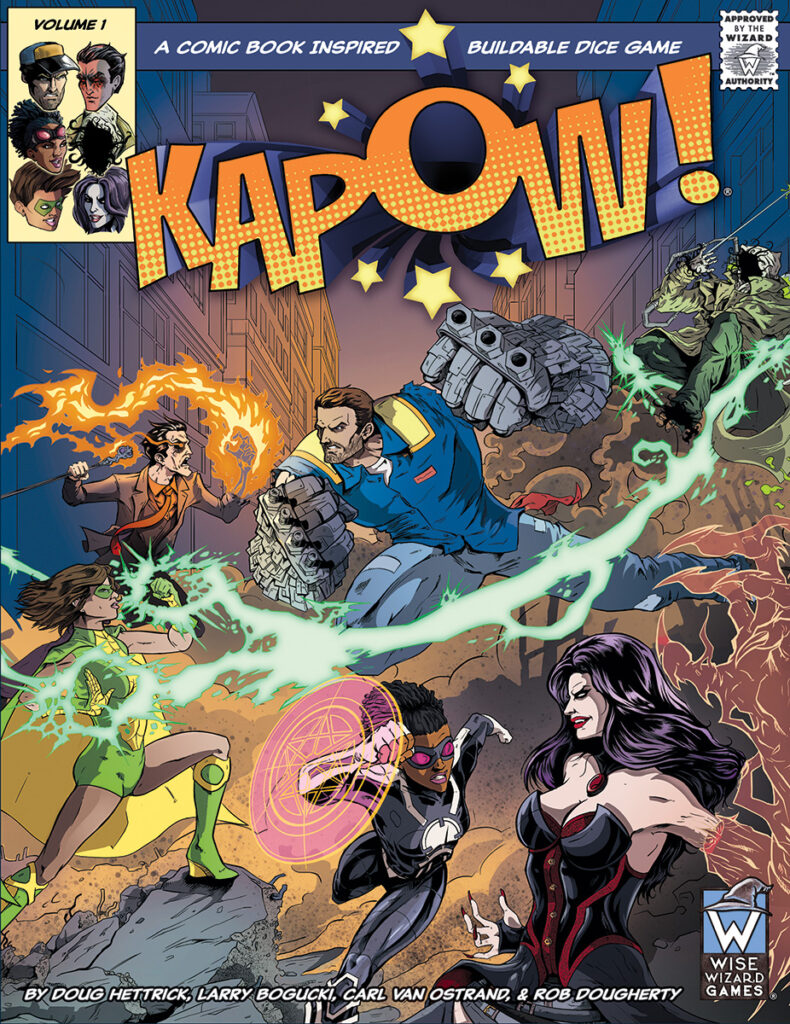 KAPOW! Volume 1 (2023)
Design: Larry Bogucki, Robert Dougherty, Douglas Hettrick, Carl Van Ostrand
Publisher: Wise Wizard Games
Art: Randy Delven, Cody Jones, Kalissa Fitzgerald
Players: 1-4
Playing time: 20-45 mins