Libertalia: Winds of Galecrest Review

Libertalia: Winds of Galecrest re-invents the classic game of Libertalia. The barnacles have been scrubbed off the hull, a new tricorn popped on its head, and it's back. Does it still hold its own a decade after its first release? Very much so, and the refinements and additions make for some great quality-of-life changes.
The original Libertalia game from all the way back in 2012 was often recommended when people asked for 'Pirate game' recommendations. Rightly so, too, as not only is it as piratey as a middle-aged man in eyeliner, it's a darn good game too. The biggest problem it has is with availability. That is to say, it's out of print and hard to get hold of. Luckily, Jamey and his crew at Stonemaier games came along, picked up the rights from the original designer – Paolo Mori – and brought the game up-to-date with new artwork, cards, and some re-jigged mechanisms.
A day in the life of a pirate
Libertalia is a game about making as much booty (yes, I mean treasure) as you can in classic 'Golden age of Piracy' fashion. You do this by sending a pirate to the island each day, reaping the benefits of any powers they have, and then choosing which booty you bring back to your ship. Pirates, in this case, are cards. Each player has the same deck of 40 unique cards, and at the start of each of the three voyages (rounds), you all draw the same random selection from your deck. Each pirate has their own ability/power, and each has a number, which represents its priority on the island.
Once all the pirates are on the board, they're arranged in ascending numerical order and activated left-to-right for the day phase. You might activate a card that lets you move up the reputation track, remove certain items from the booty space for this turn, or maybe even swap your card out for another. After that's resolved, you go back along the cards in the opposite direction for the dusk phase, activating any cards with the dusk logo, and choosing tiles from the booty pile.
You know how to play Libertalia: Winds of Galecrest now. It's not a tricky game, mechanically, which makes teaching it a breeze. Where the game comes alive, the gunpowder behind its cannonball if you like, is the interactions between the players, and the slowly diverging strategies.
All aboard!
Libertalia is like getting on a crowded train. There's pushing and shoving, trying to be first in the line so that you can be the first to take your daytime action, especially if you have a card that affects the loot available. This is because even if you aren't playing that loot-affecting card on this turn, you know that every other player drew the same cards as you at the start of the voyage, and could potentially play that card. This feeling of dread gets more diluted as the game goes on, as hands of cards may contain cards from players' graveyards, or they may carry some from one voyage to the next, but in the first couple of rounds, it's very apparent.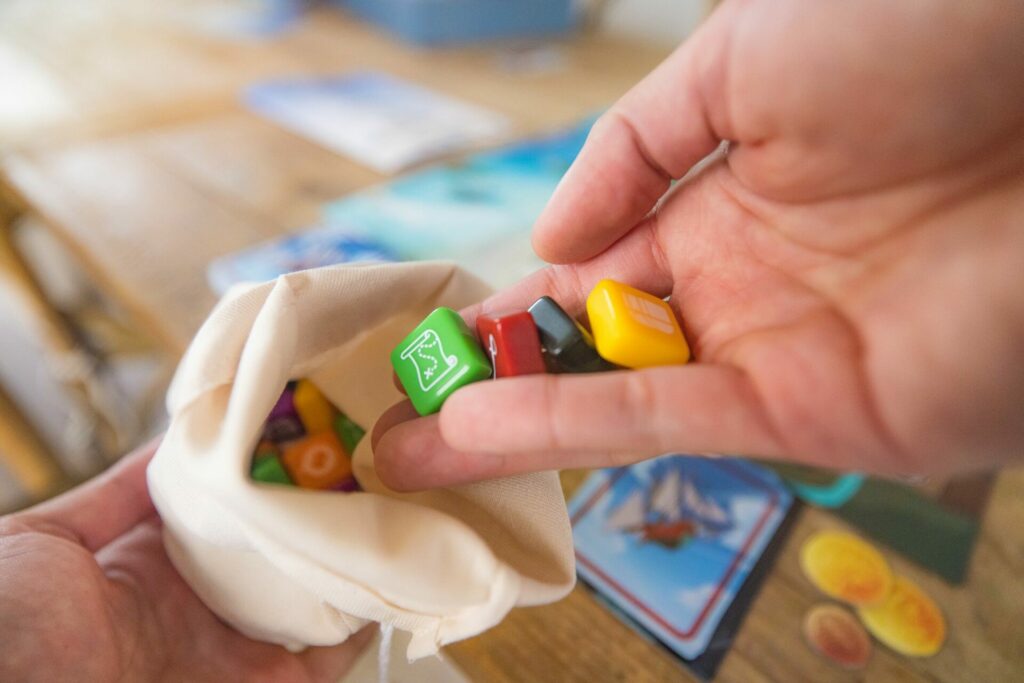 Then, before you know it, you arrive at the next station on your crowded train – or in Libertalia terms – the dusk phase. Playing a high-number card might mean you go last in the day phase, but hey, look, the train doors are opening, and you can get off first. These folks get the prime pick of the loot available, and when you consider that in most cases loot = money, that can be a big deal. After all, the player who collected the most plunder during the game, wins.
What I'm trying to get across here, despite my poor Tube analogy, is the constant indecision and mind-reading attempts you'll go through. The tussle on the island part of the board is brilliant. There's nothing more satisfying than revealing the cards only for someone to see you about to put a teaspoon in their microwave, and to hear the groan (and possible expletives) that head your way.
A corsair, in a sea full of frigates
One of my pet peeves with board games over the last ten years or so is the sheer size of them. By the time you've set up the main board, your player boards, the card markets, that expansion board, the novelty bus made out of pewter, and lord know what else, you need a fricking huge table most of the time. Libertalia takes a step back from this trend and packs a game which you can easily fit on your kitchen table.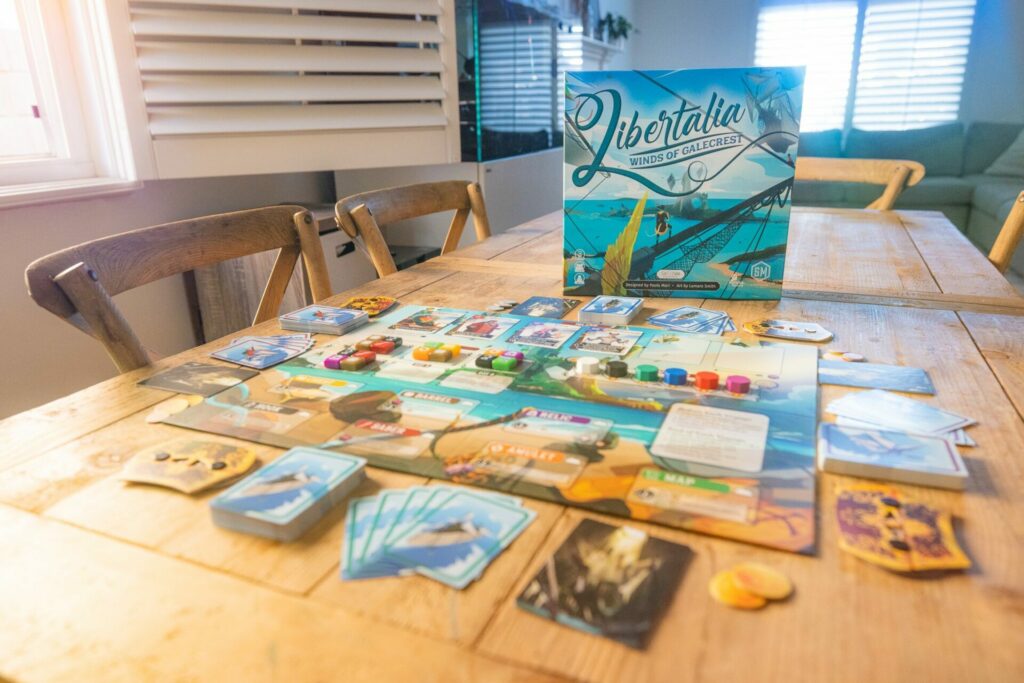 The feeling of neatness and conciseness goes right through the game. It's a streamlined, smooth experience, which means that you can be all done inside an hour, even with five or six players. It means it fills a gap which is present in a lot of players' collections. A satisfying, clever, quick game, with its hold packed full of interaction.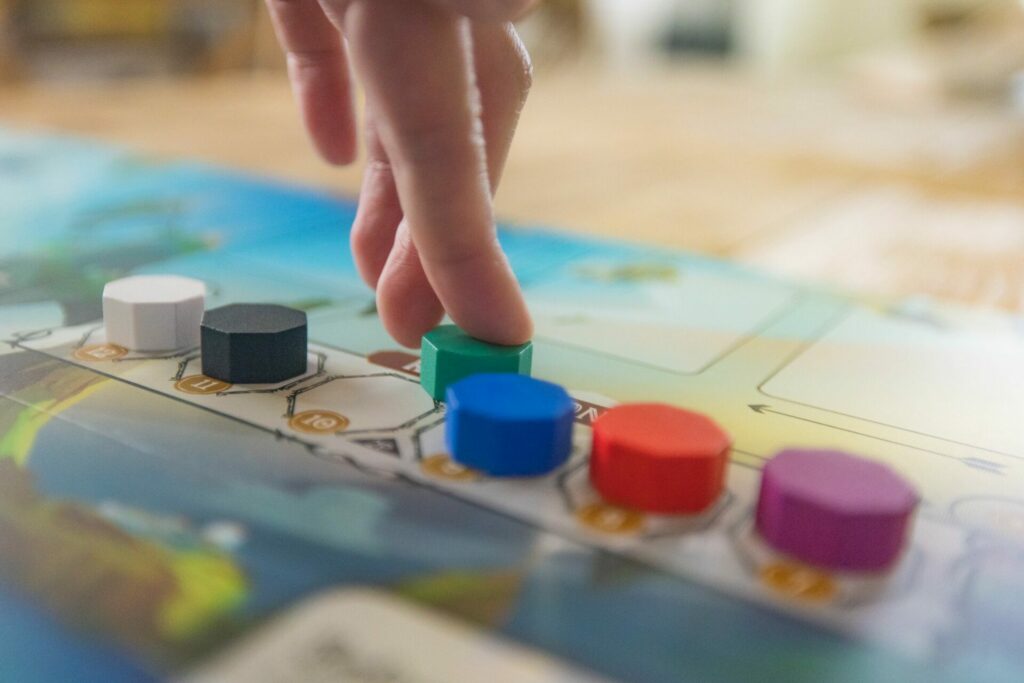 If you're somebody who played or owns the original Libertalia, the artwork and presentation might come as a bit of a shock. It's a very different feel and style to its forebear, and while I think it's an improvement, your mileage may vary. The new reputation track is a much better way to break ties than the old silver number in the original game, and I really like the individual score-tracking chests instead of the score track.
Final thoughts
Libertalia: Winds of Galecrest is a great game. It's one of the few games outside of the social deduction genre which gets better and more interesting with higher player numbers. It plays up to six, and six doesn't feel like too many. Things get busy, sure, but in a game that thrives on the interactions it generates between the players, it's a welcome thing, not a problem. If you're after something more ship-focused, take a look at Merchants and Marauders, or Maracaibo (one of my earliest reviews here!)
The included solo mode plays really nicely, and in all honesty, I'd rather play solo than with two. That might sound like an odd thing to say, but I think two is the weakest player count for the game. Somewhere from four to six players is the sweet spot. I've not even touched on the 'stormy' side of the board, or the different loot tiles which keep the game fresh, and even more fiercely competitive.
Stonemaier Games have done it again, packing some really nice components into a game which you'll spend less than £45 for. I'm so pleased that there's a successful publisher out there now actively working to bring out-of-print licences back to life, and not just copying the original verbatim. Working with Paolo to improve the original was a great idea. Quick, stylish, pirate fun, which excels with a bigger player count. Libertalia: Winds of Galecrest comes highly recommended.
Review copy kindly provided by Stonemaier Games. Thoughts and opinions are my own.
You can buy this game from my retail partner, Kienda. Remember to sign-up for your account at kienda.co.uk/punchboard for a 5% discount on your first order of £60 or more.
---
If you enjoyed this review and would like to read more like this, consider supporting the site by joining my monthly membership at Kofi. It starts from £1 per month, offers member benefits, and lets me know you're enjoying what I'm doing.
---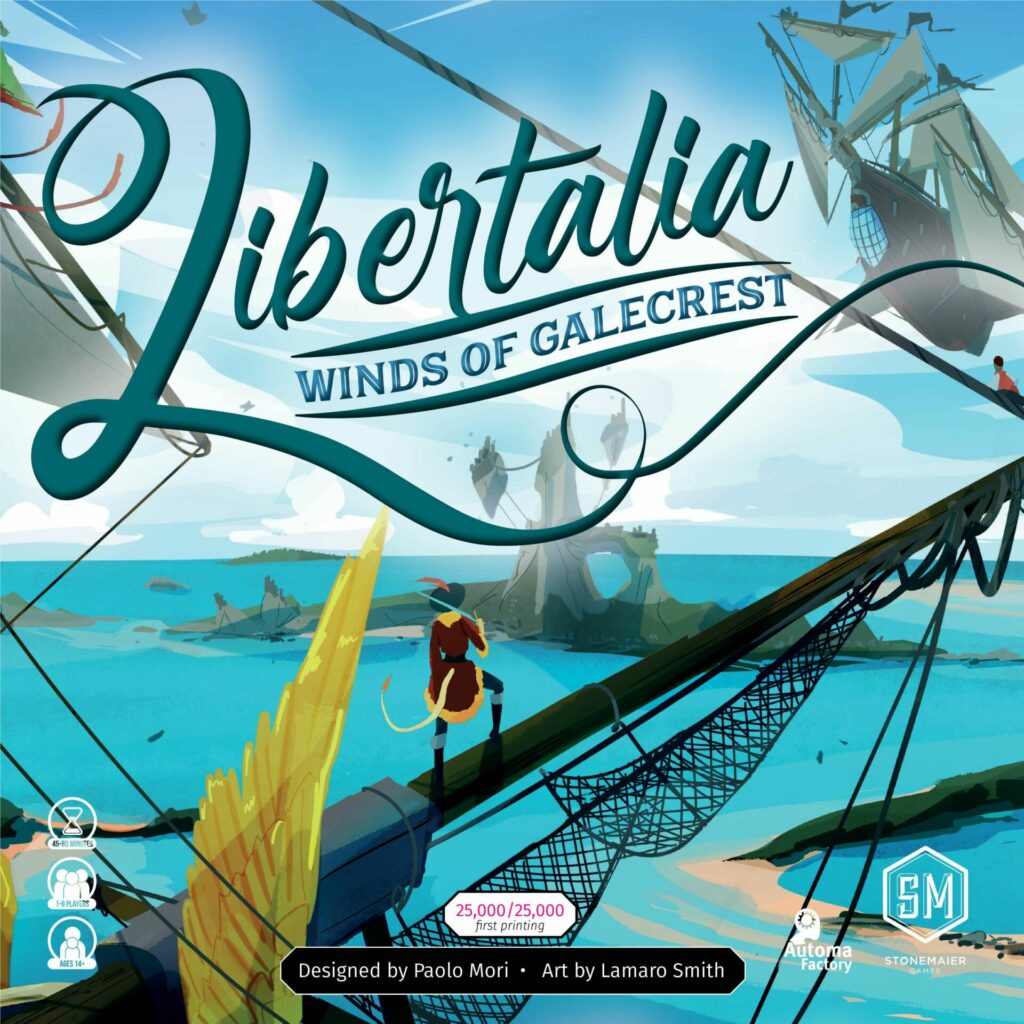 Libertalia: Winds of Galecrest (2022)
Designer: Paolo Mori
Publisher: Stonemaier Games
Art: Lamaro Smith
Players: 1-6
Playing time: 45-60 mins