SpellBook Review
Blasting through the Spiel Essen 2023 small box noise like a double-barreled shotgun comes a new game from the double-barrel surnamed Phil Walker-Harding. That game is SpellBook. Now that I think about it I should have come up with some kind of snappy, magic-related first sentence. Shotguns don't really do it, do they? Too late now.
If that name – Phil Walker-Harding – seems familiar, but you can't place it, let me throw some names at you. Sushi Go!, Barenpark, Silver & Gold, Llamaland, My Shelfie. All of these, and more, are creations from the mind of Mr Walker-Harding. If you're familiar with any of those games you'll know that they rely on set collection, and SpellBook is another game where you're going to collect sets of things, but this time with a little more going on under the wizard's robes.
Under the robes? Yeah, that was worse than the shotgun thing.
We are living in a materia world
The rulebook for the game tells us we're wizards taking part in an Grand Rite, during which we'll be gathering materia to fill our spell books with new spells, and to maybe even store some of that materia with our familiars, too. The materia spews forth from a magical vortex, with some of it even landing on an altar, just waiting to be claimed by one of you.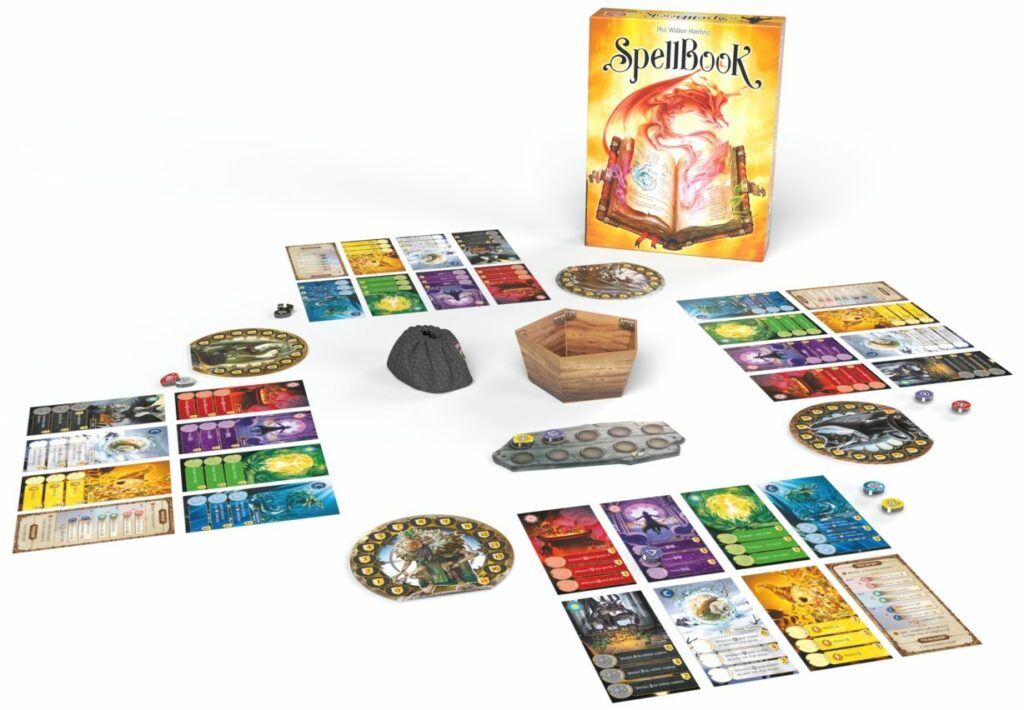 The reality isn't quite as grand as the description would have you believe, but then that's board games, right? The altar is a flat piece of cardboard, the materia are colourful plastic tokens, and the magical vortex is a drawstring bag. We've got imaginations though, so let's use them.
This rite takes place over many days, and in each round, each player gets to take a turn consisting of morning, afternoon, and evening actions. At the start of the game those actions are really limited. You can draw materia from the bag or altar, store one of the materia on your familiar's board, and maybe learn a new spell if you have enough of a certain colour of materia.
Each of the seven colours of materia relates to one of the seven spell cards with matching colours. Each spell card has slots for spell levels 3, 4, or 5. So to learn a level three red spell, you need three red materia. To learn a level five blue, spell, you need five blue materia. You get the idea. As well as a colour, each materia has a symbol on it, and should you find yourself short of a colour you need, you can discard three matching symbols on materia of any colour to act as wild.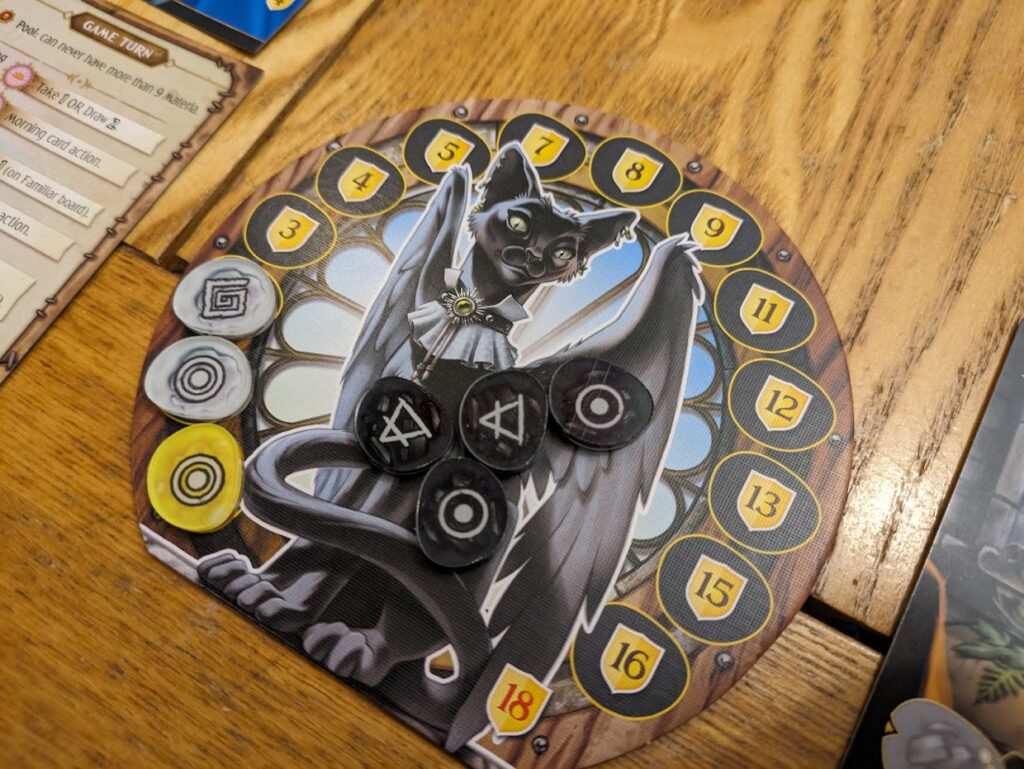 Once you learn your first spell, things really start to get going. You might have a morning action now that lets you discard any materia with a triangle on it to draw four from the bag. That's a lot better than the two that you're normally allowed. Maybe you learn a daytime spell that lets you swap a materia from your board for one of the ones on the altar. Things start to snowball from there, and within 30 minutes someone will have learned a spell of all seven colours, triggering the end of the game.
Decisions, decisions
There's a huge decision space in SpellBook which forces you to make tricky choices more often than you'd like to. Firstly there's the question of which spells should you learn first. That'll dictate which materia you try to collect, but immediately you have the problem of which level of spell you want. Jump at that level three, and you'll never have the level five version.
Unless, of course, you're playing with one of the spell cards (there are three sets of spell cards per player) which lets you upgrade spells at a later time. That sounds good, maybe go for that. But hold up, there's that other spell which lets you treat a specific symbol as wild in the future, so you don't need three spare materia to make a wild. Or that daytime spell which lets you store two materia on your familiar board instead of one, potentially doubling the points you get from it. So many things to consider.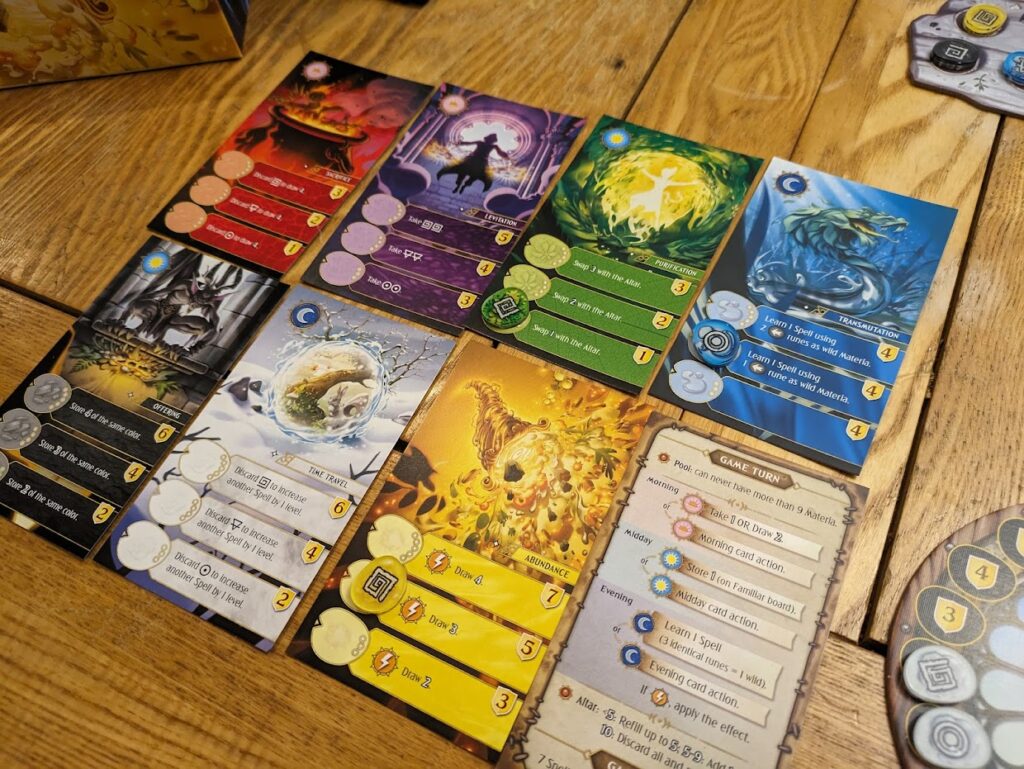 The dilemma of the order you make the decisions is pretty unique to SpellBook, too. In many games it's a case of hedging your bets and choosing which few things you want to concentrate on. You can't do everything, right? Wrong. In SpellBook one of the ways to trigger the end of the game is to learn all seven spells, so you're in an unusual position of knowing that you really are meant to try to do everything. Where your choices matter is in the order you choose to approach them, and how well you manage to make good synergies between your spells. Once that starts happening, the race is well and truly on.
Which is good, because the start of the game can be pretty slow. You're at the mercy of dirty luck for the first few turns of the game. The starting two material you draw from the bag could be matching, with loads of other matches on the starting altar board too, meaning you have a new spell to use from your second turn onwards. For others, there might well be a couple more turns before they can get anything going. Once that engine warms up it purrs like a kitten. Before that, it's more like an old moggy trying to hack up a hairball.
Final thoughts
SpellBook is an unashamed engine-builder with magical stickers stuck all over it. It's not as blatant at it as Furnace, and it packs a bit more theme in than It's A Wonderful World, but that's not saying much. None of that really matters though, because SpellBook is fun, fun, fun. The setting and bright colours were certainly easier for me to sell to my family than Furnace, for example, which is a real plus in my opinion.
Everyone I've played with has remarked how nothing much seems to happen in the first round or two, and they've got a point. It reminds me of the likes of Terraforming Mars for that reason, which was precisely why the Prelude expansion got released for that game. Fortunately turns are a lot quicker in SpellBook though, so that drag doesn't feel as bad.
I'm glad there's some variety in the spell cards in the box. Having three sets to play with is great, and if you feel that even that has become predictable, you can mix and match and come up with all kinds of combinations of cards to work with. I want to bring attention to the plastic material tokens that come with the game. If only The Quacks of Quendlinburg (review here) had come with these, they're absolutely perfect for it.
With so many games vying for your attention after Spiel Essen, some will got lost in the noise. SpellBook deserves to stand out from the crowd. It's the perfect little engine builder that won't cost you the Earth (my partner store, Kienda.co.uk has it for just over £30 at the time of writing) and has a theme which means you'll be able to get just about anyone to play it with you. Top stuff!
You can buy this game from my retail partner, Kienda. Remember to sign-up for your account at kienda.co.uk/punchboard for a 5% discount on your first order of £60 or more.
---
If you enjoyed this review and would like to read more like this, consider supporting the site by joining my supporters' membership at either Patreon or Ko-fi. It starts from £1 per month, offers member benefits, and lets me know you're enjoying what I'm doing.
---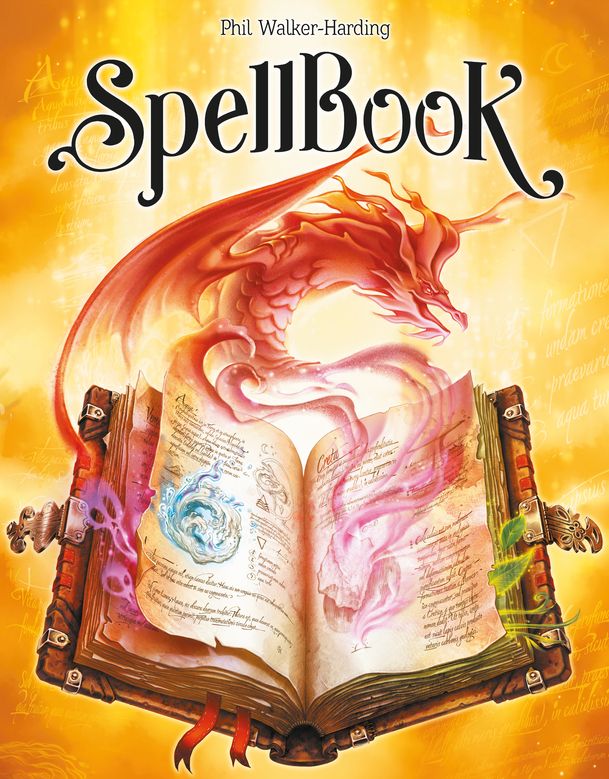 SpellBook (2023)
Design: Phil Walker-Harding
Publisher: Space Cowboys
Art: Cyrille Bertin
Players: 1-4
Playing time: 45 mins