Point City Review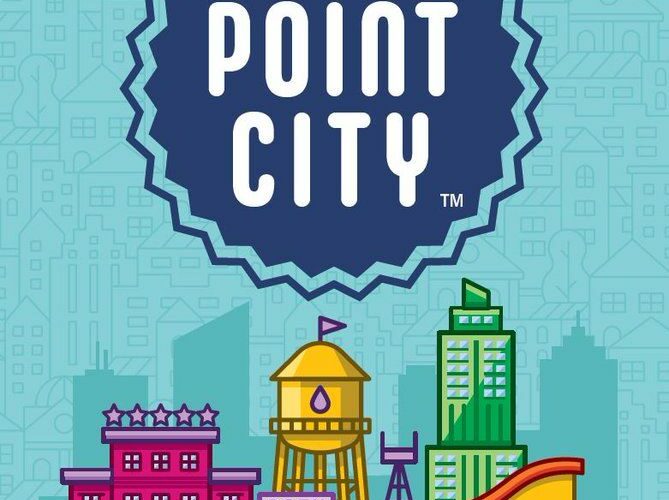 When is a city-builder, not a city-builder? When it's an engine-builder. Point City is a quick, bright, and easy game about building a city. Players pick cards from the ever-changing grid of cards in the middle of the table, taking resources and sometimes buildings. You can take a building and add it to your tableau if you have the resources to pay for it, and that's where the fun starts to happen. The good news is that that fun keeps going from the first 'til the last turn of the game.
Check out my 4×4
Much of the game comes from the spatial puzzle in the middle of the table. There's a 4×4 grid of 16 cards on offer, and on your turn, you have to take two orthogonally adjacent cards. Now that I think about it, that's pretty much the entire game. For the first half of the game, you'll mostly take the cards that are resource side up, because you can only take a building card if you can pay for it. How do you pay for a building? With the resource cards in your hand, but also the permanent resources produced by the buildings you've claimed.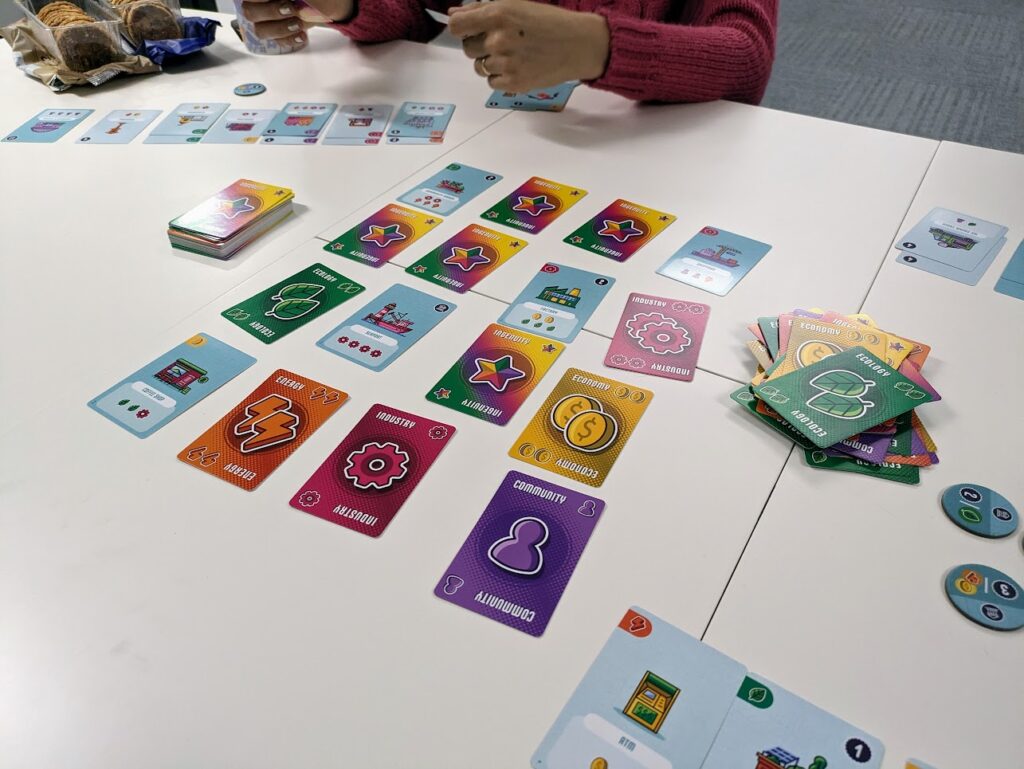 Every time a card is claimed, one replaces it, but the opposite way up. Claim two resources and two buildings fill the spaces – you get the idea. What results is that classic dilemma. Do you go all in on one or two types of resource production in your buildings, and top up with resource cards, or do you hedge your bets and try to do a little bit of everything? The beauty is that either approach can work, and the deciding factor is usually how efficiently you can carry your plans out.
The other thing which might tip you one way or the other is the inclusion of the little, round civic tokens. Some of the buildings on offer allow you to claim a token once built, and they're the chief way to get extra points at the end of the game. You always play with a random selection of the tokens in the box, which might dictate which way you decide to go. It might pay you to invest in Community and Energy if there are tokens that reward having those types of production built.
Civic Fun-ding
The main problem I find with engine-builders is that they can become too much about the production chain, and the game can become very heads-down. Very insular. Point City manages to avoid this problem through a clever mix of traits. Firstly, the production chain you're looking at is only one level deep. Each resource type can be used to pay for buildings of one kind or another. There are no steps which involve turning one resource into another resource, and then spending that intermediate resource on something else.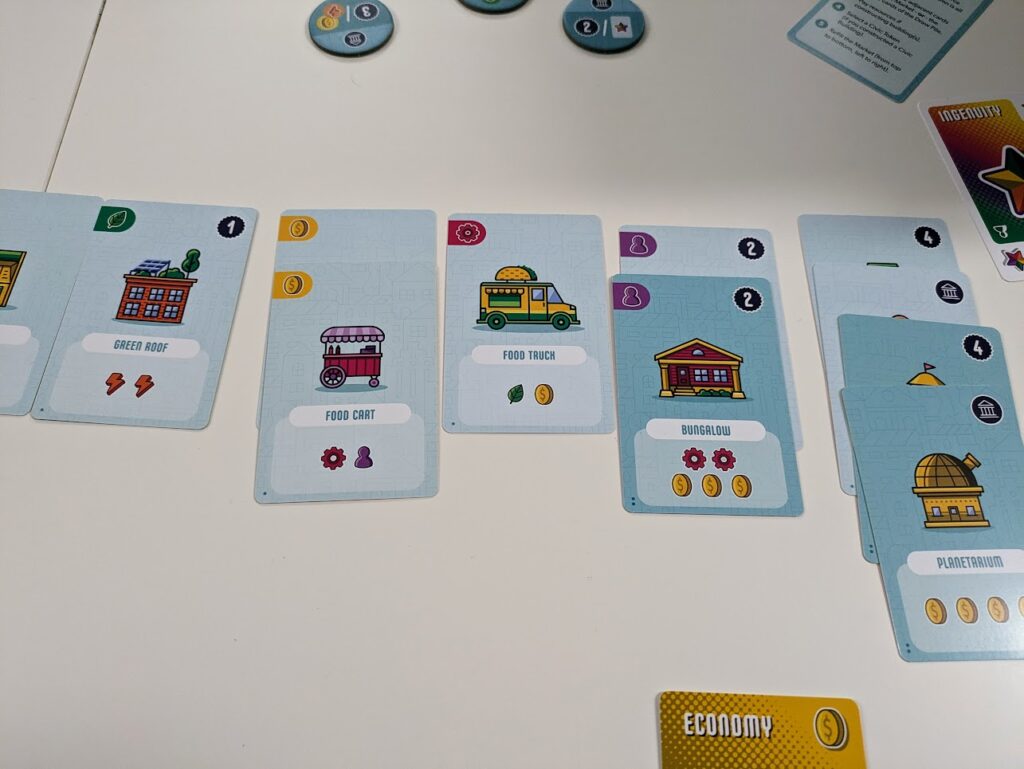 The biggest thing which brings the players together is the shared market in the middle of the table. At four players especially it adds a bit of drama and anticipation into the game. You might see the perfect 1-2 hit you can make on buildings in the market, knowing you can pay for both with your permanent resources. It's agony waiting to see if someone else takes one before you get a chance to. Even with smaller player numbers, there's still a bit of gamesmanship to be had, because it's much easier to track who can produce what, and discern which buildings they might have their beady little eye on.
My favourite thing about Point City though, and the thing which makes it the game I'm most likely to use to introduce newcomers to this type of game, is the art direction. The bright, bold colours and crisp illustrations are really friendly. There's no undue text to read, there's no cyberpunk dystopia full of neon pinks and greys, nor fantasy tropes of magic and dragons. It's just nice little buildings whose names you'll immediately forget if you even read them at all. It helps make Point City a game with universal appeal, ideal for non-gaming family and friends.
Final thoughts
If you haven't already guessed, I'm a big fan of Point City. It was part of a duo of games released through Flatout Games along with Deep Dive, which I reviewed last week. I expected to like Deep Dive more, given my love of push-your-luck, but it turns out I prefer Point City.
There's something about the bold colours and the immediacy of the game that really appeals to me. Turns are really quick, and the designers have done a great job of building in an inherent level of balance. It does something which I really appreciate in games designed for all ages and abilities. If you play badly or just don't really understand what to do, you'll still score points and still do reasonably well. If you know the game, however, and if you understand the interplay of the cards and civic tokens more, that's where the skill ceiling starts to come into play, and it just means that the more skilled players can battle it out for top spot without scoring triple the points of the person in last place.
It boils down to making a game feel inclusive and welcoming, and it's something I appreciate all the more when it's done well. Point City is fun, easy to teach, and very rewarding. It's earned a place in my bag for future conventions for short bits of downtime, like waiting for players to show up, or a half-hour break with a drink at the bar. I think the only people likely to be disappointed by the game are those expecting something with a bit more depth to it, like Res Arcana or It's a Wonderful World. It's another great game from the folks at Flatout Games, who are starting to make a habit of it.
Review copy kindly provided by Alderac Entertainment Group. Thoughts and opinions are my own.
If you enjoyed this review and would like to read more like this, consider supporting the site by joining my supporters' membership at either Patreon or Ko-fi. It starts from £1 per month, offers member benefits, and lets me know you're enjoying what I'm doing.
---
Point City (2023)
Design: Molly Johnson, Robert Melvin, Shawn Stankewich
Publisher: Flatout Games
Art: Dylan Mangini
Players: 1-4
Playing time: 15-30 mins