Rauha Review

Row-ha? Raw-ha? I'm not sure how to pronounce it, but that's the joy of the written word – I don't have to say it. Whatever you call it, Rauha is a relatively lightweight tableau-builder, wrapped up in a "You're shamans re-invigorating life into a fantasy world" theme. Wrapped up in this case, as if a three-year-old has wrapped your birthday present on their own – their heart is in the right place, but it's not convincing. Still, despite there being almost nothing to make it feel like any of that stuff is happening, Rauha is a super fun, quick, easy-to-learn game with a ton of interaction, and it's worth your time and pennies.
Tic-tac-toe
The land you're tasked with rejuvenating takes the form of a board in front of each player with a 3×3 grid of spaces printed on it. Some of the spaces have icons printed on them, some are blank. Blank squares are boring, though. Booooring. They need little icons on them too. Luckily, between each player, there's a tile, and on that tile, there's a stack of square biome cards.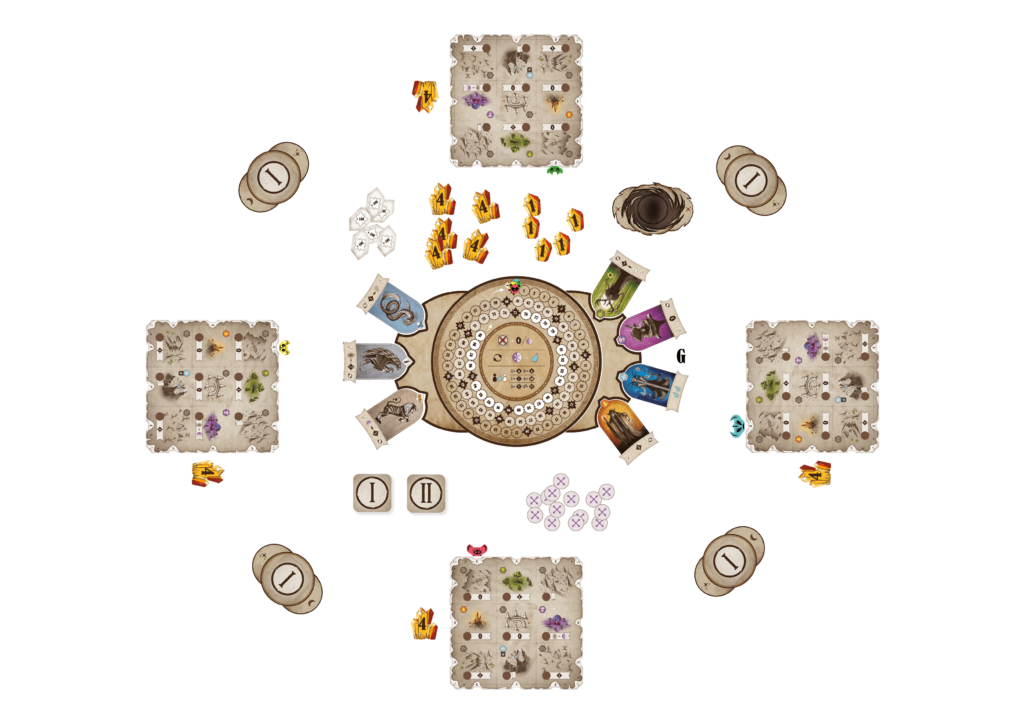 The rounds in Rauha tick along as alternating days and nights, and each side of the tile between neighbouring players has a day and a night side. If it's a day round, turn to your right and draft a card from that pile. If it's a night round, turn to your left and draft a card. The alternate drafting is really interesting and adds a nice little squeeze of tension, drizzled over the top of the game. More often than not there'll be more than one card you want from a tile. Trying to second-guess your neighbour's plans and the likelihood of them taking the card you want leads to some tense moments.
Cards for what though? Why do you want cards? When you choose the card you want on a turn, it's time to add it to your board, and without getting into the nitty-gritty of it, you're trying to make three-in-a-row. Get three matching icons vertically and/or horizontally and you get to take the associated Divine Entity tile. It's the game saying "Nice one. You like that particular trait so much that its God is crashing on your sofa with you now", which is a good thing. Divine Entities often grant the owner a bonus when they claim it, and again during each of the four scoring phases.
On the surface it seems like a pretty shallow game. Fun, but shallow all the same. Draft a card, play a card, get some stuff, maybe get a bonus. However, it only takes one full play to make you realise there's a really nice layer of nuance which elevates Rauha from a very simple game to a clever, cunning one.
Easy come, easy go
The Divine Entities are the key to scoring well in Rauha. Initially, it seems tricky to figure out a way to use them to the biggest advantage, until you realise something important. You get a one-time bonus every time you claim one. Whether that's from the central board where they're hanging out at the start of the game, or beside another player's board. This means it can be in your best interest for somebody else to claim an entity you've got because if you can claim it back, you get that one-time bonus again. Just make sure you've still got it when your avatar makes it to a corner of the board to trigger scoring.
I didn't mention each player's avatar (player marker), because they're largely irrelevant. You all move them simultaneously from one notch to the next, around the sides of your player boards, to keep track of the rounds. The avatar's position also indicates which row or column gets activated in each round, scoring you precious points and resources based on the cards in that very same row or column. It made me think back to Fabio Lopiano's brilliant I-need-one-more-turn Merv (review here).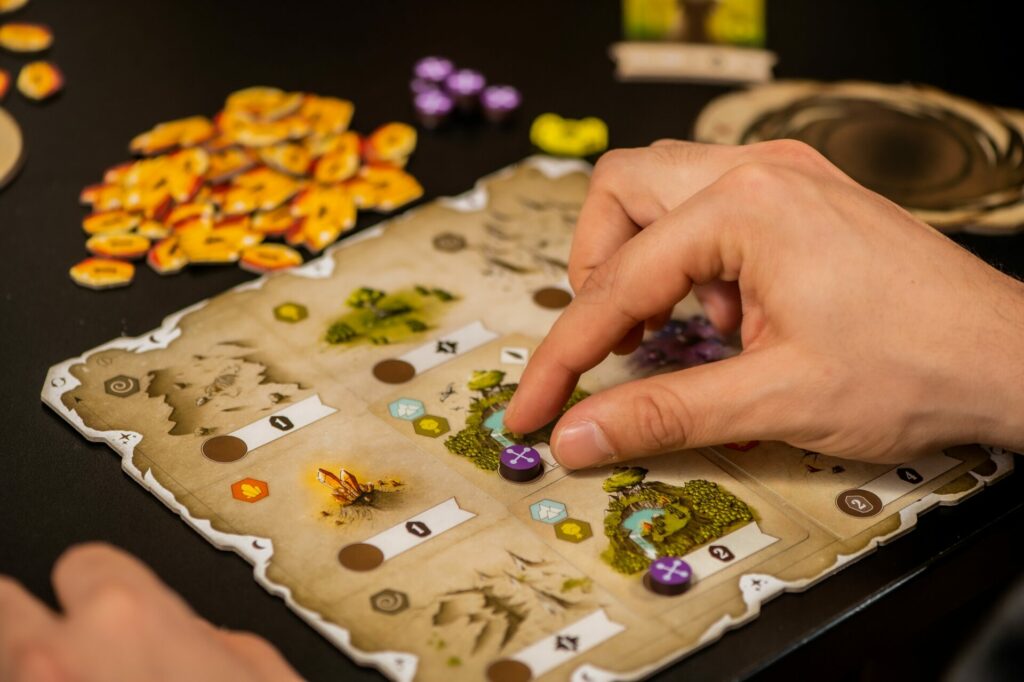 It might sound like a tall order, trying to manipulate your board's state so you can repeatedly claim the same entity. It's made entirely easier by the fact that you can play cards on top of other cards, thus breaking and making chains relatively easily. The other layer of fun in this ludological trifle is the spores, which I realise now sounds like a terrible layer to put in a trifle. Spores are these very tactile purple discs which can be added to some cards, and later flipped to re-activate the biomes (cards) during scoring rounds.
Final thoughts
Rauha does what it sets out to do in a quick and efficient way. Nothing about the game is cumbersome or bloated. While there are plenty of choices to be made with just about every card you draft, you'll usually find yourself working towards a plan you have in mind, rather than just reacting to whatever's happening. Speaking as someone who favours strategy over reaction, I really enjoy being able to play this way.
In a few of the games I've played, I've seen one player manage to get an unassailable lead a couple of times, but it comes from clever play rather than the planets aligning in some kind of cosmological lottery win. It's not as wild as the score differences can be in something like Tapestry though. The constant yoinking of entities between players is really entertaining, and it's a pleasant change to play a game with such a strong feeling of passive interaction. There's no 'take that!', and no mechanisms to push a stick in the spokes of someone else's bike. The groans and expletives generated by Rauha come about because someone takes the card you were hoping would be there next turn, or because someone pulls some Ocean's Eleven level heisting and nabs a couple of entities with one card, just before a scoring round.
Not that that's ever happened to me, you understand…
I've successfully introduced Rauha to people from seasoned gamers right through to my family, and all have had a good time with it. It's a great game to start or end a games night with. There's something there for everyone. The instant hit from making a row and getting some cool stuff for newbies, right through to nuanced long-term planning for the hardcore nerd in your life. It took me by surprise. There's much more here than is immediately apparent. Check it out, I think you'll like it.
Review copy kindly provided by Hachette Boardgames UK. Thoughts and opinions are my own.
You can buy this game from my retail partner, Kienda. Remember to sign-up for your account at kienda.co.uk/punchboard for a 5% discount on your first order of £60 or more.
---
If you enjoyed this review and would like to read more like this, consider supporting the site by joining my supporters' membership at either Patreon or Ko-fi. It starts from £1 per month, offers member benefits, and lets me know you're enjoying what I'm doing.
---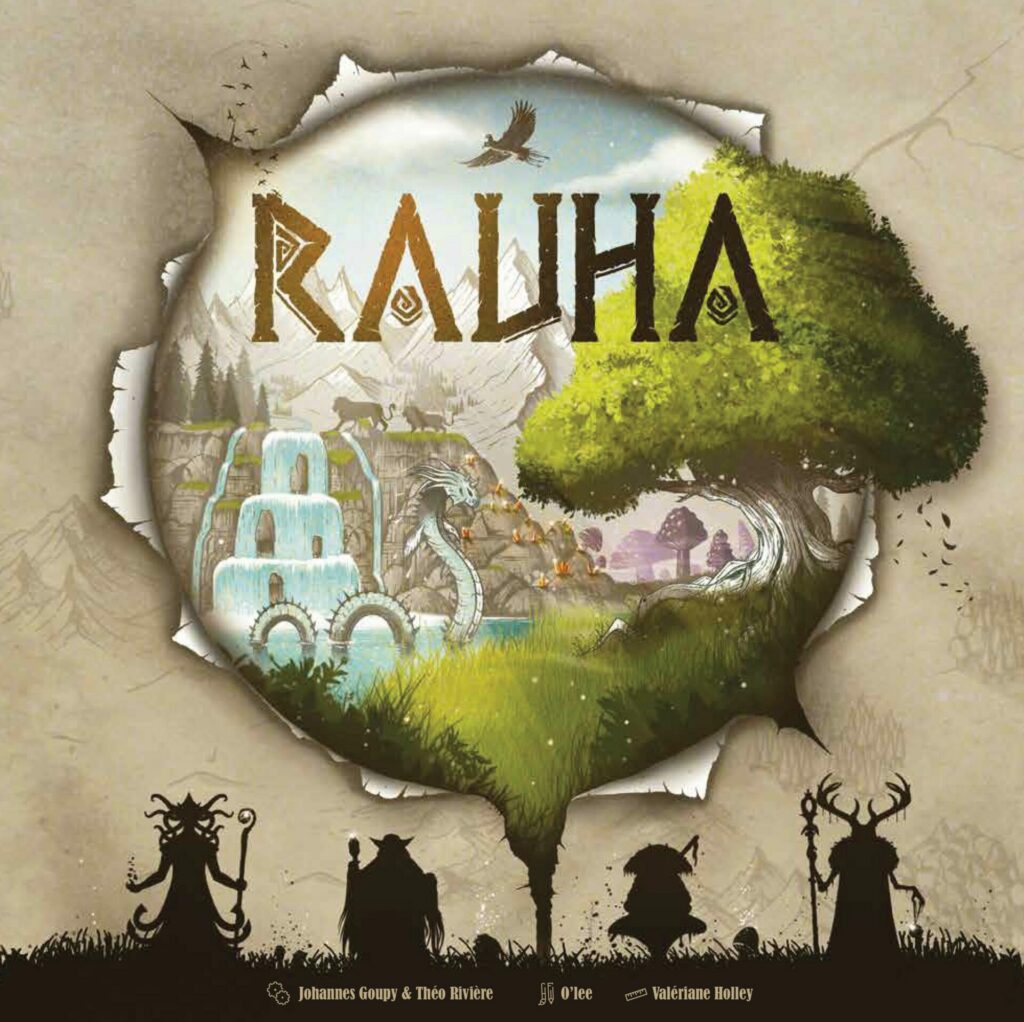 Rauha (2023)
Design: Johannes Goupy, Théo Rivière
Publisher: GRRRE Games
Art: O'lee
Players: 2-5
Playing time: 45 mins