Sort Your Life Out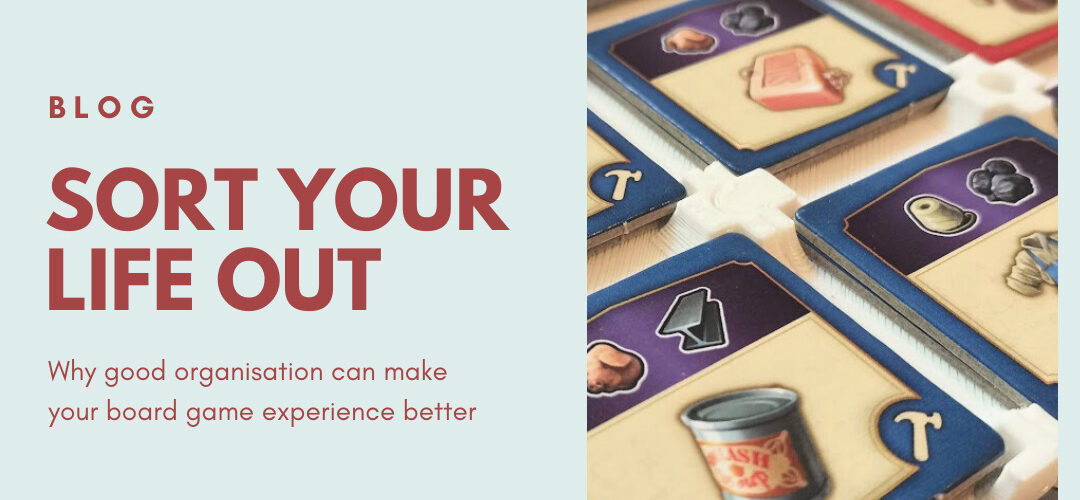 I am a messy person. I don't know how it happens, but despite my best efforts, I'm often disorganised and untidy. It's frustrating, because I find it so satisfying when things are all in their proper places. What has all of this got to do with board games, you ask? Plenty, as it happens, because a lack of organisation sometimes means I don't play games I know I really enjoy.
In this post I'm taking a look at some of the under-appreciated heroes of game nights: the bits and pieces that keep people like me tidy, and help make the most of our precious leisure time. Things which sometimes mean the difference between a game coming off the shelf, or staying there like a wallflower at a dance, watching on while others have all the fun.
In praise of the humble box insert
People love a good box insert. They make the game's contents look nice, they are incredibly satisfying to put things away at the end of the game, but most importantly they make the game setup much quicker. Does that really matter? Heck yes, it does! Those of you who enjoy a game with a lot of pieces, think about that game for a moment. Think about clearing the table, opening the box, and then looking down at a pile of baggies big enough to get you pulled aside at an airport.
I like heavy Euro games, and the sheer number of different types of tokens and pieces in some of them is genuinely daunting. Anachrony is an outstanding game, but I don't play it as often as I want to, because opening and organising everything takes me ages. I don't have much free time, and I'll end up spending a significant portion of it just setting the game up to play. How ridiculous is that?
At the opposite end of the scale, I don't mind choosing Euphoria (review here), even with its expansion included, even though it's got tons of dice and components. The included insert from GameTrayz makes things so easy to find and setup, and then to pack away afterwards. A place for everything, and everything in its place, as the saying goes. What happens when your game isn't like PARKS, or Jamaica though, and doesn't come with a custom-made insert?
Do-it-yourself
The first thing you can try is to make an insert for yourself. I've done this with different methods, and varying levels of success. Some people love working with foamcore to create inserts, and I had a go at it myself. I bought the knives, board, steel rulers, dress-making pins and enough PVA glue to stick an elephant to the ceiling. I designed and made an insert for Maracaibo, and while it works, there was so much faffing around, and I ended up covered in more glue than my eight-year-old would have. The better option, if you have access to it, is 3D printing.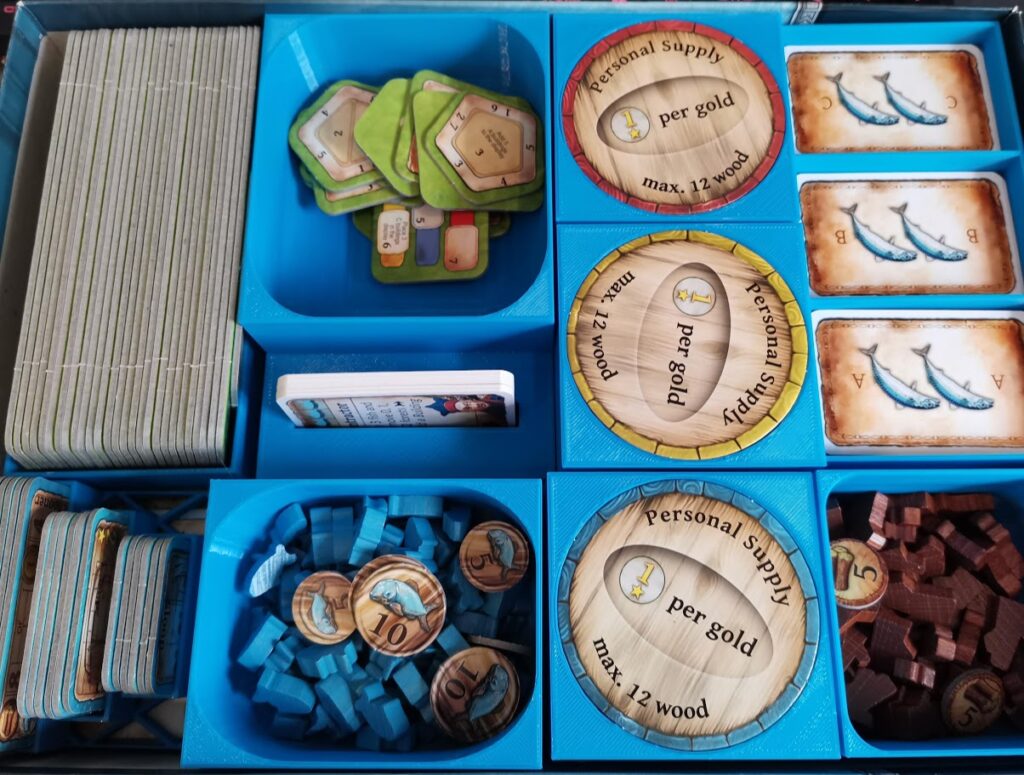 3D printing is very precise, but it's pretty slow going. I printed inserts for Nusfjord and Anno 1800, and they took me days each. Literally days of my poor printer whirring its way through the filament. The end results are great though, and Nusfjord now has player boxes which you can lift out and drop on the table, with everything a player needs. Is it worth doing? It depends on your levels of patience and frustration I suppose. The Anno 1800 insert was almost a necessity for me, as sorting and setting up 44 individual piles of tiles, on top of the cards and resources, takes an age. As a result, I'll certainly play it more than I might have done otherwise.
And there's the rub. Straight away I'm saying that I'll play a game I really enjoy more, just because setting it up is now easier, and less time-consuming. That's just mad.
Off-the-shelf
The industry recognises the desire for a good insert, so several companies have stepped-up and produce insert kits that you can buy and assemble at home. The most famous of these are the Folded Space inserts. The material they're made out of is very similar to foamcore, but thicker, and precision cut. All you need to assemble them is some PVA glue, and in my case, a child to supervise. Another great option is e-Raptor, who make their inserts from a harder material, but use interlocking pieces and require no glue. They're more expensive, but really well-made.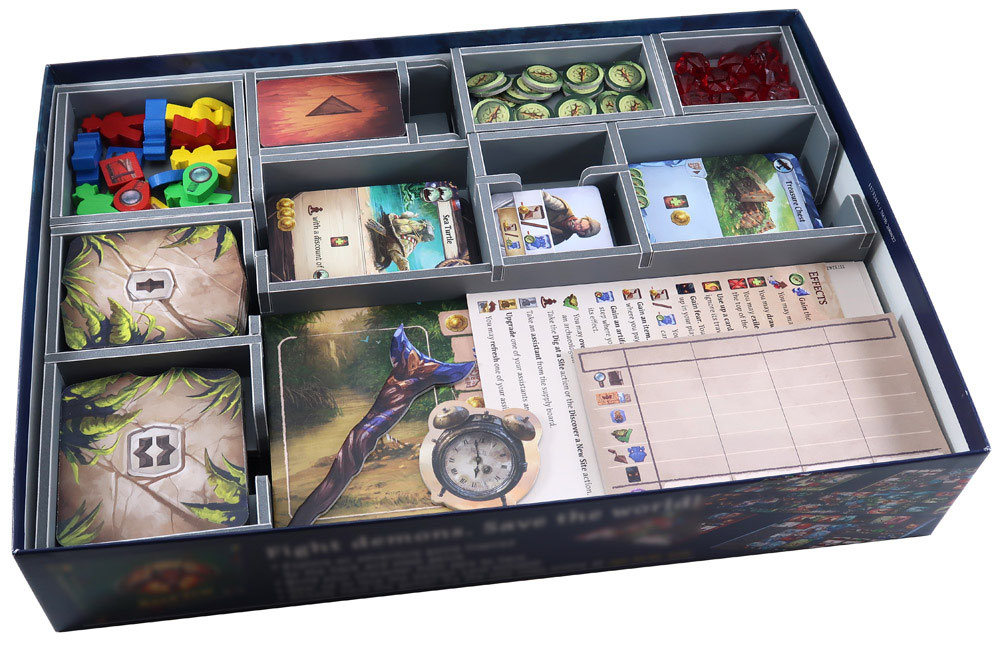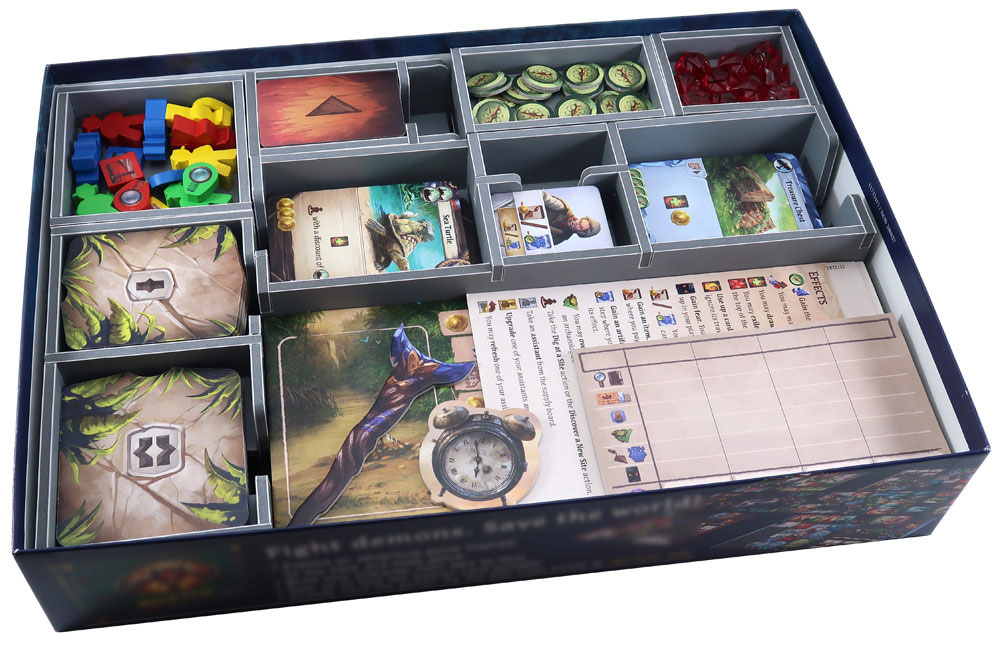 If you've never used a box insert like one of these before, you might be sceptical. Spending money on a game you've already paid for, just to organise it? That's money that could be better spent on new games, surely? If this sounds like you, and if you've ever felt reluctance to play one of your games just because you know how much time and effort it's going to take before you even play, then I urge you to try one.
So, you've got your game all sorted out and easier to setup and pack away, but what else can you do to make your experience better, and make the most of your time?
Hold me closer
How many times has a rule book told you to make piles of tokens or resources next to the board? Piles of cardboard tokens and wooden pieces strewn over what table space is left, after your cardboard monstrosity claims as much as it can. How many times have those piles spread out, mixed together, or made a bid for freedom, over the edge of the table?
Many of you may already use something as a bits holder, but I've played games with a lot of people who have never tried it. It's such a simple thing to do, and you don't have to spend any money to do it. If you do buy something you can do it on a budget. Some of the most popular options I've seen are silicone muffin cases, and the little glass pots that those Gü desserts come in. How good is that? Chocolate pudding, a token holder, and doing your part of the environment by re-using the pots. That's my excuse anyway.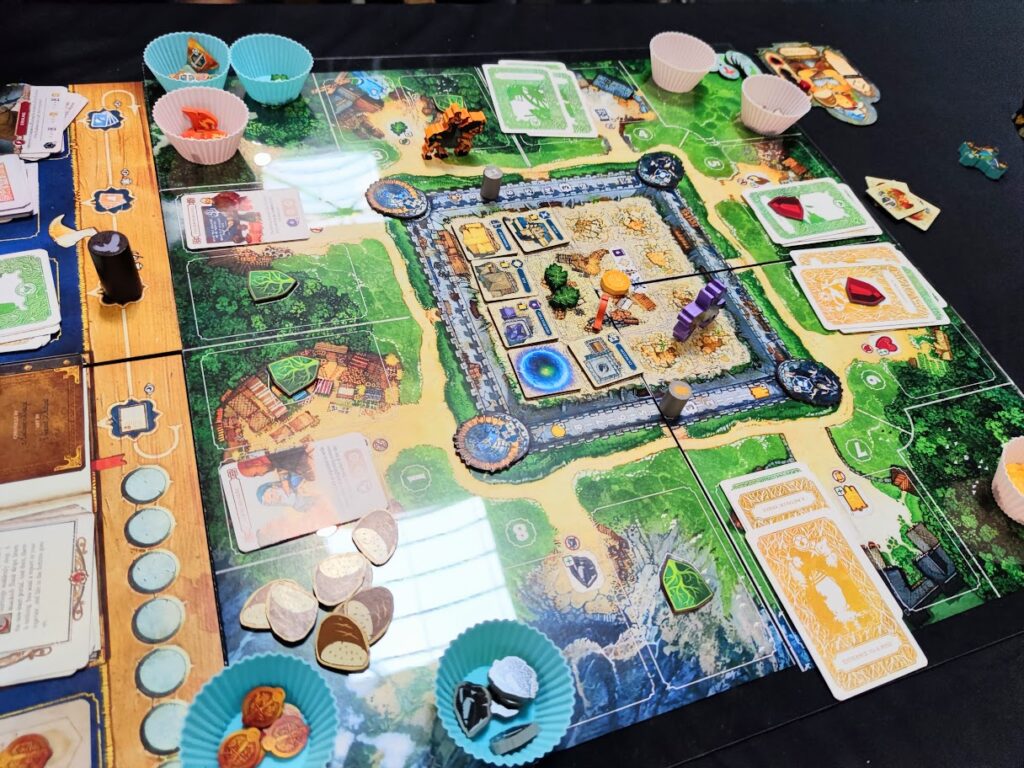 I have some 3D printed trays which stack together for storage, and have spouts which help with taking pieces, and for tipping pieces into their bags. Plenty of Etsy shops sell these, and if you have access to a 3D printer you can get the files for it for free, here.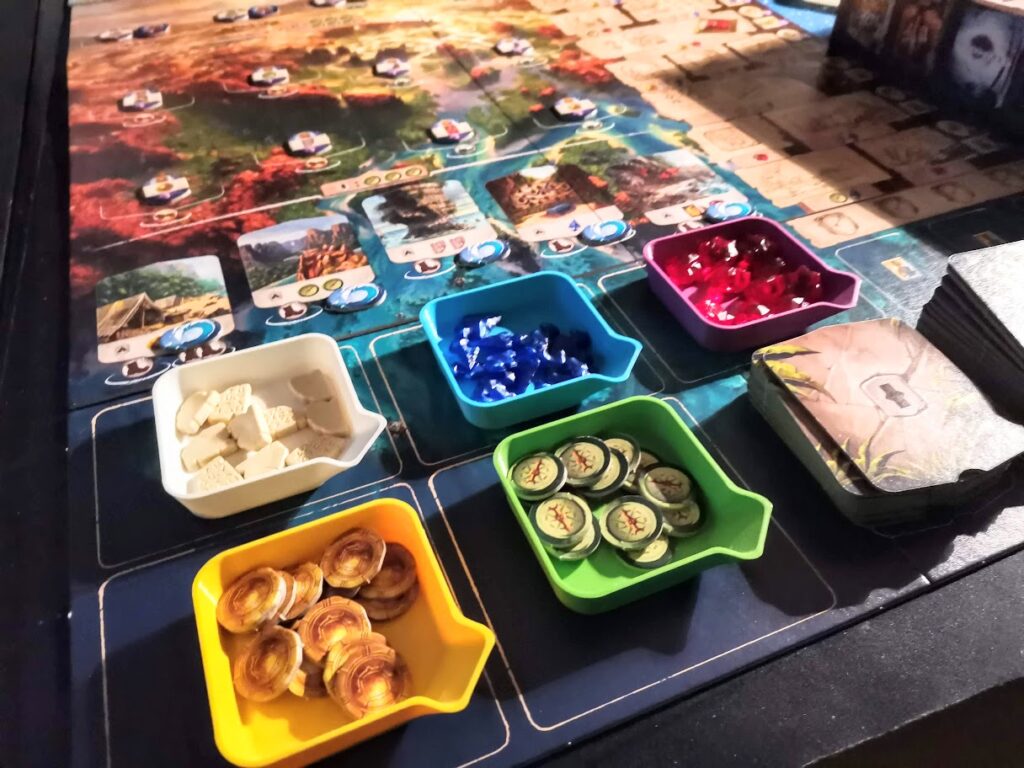 It's maybe a small thing, but once again, it's something which makes the whole experience better. Nothing falls to the floor, you don't reach for a brick and pick up wood, and perhaps most importantly, packing the game away is easier. Open a baggy, tip the pot into it, seal it up.
"Come on now Adam, isn't this a bit over the top? Saving a few seconds putting things in a bag?". I don't think so.
Greater than the sum of its parts
If you're lucky enough to have all the free time you want, maybe these issues don't affect you. For me, however, all of these small things have a combined effect that's really valuable. On a normal day I might have a couple of hours free in the evening to play something. I know how long each game takes to play, so when I'm thinking of playing something that's going to take 90-120 minutes, every minute I claw back from setting up and packing away is precious.
I know that Anno 1800 takes me at least 15 minutes to setup if I have everything in baggies. When I sit down at the end of a long day of work and being dad, that's demoralising. Now that I've printed this amazing insert though, I can go from it being on the shelf, to being ready to play in under five minutes. When I play Terraforming Mars I use my bits trays for the abundance of cubes it comes with, and bagging them up afterwards takes literally seconds. If I go along to games night with my group, that setup and tear-down time can mean the difference between getting to play another small game that night, or not.
In some of these cases we're talking about small margins, I know, but sometimes they matter. Our leisure time is fiercely fought-for, with TV, streaming services, video games, social media and any number of other hobbies all vying for our attention. I love board games, I'm passionate about the benefits and fun they provide people with, and anything that helps someone choose to play one instead of stagnating in front of the TV, is a good thing.
Don't get me wrong, we need that downtime too sometimes, but as an advocate for the mental and social benefits a board game delivers, I want to help you make the most of your time around a table. Get organised, and see if it helps you too.