Verdant Review
Flatout Games has built a good name for itself with its previous games, like Calico and Cascadia. Verdant picks up the baton and keeps running, delivering another solid, clever game. If reactive strategy really annoys you it's probably not the game for you, but for the rest of us, it's a charming, colourful game which ticks a lot of boxes.
Green fingers
I'll start off by explaining that the word 'verdant' means green, specifically the type of green when something is covered with plant life. Leaves, grass, rolling meadows – you know the sort of thing. Verdant is a game about filling a house with houseplants, so the name makes a lot of sense. Each player will make a tableau of fifteen cards in a 3×5 arrangement, where plant cards are placed in a checkboard pattern with room cards.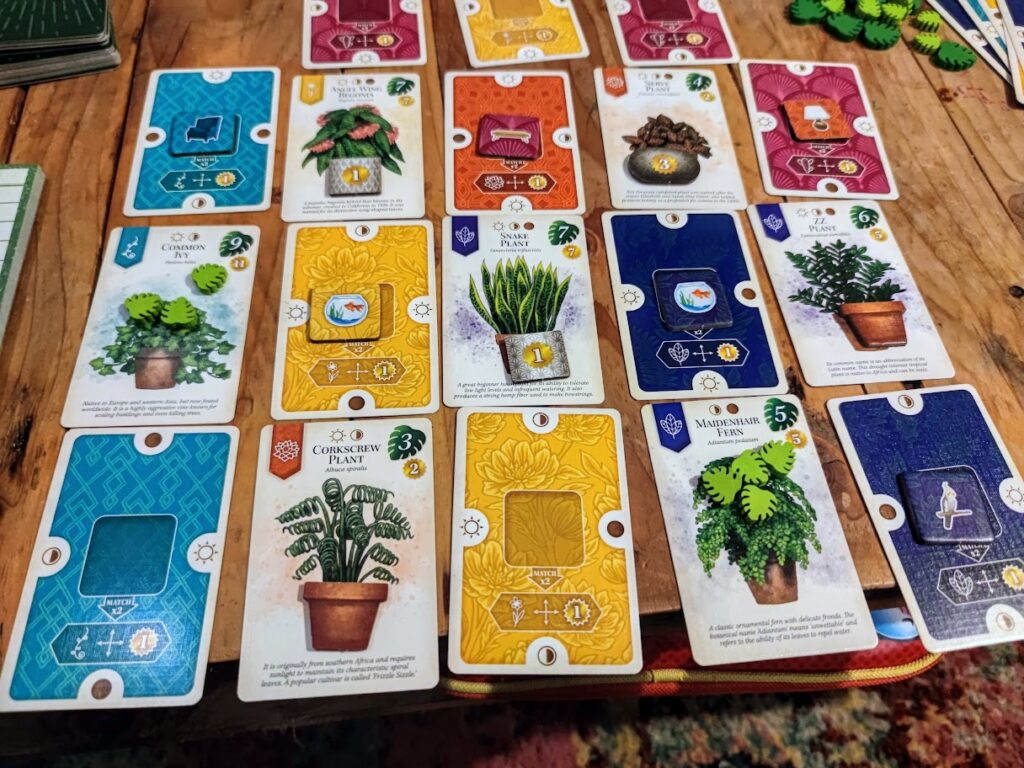 I have some houseplants which live in my games room. I like to keep some greenery around, it's natural and relaxing. I know all too well though that certain plants like certain conditions. My monkey mask monster yearns for daylight and makes a beeline for it if it's in too much shade. Conversely, my dracaena doesn't care if it's in the shade, he's quite happy anywhere. Similarly, in Verdant you try to make sure each plant is adjacent to as many cards offering the type of light it likes as possible.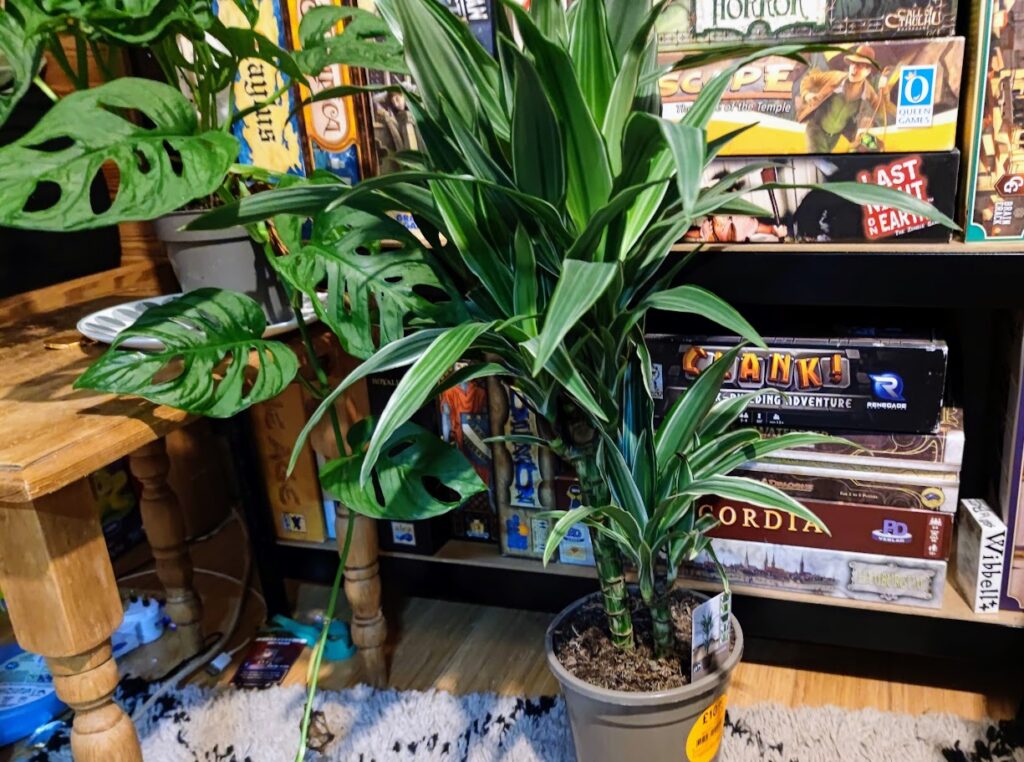 Getting the lighting right is made more difficult because there are a hundred other things you're trying to match and best optimise with every placement. Okay, a hundred is an exaggeration, but it's how it feels sometimes. Verdant does an amazing job of creating a tricky puzzle with a small number of variables. For example, there are five types of plants, and five types of rooms. Match a room's colour with the type of adjacent plants, and you get more points for them. You can place objects like furniture or pets onto rooms, and again, get bonuses where the colours match. Easy so far, right?
Variety is the spice of life
Just when you think you've got the idea of Verdant, it likes to throw some curveballs at you. It's true that loads of plants and rooms all of matching colours will earn you a lot of points. If you don't dig matchy-matchy, the eclectic among you can score well too. You get bonus points for having one of every type of plant, and more points again for having one of every colour of room. Objects in rooms score more points when you don't have duplicate types in your tableau. Vive la difference.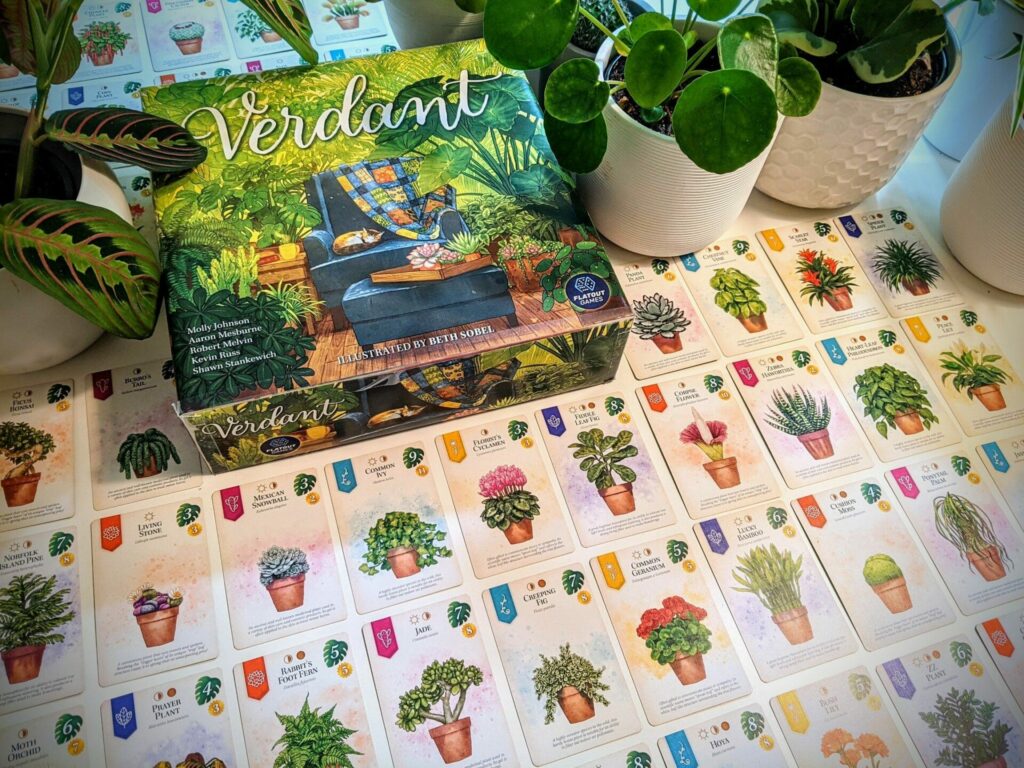 It's a clever piece of game design. It means you aren't penalised if someone is hoovering up all of the yellow cards, for example. You only need one of them if you collect every other colour too, and you'll still score well. It's interesting to note that Verdant is a game designed by a collaborative group. No fewer than five different people are credited as the designers for the game, and that's a real rarity. I think that the combined ideas of each of the people have helped craft a balanced, nuanced game and that there's strength in numbers here, rather than an excess of cooks around a pot of broth.
Careful pruning
Verdant's concise approach to the game and its brevity are the reasons it shines. 15 cards aren't many at all, and you'll end up making some tough decisions in the last couple of rounds. That part of the game makes it feel like an Uwe Rosenberg game, where you'll try to calculate the most points you can squeeze out of your last turns. Verdant is a game you can play in half an hour, which means you can let someone have a 'learning game', reset, and play again, all inside an hour.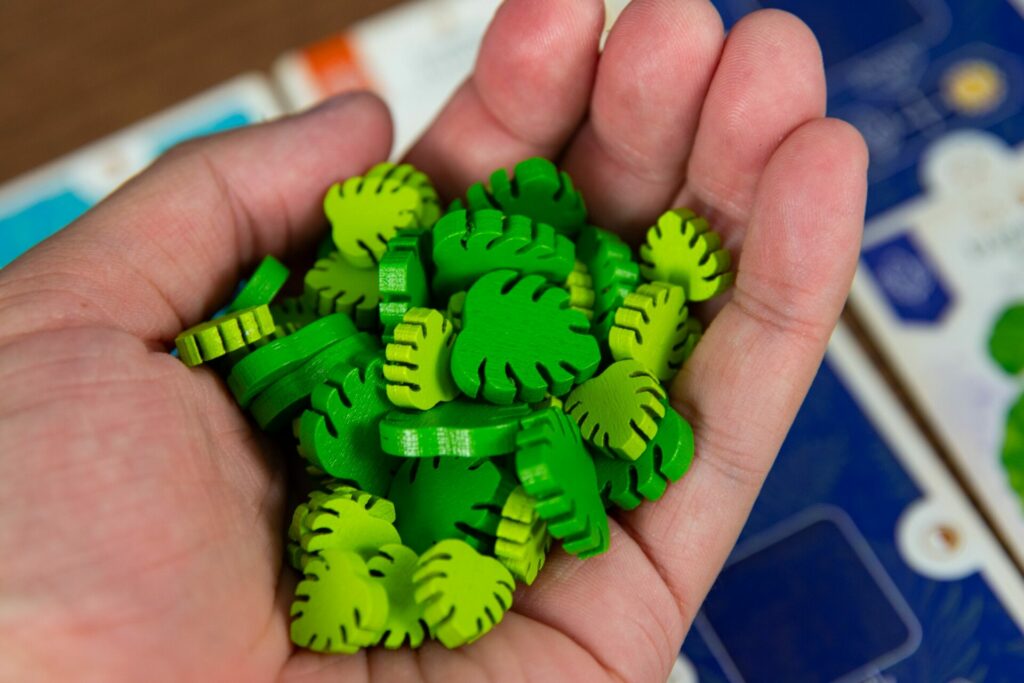 It's thirty minutes of tricky decisions. Getting the lighting right on plants adds the all-precious verdancy tokens, as do other actions like adding fertiliser or using tool tiles. The verdancy tokens are really cute, and I love how you get to complete a plant and add a fancy pot to the card. When you consider that Verdant is a card game where you lay cards in a rectangle, the amount of theme it manages to convey is pretty remarkable.
The chilled feeling the presentation conveys carries through into the solo game. It plays almost identically to the multiplayer game but uses a kind of conveyor belt mechanism to keep the card market fresh, and the high-scoring pots are removed as if another player was claiming them. Rather than just a one-off puzzle, Shawn has built a full solo campaign, complete with achievements. It's the style of game which lends itself to being played in a spare hour, and the campaign is a nice touch to encourage you back and try for something different.
Final thoughts
Verdant continues Flatout Games' fine pedigree. Both Calico and Cascadia were excellent puzzles, wrapped in a game, and Verdant does the same thing. At the start of every game there'll be a little part of you thinking "this could be it. this could be the time I get the perfect layout". Sod's Law says it won't be, but it plants that little seed of optimism every darn time.
It's easier to narrow down the people Verdant isn't for, rather than those it is. It's such an easy game to learn, and the theme has near-universal appeal, so I think the only people who wouldn't enjoy it are the same people who dislike tableau-building in any game. The rest of us will love the short-but-sweet brain burn of a game about growing some plants.
It's great to see a collaboration of designers making such sweet music together. Board game design strikes me as something so personal that my first thought about a big collaboration was one of worry. I worried that the horse game designed by committee might end up being a camel. Verdant is not a camel. Verdant is beautiful game, thanks to the combined brains that made it work, and Beth Sobel, whose gorgeous artwork adorns the box and everything in it. Verdant is a light, fun, aesthetically pleasing game, and I love it.
Review copy kindly provided by AEG. Thoughts and opinions are my own.
Buy it now at Kienda. Remember to sign-up for your first order through kienda.co.uk/punchboard to potentially qualify for 5% off.
If you enjoyed this review and would like to read more like this, consider supporting the site by joining my monthly membership at Kofi. It starts from £1 per month, offers member benefits, and lets me know you're enjoying what I'm doing.
---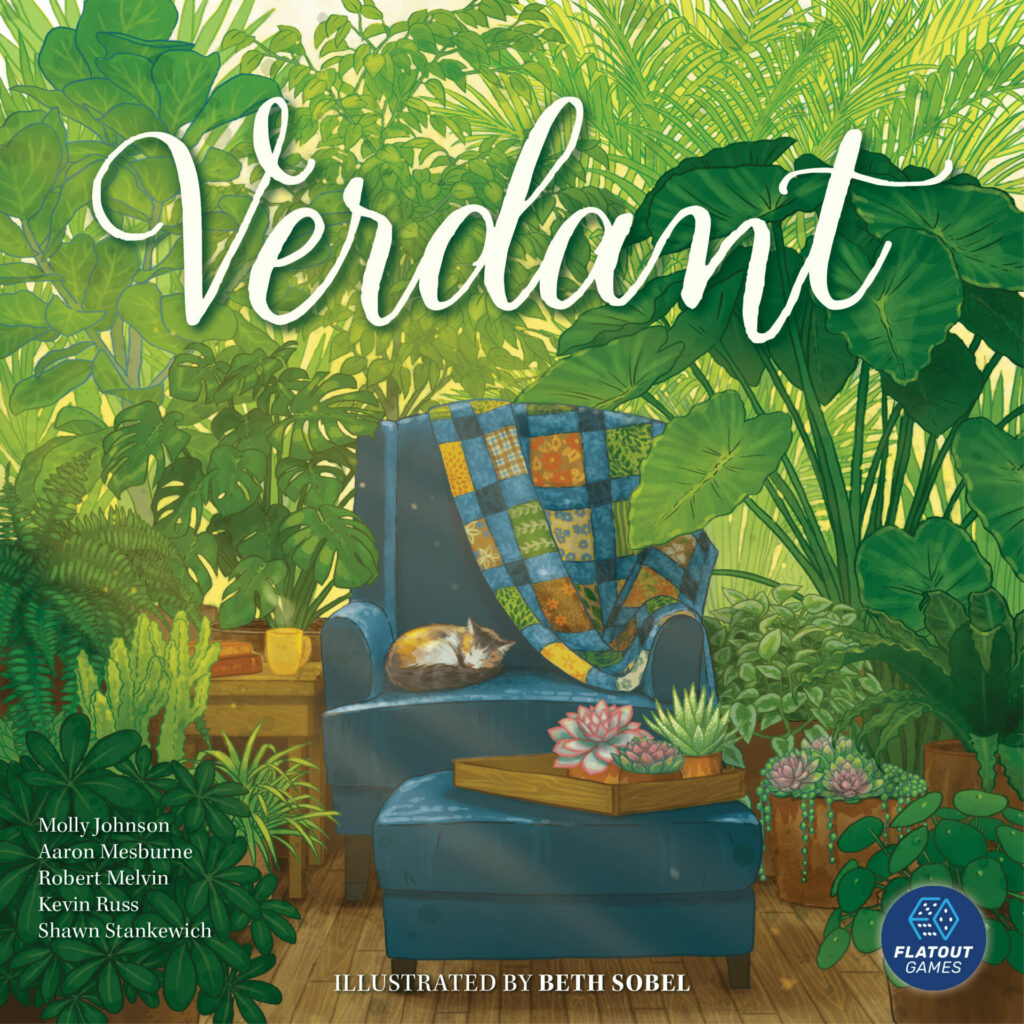 Verdant (2022)
Designers: Molly Johnson, Robert Melvin, Aaron Mesburne, Kevin Russ, Shawn Stankewich
Publisher: Flatout Games, AEG
Art: Beth Sobel
Players: 1-5
Playing time: 30-45 minutes