Akropolis Review
The cardboard pieces we put on our game boards have three dimensions, but in most cases, we only care about two of them: the width and the length. The thickness, or height, of the tiles, is irrelevant. There are a few games which use it – like Cooper Island for instance, which I reviewed here – but on the whole, it just doesn't matter. Enter Akropolis then, a tile-placement game about building cities in Greece. A game which uses the height of the tiles you place to dictate how well you score. It's a really clever abstract game which constantly forces you to make difficult decisions, and it's very good.
Each player starts with the same starting tile of hexes and then takes turns choosing a tile made of three adjacent hexes from the display, before adding them to their city. The new tiles either go adjacent to the existing ones or if you're feeling fruity, you can put them on top of the existing ones. As long as nothing overhangs and the new one sits on at least two different tiles, you can plonk stuff wherever you like. You just have to bear a couple of things in mind when you do that.
Kill your darlings
When you cover a hex with a tile to build higher, the thing you cover is no longer visible, and therefore no longer worth any points. The things you put on that higher level, however, are now worth two points a piece, or three for a higher level, etc. Sometimes covering hexes is a good thing. If you cover a white hex, which is a quarry, it gives you a white cube (stone) which you can spend when you claim tiles from the market. In time-honoured tradition, the first tile in the market is free, and as you move down the line, they become more expensive.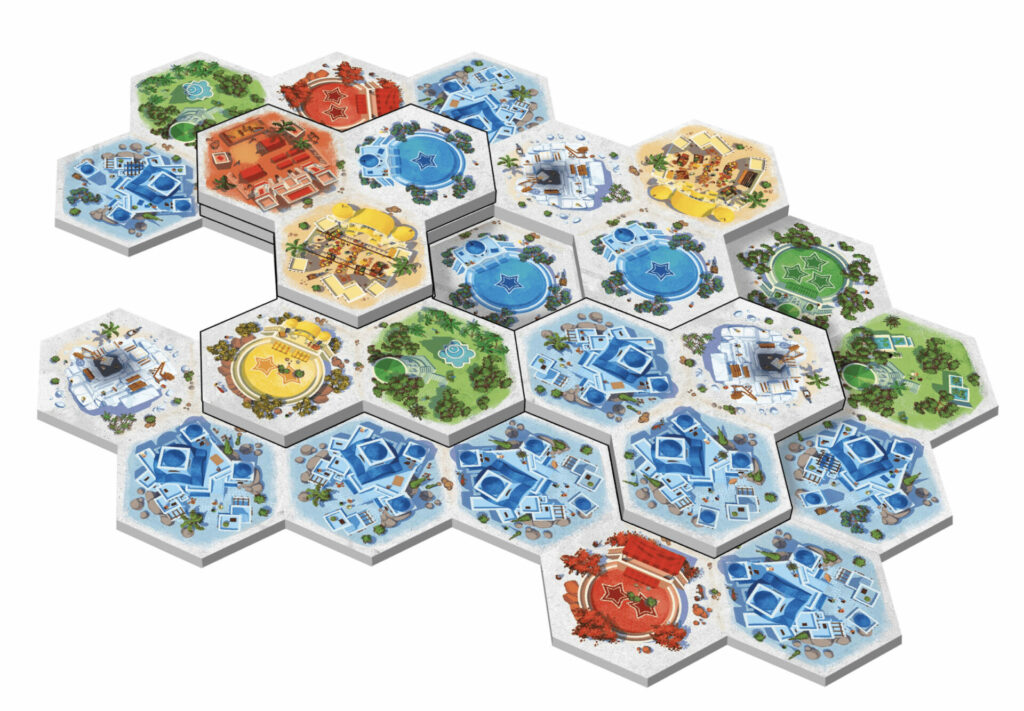 As soon as you come to build on top of the bottom layer you'll start to understand the delicious agony of the decisions you have to make. At some point you won't be able to just cover quarries, you'll start to cover the yellow, purple, green, or other colour hexes too. The different colours are meant to be different kinds of buildings, like temples and gardens, but it's so abstracted as to be meaningless. All you need to know is red hexes score if they're on the outside of your city, yellow if they don't touch another yellow, yada, yada, yada.
Tiles don't just automatically score points though. No, that would be far too easy. Instead, you need to also add plazas to your city. Plazas are coloured hexes with a number of stars in them, which multiply scoring tiles of the same colour by the number of stars on them. Are you still with me? I hope so. It's not really that difficult to understand once you start, but by crikey does it make you make difficult choices.
Spatial awareness
Akropolis would be tricky enough if was just a case of planning your own city because there are a buttload of decisions to make with every single tile choice and every single tile placement. After you've got the hang of playing, you'll find yourself surveying the other players' cities almost as much as your own. There are only so many of each plaza and each building, so if you find yourself too far invested in red for instance, only to find another player is doing the same thing, the competition for those tiles is huge.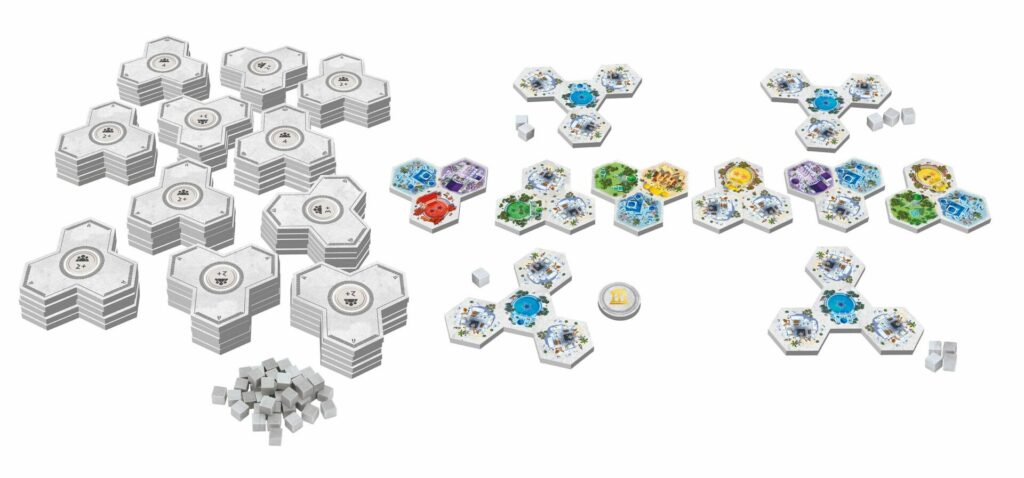 It's somewhere in the midst of all that the Akropolis elevates itself from what could have been a run-of-the-mill tile-laying abstract game to something a bit special. Trying to make sure you're generating enough stones for the next round so you've got your pick of the tiles, while not covering up your precious scoring hexes. Figuring out how to lay the foundations for future elevated buildings while not letting your opponents rack up the points. Choosing which colours you're going to concentrate on at an early stage in the hope of getting a serious score while never knowing what the next stack of tiles brings. It sounds like a random mess, and a lack of being able to plan usually turns me off of an abstract game, but in Akropolis it just works.
Final thoughts
Akropolis surprised me with just how much I enjoyed it. I saw it demonstrated at various conventions over the last year or so, and while I saw everyone enjoying it, I didn't really get it. You may not too, not to look at. Playing it makes you realise just how clever the design is, and how much fun it can be to agonise over every tiny thing. Your city is uniquely personal, and you'll come up with new and inventive ways to try to maximise your score each time you play.
Even though what you make never really feels like a city, you'll find yourself getting attached to your own little towns. I love going around the table for final scoring and seeing the different shapes and styles of building the other players have gone for. I have to give a special mention to the tiles themselves, the stars of the show, because they feel so lovely and tactile. They look like thick cardboard, but they feel so much nicer. Almost clunky, or clacky, or whatever the right adjective is. They're satisfyingly hefty and won't make a chaotic bid for freedom if someone bumps the table gently.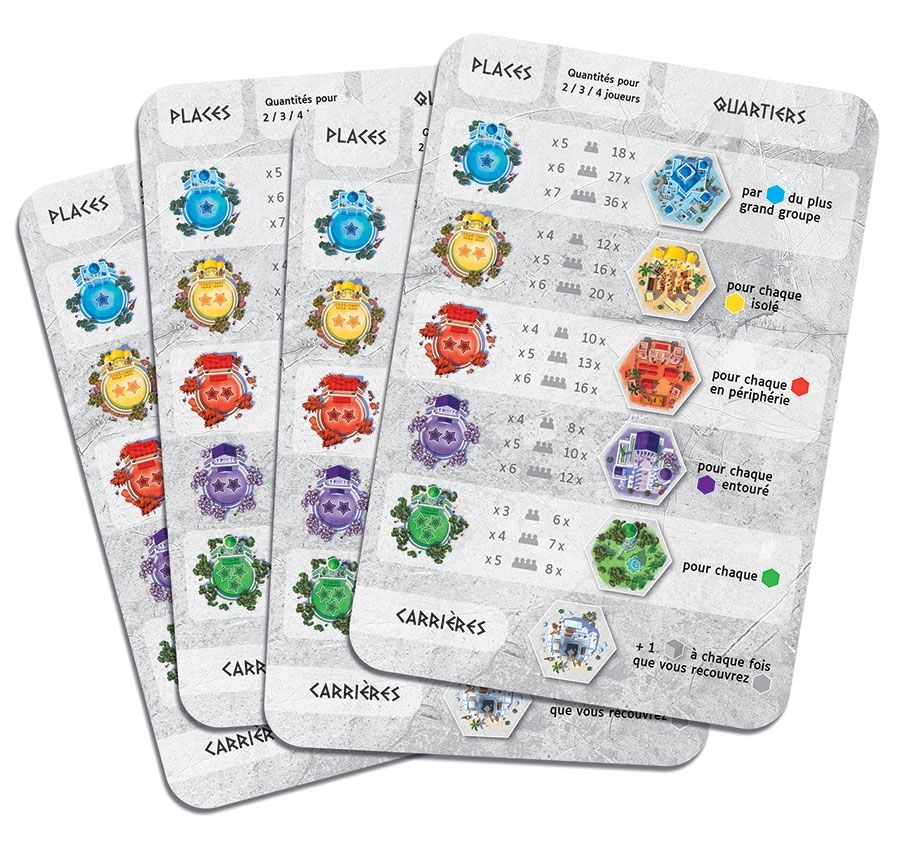 If you tire of the base game (something I haven't done yet, despite playing it lots in real life and on BGA), there are some neat variants in the back of the rulebook that spice up the scoring conditions. Not enough to feel confusing, but interesting enough to make you plan and place things differently. It plays nicely enough at two, but I think three or four is the sweet spot. It adds more tiles to the market and stones to pay for expensive tiles are harder to come by than in the two-player version. It's short and quick, so it might not be the show-stopper game you invite everyone to games night to play, but it's great at the start or the end of a night to fill half an hour with a decent workout for your noggin.
Akropolis is a great game. It's very easy to understand why it sells out very quickly. When it's in stock, you can pick it up from my retail partner, Kienda.co.uk, for around £20, which is a steal for a game this good.
Review copy kindly provided by Hachette Boardgames UK. Thoughts and opinions are my own.
You can buy this game from my retail partner, Kienda. Remember to sign-up for your account at kienda.co.uk/punchboard for a 5% discount on your first order of £60 or more.
---
If you enjoyed this review and would like to read more like this, consider supporting the site by joining my supporters' membership at either Patreon or Ko-fi. It starts from £1 per month, offers member benefits, and lets me know you're enjoying what I'm doing.
---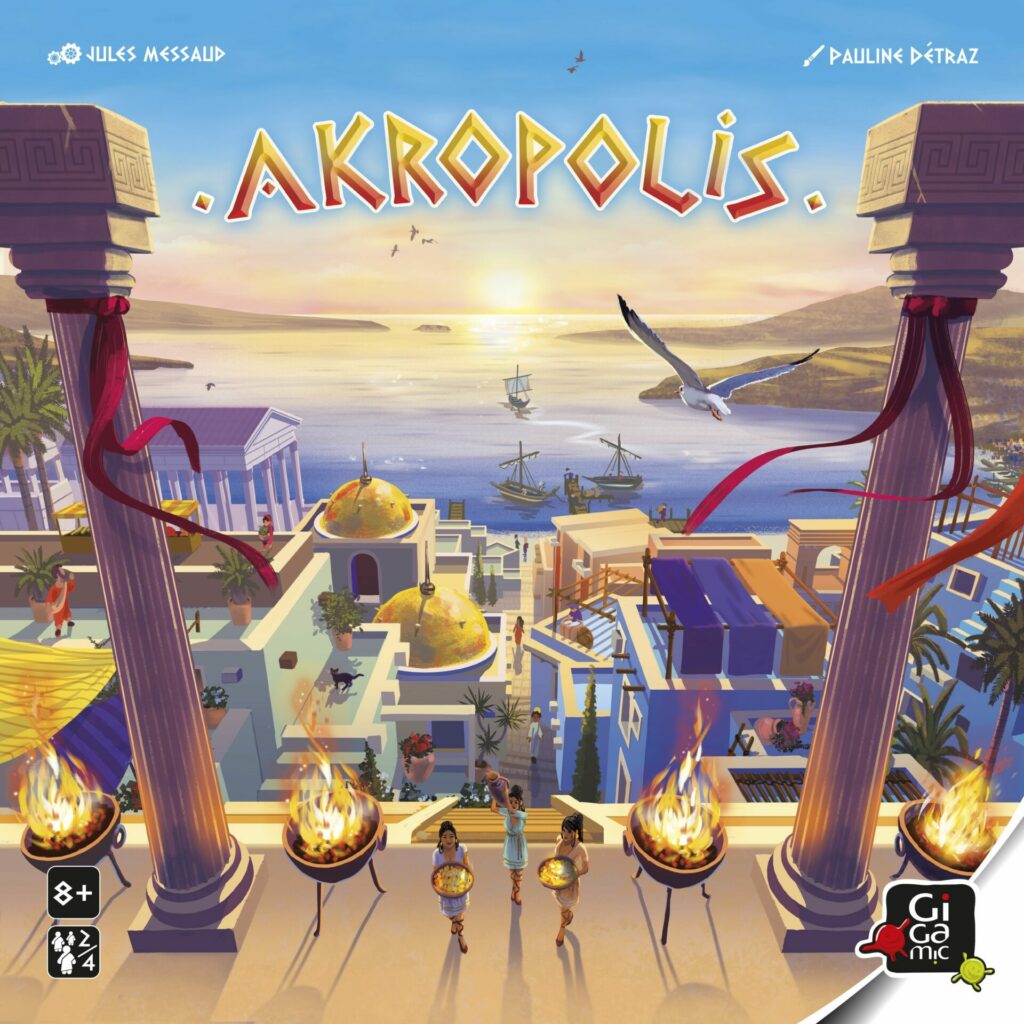 Akropolis (2022)
Design: Jules Messaud
Publisher: Gigamic
Art: Pauline Detraz
Players: 1-4
Playing time: 20-30 mins