Amulet of Thrayax Preview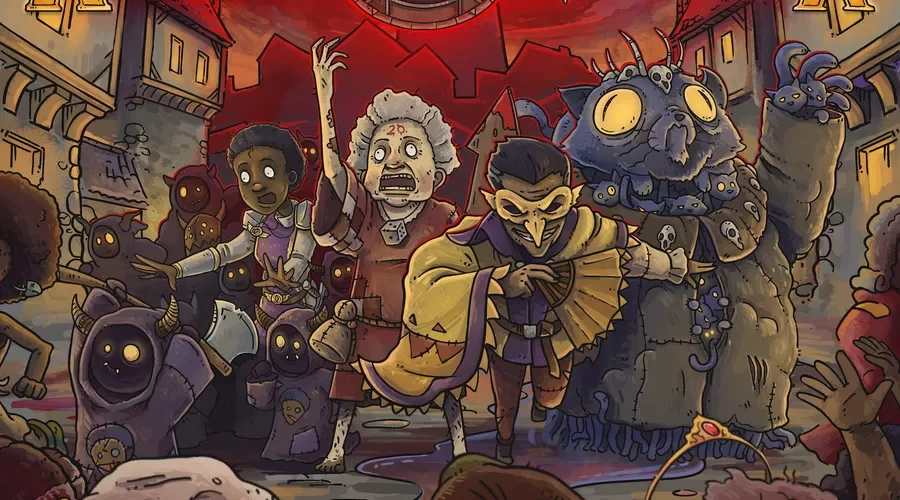 Disclaimer: I was supplied with a prototype copy of the game. All artwork, components, and rules are all subject to change in the final version.
Not too many games put you in charge of your own cult. Fewer still task you with collecting the souls of the host city's inhabitants by killing them all. On the face of it, you'd be forgiven for thinking that Amulet of Thrayax is a dark, dystopian, Hellscape of a game. How do you make a game like that fun? How do you turn the murder of tons of peasants and nobles into a good time?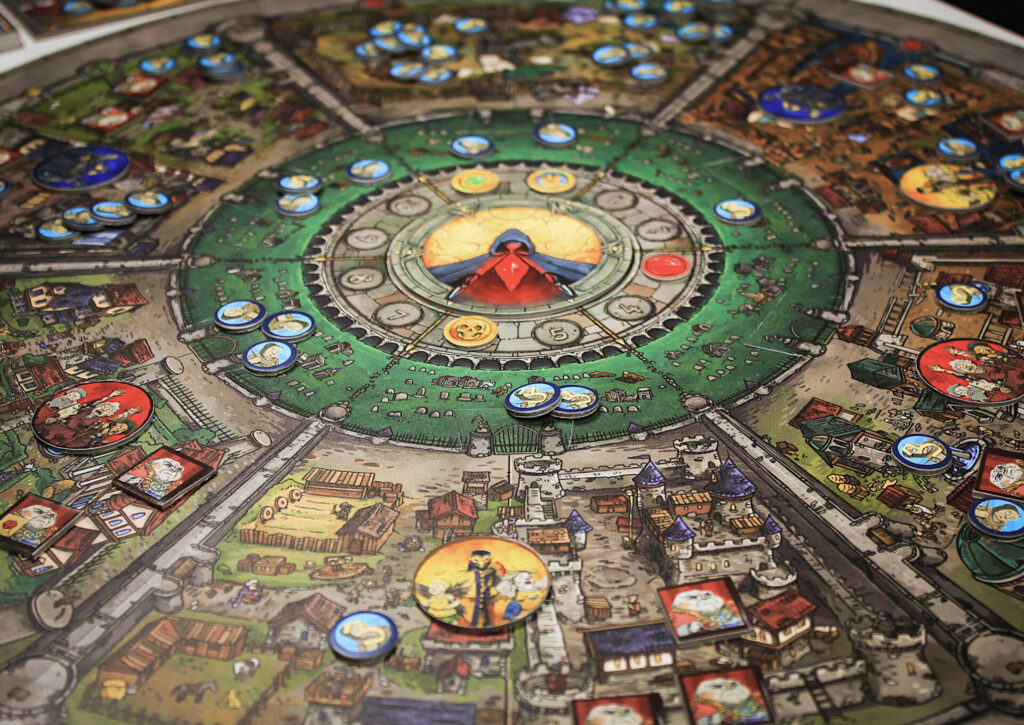 I'll tell you how. You put your tongue firmly in your cheek, cover the whole thing in cartoon silliness, and revel in the sheer absurdity of the gorgeous comic fantasy world that designer Tom Truman and artist Vincent Vyce have created.
Getting around town
There's something about a round board or city map that I find inexplicably enticing. From A War of Whispers, to Discworld's best-known city of Ankh Morpork, the circular shape just draws me in. Setting up Amulet of Thrayax, then, was particularly exciting. The city of Bleakpyre is divided into six districts, each connected to the others via the Dead Centre, the hub at the center. Throughout the districts are a number of peasants and nobles. The game's lore states that the cult which harvests the most of the inhabitants' souls during this period of Thraymania, gains control of the Amulet of Thrayax.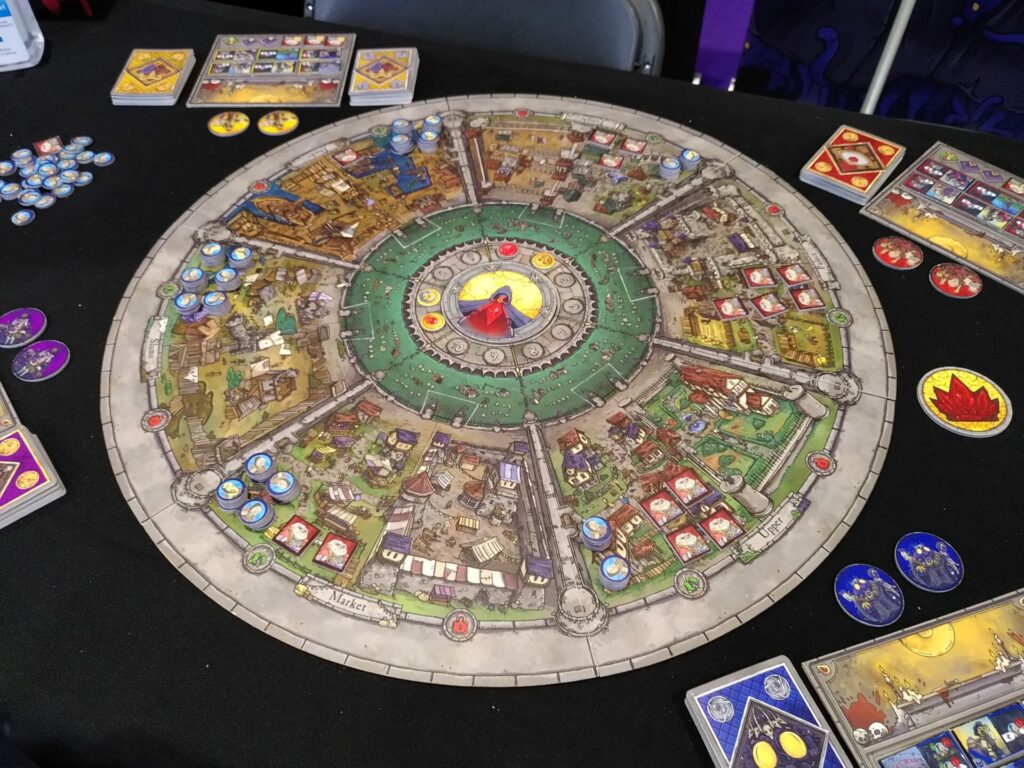 The cult which controls the Amulet is granted unnatural good fortune, apparently, although the rulebook doesn't state what. I imagine it's stuff like winning bets on chance games, dropped toast always landing butter-side-up, farts that smell like fresh coffee – things like that. So – kill all the people, stop the other cults doing the same, then welcome to Amulet Town – population: you. Sounds pretty good to me.
"How does one go about harvesting souls?", you might wonder. The answer, fellow cultist, is cards. Lots and lots of cards. Each player has a deck of counter cards, and a deck of murder cards. That's right, murder cards. Subtlety not a strong point in this game. Every card you play alters the state of the game board in some way, and deciding what play to make, and when, is the key to winning. Most actions will either harvest some souls, moving them to the altar on your player board, shift people into other districts, or changing the state of their protection.
A game of zones
The introductory text in the rulebook describes Thraymania as a crazy time of lawlessness, and that feeling really comes through in the gameplay. In each round the amulet in the middle of the board rotates to the next district, and each card played in that district gets an additional action. Despite your best efforts to milk this for all its worth, your rivals have other ideas. Some of the cards prevent the amulet rotating, and others even reverse the direction.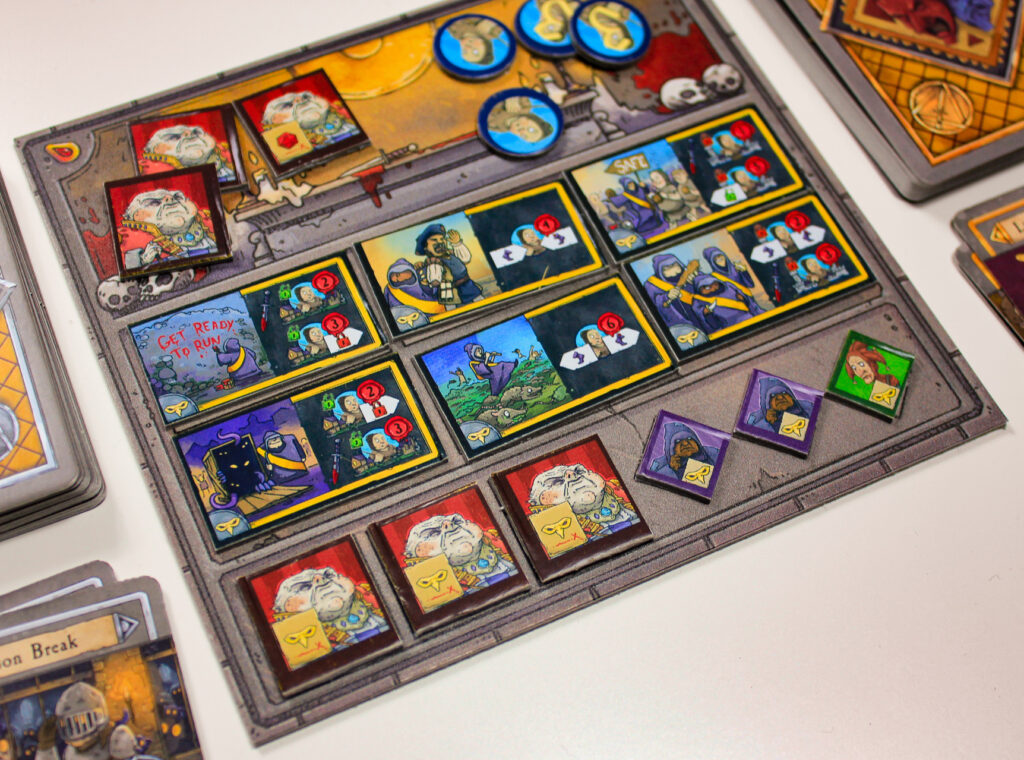 It's not the game for you if your idea of a good time is painstakingly analysing each move, aiming for perfection. There's too much chaos. That chaos is in the very DNA of Amulet of Thrayax, and it's the game's greatest strength. It's frustrating, yet hilarious, and for every turn where you find yourself cursing someone else for their actions, you'll find the rest of the table laughing. You can play with strategy, and good players can come out on top, but it's far from a certainty.
One of my favourite things is the first player auction that happens each round. Instead of the first player token just rotating each round, there's a straight-up auction for it. The currency used in the auction is (somewhat terrifyingly) the very souls you're reaping. These auctions are agonising, but agonising in a good way. Being the first to play can give you a huge advantage, but at the expense of the very things you're trying to collect. Of course, you could always bump the auction price up on your bid, just to force the others to spend more, but you wouldn't do that, right?
Right?
Final thoughts
Okay, I'm annoyed here. As I was writing this preview, I was trying to think of the perfect, snappy little one-liner to describe it. I was so excited when I thought of it – "Discworld meets The Purge" – only to find out that someone else said almost the same thing! Curse you, like-minded person! It's the perfect description though, the mixture of comic fantasy and extreme violence is awesome. The killing is very much implied while you're playing, however, which fits with the cartoon aesthetic. All you're doing is collecting little round and square tokens, so it's a game I wouldn't have a problem playing with my nearly-ten-year-old son.
I love how much interaction there is between the players. Some of it is passive, such as stopping the amulet from rotating in the next round, but some of it is much more direct. For example, some cards allow you to place your infiltrator tokens on the other cults' markers, which let you steal two peasants from the owners altar, and place them on your own. Yoink! The preview copy I played with had the standard rules, but the version of the game you'll have promises to have lots of things to add in to your games, including asymmetric cult powers.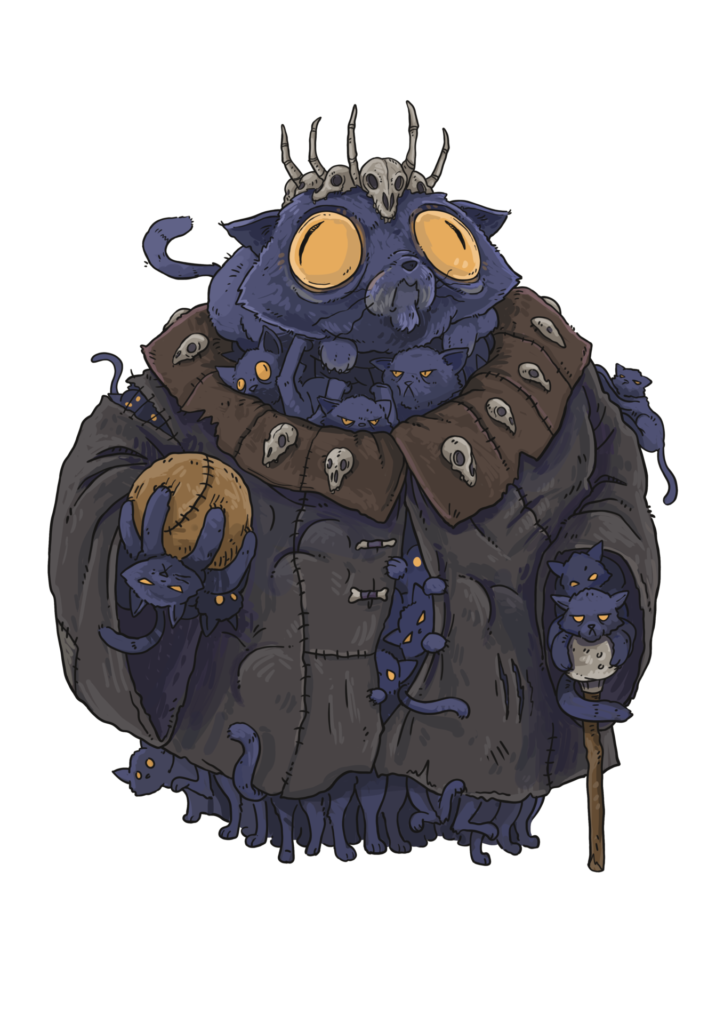 Playing with two players is a much more tactical game, and has a different feel to what I think is the best way to play, with four or five. At four players there's enough chaos to make things fun, but still feel like you're retaining some element of control. Amulet of Thrayax is an absolute riot, proper 'beer and pretzels' fun, as my American friends would say. It's very easy to learn, and from what I hear, the revised iconography on the final version will tidy up my biggest grumble, which was about the legibility of some of the symbols on the cards.
I can see this game doing very, very well in its Kickstarter Campaign when it launches on May 31st, and it deserves to. It's another fine example of independent British game designers making their mark. Trolls 'n' Rerolls have a hit on their hands with Amulet of Thrayax, I'm certain of it.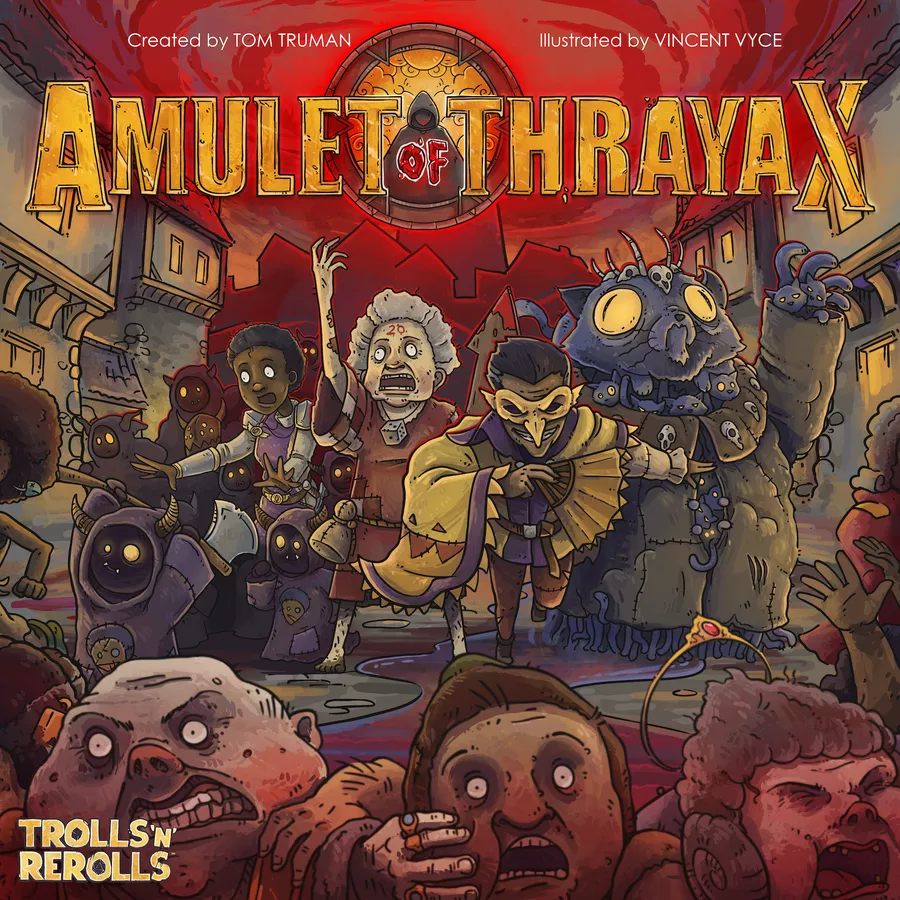 Amulet of Thrayax (2023)
Designer: Tom Truman
Publisher: Trolls 'n' Rerolls
Art: Vincent Vyce
Players: 2-6
Playing time: 30-90 mins