Crown Of Ash Preview

Crown of Ash sets out its stall with a backstory you'd expect to be slung around the neck of a dudes-on-a-map battle for the ages. Four undead lords seeking to avenge their betrayal at the hand of their own king. Raise an army of once-dead fighters, rebuild your strongholds, and usurp the king, claiming his citadel. Instead, Card Noir Games have created a Euro game, through and through. Worker-placement, hand management, and area control all come together to deliver a game that's easy to learn, but still hides plenty to discover, held like a dagger behind its back.
Getting back to basics
There's a crazy amount of competition in the board game world. Getting noticed isn't easy, and I've noticed two trends on Kickstarter which a lot of new games tend to belong to. First is the cheap & cheerful party/card game, and the second is the huge, over-produced game that needs a forklift truck to deliver to your door. Crown of Ash is different. There are no promises of hundreds of hours of campaign, no app-driven shenanigans, and no hyperbole about innovative new things you've never seen before. Crown of Ash is built on a few tried-and-tested concepts, and it delivers on all of them.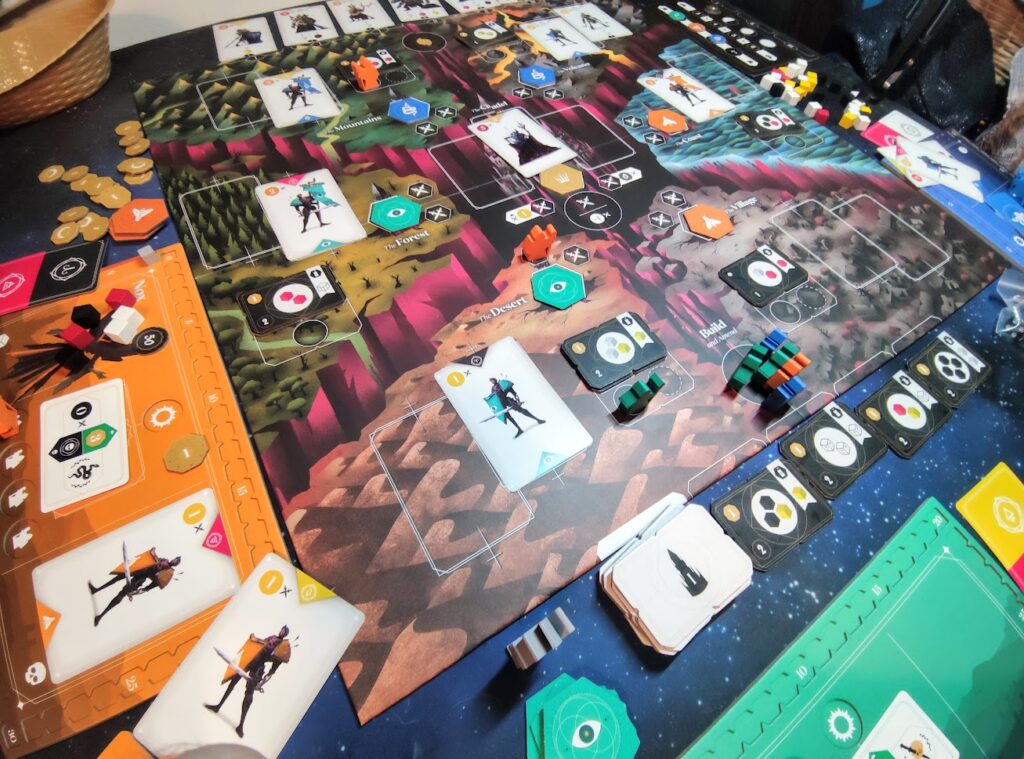 Each player has their own board, but from a gameplay point of view, they're unnecessary. They're just a place to store your stuff. All of the action takes place on the central board, which – like everything else in the game – is really nicely illustrated. The artists have gone with a nice mixture of dark, brooding greys with contrasts in strong secondary and pastel colours. Along with a few spots to place your workers, there are some small spaces for constructing buildings (which generate resources), but the lion's share of the board is taken up with space for fighters. When you compare the four different worker place types to something like A Feast For Odin with its 60+, you can see the intention to keep things streamlined and simple.
Fighters in Crown of Ash aren't minis or even meeples. They're represented by cards. Fighters can be bought from the market at the top of the board, using the resources generated by the different buildings, and then used in a couple of different ways. A player who controls an area can slap fighters down in that area to act as defenders. Alternatively, fighters can be used to attack other players' areas, or even the central citadel itself.
Put 'em up. Put 'em up!
All of the cut and thrust of Crown of Ash is baked into the combat. It's the way control of each area and the central citadel is decided. It's important to control areas because they are worth points at the end of each round. Combat is simple enough, and very quick to resolve, which is vital in keeping the pace and rhythm of the game bouncing along. Getting into a scrap over an area involves playing attackers from your hand, who will directly compete against any defenders already on the board. The fun – and really clever – bit comes next.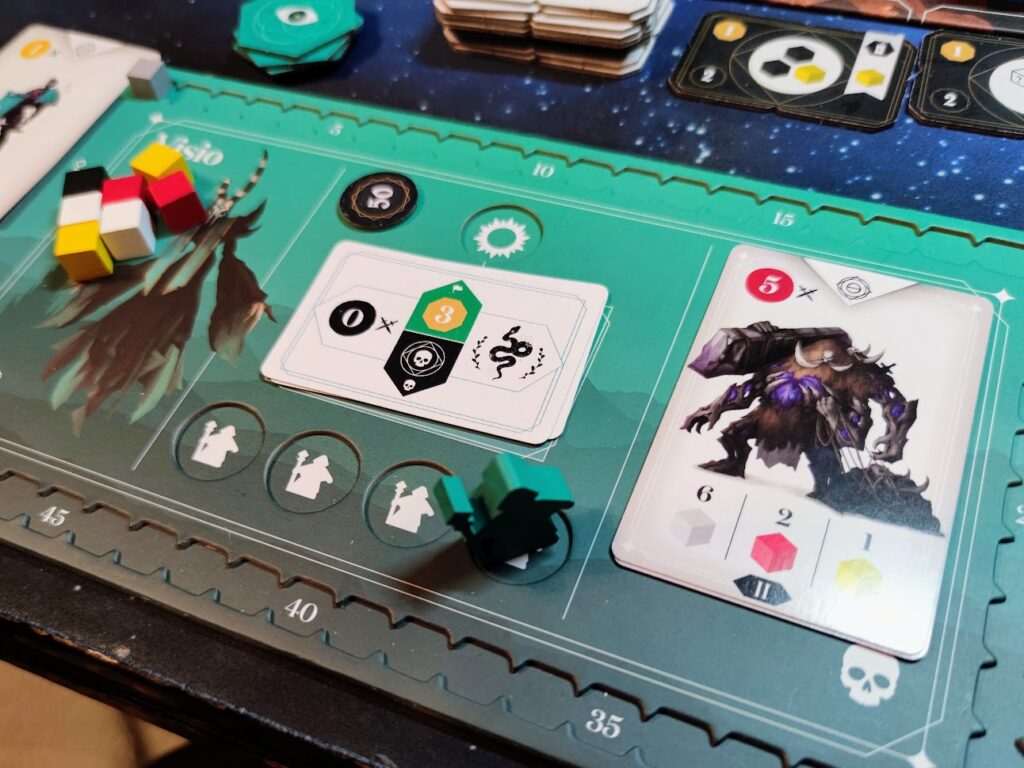 Each player has a small deck of combat cards, and during combat, both the attacker and defender play one in secret. Each carries a varying number to add to your oomph in the fight, but more interesting are the rewards. Each card boasts a different reward based on whether you win or lose the fight. In the spirit of giving players interesting decisions to make, you'll find sometimes that you might benefit more if you throw the fight and take the goodies from the bottom of the card. I love it when games do this. I love it even more when you so extravagantly throw a fight that your opponent's initial joy washes from their face within a second. That moment of recognition when they understand you have something else going on upstairs is priceless.
Crown of Ash asks you to pay attention to all fights though, not just those you partake in. Each combat card can only get played once, and then it gets added to the discard pile in the middle of your player board. Granted, in a four-player game, it's tough to keep track of who's played what, but even remembering who's spent their high-value cards might just give you the edge a couple of turns down the line. Combat cards aren't gone forever when discarded. If you spend them all you get them all back, and there's also a Gloomhaven-esque Refresh action you can take at any time to get a full complement of combat cards back in your hand.
Final thoughts
I've been bumping into Card Noir at various conventions around the UK for the last year or so, and each time I've always had my head turned by the game. I was delighted when Richard (the designer) asked me if I wanted to preview the game, ahead of their crowdfunding campaign. It's always good when a new designer and a new game have something which feels refined, and that's the case here with Crown of Ash. It's not the heaviest or the deepest game in the world, so those of you looking for intricate combat, twisting tech trees, and resource management might go wanting. It's hard to pin down other games to compare it with. It's got essence of Lords of Waterdeep mixed in with important area control like Brian Boru (review here) or Blood Rage – all while feeling like none of them.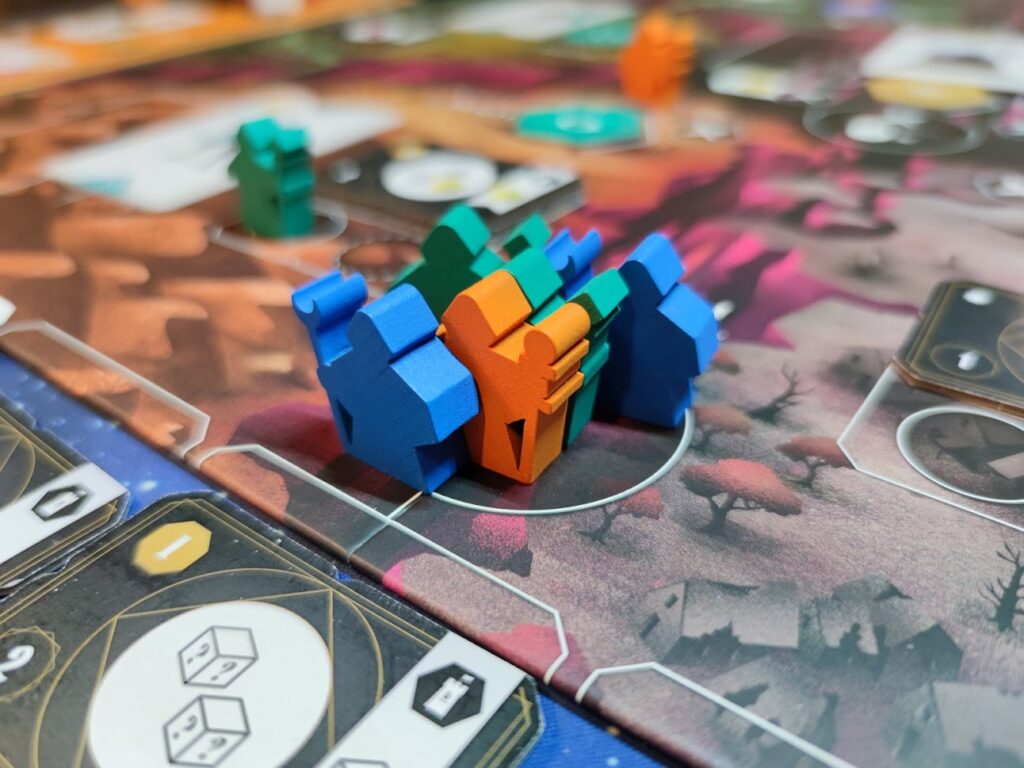 Crown of Ash makes a fantastic game for players looking for something beyond those first steps into the hobby. There's more meat on its bones than the traditional gateway games, and what happens is almost entirely due to the decisions you make. Sure, there's an element of chance with the timing of when structures and fighters come off their respective decks, but when you take that out of the equation the only chance left is with one of the combat cards which uses a D6. All this streamlined, laser-focused design is pulled together with fabulous imagery. I really like the artistic style throughout the game, right from the bright pink front cover of the rulebook, to the undead brutes on the cards. Heck, there's even dual-layer player boards in the box.
Crown of Ash then, not quite a full-blown beer & pretzels game of stomping all over a map, but a happy medium between that and a lightweight Euro. The solo mode works really nicely, and is very easy to run, but I think to get the most out of the game you really ought to be playing with three or four players. Richard and team have done a fantastic job of making their debut game stand out in terms of design and production, and I hope that is enough to make the game a crowdfunding success, as I'd love to see where they can go next.
The Kickstarter campaign launches on the 28th March 2023, and you can check it out here – https://www.kickstarter.com/projects/cardnoir/crown-of-ash
Preview copy supplied by Card Noir Games. All rules, artwork, and production are subject to change. Thoughts and opinions are my own.
If you enjoyed this review and would like to read more like this, consider supporting the site by joining my supporters' membership at either Patreon or Ko-fi. It starts from £1 per month, offers member benefits, and lets me know you're enjoying what I'm doing.
---
Crown of Ash (2023)
Designer: Richard Lawton
Publisher: Card Noir Games
Art: Vadim Mishin, Rafael Nobre
Players: 1-4
Playing time: 60-120 mins