Lanzerath Ridge Review
In the fourth of DVG's Valiant Defense series, Lanzerath Ridge, the action moves to the Western Front towards the end of WWII. It's a tower defence style game, pitting you in control of a small American unit against the formidable strength of the 500 men of the German 3rd Fallschirmjäger Division. David Thompson has created an exciting, evocative game full of dice rolling, pushing your luck, and making do with insufficient actions. It's a brilliant solo experience, with an almost unbelievable story behind it.
One of the things I've noticed since I started dangling my feet in the historical war game pool, is how absolutely essential the theme of the game is. The pressure to adhere to the facts presented by history pushes in from two directions at once, in a pincer movement. The designers are obsessive in the research of the stories behind the events they recreate, while the players are often fanatical and diligent, and won't stand for factual inaccuracies or design liberties. Lanzerath Ridge is no exception, and through the designer's notes alone you can get a real sense of the heroic struggle these soldiers suffered. The game itself adds an additional layer of attachment to the real people involved, who are represented by their photographs, names, and the roles they played. It's sobering stuff.
Fighting against the tide
Lanzerath Ridge's board is wide and represents the part of Belgium where the conflict took place. At the top of the board, the US troops have nine front-line defensive emplacements which they must protect at all costs. Behind those are a few other spaces with vehicles used for transmitting radio intelligence and calling in artillery support. Each of the front-line squares is protected with a one-time-use booby trap and some barbed wire further down the path. The German forces advance along six main channels, with a flanking channel on either side.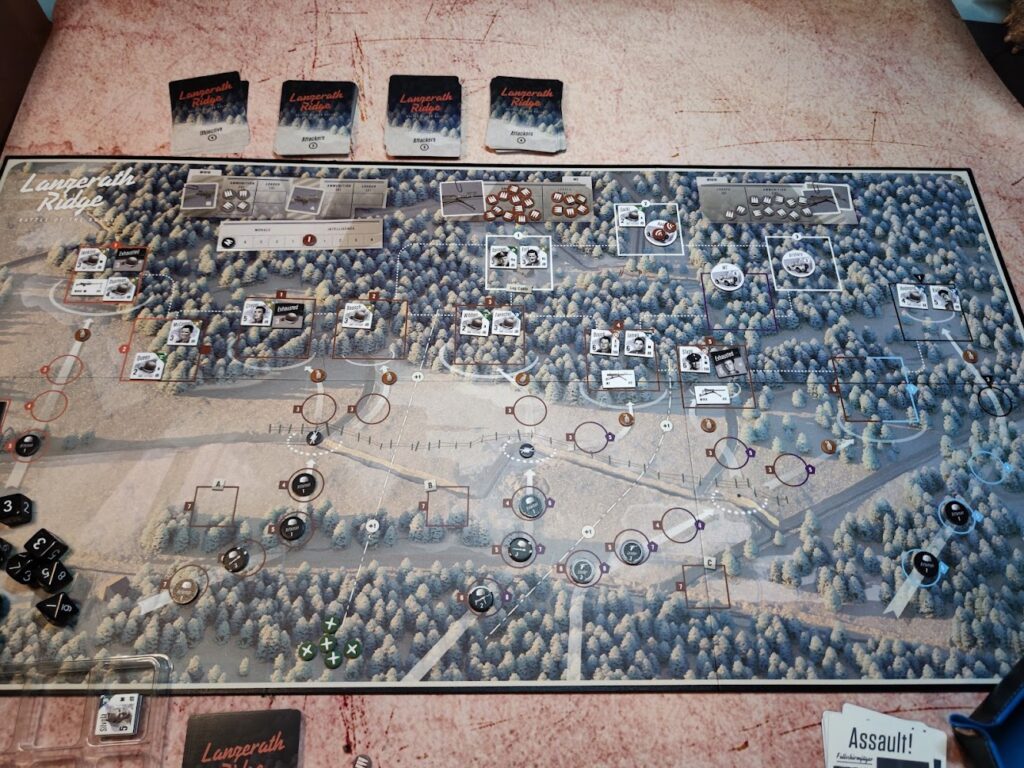 The gameplay is really easy once you get the hang of it. Flip three attacker cards and resolve them one at a time to see where the enemy forces are advancing, or to trigger machine gun or mortar fire. If an enemy unit is added to a track, all the units in front of him move along the path one space, with their aim to ultimately overrun at least one of the spaces. If they manage that, it's game over. In reciprocation, you have five actions at your disposal each turn. Actions are either minor or major. Minor actions include things like moving from one space to a neighbouring one, or removing a disrupted token if someone came under fire previously. Major actions include firing your weapons at the enemy, and that's where things get tricky.
If you choose to attack with one of your units you check their tile to see which die they roll (there are D6, D8, D10 and D12s included), roll it, and compare it to the value of the space the enemy is in. Rolling at least that value results in the enemy being despatched, but whether you hit or miss, it also means your unit is flipped and exhausted, meaning they cannot be used at all in the rest of the round. Not just for the rest of this turn, but until the entire Attackers deck runs out (there are four decks to work through during the game). You don't need me to tell you that this is a bad thing. Some units can assist others, flipping to their exhausted side in order to refresh someone else and bring them back, but it's still just a one-for-one trade-off.
The entire game is incredibly harsh. You can't even use the same unit twice in one turn. If they've taken an action – say, moving to a neighbouring square to assist someone – they can't do anything else until the next turn. You have a few machine guns at your disposal, but precious little ammunition for them. Reloading costs an action, dismounting a gun is another action, moving it is another, emplacing it is yet another – and this is even before you fire it again. Moving machine guns is important, as different defence spaces have different line-of-sight, and can't shoot at every enemy.
Riding your luck
The very mention of dice in a strategic game like this is enough to make some people turn their noses up at it. There are times in the game when you'll curse the dice in seven different languages, like when you roll a D12 to take a shot at someone who only needs a three to beat them, as it comes up with a two. Or when you have to roll a D6 to see which path a grenadier is about to come along, and of course it lands on the one path that's already full, not the lanes you've cleared. Moments of anguish like that are more than made up for by the times when lady luck kisses you on the cheek. Rolling a D6 to call in artillery from your damaged jeep in a last-ditch effort, and hitting the only roll which would succeed – a six – is like winning the lottery.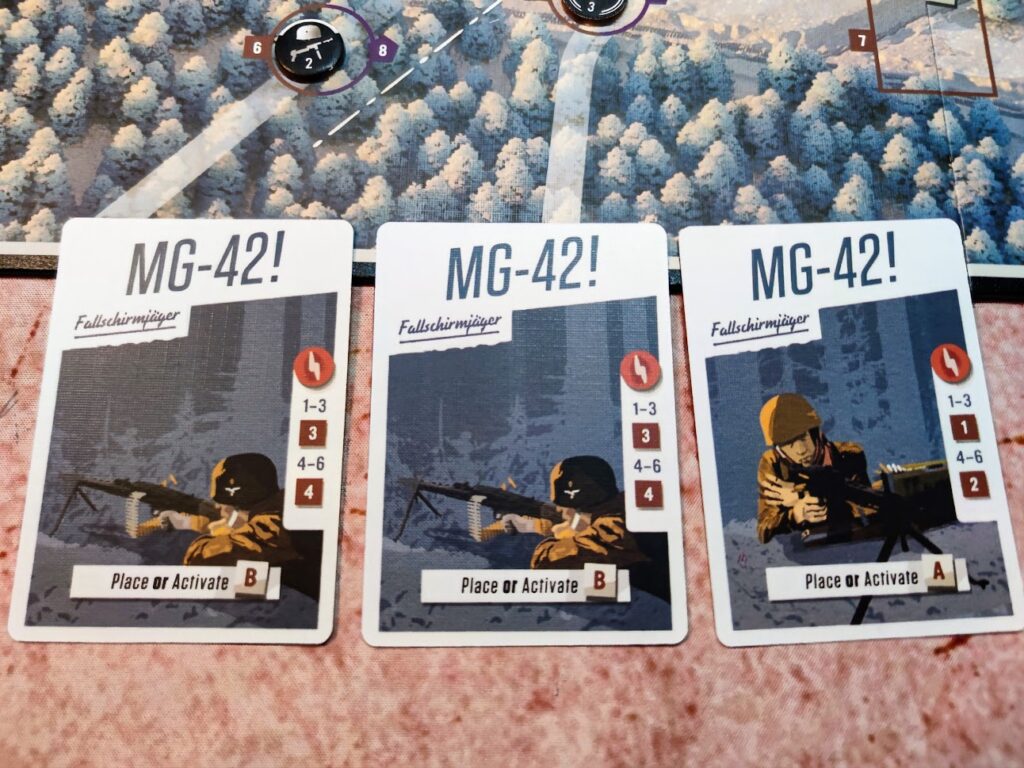 Lanzerath Ridge is a game of trying to stack the odds in your favour in the hope that at least some of your planning comes off. There's a clever distinction between the different actions available. Things like moving, reloading, assisting others, transferring ammunition – none of these needs a dice roll. These are plans you can make and be sure of at least having what you want, in the places you want it. The problem is that you've no control over which cards get flipped this turn. You don't know where the next German push is coming from. Heck, you don't even know if you're going to be able to hit the soldiers you're aiming at.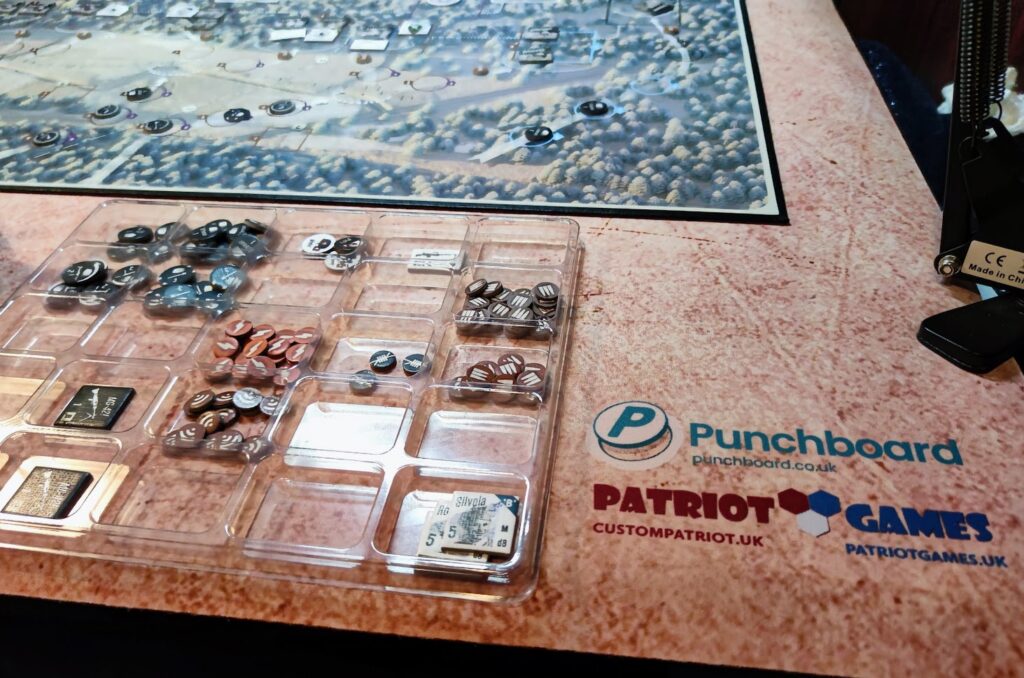 As much as the mechanisms at play here create an enticing, captivating game of highs and lows, it's another thematic tie to the real situation you're emulating while you play. Whenever fate hands you your backside with bad rolls, remember that this was a group of eighteen young soldiers. They were trying to slow the advance of a 500+ strong German steamroller during a winter's day on December 16th 1944. Things were never destined to go well.
Final thoughts
Lanzerath Ridge is a brilliant solo experience. There is a competitive two-player mode, but the main game is what you'll buy it for. Every time you play you're guaranteed that things will go differently, which is pretty amazing when you consider there's just one deck for each of the game's four rounds. It only takes one defender to miss his shot and become exhausted for your best-laid plans to be thrown out of the window. I found myself getting really attached to my units, referring to them all by name as I narrated what was happening to no one in particular. This game removes the layers of abstraction that something like Salerno '43 (review here) provides by connecting you directly to individual people.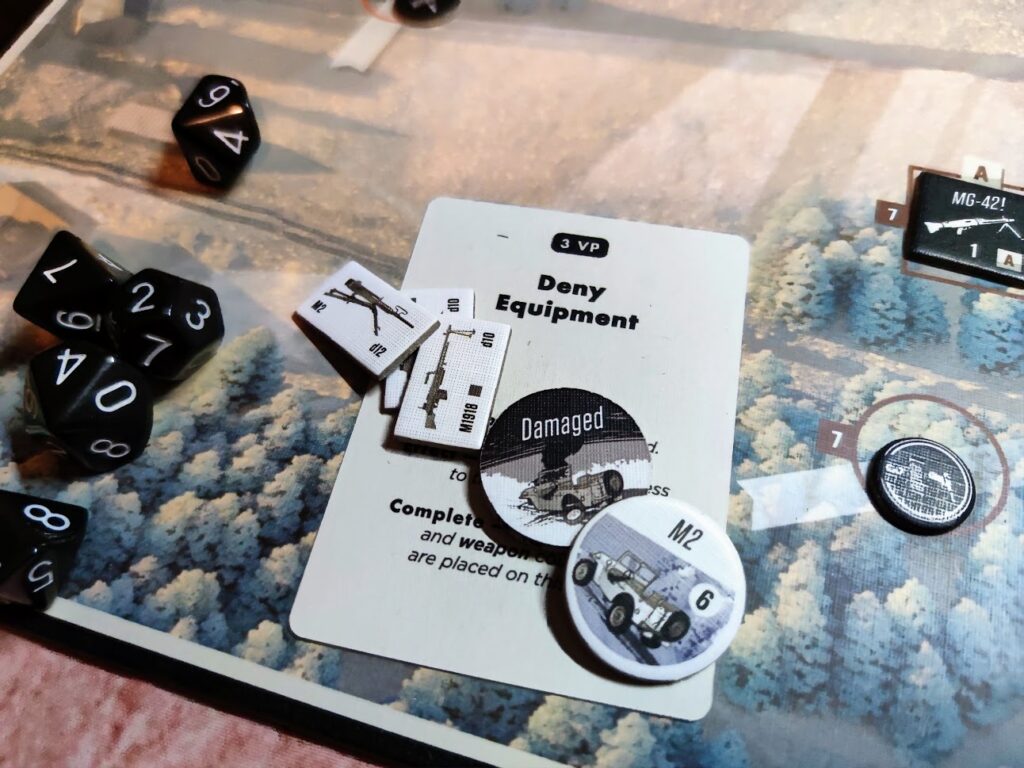 I thought I'd done really well in my first win, scoring enough points for the 2nd highest award, the Silver Star, only to find out afterwards that I'd played on the 2nd-easiest difficulty. There's a whole deck of Tactics cards to add in, along with additional constraints, which make things even trickier. The biggest problem the game has in terms of longevity is the fact that there is only one board, with one map. You'll use the same four decks of cards for the attacks, and while the cards will come out in a different order, you'll know that the fourth deck is full of flanking cards, for instance.
There's no doubt that Lanzerath Ridge is a great game, filled with beautiful illustration and art, a great rulebook, and comprehensive player aids. You'll get so much more than just a game from it though. Learning about the people and the battle that took place is not only incredibly interesting, it's also humbling. You'll learn to love Lt Bouck for his ability to have the Inspire effect for all units, and his Command ability, but when you look into it deeper, he was only 20 years old when it all happened… I was moved when I watched this video, featuring interviews with some of the soldiers who you control during the game. It just makes me feel so fortunate to be able to sit in my warm home and play this brilliant game, which has been lovingly and respectfully created by David. Wonderful stuff from start to finish.
Review copy kindly provided by DVG. Thoughts and opinions are my own.
If you enjoyed this review and would like to read more like this, consider supporting the site by joining my supporters' membership at either Patreon or Ko-fi. It starts from £1 per month, offers member benefits, and lets me know you're enjoying what I'm doing.
---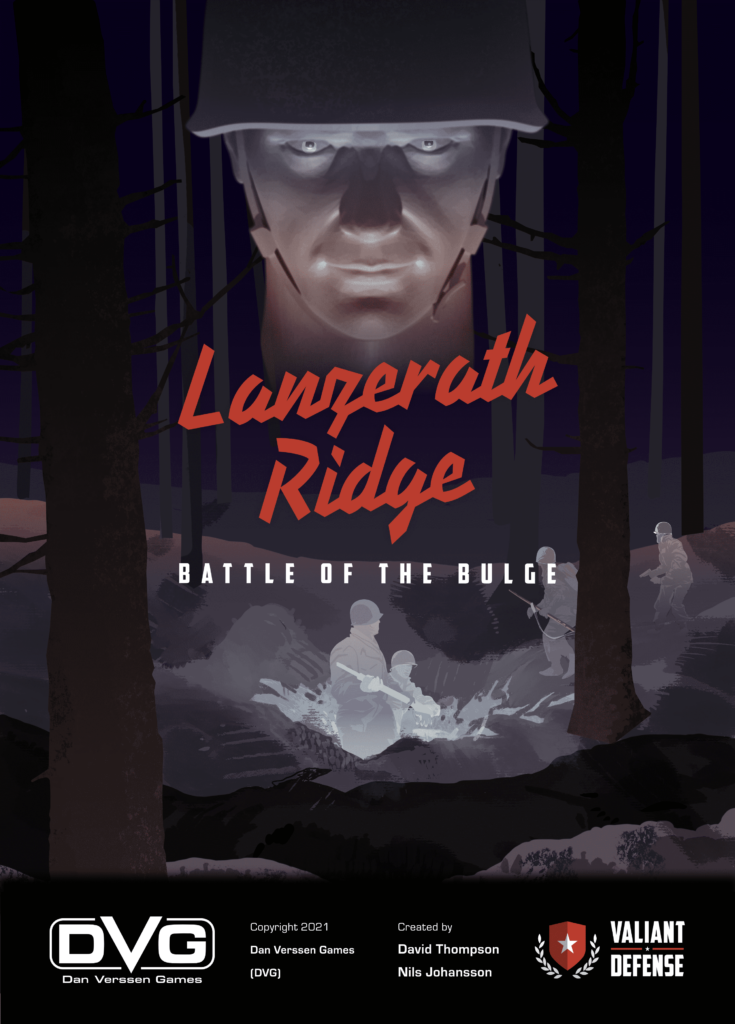 Lanzerath Ridge (2022)
Design: David Thompson
Publisher: Dan Verssen Games
Art: Nils Johansson
Players: 1
Playing time: 60-90 mins