Skymines Review

Skymines is a retheme and refresh of Alexander Pfister's 2015 classic Mombasa, which takes the game out of the somewhat troublesome setting of trading in Africa. The original rulebook acknowledged the problems with colonialism and exploitation, so this new version is very welcome. The good news is that the game survives intact, despite taking it into space, and actually improves it. So providing you don't have a problem with going into space because you prefer colonialist Africa, Skymines is now the best way to play Mombasa. Let's dig into the lunar soil and find out why.
Share and share alike
In the game of Skymines players take on the roles of investors. Four competing businesses have the rights to mine resources from the moon (or asteroids on the reverse side of the board), and by investing in shares in these companies you can help dictate where they expand their reach and how well they do. You do this by playing cards from your deck which dictate which actions you can take each round, and there's a really cool dichotomy that it throws up.
There are three different types of resources available, and when you play those cards to your available slots for the round you can use them to buy cards from the market. Those cards get more and more powerful as the game goes on, so it makes sense that you'd want to be the first in the queue at the card shop, because the cheapest stuff goes quickly. That's a good way to play, and you'll get to cherry-pick the best cards, but then your resource cards are spent.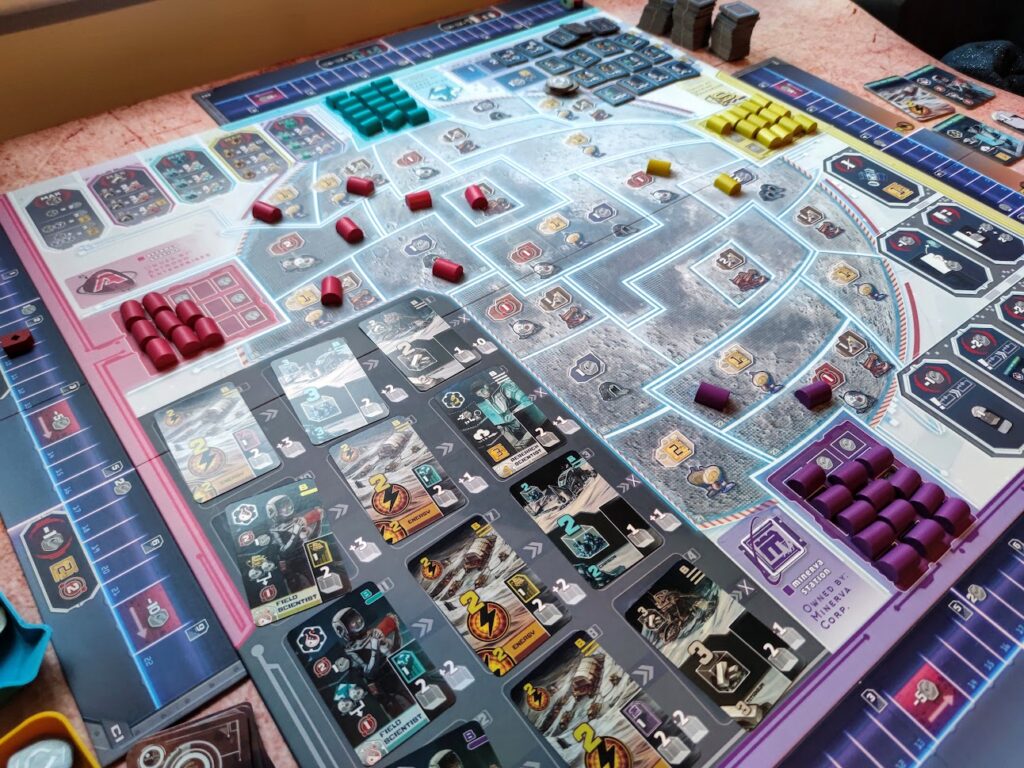 In addition to the card actions, there are places on the game board where you can place workers. That's right, we've got some good ol' worker-placement going on. Some of those places on the board where you can plonk your workers reward you for being the person with the most of a particular colour of resource on your board, unspent. So you might have gotten to the card market after all the bargains had been snagged by those camping out overnight on the pavement, but now there are things available to you that nobody else can claim. The ebb and flow of playing or waiting on cards underpins so much of the game and adds a nice balance. You're not totally screwed just because you're the last in turn order, and waiting is often the better option.
All of the card play is really just a means to an end when all is said and done. What really matters is which corporation controls the areas on the main board, and how many shares each player owns in those corporations. It's a power struggle which both informs and is informed by, the actions of the players.
Land grab
If your experience of share-dealing games revolves around trains (e.g. 18xx, Cube Rails), the concept of being part-owner in multiple companies is nothing new. In many of those games, most of the companies are born equal. That is to say, there's not necessarily any intrinsic benefit of buying stock in one company instead of another. Skymines spices things up a bit by throwing interchangeable share tracks into the mix. There are some suggested layouts included in the rulebook, but you could have any of the tracks next to any of the companies, and each track grants different bonuses as you march your share marker along it.
The further along each track you inch, the more bonuses you unlock. Bonuses include reducing the cost of certain things, granting permanent additions for actions that spend resources, or even adding new worker spaces to visit for actions that might not have existed before. I really like the way the shares work in this game, and I love the fact that they're not a neutral part of the gameplay. If there's a track with a power that you particularly want to use, your choice to invest in the company it's attached to will directly alter the way the game pans out, and how control of the map swings.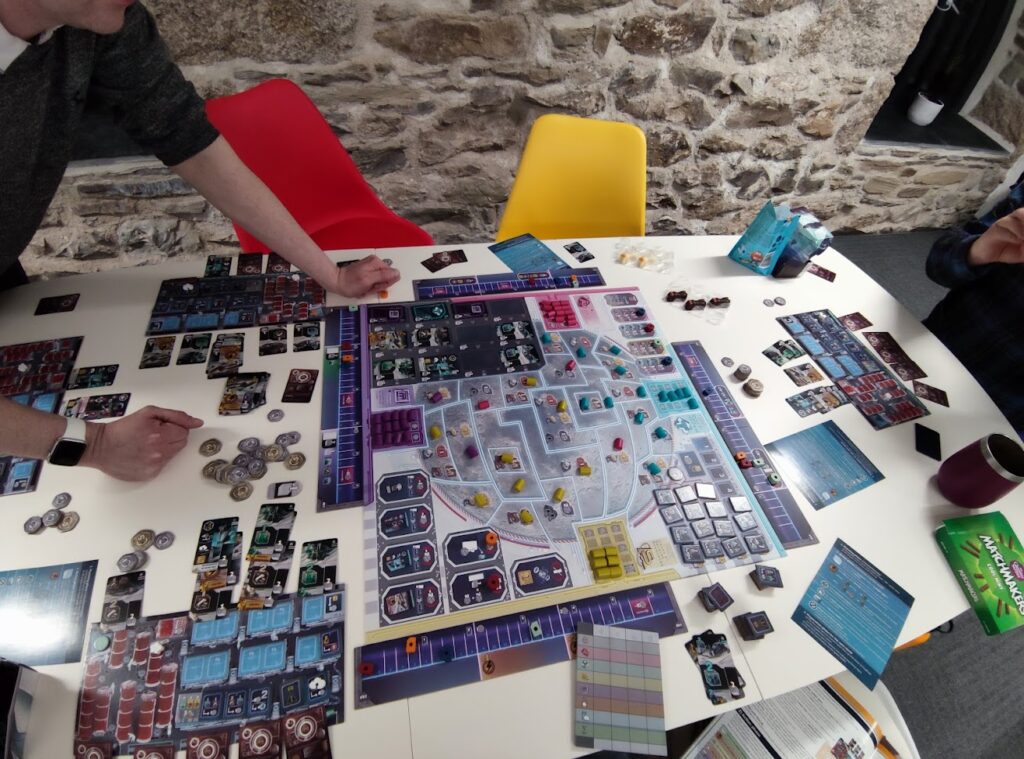 Map control is dictated by spending resources to add outposts from your chosen company's pool out onto the board. They chain outward, always going adjacent to one another, and the number of lines between where you are and where you want to tell you how many points of energy it'll cost you. Spaces on the map grant bonuses when they're claimed, and you get some great opportunities to make short-term plans. Get the bonus for doing this thing here, use that bonus over in this other place. Things like that.
The other thing I really want to highlight is the clever card retrieval mechanism. Above your player board are slots where stacks of used cards end up. When you end a round you take one of those stacks into your hand, and all of the cards you've just played have to be split among the remaining stacks. It adds a really cool planning aspect to the game. For example, you might choose to deposit all of your energy cards into one pile over the course of a few rounds, then once you pick that stack up you're ready for a round of covering the board in little yellow buildings (energy is used to expand each company's outposts and area control). It lets you choose your strategy and gives equal credibility to playing for a little bit of everything or going full min-max.
Final thoughts
Skymines is a blast. I've taught it to my regular group and they all had a great time with it. It's a strange game in as much as there's quite a lot going on, but it never feels like it's too much. Contending with the cards you've got in hand and building the stacks from your discarded cards would be enough to think about on its own, but it all just works. The crawl of each company's outposts as they spread out like mould across the moon (it's made of cheese, right?) gives you this instantly discernible overview of the state of play. This is helped no end by the genius of not making everything in space, black. Even on the side of the board where you hop from asteroid to asteroid using a new shuttles mechanism, space is white. It creates a much nicer table presence, showing off the non-primary colours nicely.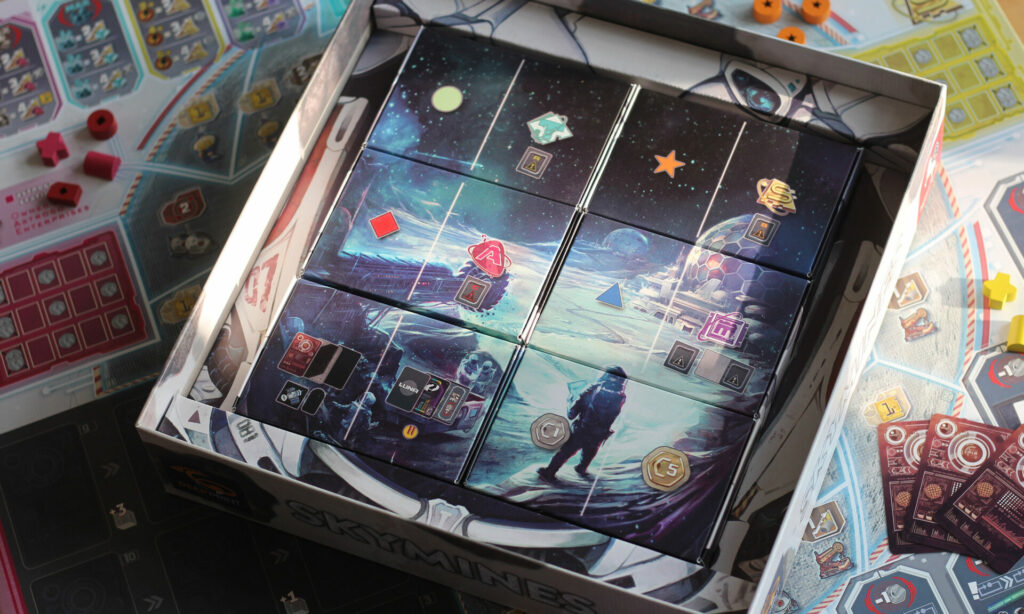 It's a heavier game than I'd recommend for newbies to modern games, and I think the decision space would probably just leave them with a sour taste in their mouths. A good way to get the hang of the way things work is to take on the AI opponent, named Luna. It's an easy-to-run automa opponent which you can add into 2- and 3-player games to add some more competition, which is definitely a good idea. You can play Skymines with two players, but it's at its best with four. I've played two-player games where one of the companies didn't place outposts, and nobody bought shares in it, and it just made competing for space on the moon less competitive, and less fun. The Luna rulebook that's included is quite creepy too! It's written as if the AI opponent is talking to you in the first person, explaining how it all works.
There are parts of the game I haven't even touched on, such as the helium and research tracks, both of which also lean heavily on your decision-making. They, like so much else in the game, are just individual strands which, once weaved together, create a brilliant, coherent tapestry of a game. Gah, Skymines is just so much fun. I'm trying to write the end of this review, and I keep daydreaming back to recent games of it, and thinking how much I want to play it again, right now. Skymines slipped past a lot of peoples' radar when it was released towards the end of last year, which is a travesty. Alexander Pfister creates some incredible games (such as my first-ever review here, Maracaibo), and along with fellow designer Viktor Kobilke, they've created one of the best games I've played. If you like something that's really going to massage your brain, and you have a regular group of three or four people, do yourself a favour and get Skymines.
You can buy this game from my retail partner, Kienda. Remember to sign-up for your account at kienda.co.uk/punchboard for a 5% discount on your first order of £60 or more.
---
If you enjoyed this review and would like to read more like this, consider supporting the site by joining my supporters' membership at either Patreon or Ko-fi. It starts from £1 per month, offers member benefits, and lets me know you're enjoying what I'm doing.
---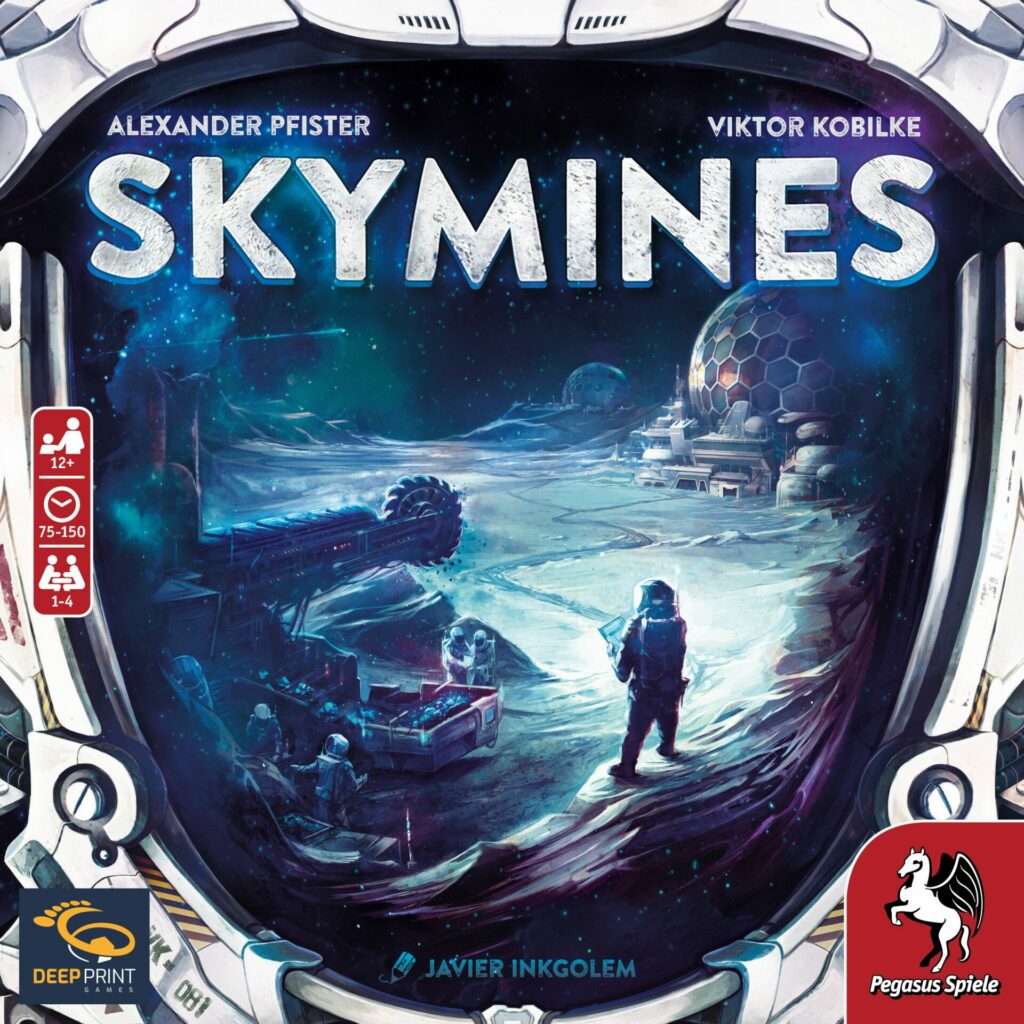 Skymines (2022)
Design: Alexander Pfister, Viktor Kobilke
Publisher: Pegasus Spiele
Art: Javier Inkgolem
Players: 1-4
Playing time: 90-150 mins