The Shores Of Tripoli Review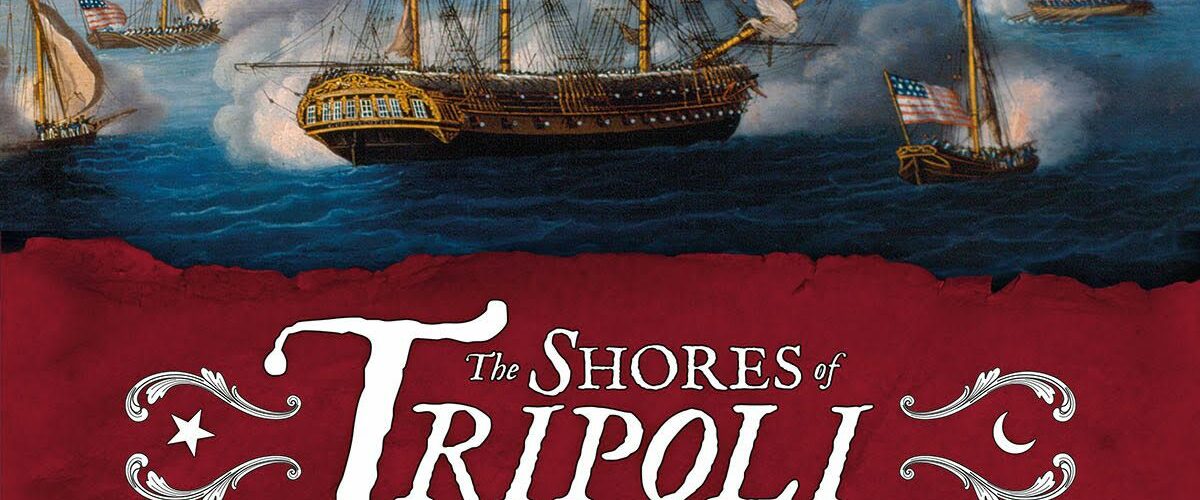 Let me get it out of my system before I go any further.
🎶 "From the Halls of Montezuma, to the shores of Tripoli" 🎶
If you've got no idea what I'm talking about, check out the Marines Hymn. I have no particular affection for the USMC, I just know the song and it gets stuck in my head each and every time I take this game off my shelf. I had to share my earworm with at least one of you. You're welcome.
The Shores of Tripoli is a two-player, event-driven wargame from Fort Circle Games. It's set on the Barbary coast of North Africa at the turn of the 19th Century. The young American military wants free passage for their merchant ships, while Tripolitania wants their pirate corsairs to keep wreaking havoc. It's a fast-moving, streamlined game, and it's great.
Asymmetry
Many two-player games are straight-up duels where both sides are fighting with the same weapons. In Targi (review here) both players have three workers and the same cards to work with. Lost Cities has five colours of cards to collect, but they're available to both players. The Shores of Tripoli takes a leaf from Watergate's book (review here) and gives each player not only different actions, but also very different game-winning conditions too.
Playing the game feels like playing a lighter, two-player COIN game. Each player has their own agenda, but there are some big intersections. The Trioplitanians spend a lot of the game amassing their corsairs and trying to bring other African nations into the war to join their navy. They can send the corsairs out on pirate raids to steal gold from merchant ships. Stealing 12 gold coins from the US player wins the game. To go on a raid they can discard any card, roll one die per boat in their fleet, and each 5 or 6 sinks a merchant and steals a coin. It's a disjointed action in some ways. During the whole raid nothing actually moves, no merchant pieces are removed (they don't exist), and the corsairs stay in their harbours. That might sound anticlimactic, but it's simple and slick.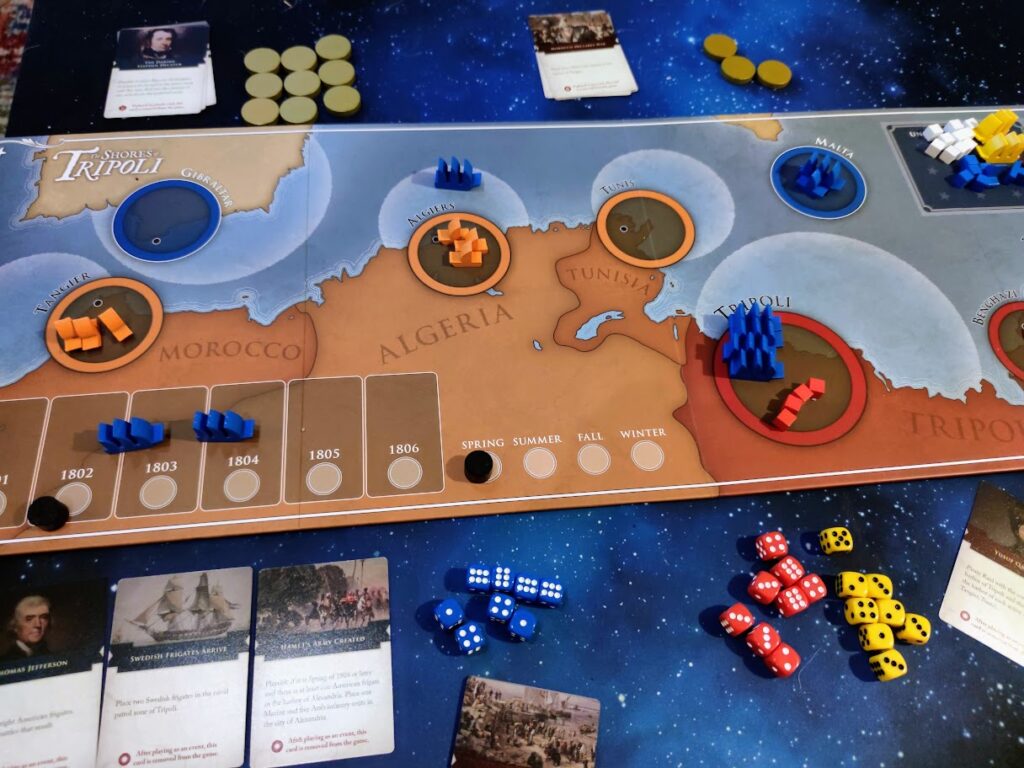 The US aren't just going to lie back and take it. Each of the raiding harbours has a patrol zone around it, and frigates in those patrol zones get to roll interception checks, potentially taking out Tripoli's raiders before they get to the open sea. The US aren't just there to respond though, they have plans of their own to end the conflict. Wiping out the Tripolitanian navy and the navies of their allies, they can force a US-favourable treaty. Failing that, they can take Tripoli by force with a combined naval and land-based assault. Similarly, Tripoli isn't forced to go for gold either, they can win by a show of force, either sinking four US frigates or wiping out Hamet's army in the East.
Turn of events
Each player's deck of cards determines what they can do. Each card can be spent to perform some basic standard actions, but the majority of the time you'll use them to perform the events detailed on them. Some are reusable and go to the discard piles, while many of them are removed from the game after use. The events are generally pretty powerful, and plenty of them act as reactive boosts for other events. For instance, the US might play a card which boosts their pirate interceptions, whereas Tripoli can catch a frigate in its patrol zone and force it to run aground.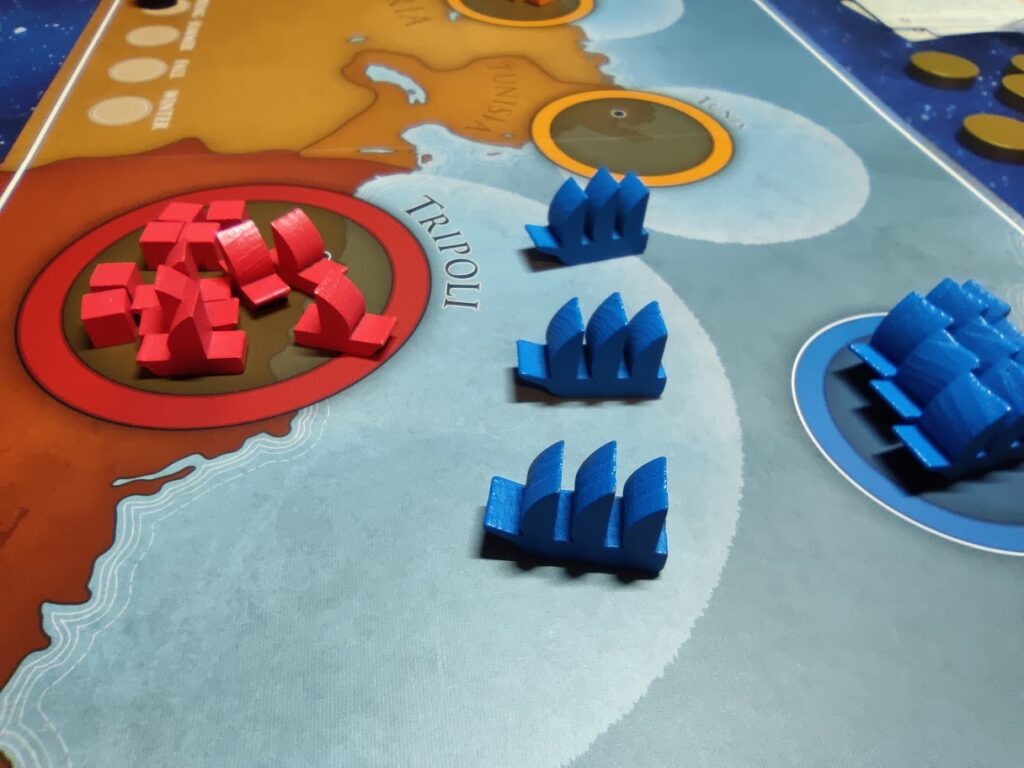 The Shores of Tripoli goes from being good to being great after you've played it a couple of times and know which cards are in each deck. The Assault on Tripoli card is potentially game-winning for the US, but can only be played after Fall of 1805, which is right near the end of the game. If you draw it in the first round, it's not going to do much for you, and there are a few other examples where it feels like you draw the wrong cards. The skill comes in how best to discard them for standard actions, and when.
When you know what cards someone might have in their hand it raises the tension so much. Trying to second-guess what the other person is up to in that classic mind game fashion, and it works so well in The Shores of Tripoli. It's rare to win a game in the first few years (rounds). Most games are about posturing and misdirection, trying to set things up for the late game, without being too obvious about it. The Tripoli player has cards which let them bring the other African nations into the war, adding friendly corsairs to go on more pirate raids with. The US can bring Swedish frigates into the fray, and Tripoli can call in reinforcements from Gibraltar. Land armies slowly grow as troops reach the coast. There's a real sense of something epic about to kick off.
Final thoughts
Trying to learn The Shores of Tripoli from the rulebook isn't the easiest thing. It's not that the rulebook is badly-written because it isn't. Everything is in there, and it's concise and very clear. It's just a difficult game to explain in words. You really need that first learning game as each side under your belt so you know what to expect, and how the late game plays out. That said, a game of Shores of Tripoli is done inside an hour, so it's not an ordeal to get those learning plays done.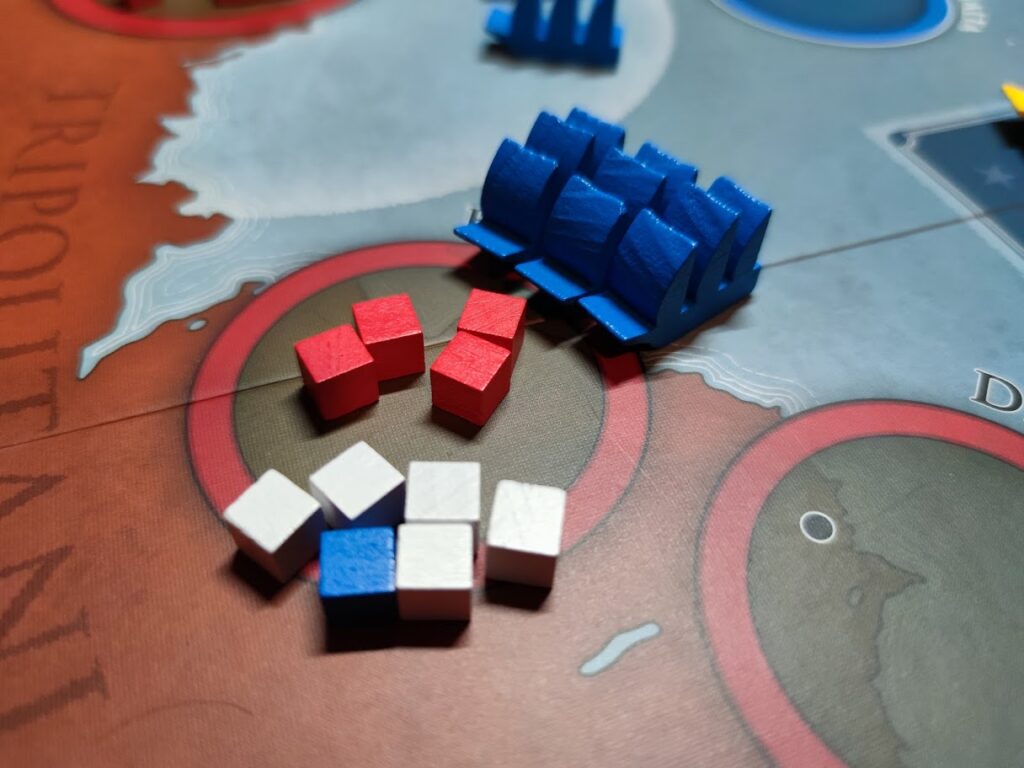 I really like the long, thin board. It acts as a perfect natural divide for two people sitting opposite one another, and there's something more meaningful when the Tripolitian player reaches across the map and takes a gold piece from the US player's side. It's personal. The layout is a little unintuitive at first. It feels like a game where your frigates would have a number of spaces to move, but instead, they can just move wherever they like on the board. The islands on the north of the board and the coast of Africa on the south just lend to the setting and theme, and it really feels like a struggle for control of a stretch of water.
The amount of historical research that went into making The Shores of Tripoli is evident not just in the game's events, but the historical book and designer's notes that come with the game. It's fascinating to read Kevin's insights and motivations too. You get the feeling playing the game as Tripoli that it's not just a 'war on terror', and reading his notes confirms this, which is excellent game design in my opinion. If you're a fan of two-player games, especially something with some real-world historical context, you must play The Shores of Tripoli. It's small, fast, clever, and thoroughly entertaining.
Review copy kindly provided by Fort Circle Games. Thoughts and opinions are my own.
If you enjoyed this review and would like to read more like this, consider supporting the site by joining my monthly membership at Kofi. It starts from £1 per month, offers member benefits, and lets me know you're enjoying what I'm doing.
---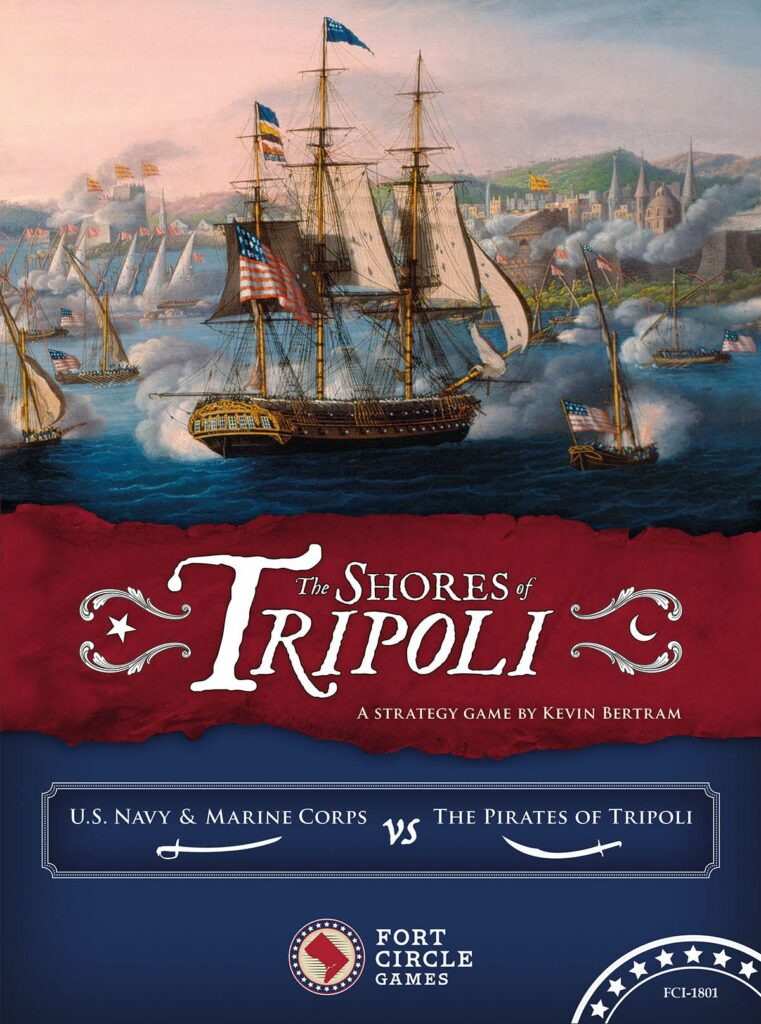 The Shores of Tripoli (2020)
Designer: Kevin Bertram
Publisher: Fort Circle Games
Art: Cat Bock, Marc Rodrigue, Matthew Wallhead
Players: 1-2
Playing time: 45-60 mins