Votes For Women Review

There's a chance that just the name and theme of Votes For Women is a turn-off for you. "I don't want all that political stuff in my games". "A game about female suffrage? Pfff". That's not me guessing or subliminally revealing my own prejudices. Those are the comments I've seen online. Unfortunately for those people, they're missing out on a fantastic game. Not a leftist, liberal propaganda piece, disguised as a game. An honest-to-goodness great game, which gamers will enjoy, and which also happens to cover a very important piece of our recent history.
Putting the 'fun' into fundamental rights
Fort Circle Games might not have the biggest back catalogue in the world, but founder Kevin Bertram knows what makes a game fun. I had a blast with Shores of Tripoli (review here), and you can definitely sense that Fort Circle influence in Votes for Women. That's not to say it's the same game in an Emmeline Pankhurst outfit. There's just a general feeling of familiarity, which is a good thing.
Votes for Women uses a multi-use card system, where each card can be played for its event or for one of a menu of standard options. Just like in Shores of Tripoli, or any of the COIN games (for instance, Fire in the Lake, which I reviewed recently), there are times when you can't, or don't want to take the event. It's in those situations where a lot of Votes for Women's tactical nuance lies. The effects of the standard actions seem relatively weak, but just like nibbling a little bit off that bar of chocolate you've got in the cupboard each time you walk past, it doesn't take long until you've got no chocolate. Or total control of the US Midwest. Whatever.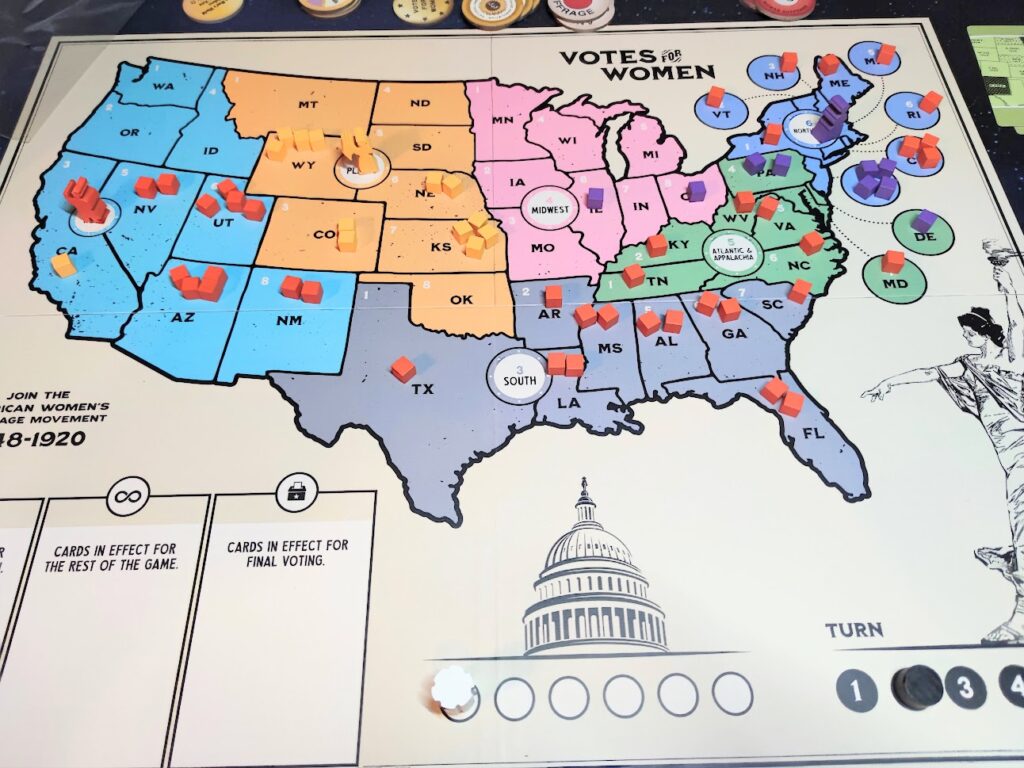 The game is split into two main acts. The first sees the two sides – Suffragists (yay) and Opposition (boooo) – in a tug of war. The Suffragists want to get six columns into the Congressional Track, in order to get the Nineteenth Amendment proposed, while the Opposition want the opposite. If and when it gets proposed, the second half of the game starts, where the posturing and placing of cubes in the various States suddenly turns into a traditional area control game. If the Opposition gets a 13th state to reject the amendment, they win. Vice-versa for the Suffragists if they get a 36th state to ratify it.
The 'ick' factor
If this were any other game, even a war game mirroring conflicts and all manner of atrocities, I could focus the body of this review on the ins and outs of the game and how it plays. But with Votes for Women, there is so much theme involved that I've got to talk about it. In previous reviews, I've talked about how theme is woven into games, like threads in a tapestry. In Votes for Women it's less 'weaving threads' and more like 'pick up that tapestry and dunk it in a tank of permanent dye'. You can try to play it by abstracting everything into placing cubes, ticks and crosses, but it's nigh on impossible. The entire game is built on the bedrock of the real events it emulates, and to remove that bedrock would leave you with a tottering, fragile game, just waiting to collapse.
I don't often wear my heart on my sleeve here when it comes to political issues. Here, I've got to, just to explain some things. The concept of equal voting rights for women (and it's ridiculous that I even have to write this, just a hundred years on) is a good thing. Opposition to it is a bad thing. If my stating that has you shaking your head, then just close this tab, open a new one, and Google something like "how to not be an asshole". This is the reason that playing as the Opposition just doesn't feel nice. It feels truly horrible to play some of the events in your deck. It leaves you in this really weird limbo place, because playing the game – as a game – is a lot of fun. But emulating some of the horrible things that happened in order to win just feels gross.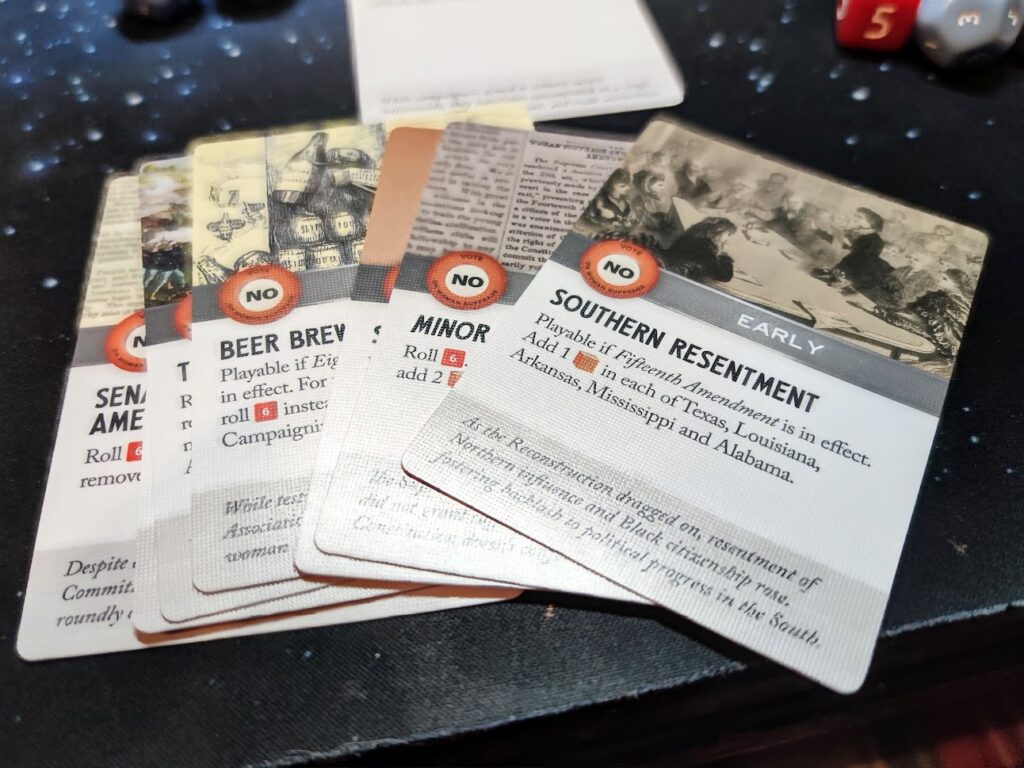 I'm not sure if this is the reason that a variety of two-player scenarios exist, but I'm glad they do. If two of you want to play, but neither of you wants to play as the Opposition, you can each take one of the two Suffragist colours (purple and yellow) and play against an AI opponent. The bot is called the Oppobot, and it can only be used to replace the Opposition player. To put it another way – there is no way to play solo as the Opposition against an automated Suffragist opponent, and you know what? I'm okay with that.
Bumps in the road
It's only fair to point out a game's faults, even if it's doing a good thing. The first thing to understand is that the game is very US-centric. It's all about the US suffrage movement, so you're not necessarily going to be learning about Emily Davison getting killed after walking in front of the King's horse at the Epsom Derby. The same goes for other suffrage causes in other places in the world, which I have to admit I'm ignorant of. I'm sorry. It's not necessarily a fault, per se, but I've personally spoken to two women who admitted they weren't as interested in the game when they found out it only covered the movement in America.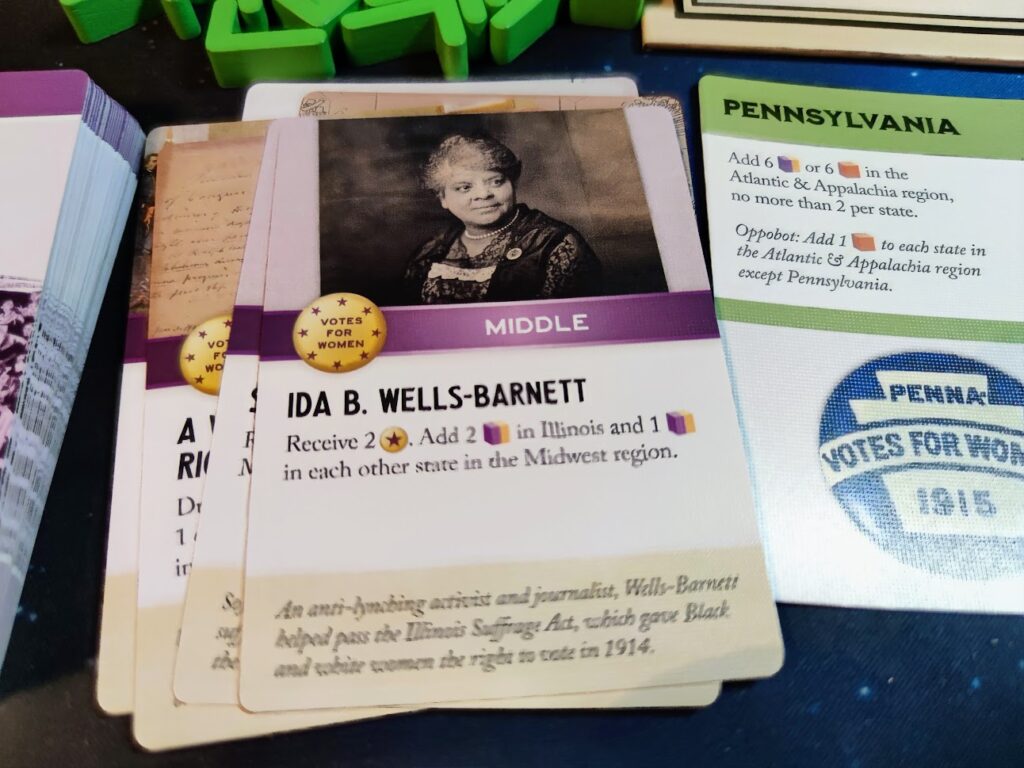 The biggest problem, which I doubt is just for international players either, is that each of the states on the game board is represented by its two-letter acronym. Some states are easy – TX is for Texas, CA, is California, etc. – but some aren't as obvious if you don't know the geography. For example, in one of the first games I played, my opponent was referring to MO as Montana, understandably. It wasn't until I was packing the game away that I realised (I'm a lifelong fan of American sports and I'm okay with the map) that MO is actually Missouri, not Montana, which is MT. They could just as easily have mistaken MN for Montana too, while it's actually Minnesota. It's not a game-killer, but when you consider the sheer amount of accompanying material in the box (prints of posters, hand-outs, newspaper clippings from the time), the choice to not include a list of states and their initials is a bit of an oversight, especially when the cards refer to them by name.
(addendum: Kevin from Fort Circle informs me that the state abbreviations will be included with the second printing)
Final thoughts
I'll cut to the chase and tell you that Votes for Women is a very good game. That's with my analytical hat on, and just taking the mechanisms of the game for what they are. It's a clever, card-driven area control game, peppered with events, cards with lasting effects, and a really engaging two-act structure. The use of Early, Middle, and Late decks is really nice, and slowly adds spice to the game as it builds towards its finale. The components are functional and really nicely made. I love the green ticks and red crosses for the late game, showing which states have ratified or rejected. It creates a really dramatic, unique look on the table.
There's a huge amount of work that's been poured into the game, and it's clearly been a labour of love for designer Tory Brown. More than once I found myself not concentrating on the game, reading the text on the cards instead. That same level of detail went into all the additional material that comes in the box, which I mentioned above. It was a great touch adding buttons into the game as tokens, which each side can spend to re-roll dice, bid on strategy cards, and a few other things. It's a game which really shines with two players, but playing solo against the Oppobot is really fun too.
The biggest problem you might have at the time of writing is getting hold of the game. I'm based in the UK and was very lucky to have a copy sent to me by Fort Circle. At the time of writing it doesn't look like anywhere in the UK is stocking the game, which is a real shame, although Second Chance Games have it available for pre-order. US and Canadian residents can order direct from the Fort Circle Games website. It's a shame that distribution might hold the game back from the audience it deserves, and Votes for Women deserves an audience for what it does, and the way it does it. If, and when, you can buy it, I recommend it to fans of historical games and fans of card-driven area control games alike. Who said education has to be boring?
Review copy kindly provided by Fort Circle Games. Thoughts and opinions are my own.
If you enjoyed this review and would like to read more like this, consider supporting the site by joining my supporters' membership at either Patreon or Ko-fi. It starts from £1 per month, offers member benefits, and lets me know you're enjoying what I'm doing.
---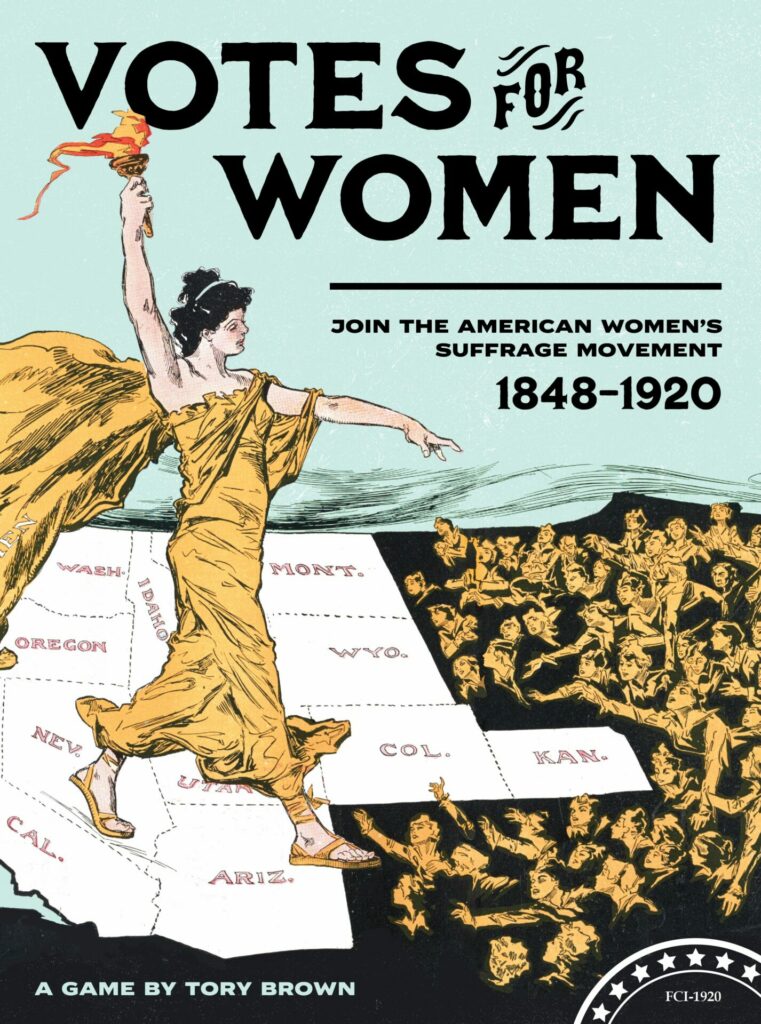 Votes For Women (2022)
Designer: Tory Brown
Publisher: Fort Circle Games
Art: Brigette Indelicato, Marc Rodrigue
Players: 1-4
Playing time: 60-90 mins