Zapotec Review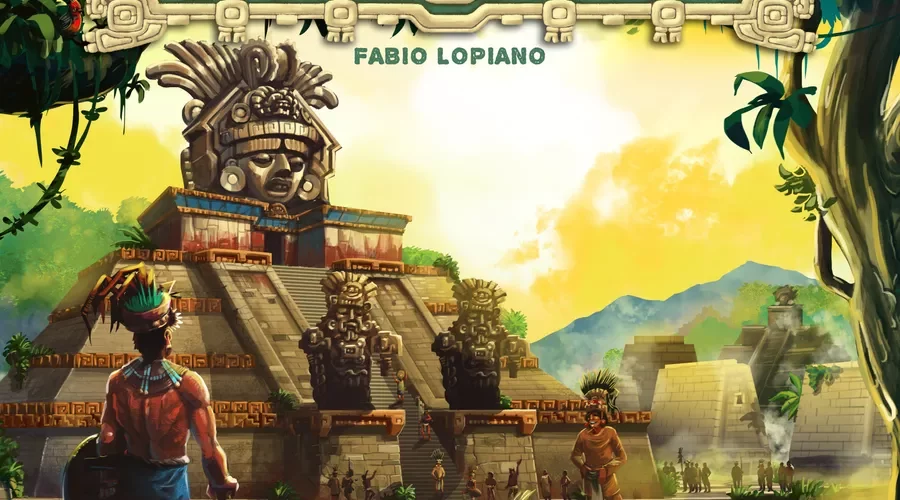 If you think of Board&Dice, you probably think of heavy Euro games with ancient historical themes. Traditionally, these have always started with 'T', so I wondered what I'd find when I received Zapotec in the mail. Yes, it's another Euro, and yes, it's another historical theme, but this time around things are a little easier to learn, and shorter too.
Rather than enlisting the design services of Messrs. Turczi & Tascini, this time around the game comes from the brain of Punchboard favourite, Fabio Lopiano. His hallmark as far as I'm concerned is creating games that are tight, tricky, and always feel like they end a turn or two too soon. Both Ragusa (review here) and Merv (review here) did this, and I really enjoyed both of them.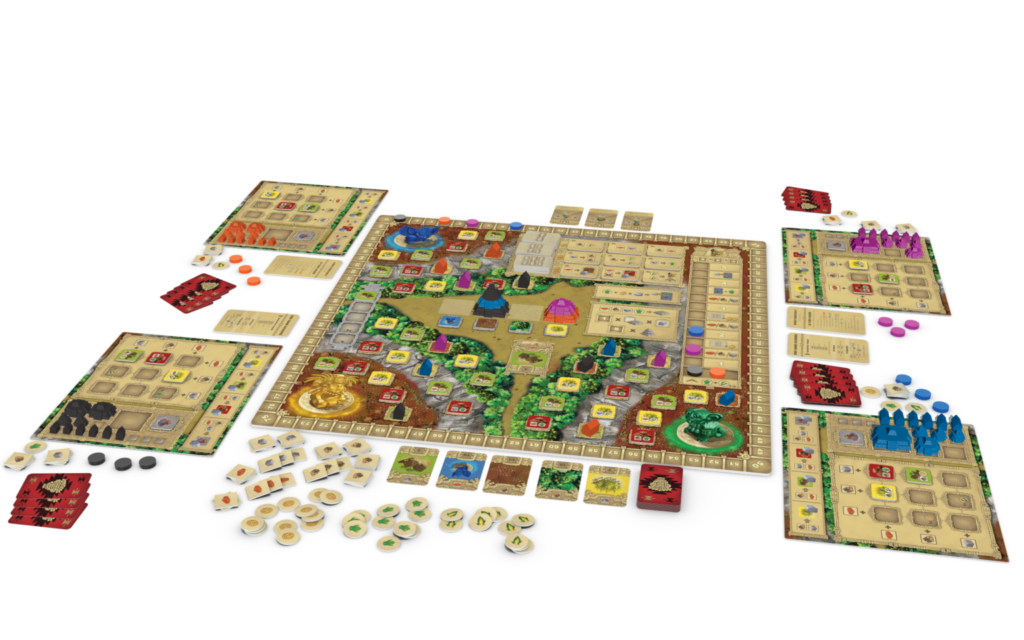 The premise of Zapotec is pretty standard Euro fare. Players are building buildings and pyramids in ancient Central America, by gathering resources and making an engine more efficient than the rest. Play an action card from your hand, take turns in numerical order, rinse and repeat. What makes it interesting is the clever way your player boards, buildings, and cards interact.
Tic-tac-toe
The action cards you play to start each round have a clever triple use. The number on each dictates turn order, as I mentioned above, and the icon in the middle dictates whereabouts on the board you can build. That initiative system for turn order is a nice treat, usually reserved for the likes of Gloomhaven, and it introduces some fun mind games. The final use for each card comes into play on your player board, and in Zapotec, those are the bones with the most meat on them.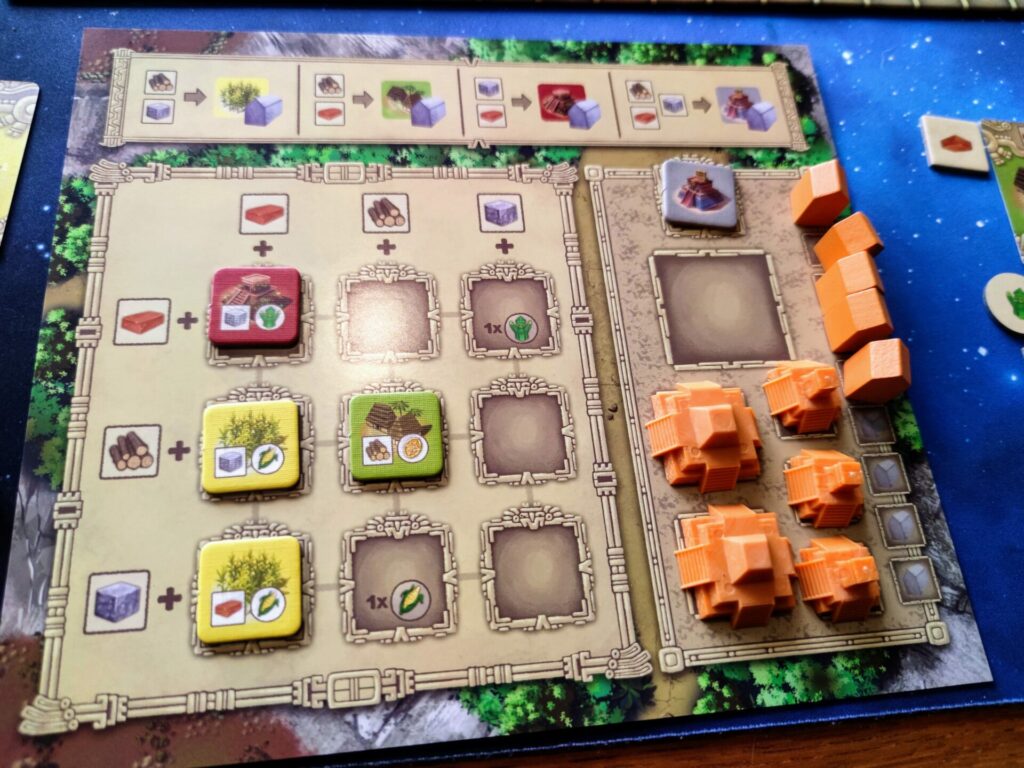 Yes, they're those cheap, thin, gloss player boards which are unfortunately all too commonplace now. Nevertheless, the tiles you take from the board when you build, are slapped into spaces on a 3×3 grid on your board, à la Noughts & Crosses / Tic-tac-toe. Each row and column in the grid has one of the three resources next to it, and on the top of your chosen action card, you'll find one of those resources.
Find a row or column that matches your resource, and activate every building along it. Boom – resources-a-go-go! If, that is, you've made clever choices about which tiles you build, and where. This is easily my favourite aspect of the game, it's a proper little puzzle, and you can try out different combinations each time you play, which is something I always appreciate in a game.
Timeshare pyramids
While the majority of the game is spent with your brain squishing itself into submission, trying to work out the best efficiencies from your buildings, there is some player-to-player interaction. Pyramids are the order of the day, and on the side of your player board you'll find some chunky pyramid pieces. They're really nice sculpts which lock together really satisfyingly. Starting a pyramid on the main board is no guarantee that you'll be the person to finish it, as the other players can chip in and add a layer of their own colour if you give them a chance.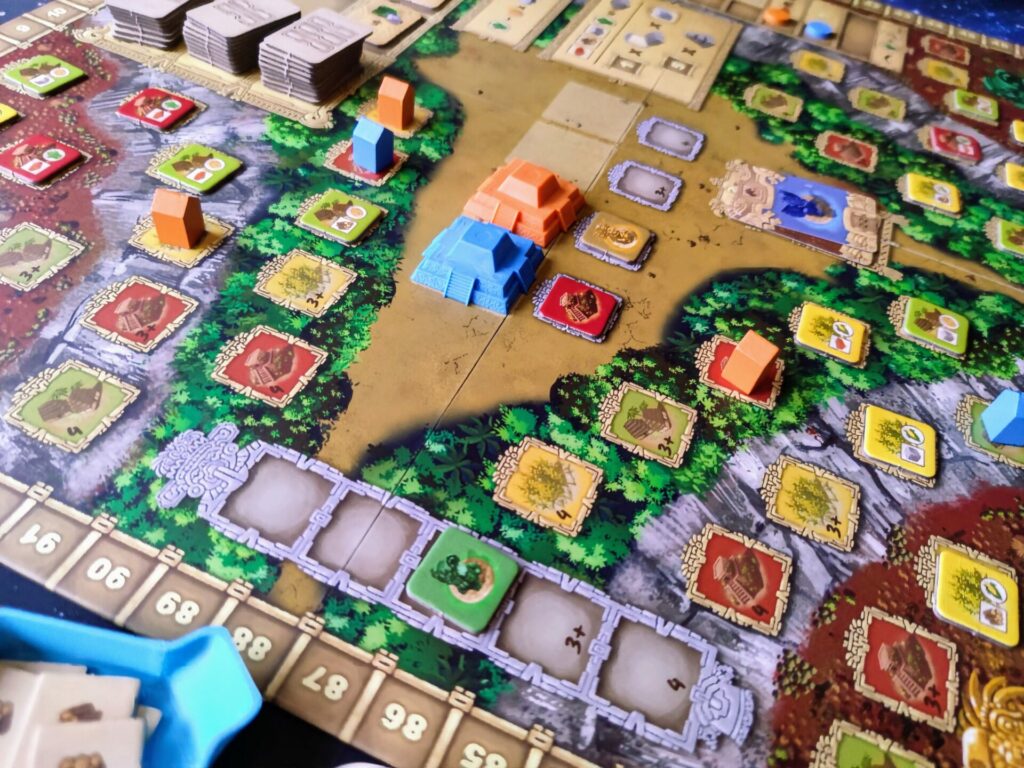 While the pyramids are a nice touch, I think too much of the budget for the game went on them. The slippy player boards feel cheap, and the game's resources are all just cardboard chits. I'd have been just as happy with cardboard layers for the pyramids if it meant a double-layer player board. Talking of building pyramids, that takes me onto one of the biggest disconnects I found with the game and the setting.
Euros aren't exactly renowned for having a tight theme, but we accept that some themes are pasted-on. In Zapotec though, the game never tells you who you're meant to be, as a player. I'm not sure if I represent a tribe, a noble, royalty, or whatever. I thought I'd maybe just glossed over it when I read the rules, so I went back and checked, and sure enough, it never actually tells you. Of course, it doesn't really matter, but it makes that part of the teach where you start with "In this game we're xxxxx and we're trying to be the best at xxxxxx", impossible.
Gone too soon
I have an odd relationship with Fabio Lopiano. More accurately, I have an odd relationship with his games. I really enjoy playing his designs, and I'm sure it's intentional, but they often feel like they end prematurely. It's like you get to that point where your engine is finely tuned and just about to reward you with untold loot, aaaand the game ends. I'm trying to think of an analogy that's not as rude as the one which immediately comes to mind. The man's a massive tease!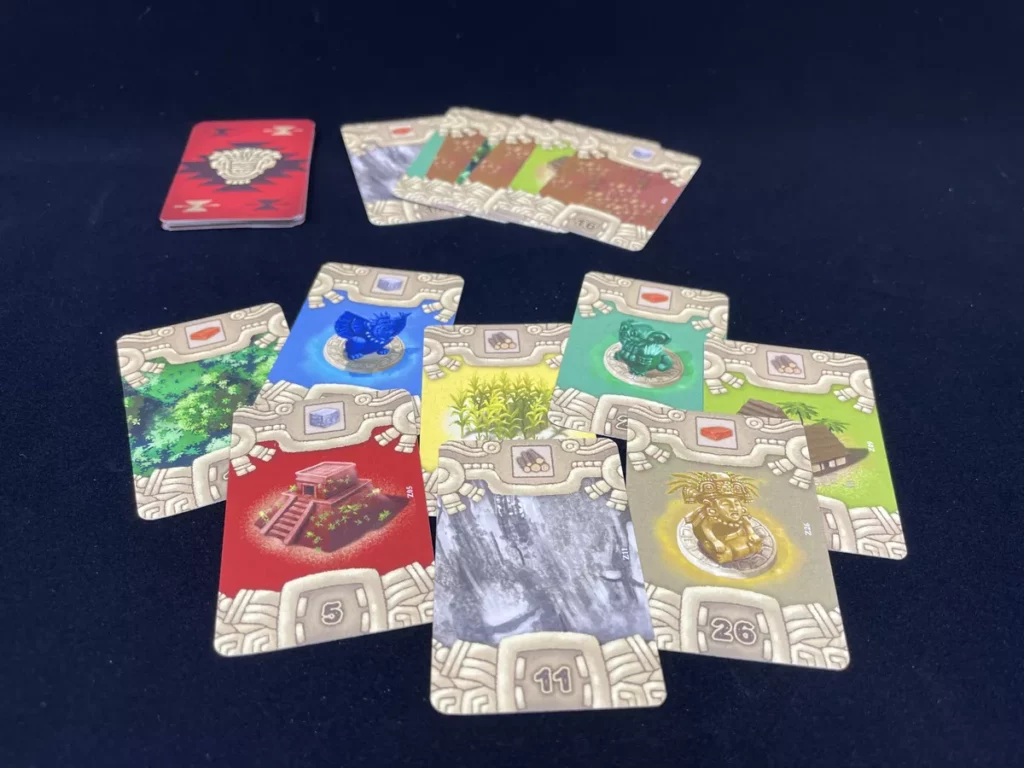 There are only five rounds in the entire game, which turns it into an efficiency race. Zapotec isn't a game where you can really min-max, because of the nature of buildings and resources, and the way they combine. It pits everyone in a race to build pyramids, move up the sacrifice track, and complete any rituals (shared objectives) on display.
That all feels at odds with the usual Board&Dice Euro games, which offer up a veritable point salad, with lots of tracks to climb, and a feeling of not being able to do all of the things, so focus on a few. If you come into Zapotec expecting that, you might be disappointed. This is a much tighter puzzle of a game, with laser-sharp focus on direct competition for the few things on offer.
Final thoughts
I could have handled this review differently and steered away from comparisons from the rest of the Board&Dice stable. Each game deserves critique on its own merits, after all. There's an expectation though, built on the back of the reputation of the T series (you can read reviews of Teotihuacan and Tawantinsuyu here, and here respectively), and a good review should tell you whether you can expect to enjoy a game or not.
Here's the thing. Zapotec is a good game. It's a really good game. I really like Fabio's games, and Zapotec sits just under Merv and just above Ragusa for me. It's just a slightly different direction for Board&Dice, and I like that they're making games with different designers. Zapotec is a tight, clever puzzle, and the satisfaction you'll get from generating loads of stuff from your carefully planned player board is fantastic. The solo mode is really good, and very easy to run.
Zapotec is a great option if you've found the T games too heavy, and too complicated. It's bang in the middle of middleweight in terms of complexity, and because it only has five rounds, you'll easily have time to setup, play, and pack away in a ninety-minute session. I don't really like the disjointed feeling of the plastic pyramid pieces and wooden buildings and markers, and I wish the player boards didn't feel as cheap as they do. However, for a game that costs under £30 (+ shipping) at the time of writing, Zapotec is a bargain, and a very easy recommendation for me to make.
Review copy kindly provided by Board&Dice. Thoughts and opinions are my own.
Zapotec is available from our sponsor – Kienda. Sign-up using this link to get 5% off your first order over £60.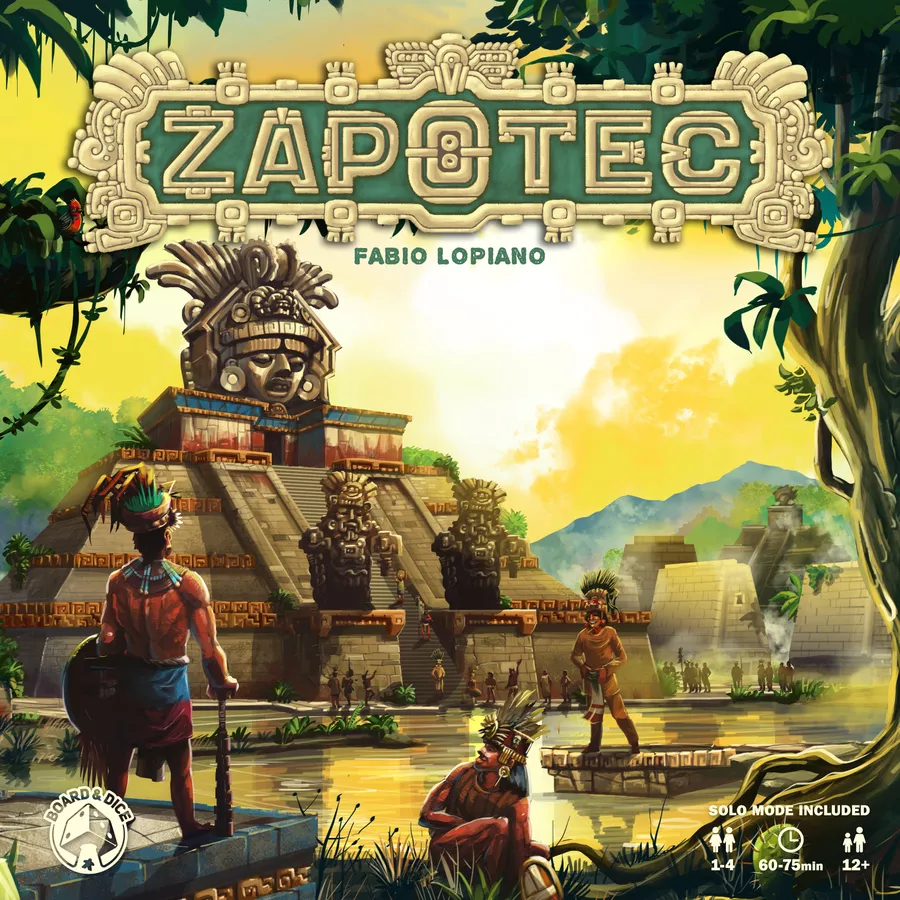 Zapotec (2022)
Designer: Fabio Lopiano
Publisher: Board&Dice
Art: Zbigniew Umgelter, Aleksander Zawada
Players: 1-4
Playing time: 60 mins